Photo by Tim Bugbee
On her brash, rootsy new record, Echo the Diamond, the guitarist/singer embraced wild and wooly risk-taking to create a studio album that feels like a live show.
"It was exciting to say that we could put these three people in a room and play music, and it would be record-worthy," says guitarist and singer-songwriter Margaret Glaspy about the trio of musicians, herself included, that created her latest release, Echo the Diamond, a collection of brash, rootsy indie, rock 'n' roll, and alt-country sounds. The record's rhythm section comprises established jazz musicians Chris Morrissey (Ben Kweller, Mark Guiliana, and many others) on bass and Dave King (The Bad Plus) on drums. They added an element of spontaneity to the music and acted as a safety net, allowing Glaspy to take some calculated risks.
Margaret Glaspy - Irish Goodbye (Official Audio)
The trio didn't rehearse much before the album's recording sessions, aiming to let the magic happen in the moment. Some cuts were from the first take; "Female Brain," with its raucous, F-to-E-minor progression strummed heavily through a crumbling, past-the-point-of-breakup, low-wattage amp, was actually from a rehearsal take. The process was a gamble, but Glaspy got what she wanted. Echo the Diamond is edgy and raw—at times, it feels like the whole thing could fall apart, but it never does. The album's naturally overdriven, crunchy guitars, plus the omission of overdubs, synths, and harmony vocals, contrast Glaspy's previous release, the polished and poppy Devotion.
"Echo the Diamond isn't necessarily like a super manicured record," says Glaspy. "It was super intentional to keep it kind of wild and wooly. I think this record is definitely flying a flag for live music, and for making records that feel like live music."
Glaspy tailors her music for the live experience, writing songs with the intention that they can be performed solo with nothing lost in translation."I think it's just naturally how I think about song structure. When I was young, I would open for everybody, and I needed to be able to command an audience by myself," says Glaspy. "You have to write and arrange songs in a way that was going to be able to keep people's attention from start to finish without a band."
Glaspy first came up with her new album's title as a suggestion for one of Lage's recordings. When he didn't use it, she saved it for herself. "It meant, for me, to shine bright: echo the diamond, be like the diamond," she says.
This approach is at the core of Glaspy's guitar style: Her goal is to be able to play "everything all at the same time so it's not missing anything just because it's a solo performance," explains Glaspy. "Whether I actually can do that or not is a different question [laughs]. But that's often what I strive for: to try and have it be kind of a closed loop."

Glaspy's self-contained parts are rhythmically interesting, at times mixing in lead lines. On "Memories"—a deeply personal song about loss that was so difficult to sing, Glaspy used the only take she was able to get through—she plays a melodic, low-register solo with chordal accompaniment on the same guitar. Another track, "Irish Goodbye," features contrasting parts with intricate bass figures, riffs, and chords.
Glaspy's partner, jazz guitar icon Julian Lage, co-produced Echo the Diamond, whose title came from a phrase that Glaspy suggested when Lage was looking for a song title for his own record. Glaspy recalls, "I said, 'What about 'Echo the Diamond?' And he didn't like it. But I loved it, and it stuck with me ever since, and then it felt really fitting for this record. It meant, for me, to shine bright: echo the diamond, be like the diamond. And there was a Bruce Lee quote that I've referenced before, that really inspired me, where he said to 'be water.' If water is poured into this glass, it takes the shape of this glass, and water gets poured into a kettle, it takes the shape of the kettle. For me, that was a really transformative thing to metabolize and understand. That flexibility is strength in a certain way."
Echo the Diamond was recorded at Reservoir Studios in New York City, and throughout the process, Lage acted like Glaspy's third eye. When he felt like he was seeing something that she wasn't seeing, he didn't hesitate to bring it up. "When he has input about something, and says, 'That was the take,' I take him seriously, because he has a good track record for understanding when I'm capturing something that I would want in the big picture," explains Glaspy. "He's a really good compass and has a really good radar for when things are happening in the way that I need them to happen."
After years spent as a solo opening act, Margaret Glaspy learned to write captivating guitar parts that she could reproduce live on her own.
Photo by Ebru Yildiz
"I think sometimes for me, the point is to be able to show up to the show and see what happens. And whether that's a good idea or not is a different thing—it's how I've operated most of my life."
Since both of them are extremely busy, well-established musicians ("Our lives are music, so there's no separation," says Glaspy), they have to be mindful of boundaries when engaging each other for musical advice. But in general, they have an open-door policy with one another. "There's an understanding both ways that if you're asking me something right now, it's because it's urgent, and so, ask me," says Glaspy. "Sometimes you'll ask too many questions, and [the other person will] go, 'You're asking me too many questions.' In general, our lifestyle is very focused on making projects like that work. Those are our babies, Julian and I. I feel like there's some part of our records that feels like they're slightly part of our family."
Glaspy's intense musical environment isn't much different than the one she grew up in. Music was the center of her household—everyone in her family played guitar and listened avidly to music. Her dad played jazz around the house, which led her to impersonate Louis Armstrong as a youth; her mom was into rock bands and singer-songwriters like James Taylor and Joni Mitchell. Her sister and brother brought '90s rock influences like Pearl Jam, Deftones, and Alanis Morissette into the house, but Glaspy herself initially took to the music of Michael Jackson and Elliot Smith. She played fiddle until she was 16, when she started getting into guitar and songwriting.
Margaret Glaspy's Gear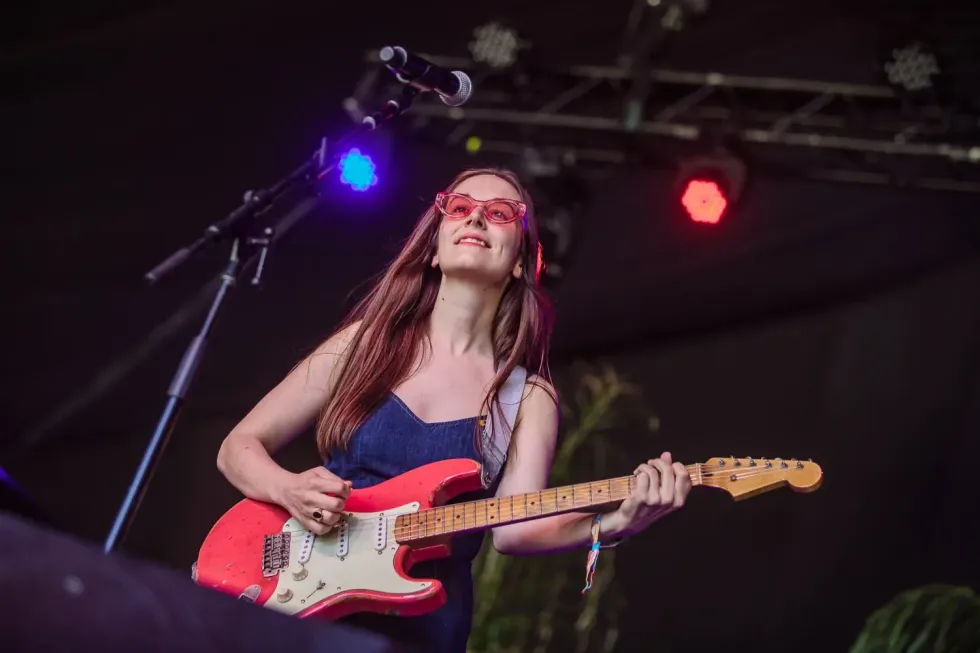 Glaspy's partner, jazz guitarist Julian Lage, helped co-produce Echo the Diamond. Glaspy says their songs are like kin: "I feel like there's some part of our records that feels like they're slightly part of our family."
Photo by Debi Del Grande
Guitars
1978 Fender Telecaster Deluxe
Danocaster T-style
Waterloo WL-14
Amps
Magic Amplification Vibro Prince
Effects
Strymon Flint
Pete Cornish Duplex pedal (CC-1TM and OC-1 TM)
Boss TU-3
Strings & Picks
D'Addario (.011 sets)
D'Addario heavy pick
After high school, Glaspy won a grant from the YoungArts Foundation in 2007 in the popular voice category, and she used the money to enroll at Berklee College of Music in Boston. Coming from Red Bluff, a small town in Northern California where she was one of only a few aspiring professional musicians, the move came with immediate culture shock. "I think the biggest education I got from Berklee was really just being around that many musicians at one time," says Glaspy. "To be in that environment was kind of bizarre at first. You kind of get your mind blown by being around that many musicians, and then over time, it just makes you work harder and harder because the bar just starts to rise higher and higher."
Her grant money was exhausted after one semester, but Glaspy remained a fixture on the Berklee campus, sneaking into classes and attending master classes. She lived in Boston for a total of three years, using her time to develop her live act at places like Club Passim, an iconic Cambridge venue where the likes of Joni Mitchell and Bob Dylan performed. "I hustled really hard," says Glaspy. "I would play around Boston on a weekly basis and get gigs wherever I could. When I lived in Boston, I would have gigs in New York occasionally. So I would take the $10 bus at like 4 iin the morning to get to New York, spend the whole day there, play a show, and then sometimes take the bus back at 4 in the morning or whatever. By the time I got to New York, I kind of understood what it meant to have to hustle and so I just kept doing that in New York. I would work jobs while I was here during that time, and I would just try and get as many residencies, as many gigs, as I possibly could. And then it was just like rinse and repeat constantly."
Echo the Diamond also marks a big change in Glaspy's gear setup. For years, Glaspy's go-to instrument was Lage's Danocaster T-style guitar, which she had played on her previous records. But as studio time got closer, she wanted something that felt just a little bit darker and could sustain in a different way. "The Danocaster is incredible, and it's still on the record, too. But I was feeling like, 'Am I going to get a Les Paul?' Like something that just feels heavy," recalls Glaspy. Fate intervened when she went to get a repair done at TR Crandall, a New York City guitar shop where she worked back in the day, and where luminaries like Nels Cline and Bill Frisell hang.
"I got a CBS-era '78 Tele Deluxe at TR Crandall like a week before I made the record," says Glaspy. "It was really last minute. I was like, 'If I run into something, maybe I'll get it.' Then Alex Whitman at TR Crandall recommended this Tele Deluxe. It wasn't even on my radar to think about a Tele Deluxe, but I fell in love with it pretty instantly."
The Tele Deluxe behaves a little differently than Glaspy's other instruments, and this characteristic brought about a welcome surprise. "The one thing about that guitar that is interesting is I find that in order for me to get what I need out of it, I have to crank the amp," says Glaspy. "So I really have so much fun playing that guitar when it's very loud."
"I think this record is definitely flying a flag for live music, and for making records that feel like live music."
The new axe's unique idiosyncrasies deepened Glaspy's dynamic approach. "It's influenced my right hand quite a bit where I'm kind of relearning to play the guitar in a way, because if I overplay and I'm digging in too hard, and the amp is very loud, I feel like it has diminishing returns," she explains. "So I learned to have a slightly lighter touch on my right hand with the amp loud. It's kind of been a little bit of a reworking for me."
Glaspy also used a Magic Amps Vibro Prince—amp builder Mike Moody's take on a Princeton—on Echo the Diamond. Her sound relies heavily on the interaction between her fingers and the amp, and her recent move to a house in New Jersey after years of living in Brooklyn has allowed her to more easily explore this connection. "[In New York] you're needing to go to practice spaces and things like that," says Glaspy. "Now, our whole basement is a practice space, which is great. I think that when you start to understand your own relativity to an amp, you start to understand that, 'Okay, I know what this sounds like at a low volume, and I can play it at a low volume. And I understand what it sounds like loud. So when I get to the venue and play the gig, I can anticipate what I'm going to need at a louder volume.' But I wasn't always able to practice in that way. Okay, honestly, I'm not a practicer. I don't practice a whole lot [laughs]."
Despite living in the world of jazz, where players are known to practice religiously, Glaspy says her only rehearsals come in the writing and arranging of her songs. "For me, the point is to be able to show up to the show and see what happens," she says.
Photo by Ebru Yildiz
That last comment might come as a surprise. But Glaspy's not one to sit around and shed arpeggios all day with a metronome. She adds, "In terms of saying like, 'I'm going to practice scales. I'm going to practice technique. I'm going to put in my hours.' I don't do that at all."
But that doesn't mean she isn't spending tons of quality time honing her craft. "There is some element of practice, for sure," says Glaspy. "But most of it's done in the writing phase and I'm not really practicing a whole lot after that. So, if I'm making a song, by the time the song is actually done, I played that part so many times in order to do that, and now it's just in my hands. I think sometimes for me, the point is to be able to show up to the show and see what happens. And whether that's a good idea or not is a different thing—it's how I've operated most of my life."
Margaret Glaspy - Act Natural (Live In Philadelphia)
A grunge influence crept into Glapsy's style while she made Echo the Diamond, with bass-register riffs dominating on songs like opener "Act Natural."