Tech 21 showed off new Boost D.L.A and SansAmp Classic at Winter NAMM 2009
Clifton, NJ
(January 28, 2009) -- Tech 21 celebrates 20 years with new and classic effects at NAMM.
Boost D.L.A. with Tap Tempo
Tech 21's popular Boost D.L.A debuted at Winter NAMM with new features including a Tap Tempo, Triplets and Trails.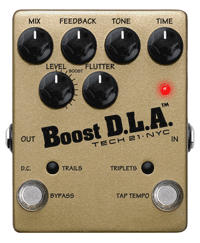 Tech 21 says it has a variety of useful features with easy-to-use controls in an incredibly compact and battery operable pedal. The individual footswitch is dedicated to the operation of the Tap Tempo, which helps avoid confusion during performances, says Tech 21. Triplets works in conjunction with the Tap Tempo, and when in use, it shifts the timing so triplets are able to play in sync with the tempo. Trails works in conjunction with bypass and allow for the natural decay of the delay signal rather than cutting it off abruptly. 
Other features include:
Boost, for up to 9dB of additional volume 
100% analog Mix, Feedback, Tone and Level controls
Mix control ranges from 100% dry to 100% wet
A single, continuously-variable Time control
User-tweakable "lo-fi" analog technology
Tech 21 says the Boost D.L.A. controls are engineered so that you can explore and custom tailor such delay styles as digital, vintage tape and bucket brigade.
MSRP: $260.00
SansAmp Classic
In celebration of their 20th anniversary, Tech 21 is releasing a special relic-style version of their SansAmp Classic.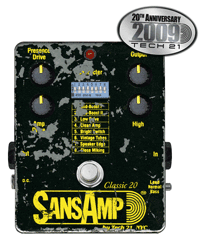 Tech 21 says the exterior design is taken from an actual "vintage" SansAmp pedal, and the interior design remains virtually unchanged from its debut in 1989.  
Currently, the SansAmp is available in 15 different models, including 5 in their SansAmp Character Series released in 2008. Of the pedal formats, Tech 21 says the SansAmp Classic is the most sophisticated. Additionally features include eight Character switches; a 3-position input switch; and four knob controls to shape pre-amp contours, power amp contours, volume and final tone. 
MSRP: $375.00.
Launching of Private Stock Division
Andrew Barta, creator of Tech 21, is opening the door to his Private Stock. For years, Andrew has been inspired to build

creations for his own enjoyment that are often outside the realm of being mass produced and commercially viable, and now, for the first time ever, these products are available to everyone. The Tech 21 Private Stock division will offer a diverse range of products, the first of which is the Vacuum Tube Bass Pre-Amp Head. Each product is custom-designed by Andrew, hand-built, tested and tweaked at thefactory in the United States, and available directly for purchase on a per order basis.
For more info, visit
tech21nyc.com
.