Photo by Douglas Mason
Slide masters Robert Randolph and Luther Dickinson discuss Soul Food, the Word's first release in 14 years.
If J. Robert Oppenheimer had explored gospel music instead of developing the atomic bomb, the results might have sounded like the Word: a wild, uncontainable explosion of musical ideas that careens from melody to melody with the velocity of a chain reaction.
On Soul Food—the group's first release since their 2001 debut, The Word—this quintet of roots music whiz kids crackles with energy. They spike traditional material like "When I See the Blood" with bold flourishes of giddy steel and a guest vocal from soul-folk singer Ruthie Foster, They slam the sinuous two-part title track with rhythmic curveballs from all directions. They romp through footnotes of jazz, funk, and field hollers with rare, rambunctious virtuosity on the 13-track disc, which was mostly free-formed at Memphis' famed Royal Studios (once home to producer Willie Mitchell and Hi Records) and in hipster NYC enclave Brooklyn Recording.
The Word's front line features two of the world's preeminent slide guitar players: Robert Randolph, a Bugs Bunny of pedal steel constantly up to all manner of sonic mischief, and North Mississippi All Stars guitarist Luther Dickinson, whose bloodline runs so deep in Southern soul, blues, and gospel that he's practically got red clay in his veins.
"I'm a sheer case of ADD. A lot of times for me it's a fine line between trying out something that jumps into my mind and going over the edge." —Robert Randolph

Medeski Martin & Wood's keyboard killer, John Medeski, blows the outfit's creative mushroom cloud in further musical directions. And the group is moored—if that's the right term for a band as untethered as a junkyard Rottweiler working the night shift—by drummer Cody Dickinson and bassist Chris Chew, one of the most formidable rhythm teams in contemporary roots rock.
If Dickinson and Randolph weren't such amiable musical compadres, the Word's live shows and studio recordings could be Mayweather versus Pacquiao-like affairs. Instead, their creative relationship is more like Dali meets Disney: two artistic visionaries who share brave, raucous perspectives.
That esprit de corps attitude led Dickinson—who's also played with the Black Crowes, his famed producer/keyboardist/raconteur dad Jim Dickinson, John Hiatt, R.L. Burnside, the Wandering, Anders Osborne, the South Memphis String Band, Indigenous' Mato Nanji, and Los Lobos' David Hidalgo, and made two solo albums—to adopt a surprising modus operandi for Soul Food. "Slide's my thing, my favorite, but I don't think I played any slide on this album," he says. "I played a lot of slide on the first Word album, but when we were on the road Cody pulled me aside and said, 'Between you and Robert, there's just too much slide.' He was right. So this time I played a lot of rhythm guitar."
Photo by Douglas Mason.
That gave free rein to Randolph, who built his estimable skills playing in the House of God church in what's known as the sacred steel tradition. But on Soul Food, Randolph tempers the wild streak that sometimes makes the six albums he's recorded with his own group, Robert Randolph and the Family Band, more about energy than substance. For every measure that Randolph whinnies freely (as on the thrumming chant "Come by Here"), he is equally tempered elsewhere.
Randolph's full-bodied 13-string Jackson custom pedal steel sounds especially wise and beautiful on "When I See the Blood," where he plays instrumental backing choir to Foster's lead vocal, and on his own composition "The Highest," where he crafts a shimmering dream world of gently overlapping melodies that float on the cumulous clouds billowing from Medeski's organ. Randolph's brand-new and unique pedal acoustic resonator guitar makes its debut on "Glory Glory," where he fuses the fieriest aspects of high-octane bluegrass, country, and gospel picking. The prototype of the triple-pedal, 6-string instrument Randolph's been developing with Nashville's Jackson Steel Guitar Company was ready just in time for the Royal sessions. "That was my first time playing it, right there in the studio," he relates. "They drove it straight to Royal. It's tuned to an open G major chord. I haven't used it live because it's the prototype. We have to make a couple of tweaks, and then it's coming right to the stage with me so we can do some acoustic tunes in concert."
Since The Word introduced their group 14 years ago, Randolph, Dickinson, and company have convened only for gigs. "We just played at the New Orleans Jazz and Heritage Festival, and it was the worst show we ever did—a train wreck," Dickinson says. "We made a set list. We can't have a set list! The Word has to be unbridled! Otherwise it just gets confusing. The Word does its best when there is no agenda."
That may seem surprising, given the band members' abilities to plate-spin seemingly endless projects, collaborations, and tours. But it's also fitting, since the Word's ultimate line-up formed spontaneously.
"Cody, Chris, and me heard the first sacred steel compilation on Arhoolie [1997's Sacred Steel: Traditional Sacred African-American Steel Guitar Music in Florida] and were inspired," Dickinson recounts. "We were opening for Medeski Martin & Wood in 1998. We were listening to it and shooting the breeze with John, and we decided to make an instrumental gospel album together. Two years later we had the session scheduled, and just before we went into the studio the All Stars asked Robert to open up for us at the Wetlands in New York City. He was so amazing that we asked him to join us at the session."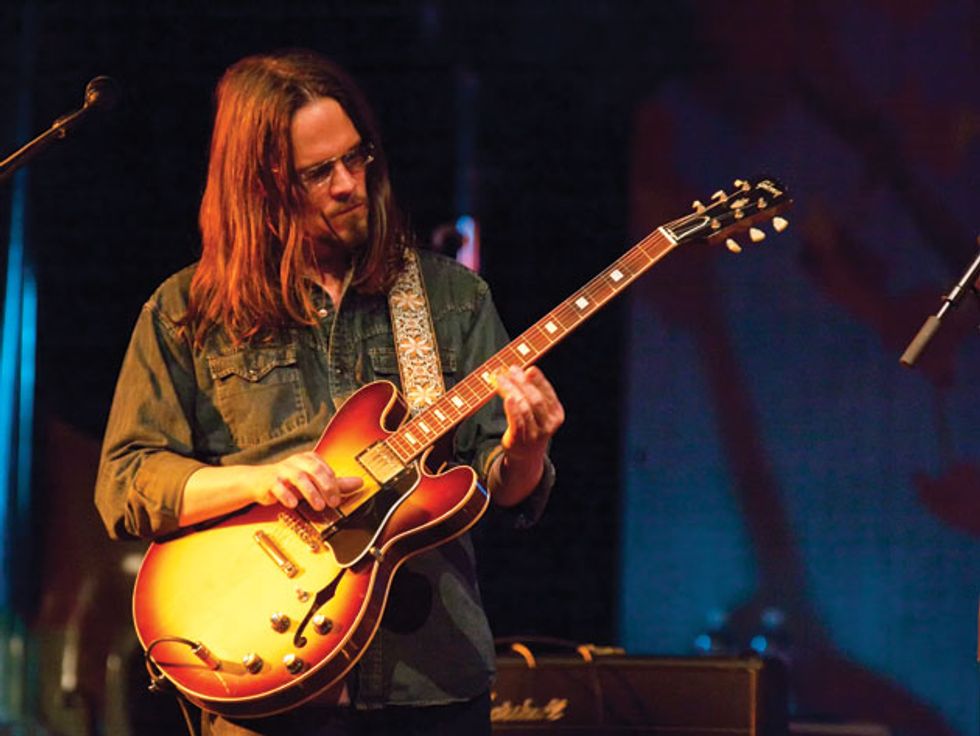 Photo by Tim Bugbee — Tinnitus Photography.
The group quickly cut a broad path through the rock, jam, and roots worlds. Despite a long history of traditional African-American spiritual institutions frowning on secular intrusions upon their music (from Delta bluesman Son House being run from the pulpit to denunciations of Ray Charles for mixing blues and gospel on his breakthrough 1954 hit "I've Got a Woman"), Randolph has retained his status in the House of God denomination. He still plays in the church he grew up in when he's home in Irvington, New Jersey, and he looks forward to performing at the annual Southern Sacred Steel Convention this June in Nashville.
"I have no idea where the energy in my playing comes from, but it's definitely there," says Randolph, who, before he got the Asher lap steel he sometimes plays with a strap around his neck, was known to leap up and drag his pedal steel around the stage when moved by the music.
"We can't have a set list! The Word has to be unbridled!"
—Luther Dickinson

"I think I'm a sheer case of ADD," he continues. "A lot of times for me it's a fine line between trying out something that jumps into my mind and going over the edge. The guys in the Word are such great players that they inspire me to go both inside and outside the lines. But I learned improvisational playing in the church, so that's where it comes from for me. The preachers go into these long spontaneous passages. The singers start stretching out songs. People start to dance and shout, and we have to keep the music going behind them and try to reflect the rhythm and the spirit of what they're doing. It all comes from the heavens, so we have to be attuned. That really put me on the right level for playing with Luther, Cody, Chris, and John, who are such totally bad musicians."
"A force of nature" is how Dickinson describes Randolph. "I feel like we're all so fortunate to live in the age of Robert," he says. "He's taking the steel into new territory, but Robert still talks about playing a rhythm the way Willie Eason, Sonny Treadway, or the other pillars of sacred steel played it. Now there's a whole new generation of steel players coming up, and Robert's their only reference point. That blows his mind.
Luther Dickinson's Gear
Guitars
Gibson Custom Shop Luther Dickinson model ES-335
Gibson ES-330
Gibson ES-125
Gibson Les Paul
Harmony Sovereign Acoustic
Scott Baxendale Custom Acoustic
Amps
Fuchs Overdrive Supreme Combo
Fuchs Full House Combo
Marshall plexi 100-watt and 50-watt heads
Fuchs Cabinets
Effects
Radial Switchbone switcher
Analog Man King of Tone overdrive
Foxrox Octron octave pedal
Strings and Picks
DR strings (.011-.050 and .010-.046)
Custom stone picks
Dunlop 212 slides
Robert Randolph's Gear
Guitars
13-string Jackson pedal steel
6-string Jackson acoustic pedal resonator
Asher lap steel
Amps
Peavey Robert Randolph Signature Steel Guitar Amp
Effects
Dunlop Cry Baby 535Q
Radial Tonebone JX2 Pro switcher
Boss FT-2 Dynamic Filter
Crowther Audio Prunes & Custard overdrive
Empress ParaEQ equalizer
Electro-Harmonix POG 2 octave generator
Cusack Screamer Fuzz
JAM Waterfall chorus/vibrato
EBow
Strings and Picks
DR custom strings
Dunlop thumbpicks
Shubb Robert Randolph slide bar
"Live, when Robert starts something we've never played—which he does a lot—we don't even know what key he's in, and that's when you break new territory. That's when you have that awkward moment of creativity that keeps you on your toes. Like Jack White, Robert has an inspiring ability to keep things creative onstage. He's also a great teacher and motivator. He wants that driving church rhythm happening on every instrument. He calls it 'strokes.' If you're slacking on the stroke, he's gonna look back at you, like, 'Give it to it!' He broke his hand and has been playing the last few gigs with a cast—playing with one finger and still smoking everybody. His melodies are so soulful, but infused with lightning."
Dickinson and Randolph are both ferocious pickers with intriguingly subjective styles. Randolph wears a thumbpick on his right hand and plucks with his other right-hand fingers (when they're not in a cast). Meanwhile, Dickinson follows the path of old-school blues guitarists, who did whatever they needed to get the job done. He uses a flatpick when necessary, but usually plucks with his bare right-hand fingers. On Soul Food, Dickinson plays in open D, open C, open G, and standard tuning dropped a step. Meanwhile, Randolph, inspired by an F-tuned lap steel he found waiting at Royal, played it on Soul Food, along with his G-tuned pedal acoustic resonator and his 13-string pedal steel (in his current favorite tuning of F#, D#, G#, E, D, B, G#, E, E, B, G#, E, C).
Dickinson is no lamb when it comes to gospel. "Luther might actually know more gospel numbers than me," Randolph enthuses. "I learn new tunes from him all the time."
Dickinson's grandmother played piano in a Baptist church, and his father relayed the old-school hymns that he heard coming of age in Arkansas, Chicago, and Memphis. Dickinson is also steeped in the repertoires of Fred McDowell, Son House, John Hurt, and Blind Willie Johnson, who had no compunctions about blending the spiritual and the secular. And at least one flavor in Dickinson's fat musical layer cake comes directly from his North Mississippi hill country mentors, bluesmen R.L. Burnside and Othar Turner. "It's really cool," he observes, "how Robert, John, and me bring together all of these overlapping angles."
Medeski brought a modernist perspective to Soul Food, according to Dickinson: "I did a mix, but it was too straight-ahead. John went in there and fixed the shit out of the album, creating arrangements by moving the tracks and really making it pop."
Dickinson says he seeks the same goal every time he plays: "It's not about the song, really, or about any one musician. It's about getting a group feeling with the other musicians
and
the audience. Like the Allman Brothers say, it's about 'hitting the note.'"
A Sacred Steel Primer
The first electric guitar, the National lap steel guitar known as the "Frying Pan," debuted in 1932. Right at that time, a revolution was taking place in the Pentecostal sect known as the Church of the Living God, the Pillar and Ground of Truth. The church divided after the death of its founder, and two splinter dominions, the Keith and the Jewell, adopted the new instrument as a cheaper, more practical alternative to the traditional church organ. And thus the sacred steel tradition was born.
"Luther might actually know more gospel numbers than me. I learn new tunes from him all the time." —Robert Randolph
Early proponents included J.R. Lockley and brothers Troman and Willie Eason. The tradition continues to this day, upheld by a line that includes the Rev. Aubrey Ghent (who conducts services in Nashville, home of the annual Southern Sacred Steel Conference), the Campbell Brothers, Calvin Cooke, Sonny Treadway, the Lee Boys, and, of course, Robert Randolph. All these artists have multiple albums, but the primer that introduced the style to the secular world (and inspired the Word) is the 1997 Arhoolie Records compilation Sacred Steel: Traditional Sacred African-American Steel Guitar Music in Florida, which includes music from both the Keith and Jewell dominions.
YouTube It
Sometimes the Word's approach is like bebop, with a head played by the ensemble and hot potato solos tossed around. This tune, "Chocolate Cowboy" from
Soul Food
, gives John Medeski, Luther Dickinson, and Robert Randolph turns at the wheel. Dickinson splits the difference between jazz and country when his solo enters at the three-minute mark, and then Randolph drives it home starting at 3:57, pushing for melody and speed.