Photo by Madison Thorn
In the early days of electric guitar production, blunders by those in the industry were not uncommon. Here's the tale of one unsuccessful model and a young employee's unfortunate experiment.
Here at Fanny's House of Music, there's a lot of virtues we hold dear. We try to be kind to everyone, and treat folks the same regardless of their experience level. But if I had to pick a character trait Fanny's values most highly, it would be a willingness to learn. Possessing a willingness to learn means infinite potential. It means you can be anything you want to be if you try. It also means humility. Saying, "I don't know the answer, but I'll try to find out for you," tells folks you respect them enough to not make stuff up. There's a lot of power in admitting you don't know everything.
If you didn't know everything in the guitar business in the early to mid 1900s, you were in good company—as so much was only just emerging. In 1936, Charlie Christian ripped open a can of electrical worms when he used his "pick-up unit" to soar over his otherwise acoustic band, establishing the guitar as a solo instrument and touching off a phenomenon in guitar manufacturing. Then, in 1948, Fred Gretsch Jr. returned to the helm at Gretsch—having briefly managed the company in the early '40s—with a bold new vision that would meet the demands of guitarists wanting to plug in and turn up.
Gretsch began offering exciting custom finishes and all manner of gadgetry and gizmos, but not every guitarist was ready to take the electric plunge. They needed a guitar for the electric skeptic. So, in 1955, the Model 6199 "Convertible" was introduced. "Play it electric or play it acoustic and get top tone either way," extols the 1955 Gretsch catalog. "That's because instead of being built-in, the Gretsch Dynasonic pickup of this guitar is suspended clear of the top to allow full, free vibration."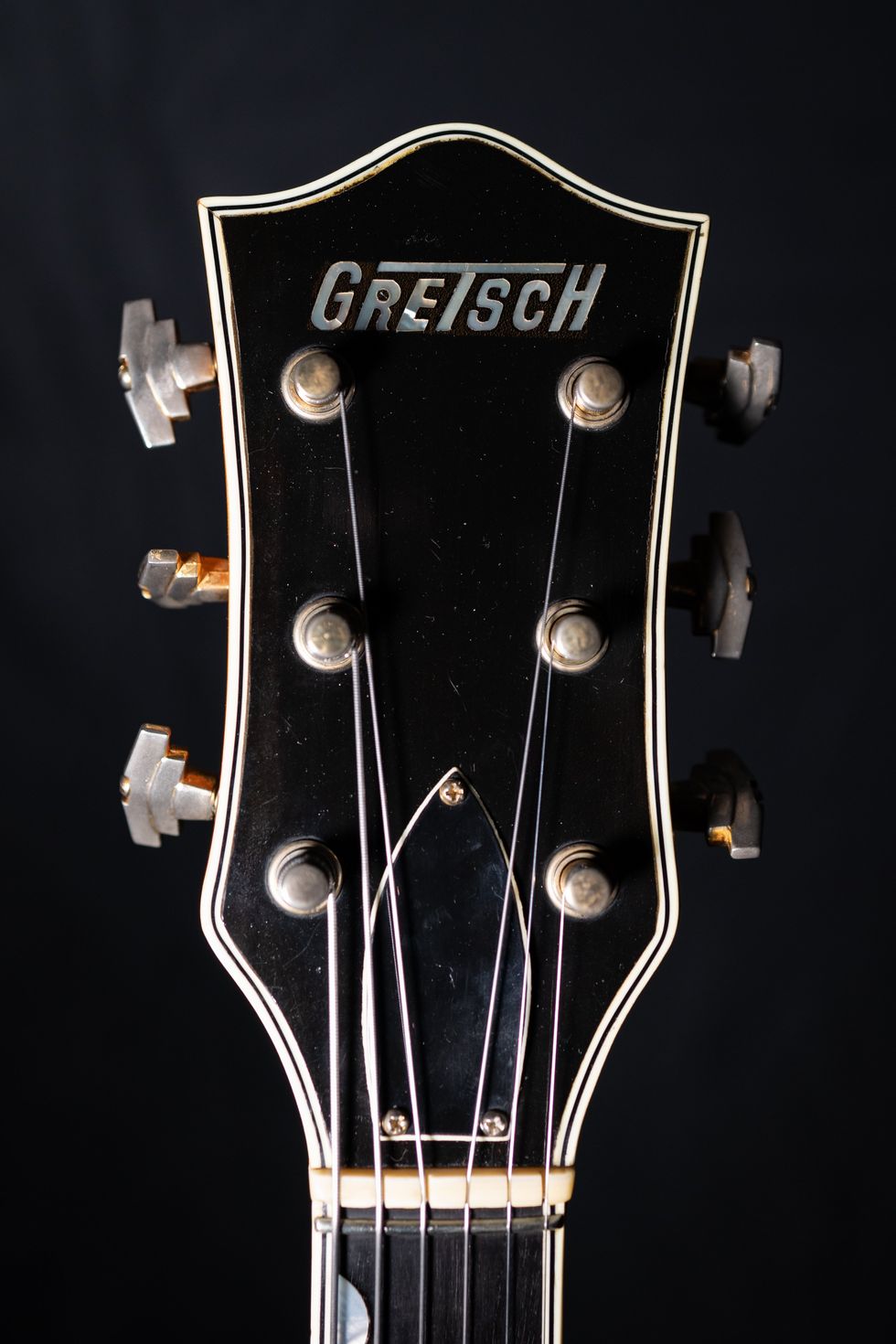 Fred Gretsch Jr. returned to the helm at Gretsch in 1942, with the goal of building electric models for the relatively nascent and growing industry.
Photo by Madison Thorn
But, as is so often the case when one tries to be all things to all people, the Convertible was not a big seller. It did, however, attract the attention of prominent jazz guitarist Sal Salvador, pictured proudly with his sunburst Convertible on his album covers. Salvador was a capable performer who valued a willingness to learn, teaching many students privately in New York at the height of his musical popularity.
"If you didn't know everything in the guitar business in the 1950s, you were in good company."
In 1956, one of Salvador's students, 24-year-old Dan Duffy, was hired to oversee quality control at Gretsch. He wrote a book about his experience called Inside the Gretsch Factory 1957/1970. I managed to track down a copy, and found it written in all caps. I delighted myself in imagining Duffy shouting the entire book to someone. It's really a fun little book. In it, Duffy describes the Convertible as a "good guitar" that had "a great sound but was prone to feedback."
Duffy had his own learning experience trying to fix this problem. Installing soundposts had a minimal effect, so Duffy decided—in all his 24-year-old wisdom—to stuff it with fiberglass and test it out on a gig. "That night, I shook more than Elvis did," writes Duffy. "Somehow I got it down my neck and was jumping out of my pants all night.... I brought it to work. I put the air pressure hose inside the guitar and blew it out. The next day, some of the workers complained they had a terrible itch all night. I said, 'Me, too.' I knew this was stupid when I was doing it."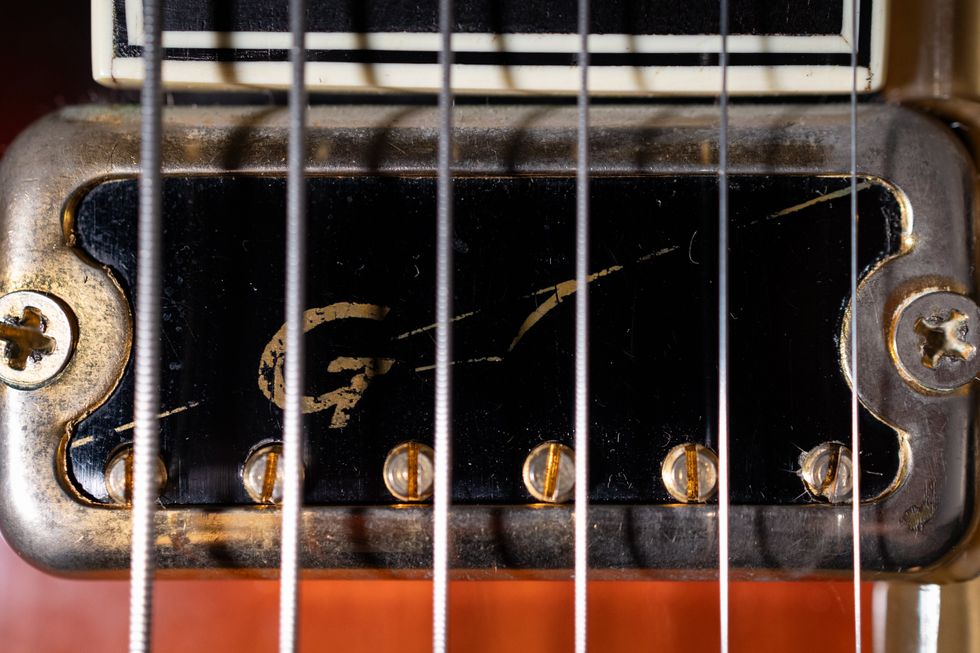 The Dynasonic pickup featured on the Gretsch Convertible, later dubbed the "Sal Salvador," is suspended above the top plate of the guitar by a thin strip of wood.
Photo by Madison Thorn
By 1958, when the dust of Duffy's debacle had settled, the Convertible had become so closely associated with Salvador that Gretsch just went ahead and renamed it the Sal Salvador model. Which brings us to ours: a 1961 Sal Salvador model in great cosmetic condition. It has obviously been well taken care of and is all original. Its remarkable acoustic projection does in fact make it a great choice for someone wanting to switch between plugged and unplugged jazz playing. The inviting C-shape neck feels comfy and the action is 2/32″ on the low side and 1/32″ (!) on the high side. Playing this guitar feels a little like floating on air.
One could easily engage with guitars only on this surface level: assessing the neck angle, the scale length, the condition of the finish, et cetera. But digging a little deeper and indulging our desire to learn guided us on a journey: from the earliest days of amplified instruments to the fine old jazz box laying in my lap today. Here's hoping these guitars keep passing through our doors and telling us their stories, as long as we are willing to listen.
On a summer tour supporting his Time Clocks album, Joe Bonamassa unveils some new 6-strings and old favorites, and plays through what's arguably the most covetable collection of onstage tube amps ever assembled.
After moving back to New York City, Joe Bonamassa spent some lockdown time in Germano Studios in Manhattan's NoHo neighborhood, tightly winding the music for his latest album, Time Clocks. His longtime producer Joe Shirley had to work with the powerhouse guitarist remotely, from his home in Australia. Yet the result is as seamlessly Bonamassa as ever, with riveting guitar work that has echoes ranging from Africa to Led Zeppelin. "My ADD transcends into my musical life," the other JB told longtime Premier Guitar contributor Joe Charupakorn in our December feature. "It's a very different record for me. It's not a blues record, for sure. I just try to make records that don't bore me all the way through—we've got this groove covered, we've got that groove covered, let's put a sorbet in, something out of left field."
They don't serve sorbet at Nashville's hallowed Ryman Auditorium music hall—although I'm putting that in their suggestion box. But Bonamassa did dish out plenty of guitar flambé at his August 2 headliner there. And melded the music of Time Clocks with a selection of some of his favorite classic and original blues. PG's JB—that's me—connected with Joe onstage before the show, where I also did a Rig Rundown with that other guy with my initials in 2018.
This time, there were some new members of Bonamassa's ever-growing-and-shrinking collection of gear—which he spoke about at length earlier this year with Cory Wong on the rhythm guitar kingpin's Wong Notes podcast for PG—pressed into service, including some recent-arrival Les Pauls, of course, and perhaps the most covetable collection of historic badass amps ever played on the Ryman stage. But rareness, novelty, or familiarity isn't what determines which toys come out to play. Bonamassa starts by building a rough set list, and then chooses the right instrument and amps for each song. So, watch, look, and listen!
Brought to you by D'Addario XPND Pedalboard.
High-Flying "B"
Joe's 1968 Fender Telecaster Thinline has a B-bender and a Seymour Duncan the Bludgeon pickup set. The new pickup outfit is patterned after the distinctive sounding ones in JB's '51 Nocaster and are going into production soon. The maestro strings most of his electrics with Ernie Ball .011 to .052 sets.
Ol' '55
Here's another 1955 Strat in the fleet, joining the hardtail the JB's named "the Best." He keeps this one tuned to D and it's stringed with a slightly heavier gauge of Ernie Balls: .011 to .056.
A Bonnie Strat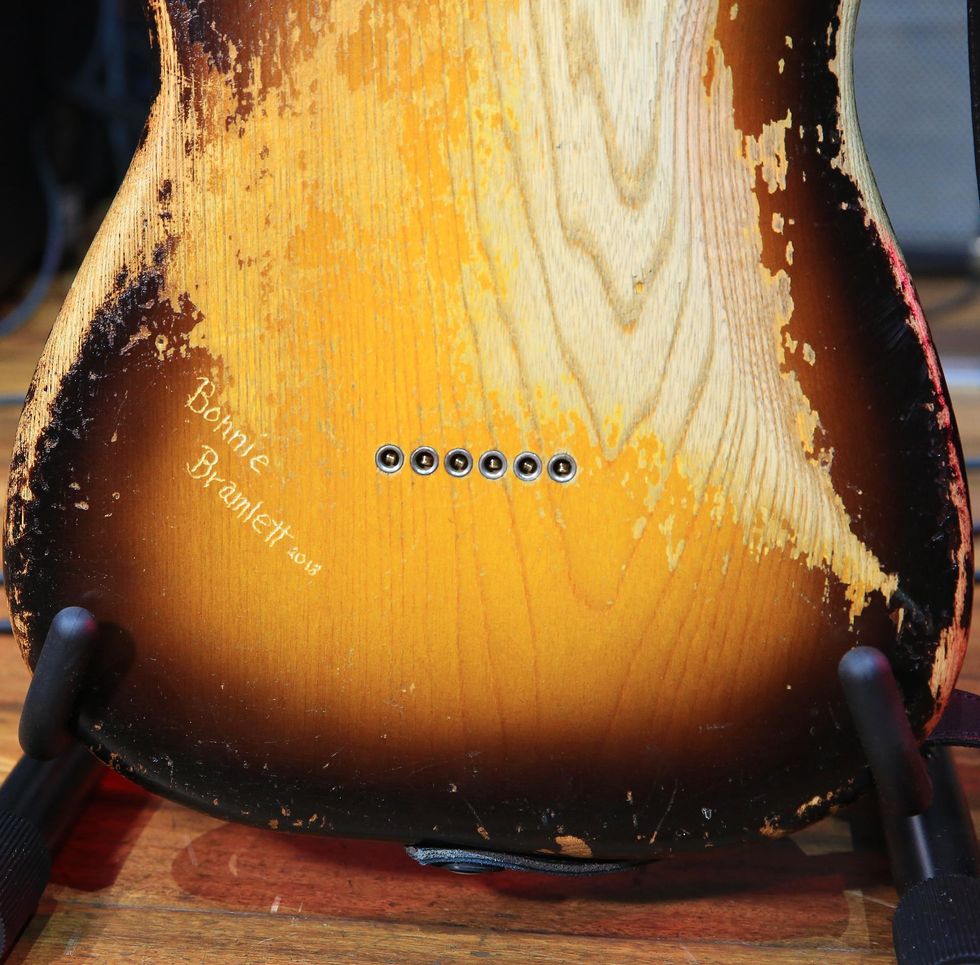 That ain't vandalism. It's love and friendship. Joe asked his friend Bonnie Bramlett, the vocalist who made rock and roots history as half of the famed duo Delaney and Bonnie, to engrave her name on this 1955 Fender Stratocaster—which is now known as "Bonnie."
About Face, '55
Here's the front side of the "Bonnie" Strat.
Les Paul for Sale
JB was asked to play this 1960 Gibson Les Paul Standard on tour until it is auctioned off for charity. The auction has yet to be announced. And while '58s and '59s have long been consider the Holy Grail of Les Paul, anyone who's heard Clapton's tone on the so-called Beano album knows that '60s are also the bomb. Coming up on the collectability scale: late '60s Pauls. Don't believe it? Play one!
A Great '58
This 1958 Gibson Les Paul Standard is a recent purchase. At some point the original tuners were swapped out for Schallers, and that's how Joe's kept it.
The Les Paul Under the Stairs
Dig this early 1960 Gibson Les Paul Standard, which Joe has named "Royal Albert." It was recently found in an under-the-stairs cupboard in England. After a bit of work and the addition of some PAFs, it's got a new life on tour.
For Another $20….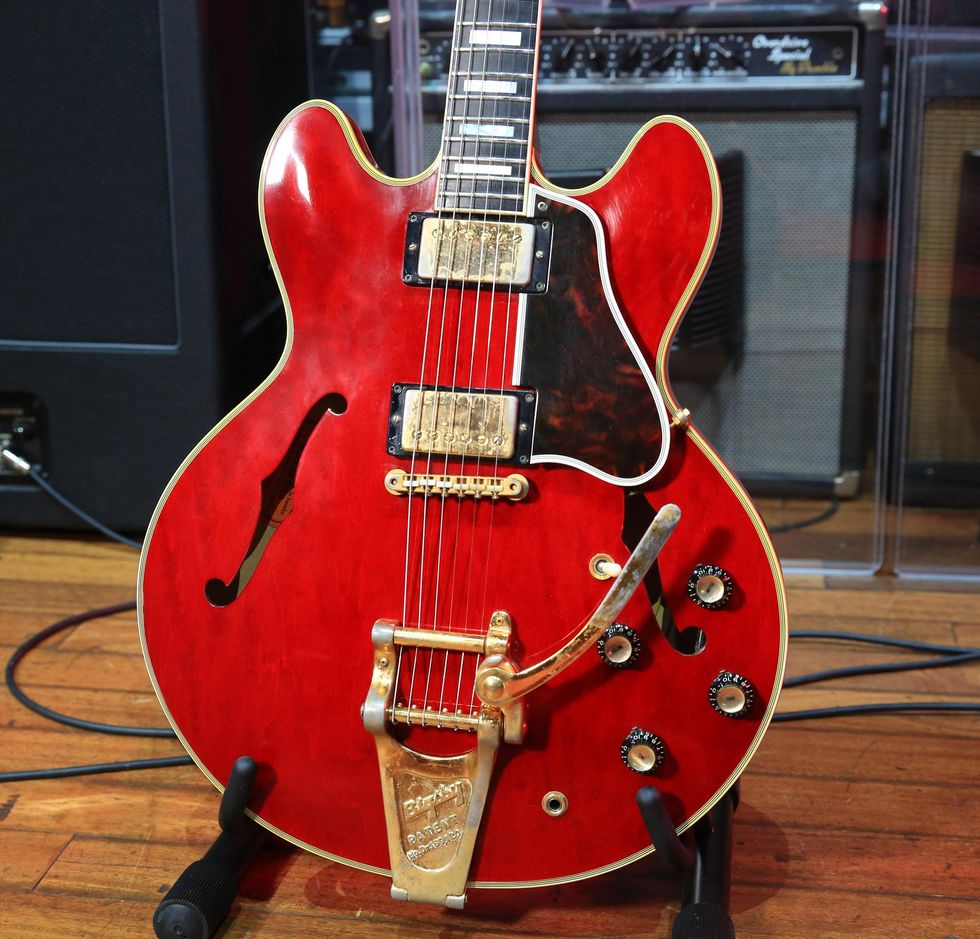 What's the difference between Gibson's ES-335 and ES-355? Back in the day, in practical terms, it was 20 bucks. But another difference is that the 355 and the 345 came in stereo-wired versions. And the optional Varitone circuitry—Gibson's chicken-head-dial-controlled tone filter—for ES-355 models was typically standard. That makes this all-stock 1964 Gibson ES-355 very rare. There's no Varitone and it came wired out of the factory in mono.
Bicentennial 'Bird
It ain't no eagle, but this all-stock 1976 Gibson Firebird Bicentennial salutes in open G. They were only issued for three years and sell for $5,000 plus these days. Plus, this special run were all adorned with a white pickguard where a red-white-and-blue Firebird logo nests.
Amos the Imposter
The Gibson Custom Shop provided Bonamassa this detailed replica of his remarkable, all-original 1958 Gibson Flying V. Check out the run Epiphone did on the historic V back in 2017.
Back in Black
This 1955—that year again!—Stratocaster may be the first black Fender Strat. It was formerly owned by Howard Reed, the guitarist who replaced Cliff Gallup in Gene Vincent and the Blue Caps. Back in 1988, an 11-year-old Joe had a poster of this very guitar on his bedroom wall, and now he owns it. For the past several years, this guitar has made JB's annual trip to the Ryman and you can visit the black '55 any time you enter the Mother Church.
Adventures in Ampland
Seven amazing amps? Yeah, that should do it. And Joe combines them to recreate all the sterling tones on his albums. There's a 1979 Dumble Overdrive Special running into a 2x12 Dumble Cab with JB-85 Celestions. The speakers are rated at 85 watts, natch, and 8 ohms, and are among the loudest speakers Celestion's ever made. JB's 2006 Dumble Overdrive Special combo blasts through the same-model speaker. There's a Mesa/Boogie Revolver rotary speaker cabinet in the mix, too, with a single JB-85, and an '84 Overdrive Special with the same. Two of his signature Fender Twin Reverbs figure in, and while these usually come in tweed, Joe had this pair tuxedo'd in black.
Four off the Floor
And if you've had trouble finding Marshall Silver Jubilee 100-watt heads lately, it might be because Bonamassa has four of them, running two at a time into a Van Weelden 4x12 cab, split internally to run as two 2x12s juiced with EVM12Ls.
More Marshalls
Joe Bonamassa's Pedalboard
JB keeps a very orderly guitar pedalboard. It's currently stocked with a Way Huge Overrated Special, a Tone Mechanics/Racksystems Loop Box, a Tone Mechanics/Racksystems Splitter, a Fulltone Supa-Trem, a Hughes & Kettner Rotosphere, a Boss DD-2 Digital Delay, an MXR Micro Flanger, an Ibanez TS808 Tube Screamer, an Electro-Harmonix Micro POG, a Dunlop Joe Bonamassa Fuzz Face, a Lehle A/B/C switcher, a Dunlop signature Cry Baby Wah in Pelham blue, and an on/off/fast/slow dual switch for the Mesa Boogie Revolver. Juice comes from a Voodoo Labs Pedal Power 2 Plus. Joe uses KLOTZ cables and custom Dunlop Jazz III picks.
This 1968 Gibson signature-model hollowbody has kept its glow—and nearly all its components—through the decades.
From the sparse, smoky ballads of Julie London to the hard bop of Sonny Rollins, Barney Kessel could back up just about anybody. The bandleader, session great, Wrecking Crew member, and sideman was one of the most accomplished guitarists of his era. His chordal complexity not only got him steady work and accolades, but also a collection of signature guitar models bearing his name.
This 1968 Gibson Barney Kessel Custom is a top-of-the-line example. It's the higher-end counterpart to the Barney Kessel Regular, both built from 1961 until 1974. They followed a trio of Barney Kessel signatures that Kay sold between 1957 and 1960.
Barney Kessels often became parts donors, with their hardware, tuners, and pickups (original PAFs, Pat. No., and T-Tops, depending on the year) being stripped and sold separately.
Each Gibson model has a hulking 17"-wide and nearly 3"-deep body, with two humbuckers, a Tune-o-matic bridge, and a bound rosewood fretboard. The attractive Barney Kessel tailpiece is also common to both, while the controls will be familiar to any Gibson player: two volume pots, two tone knobs, and a 3-way selector switch. The dual Florentine cutaways—a design first seen in these Barney Kessels and later used in Gibson's Trini Lopez signature—cut a striking silhouette.
Of the two Gibson Kessels, the Custom alone is dressed to the nines, swapping in gold-plated hardware for the Regular's nickel, and bowtie inlays for the Regular's fretboard parallelograms. There's also a 3-piece maple neck with two pinstripe-thin mahogany strips taking over for the Regular's solid mahogany. And the Custom tops off its outfit with a pearl headstock inlay in the shape of a musical note.
Such features were a huge upgrade to the art-deco stylings and Kleenex-box pickups of Kay's Kessel signatures, which Kessel snubbed, reportedly saying, "I don't play that Kay. It's a terrible guitar!" Interestingly, he often chose not to play these Gibson signatures, either, instead typically using his favorite 1940s ES-350.
When they were introduced, Gibson's Barney Kessel Custom model had a list price of $599, while the Regular's was $399. Both sold in respectable if not incredible numbers, with sales peaking in 1968. However, the following decades were not particularly kind to the guitars. As the vintage market took off for Les Pauls, SGs, and other classic Gibsons, Barney Kessels often became parts donors, with their hardware, tuners, and pickups (original PAFs, Pat. No., and T-Tops, depending on the year) being stripped and sold separately. You can still find Barney Kessel husks on the market—project guitars looking for a new owner to rebuild them. And many of the complete Barney Kessels you'll find for sale have been rebuilt.
A rear view indicates this Kessel was not heavily played. There's no belt rash, finish wear, or other marks, and the new-guitar tags typically indicate that the previous owner or owners had a collector's sensibility.
That's what makes the particular Barney Kessel Custom featured here so special. It's nearly all original, with Patent pickups intact and even its Custom-stamped hang tags. The only modification is one replaced tuner (along with a couple patched screw holes from a previous replacement). The cherry in its cherry sunburst finish is one of the most vibrant we've ever seen, and the condition of the finish overall is in impeccable vintage shape.
This Custom model is classic Gibson, with its 4-knob control array, 3-way toggle, and Pat. No. pickups. Unique flourishes include the special Barney Kessel tailpiece and bow-tie fretboard inlays.
Because of the wide array of Barney Kessel Customs on the used market—many with non-original parts—you can find them across the price spectrum, from about $3,000 on the low-end to $12,000 or more on the high. This Custom, listed on Reverb now by Nationwide Guitars, fittingly lands on the higher end, with an asking price of $8,999.
Sources for this article include Gruhn's Guide to Vintage Guitars by George Gruhn and Walter Carter, American Guitars: An Illustrated History by Tom Wheeler, Reverb's "Player Profile: The Hard-Swinging Barney Kessel" by Greg Cooper, Premier Guitar's "Gibson and Barney Kessel" by Jim Bastian, and Reverb listings from Retrofret Vintage Guitars and Vintage Correct Parts.