Given today's quality control, it's now less of a risk for a guitarist to shop online, purchasing models they've never actually played. That, of course, wasn't the case when this column's guitar was made.
The other day, I was at one of my local brick-and-mortar guitar stores, and was having a ton of fun playing a few of the guitars and amps there. A customer had recently brought in an early 1960s Danelectro (the Jimmy Page model) and a cool Valco-made National Reso-Phonic. I had a blast putting these guitars through the motions with some vintage amps, and I have to say that the National's short scale was really short! I always forget how strange short-scale guitars feel until I play one. It always makes me feel extra large! Ha!
After I got home, I started thinking about the way we buy guitars nowadays, and how that's most often online. It would seem like we're really rolling the dice by buying guitars without holding them and hearing them, but a lot of models have become a bit standardized and often have a consistent feel across their mass-produced copies. I guess quality control is a big part of this. Almost every factory Fender neck feels the same to me, and most of the newer Gibson Les Paul guitars are of a similar weight and feel, too.

"Now, back when quality control wasn't such a priority, one could find some crazy variations on a theme."
Now, back when quality control wasn't such a priority, one could find some crazy variations on a theme. When I was younger, the older players would gripe about guitar weight all the time, and there would be these epic discussions on the merits of such things that I never cared about. But I will say that if you did find a guitar that was above the 10-pound range, it was noticeable! Just like that short-scale National, heavy guitars are a bit of a drag, and I was always worried about them falling off a strap. The heaviest guitar I've ever owned was a B.C. Rich acrylic Mockingbird (in beautiful, see-through slime green), but the second heaviest is this LaBoz Bison that dates to the mid 1960s. This guitar laughs at the puny Norlin-era Gibsons!
Got pickups? And note the first pickup preset: wild dog!
See, back in the 1960s and '70s, the TeleStar name was used by a New York-based company owned by the Laboz family. Maurice Laboz and his brother imported a lot of cool Japanese guitars, and I just love their sparkle-finished TeleStars. Most of the TeleStar guitars were made by Kawai Guitars in Japan, but this Bison actually has the Laboz family name on the headstock, and was made at the Shinko Gakki factory. Maybe this was from a short run, or maybe these were some prototypes? Either way, these are rare models that actually copy the more famous Burns Bison guitars, which were made in England.
Shinko Gakki was actually one of the better guitar makers of 1960s Japan. The company previously made pianos and organs, but when the guitar boom hit, Shinko dove into the deep end of guitar manufacturing. Shinko really gave it the ol' college try, and designed most parts in-house. The Shinko guitars weren't half bad, and at one time I owned about 50 different models of theirs. But they poured so many resources into electric guitars that the manufacturer was one of the first to go bankrupt at the end of 1966, when sales just didn't match the price point.
Oddly, the headstock logo and the Laboz family name were disparate.
When I found this LaBoz collecting dust in an old music store, I was smitten. The controls are all sorts of crazy, with preset options that include "jazz" and "wild dog"! Four pickups, wild horns, a batwing headstock, and a whole lot of shiny chrome had me interested, and the shop owner knew it too. All he said was "Pick it up." And yeah, it was about 11 pounds of axe! The body was so thick, measuring at around 2 1/2″!
There's one volume and one tone knob, and then the pickup selector knob, which simply offers four different preset tones. The pickups on this one are super hot, usually reading in the high 8k range, and have a deep, rich tone. The bridge/tremolo combination is really an engineering marvel, like most Shinko innovations at the time. Sadly, the design adds quite a bit of weight to the already hefty body. Imagine ordering this LaBoz without holding and playing it first! I've seen two or three of these in my days, and the only other color seems to be a beautiful greenburst (one of my faves). Not quite cool as the B.C. Rich I owned, but almost as heavy!
1960s LaBoz Bison Guitar Demo
Watch a demo of this guitar by Mike Dugan on Frank's YouTube channel, @drowninginguitars.
With such a flashy flame top, the Silvertone 1445 was built to catch the eyes of department store shoppers.
I don't know what's going on lately, but I'm breaking down all over and my shoulder is the latest to crumble. When I was a kid I would practice guitar in my bedroom near a radiator with an ungrounded amp plug and I'd get a zap right through my guitar and into my hands. Well, my shoulder pain is like that now, only without the cool story of rock 'n' roll survival. I simply woke up one day like this. After a few weeks of discomfort, I figured I'd try out a new pillow, since mine are flattened like a wafer. I ventured out to the mall and, much to my sadness, saw the local Sears store shuttered, with weeds growing up from the sidewalks and concrete barriers blocking the large glass doors. I know I don't get out much, but, man, was I sad to see the Sears store I'd known since childhood closed-up like that. My wife was laughing at me because apparently it had been closed for some time. But since I seem to exist on a separate timeline than most folks, it was all news to me.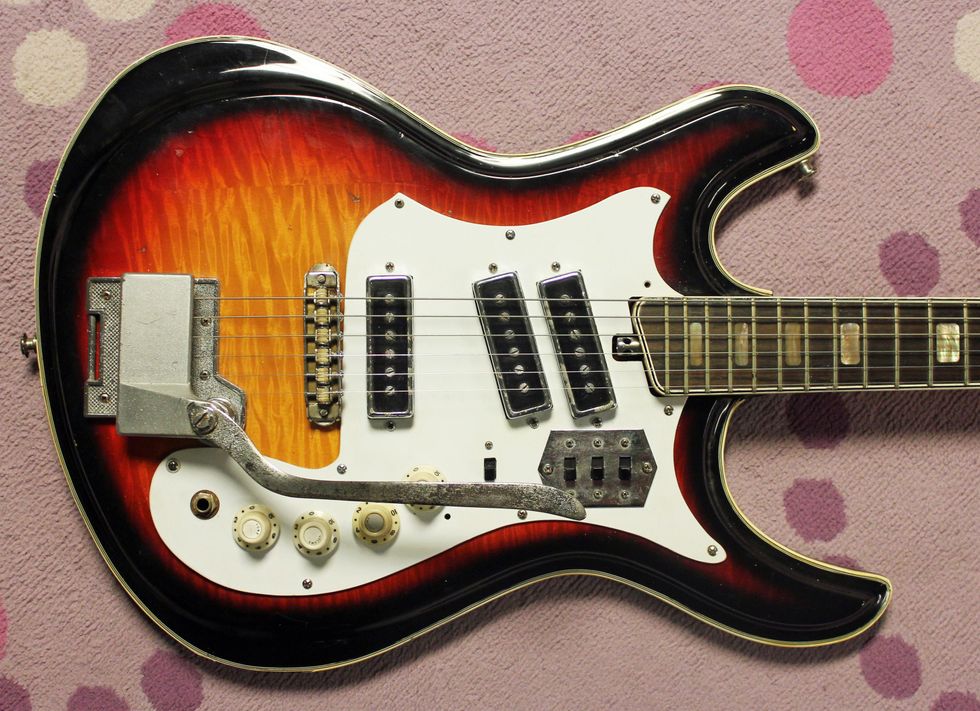 The 1445 combines an elegant sunburst top with surfy accoutrements and makes a few noticeable nods toward both Fender Jaguar and Mosrite styles.
In the parking lot, I stretched my shoulder and gave some thought to Sears and department stores in general. Back in the day, I would see stacks of new vinyl records in the store, alongside the classic, huge hi-fi stereo systems. I feel like I grew up during a great time, where I had one foot in a bygone era and the other foot pointed towards gigantic technological breakthroughs like computers. But I also feel kind of bummed about missing out on the whole electric guitar/department store connection. My good buddy Mike Dugan recalls those times, and while most kids were charging towards the toy section, he was checking out the electric guitars and amps. Can you imagine?
"I feel kind of bummed about missing out on the whole electric guitar/department store connection."
For those of you who also missed the Sears guitars, here's a quick primer: They were almost all branded Silvertone and, in the late '50s and early to mid '60s, were manufactured by either Danelectro, Harmony, or Kay. By the tail end of the '60s, a lot of Silvertone guitars were Japanese imports that were priced and aimed at beginners. I've always felt that the Silvertone guitars were a bit on the conservative side of the spectrum, and there weren't many crazy designs or finishes.
The headstock on this 1445 , with binding and its sloped shape, is an elegant touch for a beginner's guitar.
This Silvertone 1445 model hails from around 1969. It's a cool 3-pickup model that features an offset shape with some exaggerated lines. Built at the Kawai factory, the guitar has an ebony fretboard and some standard Kawai appointments, like the in-house vibrato, electronics, and pickups. There is an on/off mini switch and volume knob for each pickup as well as a single tone knob. Around this time, Kawai was starting to cut corners in subtle ways, one of which included underwinding the pickups, which, in most cases, resulted in a thinner sound. Luckily, the series wiring in these guitars can produce quite the powerful sound. The finish is a nice-but-kinda-blah sunburst with some flamed wood. The flame veneer was a new thing for the Japanese guitar makers at the time, and I think there was some elegance attached—especially for a guitar targeted toward beginning players.
Strapping on one of these late-'60s 1445s is a familiar-feeling experience, offering up a cross between a Fender Jaguar and a Mosrite vibe. Often, Kawai electrics of this era were neck-heavy and the headstock would take a dive on you when slung around your shoulder. But the 1445 features a thicker body with a thin laminated neck. Kawai had basically perfected that laminate-neck-making technique, mostly to prevent warping, and these guitars usually hold up very well, even though the necks on are quite slender and narrow.
The Silvertone triple-pickup 1445 cost $78.95 in the 1969 Sears winter catalog and only lasted for a few years. I've seen all sorts of variations on this model, like bound bodies and necks, different colored pickguards, and different knobs. I suspect a lot of you out there started on a Silvertone. One has to marvel at the sizable influence Sears stores had on generations of folks. I'm really going to miss that local Sears and the feeling of nostalgia it evoked. Not quite like the electric zaps flowing into my shoulder right now, but still powerful!
H. Noble's Univox guitars were funky and forward-thinking, and they remain so today.
I never seem to get rid of anything, including clothes. I have Vans from the '80s that my son swears are worth a "ton of money," and I have t-shirts dating way back. Since I never embraced fads, most of my old clothes are retro cool—according to my daughter, at least. The other day she was going through some aged t-shirts of mine and managed to claim a whole pile as her own. I looked through the shirts she liked, and among them I saw a Univox shirt, which I had totally forgotten about, but I quickly recalled that angular logo. (Man, the Univox Super-Fuzz is still my favorite all-time fuzz pedal.)
Here's some backstory on the brand. The Unicord Corporation in New York started to import various Japanese models under the Univox name in the early 1960s. Those instruments were made at the rather famous Matsumoku guitar factory in Matsumoto City. Unicord and Univox had a pretty good run and lasted until the mid-'80s, when the Univox brand was phased out and Matsumoku burned down. To be honest, I never really dug most Univox guitars, because I mainly remembered them as '70s-era copies of other brands. But being the nut that I am, I was able to track down some of the earliest Univox models, which were the brainchildren of a rather creative dude.
At that time, Matsumoku had two employees who played guitar and really dove into the factory's new endeavor.
Let's take a trip back to 1964. Matsumoku was ending business with the Singer sewing machine company. Basically, Matsumoku was a wood-crafting facility that made the cabinets for Singer. (I even have a Matsumoku-made cabinet and sewing machine in my house.) Also in Matsumoto, Fujigen was starting its guitar line and soon had instruments made at Matsumoku. By all accounts, Matsumoku, which had plenty of old, properly dried wood, had an easy transition from manufacturing cabinets to making some good-looking guitars. Not always super playable—but cool nonetheless.
Matsumoku had two employees who played guitar and really dove into the factory's new endeavor. An older designer named Noritkatsu Harayama created parts such as the infamous tremolo/bridge unit found on many Matsumoku-made axes. Harayama later went on to become a master guitar-neck maker, and his work was featured on many ESP, Kramer, Schechter, and Moon models. The other employee at Matsumoku was Nobuaki Hayashi. Let me tell you, H. Noble (as he calls himself) is a mad genius. His current company is Atlansia Guitars. If you want your mind blown, check out his creations. Back in 1964, H. Noble was filling notepads with guitar-design ideas. Tragically, most of his coolest never saw life. But the two early Univox electrics in this column's photos offer some insight into the man's vision.

The headstock on the UC 6-string sports some subtle flair at the end, but the entire body shape and split pickguard reveal an eye for the original.
Now, I don't know the exact model names, but many of the Univox guitars were called UC-2 or UC-1. Check out the design on these. I don't even know how to describe them. The headstock shape with the little stack on the end, the double cutaways like two big horns, the sweeping lower bout.… Those pickups were in-house jobbies and always play with sizzle. The controls were totally simple volume/tone knobs with a 3-way switch.
Every time I've visited Japan, I met with H. Noble, which is not an easy task. He's a great person with a superb mind. He's very thoughtful and soft-spoken, and he values his time. I also visited the site of the Matsumoku factory, which is now a lovely park. There's so much history to cover with Matsumoku, Univox, and H. Noble that I could probably fill a good-sized book with what I know. But for today, let's give a nod to all these fine people, and to my daughter who gave me another idea for another column.