Tagima Vernon Neilly VN1 Signature Guitar
Mention Brazil, and my mind conjures up all sorts of things: Rio's Christo Redentor; a brilliant Terry Gilliam movie, Brazil; the famous Ary Barroso tune that inspired the Terry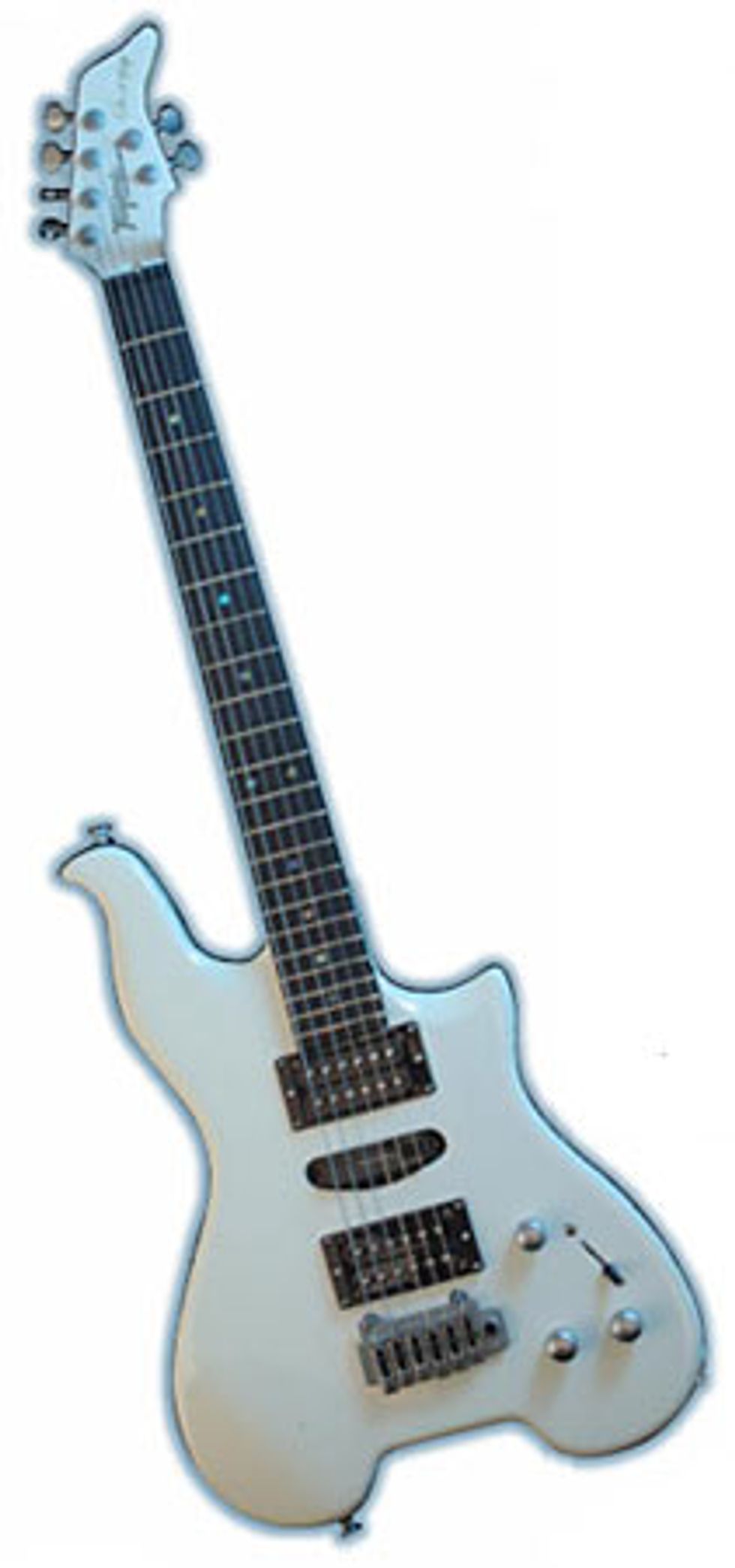 Mention Brazil, and my mind conjures up all sorts of things: Rio's Christo Redentor; a brilliant Terry Gilliam movie, Brazil; the famous Ary Barroso tune that inspired the Terry Gilliam film; the atrocious Stanley Donen flick, Blame it on Rio; golden skinned Victoria's Secret models frolicking on the country's famed beaches wearing postage stamp-sized pieces of fabric; and an inflammatory episode of The Simpsons that managed to raise the ire of the Brazilian government before it even aired.
Now mention guitars and Brazil in the same breath. Call me culturally biased, but I'm thinking of nylon-stringed guitars comping "The Girl from Ipanema" or the polyrhythmic, multi-cultural chunk of Sepultura. What doesn't immediately spring to mind is a guitar that seems to take its initial stylistic cues from Prince's Cloud guitar. The Tagima Vernon Neilly VN1 Signature model arrived in our offices for a review and proceeded to challenge my many preconceptions about our Southern neighbor's current state of guitars.
The VN1's uniquely shaped cedro body features an extended cutaway and a wiggly, elongated upper horn, inspiring the earlier "Artist Formally Known As" remark. Additional stylistic cues come across as an odd amalgam of Strat, Micro-Frets via the Gumby-esque flourish at the end of the headstock, and Steinberger, due to the familiar cutaway behind the bridge. The maple neck offers impecably set jumbo frets on a Brazillian rosewood (natch) fingerboard. Intonation and setup mirrored the fretwork, best described as flawless.
The overall fit and finish of the guitar continues to exude high-quality, as does Tagima's selection of parts for the VN1: four by two Gotoh locking tuners, Wilkinson tremolo and Seymour Duncan pickups. The VN1 has a SH-1 '59 in the neck position, a SHR-1 Hot Rail in the middle and a SH-4 JB for bridge chores. The three pickups are controlled by a 5-way switch, a master volume control, and two tone knobs with a push/pull system providing phase and coil splitting settings for extended tonal capabilities. Our sample came in with a super clean white finish. Other finishes available include Blue Burst, Surf Green and Black.
When playing the Tagima, I was reminded of nothing more than an early banana-headstocked Kramer Baretta due to its satin finished neck and flat fingerboard radius topped with jumbo frets, as well as the body's non-delicate heft. The VN1 isn't necessarily heavy, just substantial feeling. With the Duncan humbuckers, the ease at achieving delightfully thick, heavy tones was no surprise; but the convincing funk and country tones made us perk up. Pulling up on the volume control enabled single coil voicings, and the front pickup's tone control also push/ pulled, taking the 'buckers in and out of phase. The VN1 once again showed its ability to change its pitch up.
Taking the phenomenal playability, solid hardware choices and monster workmanship out of the equation, I would still give the VN1 kudos for its unique styling, seeming to echo a new wave of guitar making by offering a mix of unique styling with tried and true construction methods and familiar playability. The VN1 can certainly handle shred duties, but I kept finding myself envisioning it being used to track the live guitars – gasp! – on the next Boards of Canada or Massive Attack opus.
The VN1's unique looks may not be everyone's cup of tea, but its playability is superb, giving open-minded rockers another option when looking for a new axe.
Buy if...
you''re looking for a more than capable axe that will stand out in the crowd.
Skip if...
you wear brown pants to fit in.
Rating...
 
Our expert has stated his case, now we want to hear yours. Log on and share your comments and ratings.