TC Electronic ND-1 Nova Delay
Beginning with an infatuation with noise and frequencies, the Danish duo of Kim and John Rishøj created TC Electronic in 1976. While TC initially only dealt with guitar pedals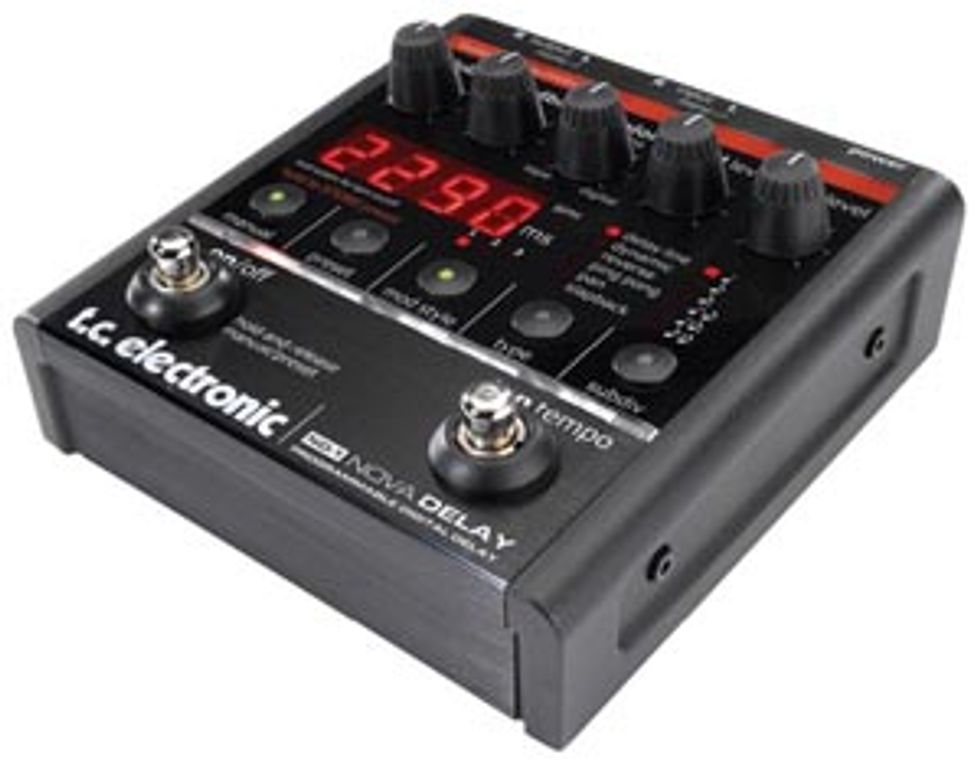 Beginning with an infatuation with noise and frequencies, the Danish duo of Kim and John Rishøj created TC Electronic in 1976. While TC initially only dealt with guitar pedals and effects, the evolution of technology and TC's expertise has enabled the company to grow into a giant. Boasting employees in 15 countries, TC Electronic is now a major player in digital processing, recording, post-production and even video, although the heart of the company remains in guitar effects. The developers at TC recently took a classic – the TC 2290 Dynamic Digital Delay – and used it as a starting point for the new ND-1 Nova Delay, a pedal that redefines the phrase, "all good things come in small packages."
Built upon a time-tested foundation, the Nova Delay isn't simply a retread of past success; the ND-1 offers some of the most innovative features available in today's effects market. All-new Audio Tapping technology enables players to set the tempo of the delay by playing a rhythm into the pedal while holding down the Tap Tempo switch. Other Nova Delay features include the ability to choose between milliseconds and BPM readout; a Color control, which allows you to move between analog, digital and tape delay sounds; and delay spillover mode, which allows the delay repeats to continue, even when the preset or mode is changed.
The ND-1 Nova Delay also features:
Six studio quality digital delay types
Two switchable settings: manual and preset
Nine user-programmable presets
Up to 2290 ms delay time
Modulated delay
Still, perhaps the most significant attribute the ND-1 Nova Delay offers is the minimal tweaking and adjusting required to locate those classic tones – they come out so freely it's nearly a crime! Head inside to see a full rundown of the ND-1 Nova Delay's capabilities, plus a link to read our review.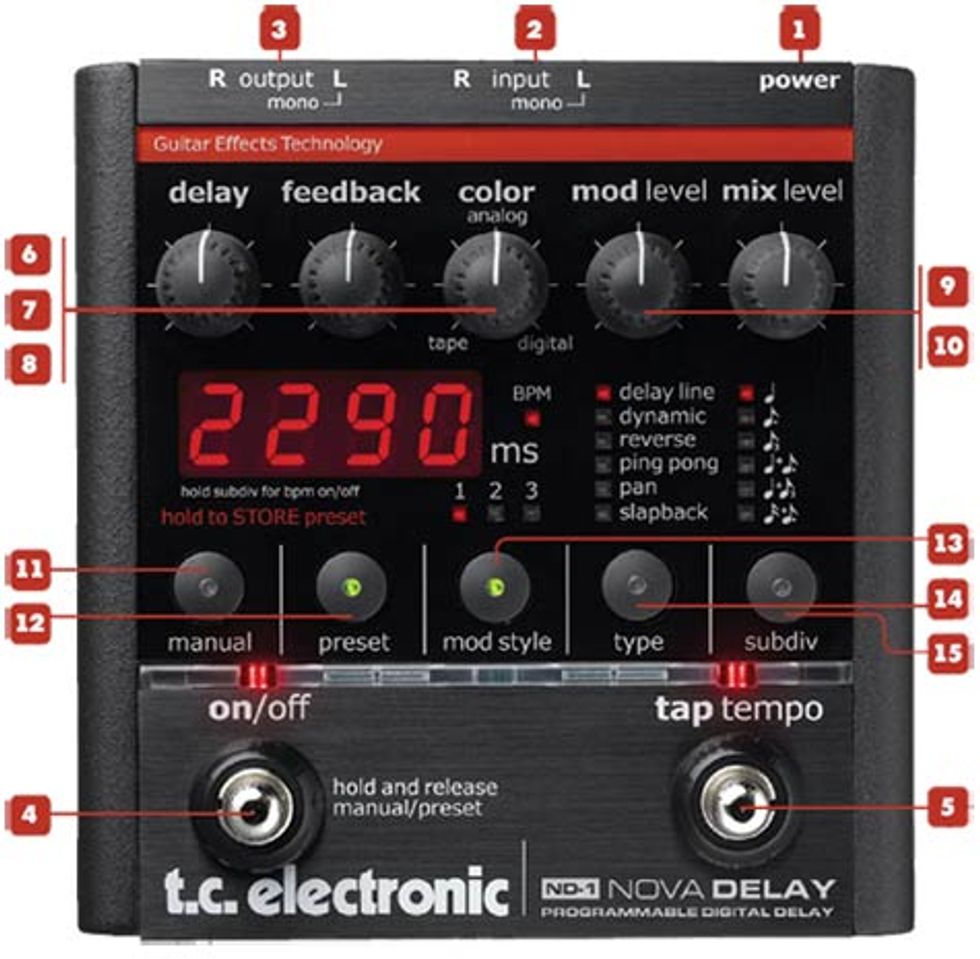 1

Power -12V DC 300mA

9

Mod Level - Controls the amount of pitch modulation

2

Inputs -Two 1/4" mono jack connections

10

Mix Level - Sets the mix between the dry and effected signal

3

Outputs -Two 1/4" mono jack connections

11

Manual - Selects Manual mode allowing the knobs to control the sound

4

On/Off Switch -Standard On/Off function or press and hold to switch from Manual to Preset mode

12

Preset - Selects Preset mode, where can users choose from nine assignable presets

5

Tap Tempo -Standard Tap Tempo function as well as Audio Tap Tempo mode switch, allowing the input to set tempo

13

Mod Style - Selects the modulation type to be used with the Mod Level Knob

6

Delay -Increases or decreases the delay time set by the Tap Tempo switch

14

Type - Selects one of six delay types: Delay Line, Dynamic, Reverse, Ping Pong, Pan and Slapback

7

Feedback -Controls the number of repeats

15

Subdiv - Selects one of six delay subdivisions: quarter note, dotted eighth note and eighth note triplets along with three Dual Delay modes, delivering different subdivisions for the left and right outputs

8

Color -Shapes the repeats sound offering digital, tape and analog tones

For more information:
[youtube https://www.youtube.com/v/X5HsJNpvkxM&hl=en&fs=1 expand=1]