Tommy Emmanuel - Finger Picking Licks
Tony Emmanuel''s gear and techniques on his "Cantina Senese" recording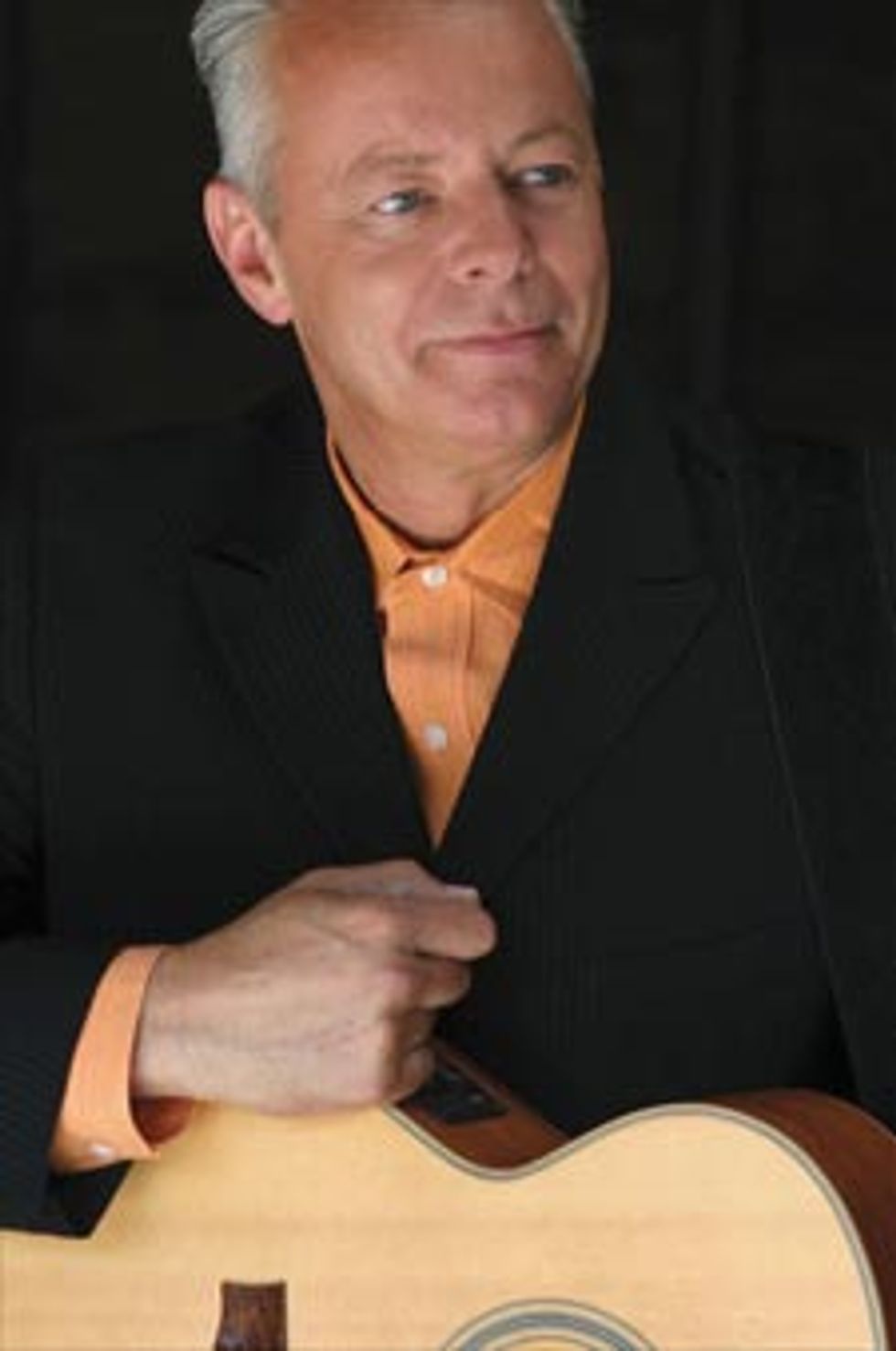 Native Australian guitarist Tommy Emmanuel's technique has been described as fingerstyle, a unique way of playing the guitar similar to the way a pianist plays piano using all ten fingers. In fact, guitar legend Chet Atkins honored Tommy Emmanuel with the title of "Certified Guitar Player" for his lifetime contribution to the instrument, a rare honor shared by only three other people in the world – Jerry Reed, Steve Wariner and John Knowles.
His career has spanned over four decades and includes 16 music and instructional recordings. Among his achievements was receiving a 2007 Grammy nomination for the song "Gameshow Rag" from his CD,
The Mystery
, which was released on the Favored Nations label. Tommy was also voted one of the Top Three Favorite Artists in an Acoustic Guitar magazine readers' poll. Tommy was honored by Australia's Rolling Stone magazine as most popular guitarist for two consecutive years. He also has four Platinum and Gold albums, and garnered the "Golden Guitar" award in both 2006 and 2007 at the CMAA Awards in Australia.
Ironically, back in the mid-nineties, Tommy and I had something in common: NAC Radio. I had signed with Instinct Records and just released my acid jazz album Last Kiss Goodbye, which received quite a bit of airplay at NAC Radio. Around that same time, Tommy's CD,
Midnight Drive
, was cruising the same stations on the dial. Oddly, we had never spoken until this interview.
I asked him about his most recent CD,
The Mystery
, and, in particular, the song, "Cantina Senese."
What guitars and mics were used to record the CD?
In "Cantina," I played three parts, sometimes in unison and sometimes in harmony. I used my maple guitars and mic'ed them with two Neumann 149s. I got a drum machine to play the bass drum and conga parts, then overdubbed brushes and real drums around it. Two of the guitar parts were played on steel strings, with one panned to the left and one panned to the center. The third part was played on a very ordinary Takamine nylon string that I borrowed. I wanted to get the sound of a real guitar trio with a party atmosphere.
Where was the album recorded?
At a friend's place in Nashville called Azalea Studio; we mixed it at Wistaria Studio in Virginia. Kim Person engineered the album – she is a great engineer, specializing in acoustic guitar. She can get such a great natural sound from the guitar.
What acoustic mic'ing techniques did you use?
I used a Neumann KM184 pointing down the neck of the guitar towards the soundhole. Right in front of me, I used a handmade mic that a friend of Kim had designed, similar to an old Telefunken 251 and centered to the soundhole about 8" in front of me. I also took a direct out from my guitar pickup into my AER acoustic amp that was mic'ed in a separate room. When we did the mix, we left both acoustic guitar mics dry and put just a little reverb on the amp mic to create that big, beautiful depth – that really crystal clear sound, like you're right in front of my guitar.
What preamps were used?
Kim used Pendulum preamps, which were made for her studio (
Pendulum Audio specializes in high-quality, handbuilt vacuum tube recording equipment designed for amplifying stringed instruments – check them out at pendulumaudio.com
).
Digital or analog?
We recorded the whole album in three days using ProTools. For preproduction, Kim goes into the studio the day before and sets up the mics and tweaks the sounds, so everything is ready for me to record. The next day, I find the right spot on the mic and just go from there. I like using my custom guitars that were made for me in Australia.
As an engineer friend of mine once told me after he had witnessed Tommy playing alongside Les Paul at New York's Iridium, "You've got to check this cat out!" I now advise you to do the same at
tommyemmanuel.com
.
---
Brian Tarquin
Emmy Award Winning Guitarist Brian Tarquin scored a Top 20 hit in the 90's with "
The Best of Acid Jazz, vol. 2
" on Instinct Records and enjoyed several top 10 hits on the R&R charts. Founder of the rock/electronica band, Asphalt Jungle and has scored TV music for such shows as
CSI, Smallville, MTV, Alias, 24, All My Children
and many others.
bohemianproductions.net
jungleroom@optonline.net
myspace.com/bohemianproductionsmusic