The indie-minded 4-string gets upgraded with stellar hardware and extraordinarily flexible electronics.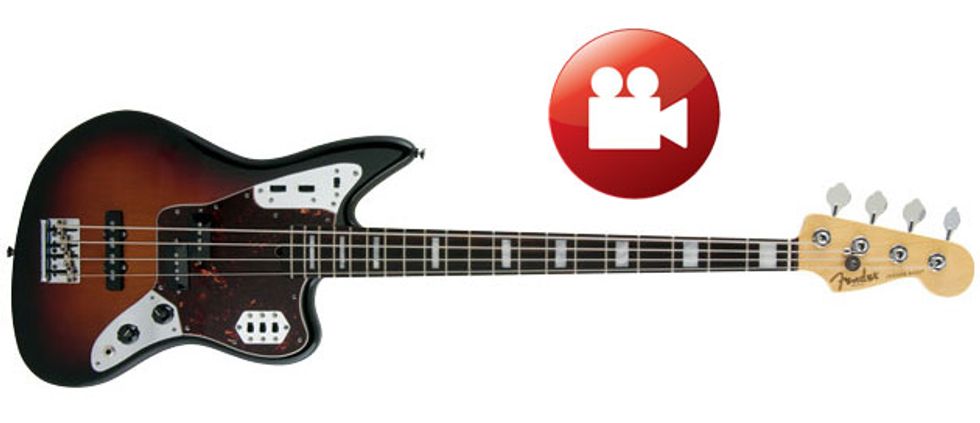 Fender is justly famous for its two most popular basses, the Precision and Jazz. After all, a significant portion of all the bass-guitar performances ever recorded were performed on these simple-but-effective axes. In spite of the dominance of the P and J, Fender has continued to pursue other bass designs for decades. Some have hit the mark, others haven't—but often that's just because some players have such a low tolerance for anything that says Fender but isn't a P or J.
The Jaguar bass, released a few years ago as a relatively inexpensive import model, is another Fender bass design that's gained a following. While evoking many classic Fullerton bass qualities, the Jaguar is also much like its 6-string cousin—the funky-looking, switch-laden Jaguar guitar. The import 4-string has proven popular enough for Fender to give it the full-on American Standard treatment. The new domestic Jags are built in Corona, California, and spec'd with an upgraded complement of hardware and a higher level of fit and finish.
<p> <b>One Complicated Cat<br/> </b>Those who fancy themselves nonconformists are likely to love how the Jag somehow looks classic and just a bit <i>off</i>. But for traditionalists, the blunted horns, switch-y top, and block inlays may not seem as visually coherent as its more iconic cousins. For me, the combination is a bit busy.</p> <p> The Jaguar's construction, however, is hot, no matter your predilection. The hardware is robust and effective, the fretwork and fretboard dressing are impeccable, and the beautiful sunburst finish is skillfully applied to the alder body. I was especially glad to see a beefy, Fender High Mass Vintage (HMV) bridge, which offers both through-bridge and through-body stringing. It's also cool to see lightweight versions of the classic paddle-key tuners.</p> <div style="border-top: 2px solid rgb(100, 100, 100); border-bottom: 2px solid rgb(100, 100, 100); margin: 10px 30px; padding: 10px; font-size: 18px; text-align: center; color: rgb(153, 0, 0);"> The benefit of the Jaguar's elaborate switching scheme, onboard preamp, and passive tone control is the sheer breadth of tones on hand. It's a far broader palette than the typical Fender-style bass.</div> <p> Even the 3-ply tortoise-shell pickguard oozes a slick vibe. The materials are all top-notch, including a gorgeous rosewood fretboard, graphite support rods inlaid into the maple neck, and a bone nut. Our test Jaguar's playability was excellent, too. Its modern C neck profile felt very Jazz-like, and thus conducive to up-tempo playing, while high-register access was quite similar to that of a Precision.</p> <p> Even more than the look, the Jaguar's electronics are truly polarizing. The P/J configuration has its fans, and here Fender hooks them up with a great-sounding American Vintage '62 Precision pickup and an alnico 5 single-coil J pickup with adjustable hex-screw pole pieces.</p> <p> The potential hiccup for some players will be the Jaguar's switching scheme and control layout. The three switches on the lower bout activate the pickups and switch between series and parallel wiring when both pickups are on. On the upper bout are two thumbwheels that control the 2-band 9V onboard EQ, as well as an active/passive switch. Finally, a pair of knobs governs volume and tone.</p> <p> Those used to a J or P—or heck, even a run-of-the-mill active bass—will definitely encounter a learning curve with the Jaguar. Pickup on/off switches can be cool for stuttering effects, but they also bring potential to inadvertently shut off one or both of the pickups by accidently grazing a switch with your plucking hand. Slapping hard and digging in, only to be met with a silent bass, does not a happy slapper make. The thumbwheels' lack of visual setting markers can also make it frustrating to find a favorite sound on the fly.</p> <div class="pg-rating-box" style="width: 200px; float: right; background-color: rgb(234, 234, 234); padding: 5px; margin-left: 5px; border: 1px solid black;"> <p> <span color="#c41230" size="4" style="color: rgb(196, 18, 48); font-size: 14pt;"><strong>Ratings</strong></span></p> <p> <strong>Pros:</strong><br/> Excellent construction. Unusually versatile onboard electronics. Broad array of solid tones.</p> <p> <strong>Cons:</strong><br/> Slappers may inadvertently hit the onboard pickup switches.</p> <p> <strong>Tones:</strong><br/> <img class="rm-lazyloadable-image rm-shortcode" data-rm-shortcode-id="838f4210648c1fd3d496e6cc0a0159b8" data-rm-shortcode-name="rebelmouse-image" data-runner-src="https://www.premierguitar.com/media-library/eyJhbGciOiJIUzI1NiIsInR5cCI6IkpXVCJ9.eyJpbWFnZSI6Imh0dHBzOi8vYXNzZXRzLnJibC5tcy8yNTUwNTk3My9vcmlnaW4ucG5nIiwiZXhwaXJlc19hdCI6MTY3NzQ1NzYyMn0.nMddA-DcLNoD2UfiNWE8ILSHtWqW4ARwo37q3hXCV6c/image.png?width=980" height="24" id="863d4" type="lazy-image" width="120"/></p> <p> <strong>Playability:</strong><br/> <img class="rm-lazyloadable-image rm-shortcode" data-rm-shortcode-id="838f4210648c1fd3d496e6cc0a0159b8" data-rm-shortcode-name="rebelmouse-image" data-runner-src="https://www.premierguitar.com/media-library/eyJhbGciOiJIUzI1NiIsInR5cCI6IkpXVCJ9.eyJpbWFnZSI6Imh0dHBzOi8vYXNzZXRzLnJibC5tcy8yNTUwNTk3My9vcmlnaW4ucG5nIiwiZXhwaXJlc19hdCI6MTY3NzQ1NzYyMn0.nMddA-DcLNoD2UfiNWE8ILSHtWqW4ARwo37q3hXCV6c/image.png?width=980" height="24" id="863d4" type="lazy-image" width="120"/></p> <p> <strong>Build/Design:</strong><br/> <img class="rm-lazyloadable-image rm-shortcode" data-rm-shortcode-id="838f4210648c1fd3d496e6cc0a0159b8" data-rm-shortcode-name="rebelmouse-image" data-runner-src="https://www.premierguitar.com/media-library/eyJhbGciOiJIUzI1NiIsInR5cCI6IkpXVCJ9.eyJpbWFnZSI6Imh0dHBzOi8vYXNzZXRzLnJibC5tcy8yNTUwNTk3My9vcmlnaW4ucG5nIiwiZXhwaXJlc19hdCI6MTY3NzQ1NzYyMn0.nMddA-DcLNoD2UfiNWE8ILSHtWqW4ARwo37q3hXCV6c/image.png?width=980" height="24" id="863d4" type="lazy-image" width="120"/></p> <p> <strong>Value:</strong><br/> <img class="rm-lazyloadable-image rm-shortcode" data-rm-shortcode-id="838f4210648c1fd3d496e6cc0a0159b8" data-rm-shortcode-name="rebelmouse-image" data-runner-src="https://www.premierguitar.com/media-library/eyJhbGciOiJIUzI1NiIsInR5cCI6IkpXVCJ9.eyJpbWFnZSI6Imh0dHBzOi8vYXNzZXRzLnJibC5tcy8yNTUwNTk3My9vcmlnaW4ucG5nIiwiZXhwaXJlc19hdCI6MTY3NzQ1NzYyMn0.nMddA-DcLNoD2UfiNWE8ILSHtWqW4ARwo37q3hXCV6c/image.png?width=980" height="24" id="863d4" type="lazy-image" width="120"/></p> <p> <a href="http://www.sweetwater.com/store/detail/JagBassASR3SB?utm_source=premierguitar.com&amp;utm_medium=website&amp;utm_campaign=pg-gear" target="_blank"><img class="rm-lazyloadable-image rm-shortcode" data-rm-shortcode-id="de83e6b89db249ce66b0158151589fc5" data-rm-shortcode-name="rebelmouse-image" data-runner-src="https://www.premierguitar.com/media-library/eyJhbGciOiJIUzI1NiIsInR5cCI6IkpXVCJ9.eyJpbWFnZSI6Imh0dHBzOi8vYXNzZXRzLnJibC5tcy8yNTcyNDE5OC9vcmlnaW4ucG5nIiwiZXhwaXJlc19hdCI6MTY1NzAzNjMwNn0.FOhh52C5iCY-4_v3EJWTQM8MbVJoxr6K6YvtjkZo5dU/image.png?width=980" height="29" id="0a72a" type="lazy-image" width="158"/></a></p> <p> <strong>Street: </strong><br/> $1,499</p> <p> <strong>Fender American Standard Jaguar Bass</strong><br/> <a href="http://www.fender.com" target="_blank">fender.com</a></p> </div> <p> <b>Hear Her Roar<br/> </b>The benefit of the Jaguar's elaborate switching scheme, onboard preamp, and passive tone control is the sheer breadth of tones on hand. It's a far broader palette than the typical Fender-style bass. Plugged into a variety of rigs, including an Ampeg SVT and Warwick LWA 1000, I instantly found usable, versatile tones that would sit well in any mix—everything from a smooth, pillow-y sound with the P pickup soloed, to aggressive and burpy tones with the bridge pickup. And the resonance I felt in my body when I played the bass unplugged continued once I used an amp or DI in the studio.</p> <p> I was impressed with the Jag's range of sounds prior to investigating the onboard EQ. Combining two switched—rather than blended—pickups results in tones that one wouldn't find on a typical P/J-configured bass, since a volume/volume or volume/blend scheme would lead to significant interaction between the pickups. As previously mentioned, authoritative P tone is on hand, as are midrange-y soloed J tones, but the additional tone knob and series/parallel switch enable the both-pickups-on sound to be aggressive and full-bodied, or slightly hollow and plush. While I wish the tone control was still usable in active mode, the preamp provides an even greater variety of tone, allowing for fairly aggressive shelving boost and cut of the bass and treble.</p> <p> I didn't love the Jag's slap sounds—there's something about a P/J configuration that seems to miss the mark for me—but whether played high in its sweet upper register, vigorously attacked with a pick, or asked to supply deep support, the Jaguar pretty much did it all. It's as if the bass takes the Fender formula to a sort of logical extreme: All the typical sounds are there, but there's also a palette of excellent, new-yet-familiar derivatives.</p> <p> <b>The Verdict<br/> </b>Those seeking a solid, meat-and-potatoes bass with a clever switching scheme that yields a plethora of musically rewarding results ought to give the American Standard Jaguar serious consideration. Fender has brought out a high-quality alternative to the Jazz and Precision formula, and it sounds and feels superb.</p> <p> <b>Watch the Review Demo:</b></p> <div class="video-container"> <center> <span class="rm-shortcode" data-rm-shortcode-id="8995f35d1521c3168a899f8342ed1229" style="display:block;position:relative;padding-top:56.25%;"><iframe frameborder="0" height="auto" type="lazy-iframe" scrolling="no" data-runner-src="https://www.youtube.com/embed/1qaX5TKYKIw?rel=0" style="position:absolute;top:0;left:0;width:100%;height:100%;" width="100%"></iframe></span></center> </div>