Weathering the Dry Season
I hope you all had a very nice summer doing all the things you enjoy this time of year. Here in Minnesota it's beginning to really feel like fall. The
I hope you all had a very nice summer doing all the things you enjoy this time of year. Here in Minnesota it's beginning to really feel like fall. The boats will soon go into winter storage, and the shop will once again have gallons of moisture in the air from our humidity system, protecting the one-of-a-kind instruments and our valuable private stock of wood. Forty-five to fifty-five percent relative humidity will keep your guitar in good condition. I really like to keep the moisture level closer to 45 percent relative humidity, as I have problems with mold and mildew. My allergist doctor, well known and respected in his field, says that even at 45 percent relative humidity it's impossible to avoid an allergic reaction to mold and mildew. Such is life. Now there's a pitch for all of you synthetic guitar builders out there, since those materials are not as sensitive moisture as traditional wood instruments.

Every year around this time the crack repair business begins to boom. Acoustic tops, backs, ribs and fingerboard separations are in dire need of quality repair. Then there are the classic sharp fret ends protruding from dehydrated and severely shrunken fingerboards. Almost always, these are caused when the instrument dries out from being under-humidified. I can't narrow it down to a particular brand of guitars, as we see an assortment of quality brand names moving through the shop needing crack restoration. I can tell you that the more economical, thicker laminated wooden guitars do not generally react as severely to dry climate.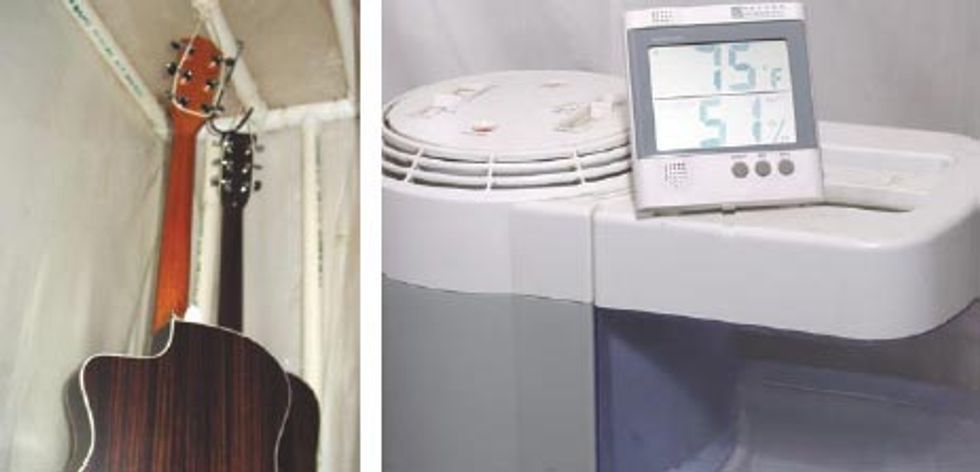 LEFT: One week in our homemade humidity booth restores dried out guitars to their appropriate moisture levels.
RIGHT: The duo of a hygrometer and humidifier can save your acoustics from dreaded cracking during dry seasons.
Safety Tips
A case humidifier is a good idea but requires discipline and attentiveness, especially during those very dry, cold winter days that may get down to 20 percent relative humidity. At this level, the guitar humidifier will need to be checked every five days. I encourage you not to stop there, as the instrument should also be played and not just stored during dry and cold winter months. After seeing well-built, non-laminate acoustic guitars of all makes bust apart, I always suggest that the room most used for playing the instrument is humidified with a room humidifier. Many make the mistake of seeing the moisture go up in the air and coming to the quick conclusion that they're at least at the 48 percent mark. I've been in the business for several years, and I have found that conclusion to be mostly incorrect. The room was still under-humidified. You really need to have a reliable hygrometer in the room where you keep and play your guitar to know the true moisture content. Taking these precautions is really the safest way to protect your valuable guitar.
Helpful Tools
#0386 Stew Mac Humidifier

by Planet Waves

#5795 Stew Mac Humidipak Kit

by Planet Waves

#5793 Stew Mac Digital Humidity Gauge



Keep in mind that there are many similar products by Kyser, Grover, Humitron, Dampit, John Pearse, SKB and Guard Father that may present different design options. You can purchase an adequate room humidifier from your local hardware store.
BGF Humidity Booth
The unlucky guitars end up in our humidity booth, which is made out of 1-1/4" PVC pipe, 6 mil plastic sheeting and a floor board to support the humidifier. I use a hot glue gun to adhere the plastic sheeting to the PVC piping, and I can hang four to five guitars in the booth at one time.
A guitar typically hangs in the humidity booth for one week. With daily checking and hygrometer readings, this gradually returns the proper moisture into the wood. Doing it this way, rather than in its guitar case, allows the instrument to evenly absorb the proper moisture content, avoid the classic sharp protruding fret ends needing to be filed, sanded and buffed.
Perhaps you own one or two vintage acoustics and you're about to purchase your third, but have never had any cracking issues before. It's still a good idea to follow these guidelines and at least purchase a digital hygrometer to protect your investment. I've heard this from more clients than I can remember: "I have two other acoustics guitars that I've had and played for years in the same room where I record. They haven't got any cracking issues. Why now? Why this guitar?" Perhaps no two pieces of wood are exactly alike, but one thing is for sure: if you're below 45 percent relative humidity, you've just played your first round of Russian Roulette.
Thanks to all you loyal Premier Guitar readers. Have a successful month!
---
John Brown
John Brown, of Brown''s Guitar Factory, is the inventor of the Fretted/Less bass. He owns and operates a full guitar manufacturing and repair/restoration facility, which is staffed by a team of talented luthiers. He is also the designer of guitar making/repair tools and accessories that are used today by instrument builders throughout the world.
www.brownsguitarfactory.com
info@brownsguitarfactory.com