Keeley Electronics is giving away a limited edition Ariel Posen Hydra Reverb! The giveaway will end on February 10, 2023.
The new HYDRA is a high fidelity and true stereo Reverb and Tremolo. Designed to be the perfect end to ANY pedalboard, regardless of genre. Save up to 3 presets and dive deep into the HYDRA's potential using our Alt Control feature. The Hydra features on-board or remote tap-tempo, you can swap the order of the Tremolo and Reverb, expression pedal control, Infinite Hold Reverb trails and so much more!
Keeley
Photo by Ken Settle
Remembering the art and life of one of the world's greatest and most innovative instrumentalists, who died on Tuesday, January 10, at age 78.
Legends are immortal, but not human beings. And so, Jeff Beck, an immortal of the electric guitar, died from bacterial meningitis on Tuesday in a hospital near his sprawling county estate, Riverhall, in Wadhurst, England, at age 78.
To call Beck a giant of the instrument nearly diminishes his monumental and singular accomplishments. He established his own supremely influential language of the guitar and spoke it fluently for more than six decades. Although he never sang on his recordings, in his hands the 6-string was vocal—fluid, melismatic, melodic, and most important, full of heart. Attending a Jeff Beck concert was to witness inspiration at its most wild and relentless. And to bask in a tone so large and purposeful that it could seemingly be heard around the planet.
Which it was. Beck was known and revered across the globe—an instrumentalist who made albums for the first two decades of his career, (starting with the Jeff Beck Group's still stunning and innovative 1968 debut, Truth) that routinely made the top 20. Those include his groundbreaking duo of mid-'70s recordings, Blow by Blow and Wired, that transformed fusion into part of the soundtrack of popular culture. But Beck was not a jazz or rock guitarist. He was an omnivore, who digested every style—country, rockabilly, swing, Tin Pan Alley, punk, skronk—to both put his seal on them and twist them to his own ends, turning the Beatles' "She's a Woman" into a reggae playground and transforming an idea taken from a theme by composer Maurice Ravel and turning it into the epic, soaring, and harmonically supercharged "Beck's Bolero."
"Whenever I pick up a guitar, it will always be heavily blues influenced, but I try to push it further, because you have to expand your scales and melodic thinking." —Jeff Beck
When I asked Beck about his approach, during the '80s, he replied, "Whenever I pick up a guitar, it will always be heavily blues influenced, but I try to push it further, because you have to expand your scales and melodic thinking. But I'll play a blues solo on a non-blues song, bending the notes into whatever the song takes. That's my whole thing: trying to explore the blues to the maximum, really. It's in the blood."
Note that Beck said, "whatever a song takes," not whatever it needs. The courage and will of his playing were consistent, impulsive, and limitless. Listen to "Morning Dew" from Truth. His guitar toys with themes, playing fragments of melodies, dropping patches of wah wah, howling, rather than weaving a defined rhythm or tune through the song. Then hear "Pull It," from 2016's Loud Hailer, an album cut with vocalist Rosie Bones and guitarist Carmen Vandenberg of the English punk outfit Bones UK. Made nearly 50 years after Truth, that song is also telegraphy as music—dots, dashes, fuzzy blots of tone. And yet both performances not only work—they're riveting.
Beck considered blues to be the core of his music but saw its opportunities for expansion as limitless.
Photo by Ross Halfin
Beck was born in Wallington, Surrey, England, on June 24, 1944. Les Paul was his first guitar hero, followed by Cliff Gallup, B.B. King, and Steve Cropper. He became friends with Jimmy Page when they were both teenagers, and, while attending Wimbledon College of Art, he fell in with David "Screaming Lord" Sutch, with whom he first recorded in 1962. But Beck really began his 60-years-plus of breaking rules in 1965, when he replaced Eric Clapton in the Yardbirds. There, he pushed the group's blues envelope with his inflammatory guitar on "Shape of Things" and the demented "Over Under Sideways Down," where his hammer-ons, slides, and bends created the number's sitar-influenced riff. Although Beck was unhappy in the Yardbirds, his 18-month membership earned him his first induction into the Rock 'n' Roll Hall of Fame in 1992, followed by a second induction for his work as a leader and solo artist in 2009.
The inevitable formation of his own band, the Jeff Beck Group, featuring Rod Stewart and future Rolling Stone Ronnie Wood, occurred in 1967, and with the next year's Truth, he presaged Led Zeppelin's recasting of blues as psychedelic manifesto. Beck's playing on that album remains practically avant-garde at its least restrained, yet still directly speaks a dialect of the blues. But with the notable addition of pianist Nicky Hopkins, the Group tilted further into rock with its next release, 1969's Beck-Ola. Two more albums, Rough and Ready and Jeff Beck Group, followed, with the latter including "Going Down." Beck's version of the Don Nix tune that Freddie King had made famous became an instant FM radio staple.
"I saw Beck use the whammy bar alone to play a slow, lovely feedback melody through his array of amps, and then point the guitar's headstock straight down into the stage and push himself into the air by placing his hands on the rounded back end of the body. When he touched down, he tossed the guitar—still feeding back—into his arms, hit two notes that revealed where the tuning had drifted, and flawlessly picked up the melody he'd been playing before his acrobatic stunt."
That band was followed by the short-lived Beck, Bogert & Appice, who released an album of the same name in 1973. The group was a trio, with vocalist/bassist Tim Bogert and drummer Carmine Appice, from the Vanilla Fudge and Cactus. All along Beck had continued to maintain a studio career (which continued almost to the present) and had played on Stevie Wonder's Talking Book the year before. Beck, Bogert & Appice's rendition of Wonder's "Superstition" was one of their album's highlights, along with a beautiful slide-guitar-dappled reading of Curtis Mayfield's "I'm So Proud."
After this soul-music-influenced outing, Beck experienced a kind of rebirth. He was already a Gibson Les Paul player, but while recording in 1972 in Memphis he found a 1954 goldtop that was refinished in oxblood by its previous owner. That guitar is depicted in Beck's hands on the cover of 1975's all-instrumental Blow by Blow, which sold a million copies in the U.S. and reached number four on Billboard's Hot 100 album chart. The epochal Blow by Blow alone is enough to ensure that Beck's legendary status will endure. It's full of monumental performances, including his emotional tribute to Roy Buchanan, "'Cause We've Ended as Lovers," perhaps the greatest blues-inspired instrumental ever recorded.
Longtime friends Jeff Beck and Eric Clapton share the stage at the 2010 Crossroads Guitar Festival.
Photo by Chris Kies
And the die was cast. Although he went on to make albums and cut singles with exceptional vocalists—perhaps most notably a soulful 1985 version of the Mayfield gospel song "People Get Ready," with Rod Stewart, that's become a classic—from that point on Beck dedicated himself primarily to instrumental music.
The next year's follow-up, Wired, built upon Blow by Blow's success with performances of Charles Mingus' "Goodbye Pork Pie Hat" and Jan Hammer's "Blue Wind" that also set radio afire. More important, though, was the arrival of the Fender Stratocaster on its cover. For the rest of his life, Beck and Stratocasters were mostly inseparable onstage and in the studio. And by using banks of amps and unsparing volume, he crafted a unique sound on the single-coil instrument, huge and compelling, with a horn-like fluidity and endless, sustained tone.
His technique on the Strat's vibrato arm was extraordinary. It was as if it was grafted to his hand, or, at least, seemingly never left it. His subtle—and often radical—bending and pulling of notes with the bar made his playing even more voice-like, able to carefully craft and negotiate micro- or macro-tonal changes effortlessly. His intimacy with the Strat made for some truly uncanny performances.
In a '90s concert at the Great Woods Amphitheater in Mansfield, Massachusetts, I saw Beck use the whammy bar alone to play a slow, lovely feedback melody through his array of amps, and then point the guitar's headstock straight down into the stage and push himself into the air by placing his hands on the rounded back end of the body. When he touched down, he tossed the guitar—still feeding back—into his arms, hit two notes that revealed where the tuning had drifted, and flawlessly picked up the melody he'd been playing before his acrobatic stunt.
Beck's romance with the Stratocaster caught fire during the recording of 1976's Wired album.
Photo by Ken Settle
Beck continued to make excellent studio albums—most notably There and Back, Jeff Beck's Guitar Shop, Jeff, Emotion & Commotion, and Loud Hailer. He also racked up high-level session credits, recording with Roger Waters, Jon Bon Jovi, Kate Bush, and Tina Turner. And he accumulated eight Grammy Awards—seven for Best Rock Instrumental Performance. His most recent album was 18, a 2022 collaboration with Johnny Depp. Beck's final public performance was touring behind that release, on November 12, in Reno, Nevada.
After Beck's family announced his death on January 11, fellow guitar virtuoso Eric Johnson shared his thoughts on social media: "Hearing about Jeff Beck is a shock. He was one of the most original guitarists I ever heard. He never conformed to status quo guitar or conventional playing, always reaching for a new dimension, which he achieved multiple times. He was the most expressive lyrical storytelling guitarist there ever was and that's why non-musicians loved him. He garnered more affection from audiences than other guitar heroes because he had such a musical poetry to his playing.
"I believe that he and Jimi Hendrix were the most inventive and original rock guitarists there ever was. I had the gift of being able to visit with Jeff a few times and that is a treasured memory in my life. The guitar world will go on, but it won't be the same without the most inventive 6-string visionary we have been graced with on this planet. Joyous wishes to you, Jeff, as you soar on to your next magnificent adventure. Thank you for teaching me and inspiring me to want to play guitar."
JEFF BECK LIVE Cause We've Ended As Lovers
You would WIN a Revv Shawn Tubbs Tilt Overdrive as seen in his recent Rig Rundown! Enter before Jan. 21. 2023.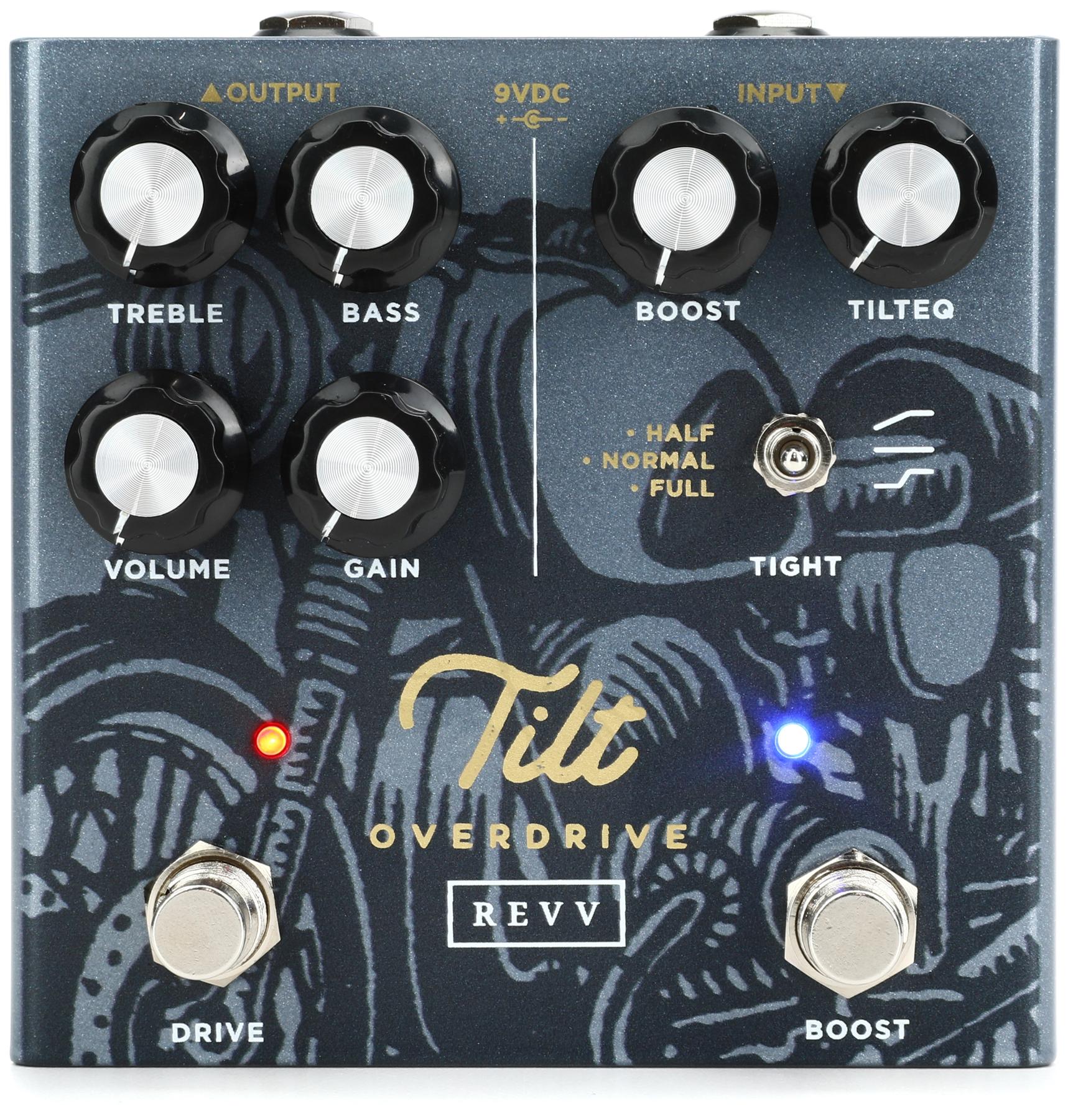 The Shawn Tubbs Tilt Overdrive is the tonal culmination of a lifetime in music. Shawn not only needed a practical tone tool to give him the right sound quickly in any musical context - he aimed to combine the greatest vintage amp tones & recorded guitar sounds of all time into one ideal sound. Now that tone is available to you in an award-winning compact 9v double pedal with a unique Tilt Boost.

Designed to be both the core of your entire guitar sound you can take anywhere & a useful tool to upgrade your existing setup, Tilt Overdrive adds an all-new record-ready tone to your palette that expands your recording & performance capabilities while channeling Shawn's 30+ years of professional guitar experience into a combination of the best recorded guitar sounds in history. Not only was it developed by a AAA session musician who always has to have perfect tone - it's designed to bring out the best of each player who plugs in. It drops right into your rig to produce Shawn's trademark clear, balanced overdriven sounds.
Revv
You could WIN an ESP EC-256FM Signed by MINISTRY courtesy of Hitkor!
The EC-256FM is the perfect evidence that a great guitar doesn't have to be prohibitively expensive. A classic shape that's excellent for all musical styles and genres, the EC-256FM is available in multiple finishes and offers features that you normally associate with high-end guitars, like a flamed maple top, binding on the body, neck, and headstock, and set-neck construction for fast and easy access to the highest frets. The EC-256FM also features a mahogany body, a comfortable three-piece thin U-shaped mahogany neck, and a roasted jatoba fingerboard with inlays and 22 extra-jumbo frets. This guitar features our acclaimed ESP Designed LH-150 humbucking pickups that offer great tone for all genres of music, and the tone flexibility of coil-splitting controlled by a push-pull switch on the tone knob.
Born in 1981 in Chicago, Ministry has been the lifetime passion project of founder Al Jourgensen, considered to be the pioneer of industrial music. In its early days, Ministry was identifiable by its heavy synth-pop material in line with the new sounds and technology that were being developed in the '80s. Ministry's output began with four 12" singles on Wax Trax! Records in 1981 before the first LP With Sympathyin 1983 via Arista Records. As time progressed however, so did Ministry, quickly developing a harsher, and more stylized sound that the band soon became infamous for on seminal albums Twitch(1986), The Land of Rape and Honey(1988), and The Mind Is A Terrible Thing To Taste(1989). With the release of Psalm 69: The Way to Succeed and The Way to Suck Eggs(1992), Ministry hit an all-time high in the mainstream musical realm and received its first Grammy nomination. In total, Ministry has been nominated for a Grammy award six times. Eight more albums would follow before an indefinite break in 2013, only to be unearthed again in 2018 with AmeriKKKant, continuing to reflect Jourgensen's views on the frightening state of society and politics. Ministry continues touring and recording with the brand-new 15th studio album Moral Hygiene
Click here to learn more
you could WIN a 12-String CLARUS electric Guitar from Halo Guitars in this all-new giveaway!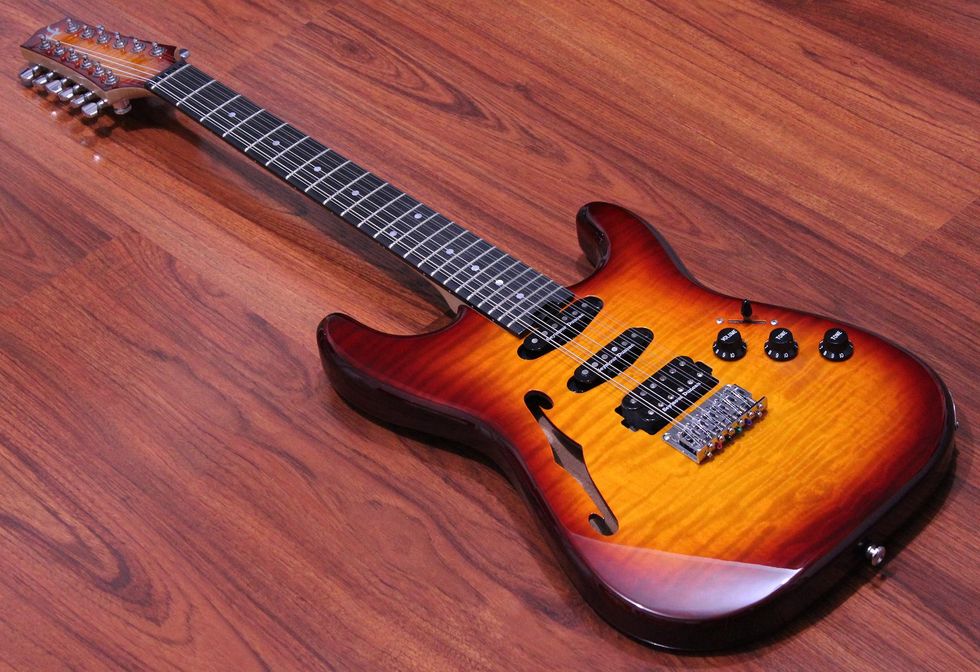 Get more sound out of your electric guitar with six paired courses on the all-new Halo CLARUS 12-string electric guitar. Explore a wide range of tones emanating from the semihollow body with humbucker/single/single pickup configuration and pickup switching options galore with the 10-way FREE-WAY Switch that offers series/parallel and coil split in every combination imaginable.
Halo Guitars