X2 Digital Wireless XDS95
Going Wireless in a Stomp Footprint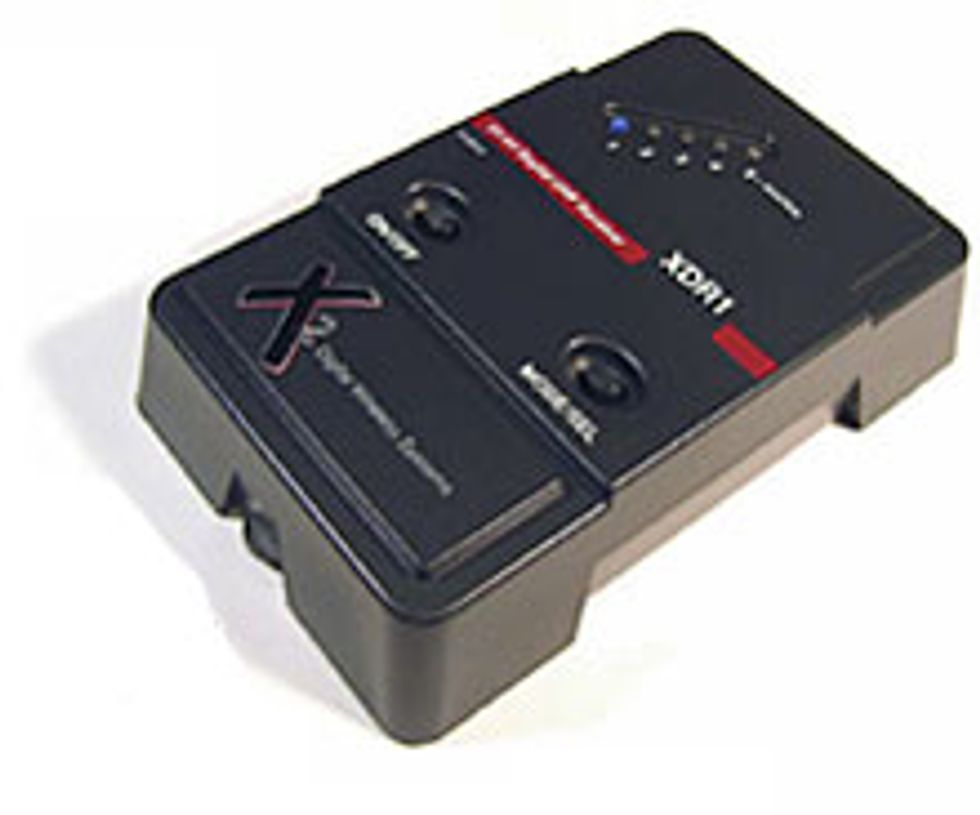 Venturing into the tone chamber this month, our friends at X2 Digital Wireless have submitted the new XDS95 stompboxstyle wireless system for review. As we get wired for sound, or perhaps more accurately, unwired for sound, you may remember the breakthrough technology of digital wireless in the early '90s with the original X-Wire. The original X-Wire systems were the choice of many top touring players – today these units are still highly sought after, but are in rare supply since the company ceased production in the late '90s. These units are not only collectable, but cost prohibitive to most working players.
The new X2 systems are based on the same idea as the renowned X-Wire, but use new technology which make them easier to manufacture. Here is what we discovered in our review process.
Setup and Features
A breeze would be an understatement. The XDS95 is designed to provide users with maximum performance and an ease of minimum operating complications. Because the receiver is styled as a stompbox, there are no racks to deal with, menus to scroll through or antennas to lose or break. The receiver can mounted on your amp or mixer or can be conveniently placed in your existing pedalboard. Power up by matching the transmitter channel to the receiver belt pack channel, and you are literally ready to go in no more time than it takes to run a cord from your guitar to an amp. This is wireless the way it should be.
The XDS95 offers up extremely usable features without an overkill of options you will probably never use. The system has no knobs, no menus and no hassles. By starting with 24-bit digital converters – capable of yielding up to 117db of dynamic range and frequency response all the way down to 10 Hz – this system ensures the bandwidth necessary to reproduce the sound fidelity you expect. The XDS95 features five user-selectable operating frequencies that utilize X2's auto DigiScan, which scans for RF interference, then automatically switches to the next clear frequency when it's encountered. This is accomplished through the stompbox receiver's internal microprocessor that selects the best data stream from the unit's internally mounted antennas, eliminating dropouts.
In addition to five user-selectable frequencies, both the transmitters feature a five segment LED, displaying the channel you are operating in, as well as doubling as a battery life indicator LED. When your 9V batteries begin to run low, the LED will flash to indicate replacement is necessary. The five segment LED also indicates link status and audio level. Both transmitter and receiver feature two oval push pots for power and channel select.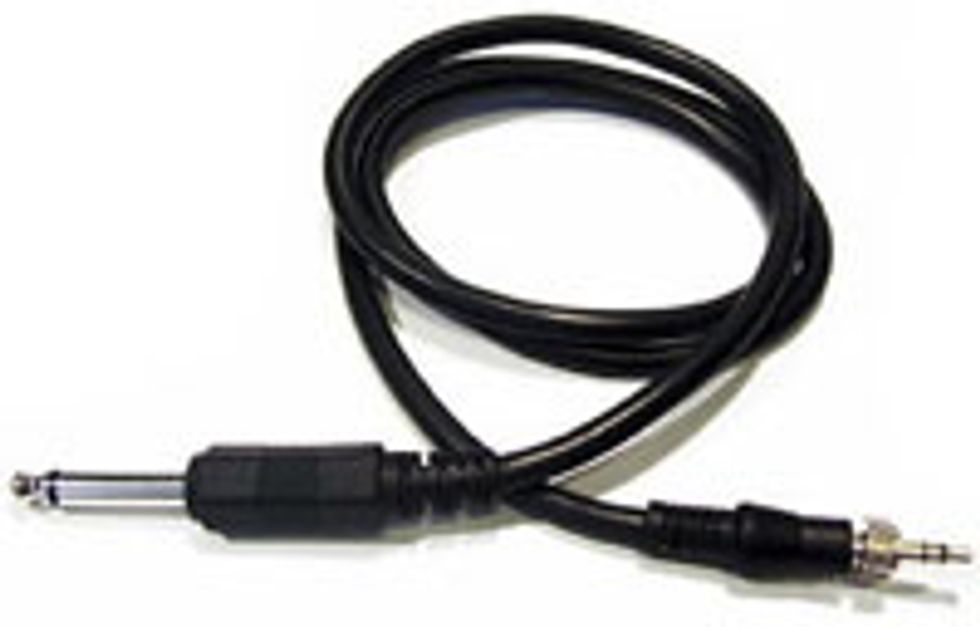 Unwired For Sound
At the end of the day, especially when it comes to wireless systems, this is truly where the rubber hits the road. My initial testing environment was at a live acoustic show in an upscale restaurant-bar in my hometown. I concluded this would be a tough testing environment, as this particular venue sports ample amounts of interference- causing neon lighting.
Sound check went off without a hitch, with an easy setup and flawless testing. I inserted the XDS95 stompbox as the last element in my pedalboard, opposite a Boss TU2 pedal tuner, an L.R. Baggs Para Acoustic D.I., a Visual Sound H20 Liquid Chorus and Echo, an MXR Phase 90 and an MXR DynaComp.
After firing up the system and feeding the X2's output to the input of the mixer, I received a strong input signal from the XDS95. Signal gain can often be really inconsistent with wireless systems – here, not only was the signal strong but it was clean, without the tone-altering attributes of other analog style wireless systems. Some analog systems tend to squash or heavily compress your tone with an associated pumping or breathing noise. I encountered no perceivable tone coloration with the X2 system, and even did an A/B comparison with a cord and noticed very little difference in signal and tone integrity.
In venturing out from the stage to check the unit's signal range, the XDS95 ensures a strong signal up to the 80-100 foot range. I did not experience any dropouts in this signal range – I did experience a couple of "blind spot" dropouts, but only when exceeding the 100-foot signal range. I also tested an Audio-Technica wireless headset system as well as another handheld wireless system on stage to look for any crosstalk interference. I am happy to report I experienced none.
Later on in my rehearsal studio I ran the X2 directly into a Marshall JCM 800 50 watt head with a stock Marshall 4x12 cab to test the system in a higher gain application. The system performed quite well in this situation as well – again, I experienced no audible tone coloration or compression, signal strength was strong, harmonic responsiveness was strong, there was no noticeable loss of punch and the signal-tonoise ratio was acceptable.
The Final Mojo
The X2 XDS95 wireless system will certainly challenge you to listen to wireless technology with open ears. Digital wireless technology operates at the frequency clear 900 MHz UHF range, ensuring clear operating conditions and no DTV licensing concerns. A digital signal path provides better clarity since you are transmitting only digital data and not analog audio RF; interference does not become an audio problem. Even if another device is operating at the same frequency, you will not hear that signal in your amp.
Digital wireless transmissions also tend to eliminate static often associated with analog transmissions and are clear of the additional distortion that many analog systems can create – a clearer signal path creates clearer signals and uncolored tone. That's a good thing!
All things said, the XDS95 digital wireless system is a real winner. The ease of operation is a no brainer, but mostly it is about keeping your tone pristine. With full 24-bit linear AD/DA converters, the X2 XDS95 is clean, quiet and reliable. On the downside, the transmitter is encased in heavy-duty resin plastic housing; metal housing would be a nice upgrade for long-term durability purposes, but you'll just have to be careful for now.
Rating...
Tone...
 
Craftsmanship...
 
Features...
 
Value...
 
Overall...
 
---
X2 Digital Wireless
MSRP $499
4630 Beloit Drive Suite 20
Sacramento, CA 95838
x2digitalwireless.com
Our expert has stated his case, now we want to hear yours. Log on to premierguitar. com, click on "Forum" and share your comments and ratings.