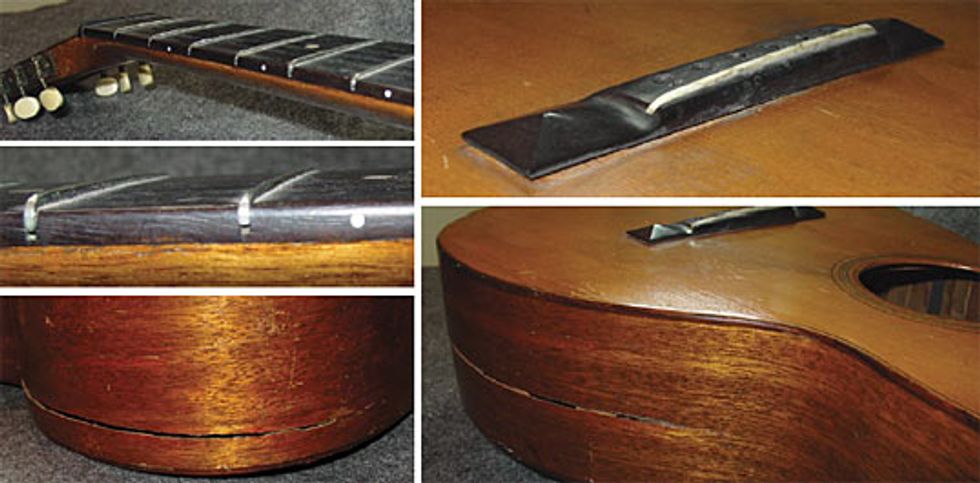 From the very first installment of this column, the topic has always focused on solidbody or semi-hollowbody guitar restorations, prompting the question, "Do you ever work on acoustic guitars in your shop?" The answer is, "Yes!" On any given day at Brown's Guitar Factory, there are acoustic guitars on our benches needing minor to major surgery. This month's 1921 Martin O-18 is one such historic guitar in need of attention.
But before we assess what needs to be done, it would serve us well to learn about what we're working with. We have a Martin O-18 with a serial number of 15900 stamped on the neck block. It has a V-shaped neck, a pyramid bridge, 12 frets clear of the body (20 frets in total) and a "beeswing" figure on the mahogany back and neck. The guitar features an Adirondack spruce top, ebony fingerboard and bridge, Brazilian rosewood peghead veneer and outer binding and clear French polish. To futher understand what we're dealing with, let's look at some measurements:
Soundhole = 3 5/8" diameter
Upper bout width = 9.5"
Lower bout width = 13.5"
Body length = 19"
Rib depth at the neck block = 3 3/8"
Rib depth at the tail block = 4 3/16"
Scale length = 24.75"
Assessment
Based on the examination of this guitar there are a variety of repairs that need to be done, such as:
Neck reset – The neck angle is pitched severely forward, which is an understandable change for such an old instrument.

Refret – The bar frets have shifted in their fingerboard fret slots over time and have been worked on previously with mediocre results. These frets will need to be replaced using old stock vintage bar fret wire from the Martin Guitar Factory.

Rib cracks – The bass and treble sides have 12" to 14" length cracks, running parallel with the grain. The O-18's mahogany sides are slightly thinner than today's models and are not as forgiving when moisture drops below 45 percent.

Bridge removal and re-glue – Once removed, the ebony pyramid bridge will need to be re-warped into its original shape, lightly resurfaced and glued back on with hide glue.
Next month we will begin the repairs, being cautious each step of the way as some of the procedures will be more difficult than others. Whether it's a family heirloom or a musician's tool, this is definitely a guitar worth restoring and we're lucky enough to have the job.
Enjoy the pics! We will begin the transformation next month.
---
John Brown
John Brown, of Brown''s Guitar Factory, is the inventor of the Fretted/Less bass. He owns and operates a full guitar manufacturing and repair/restoration facility, which is staffed by a team of talented luthiers. He is also the designer of guitar making/repair tools and accessories that are used today by instrument builders throughout the world.
www.brownsguitarfactory.com
info@brownsguitarfactory.com