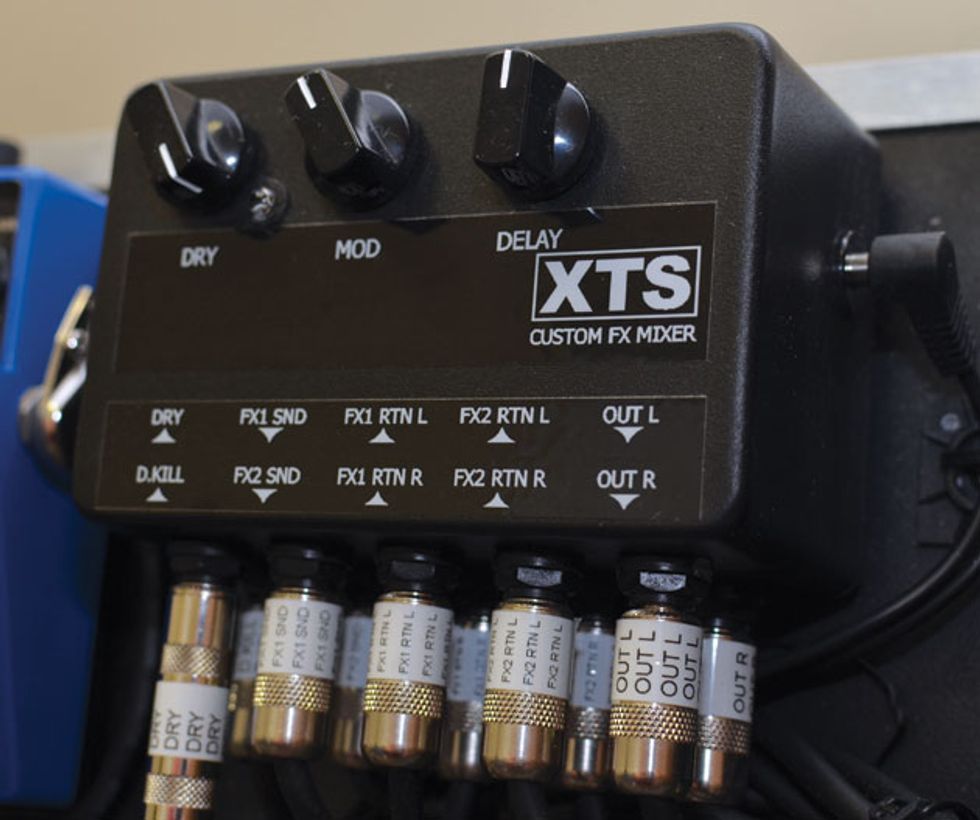 This custom XAct Tone Solutions stereo pedalboard mixer lets you run two stereo effects in parallel with the original dry signal, effectively adding an analog dry path to the outboard effects—which can be helpful if a pedal's dry path isn't as pristine as you'd like. A "dry kill" function mutes the dry signal present at the mixer output, which is great for reverse delay and some modulation types, and you can also control the send level in real time using a volume pedal.
If you're one of the tens of thousands of guitarists who've checked out YouTube gear-demo guy Pete Thorn's terrific video of the XTS Atomic Overdrive pedal, you may be wondering, "Who are these XTS guys?" XTS—short for XAct Tone Solutions—is Greg Walton's pedal and effect systems company, and the Atomic Overdrive is just one of the stompboxes manufactured under the XTS brand. But XAct Tone Solutions is more than a stompbox company. The pedals evolved as part of the outfit's larger mission: creating tone solutions for guitarists.
The company's main office is in Nashville, but founder Walton lives in Houston, where he also works as an environmental consultant. "I was doing pedalboards for players in Houston and Austin, just because I liked to do it," he recalls. "Back in the '80s, I built racks for myself. From time to time I would go to L.A. and hang out with Dave Friedman at Rack Systems, trading him labor for knowledge. XAct Tone Solutions started in 2001 with me modifying pedals that weren't reliable, or just didn't sound great. I started like Robert Keeley, modifying Tube Screamers and DS-1s to make them sound the best they could."
By 2006, Walton had decided it was easier to build a pedal from the ground up than mod an existing one. His first model, the Precision Overdrive, was based on an Ibanez Tube Screamer. Walton's version has more gain on tap but still cleans up enough to serve as a boost. "It feels more like an amp than a pedal," he says. "That's the thing we shoot for in a gain pedal: Not only do you hear an amp-like sound, but you experience an amp-like feel under your fingers."
By 2009, Walton's pedal-building work had grown to a point where he started subbing out work to Nashville's Kingdom Amplification, where future partner Barry O'Neal worked. Walton would design the pedals, while Kingdom would do the printed circuit boards and some engineering.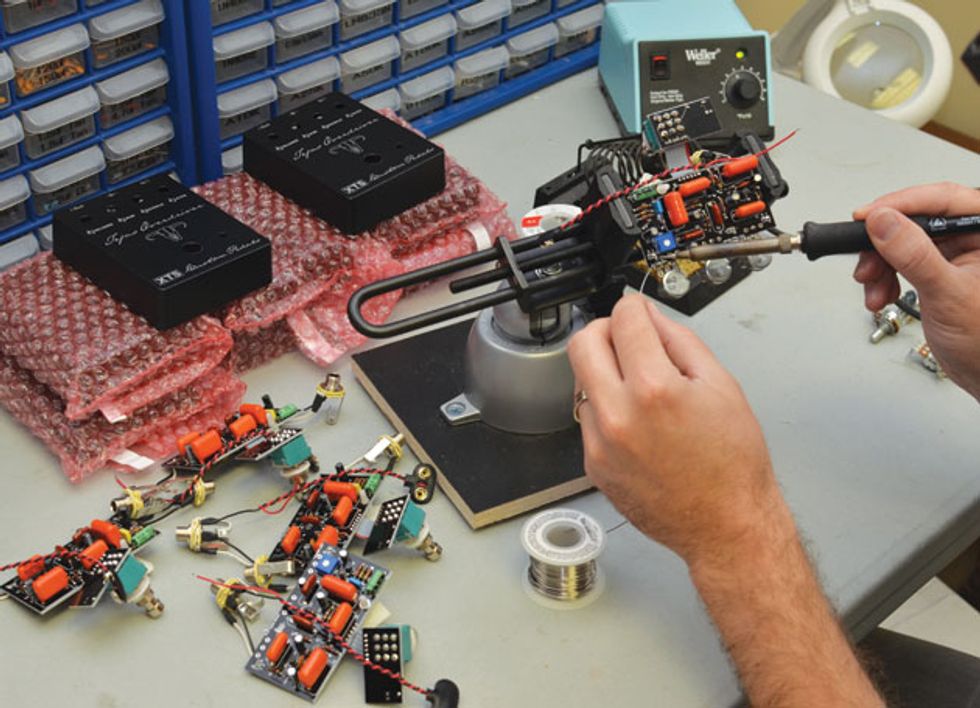 The Tejas Overdriver has all the capabilities of its mother—the Tejas Boost—but adds overdrive and fuzz to the mix. These units are currently being built as one-off prototypes as XTS continues to refine their design.
Growing Pains
Walton and O'Neal opened the Nashville company in 2011, focusing on both pedal designs and system integration via pedalboards and rack systems. "I could see there was a need for someone who could do pedalboards and rack systems in Nashville, especially someone with Barry's knowledge of electronics," says Walton. "He has a masters in electronic engineering, so there isn't much we can't design."
It may not have been the best time to start a business—Nashville was still reeling from the 2010 flood, and the economy was in recession—yet Walton was confident. "Things have taken on some momentum," he says. "We have enough boards out there that we are starting to get some good referrals." Coming from guitarists such as Keith Urban, Tom Petty, Kenny "Babyface" Edmonds, Scott Henderson, Oz Noy, plus many high-profile touring sidemen, those referrals carry weight.
Walton currently commutes from Houston, spending a week or so at a time in Nashville. But he believes the business will pick up enough by next year to allow him to work full-time in Music City.