Bigsby's Travis guitar had an early Bigsby "blade" pickup, and a walnut fi ddle tailpiece with a string-through-body design. Photo courstesy Country Music Hall of Fame, taken by Greg Morgan.
Once again the inventor went straight to the top, building one of his first pedal steels in 1948 for Wesley Webb "Speedy" West. West, whose fame stemmed from replacing Murphey in Cooley's band, received an instrument with three necks and four pedals. A sheet of bird's-eye maple with Speedy West in black letters acted as a "curtain" in front of the player's legs. Bigsby's logo was inlaid as well, giving the builder exposure through West's touring and television appearances. In contrast to Murphey's wooden necks, West's were cast aluminum. Other players were blown away by the tone they heard on West's legendary duo records with guitarist Jimmy Bryant. More famous steel players, like Noel Boggs and Bud Isaacs, began to seek the Bigsby sound.
An incorrigible tinkerer, Bigsby soon began to experiment with pickups, building his own winding machine from sewing machine parts. At first he wound his own coils for the established horseshoe style; later he came up with his own design, employing a blade magnet with a wide, flat coil wrapped around it. Similar to Gibson's Charlie Christian pickup, it differed in using a cast aluminum housing to create a shield that reduced the 60-cycle hum that plagued single-coil pickups.
Bigsby cut down the edges of the Kluson Deluxe tuners so they would fit six on a side, end to end. Leo Fender borrowed this idea and used it on all future Fender production guitars. The back of a 1950 Fender Broadcaster headstock (bottom).
Bigsby, Les Paul, and Leo Fender used to gather to discuss pickup and guitar design. Paul eventually installed one of Bigsby's pickups in the bridge position of the Epiphone hollowbody he used to record "How High the Moon." Paul has been quoted as saying the reason the pickup was so successful was because it was very large and worked well by the bridge.
Word spread and soon Bigsby's pickups were being used by Chet Atkins, Hank Garland, and the man who would inspire Bigsby to build the first modern solidbody electric guitar—Merle Travis.
The Man Who Could Build Anything
Paul Bigsby began experimenting with the idea of a solidbody guitar as early as 1944, building one for Les Paul with the same small body as his lap steels. Paul had attempted to get Gibson interested in his own design, "The Log," as early as 1941 to no avail. Bigsby's design also failed to catch on, possibly because, like the Rickenbacker Frying Pan before it, the small body made it hard to hold while playing.
Meanwhile, Merle Travis sought a guitar that would sustain like the Bigsby steels he heard played by Murphey and West. "I kept wondering why steel guitars would sustain the sound so long, when a hollowbody electric guitar like mine would fade out real quick," Travis said in his memoir, Recollections of Merle Travis: 1944-1955. "I came to the conclusion it was all because the steel guitar was solid."
Remembering Bigsby as the man who claimed he could build anything, Travis sketched out his idea for a solidbody instrument. It would have six-on-a-side tuners on a headstock shape that foretold the Stratocaster, and a body that presaged the Les Paul. Travis wanted the neck inlaid with a heart, diamond, spade, and club, and specified purely decorative walnut armrest and fiddle-like tailpiece appointments (the strings actually went through the body, held by six metal ferrules). The original headstock on the Travis guitar was not the "Strat" scroll it now possesses, but was extended further and scrolled in the opposite direction. That part was later cut off and the scroll reversed into the classic shape we see today.
This revolutionary instrument's body was made of bird's-eye maple, hollowed out to reduce the weight, and its back was covered with Plexiglas. A metal bar across the back reinforced the body. Early pictures of Travis with the guitar show that the body cutaway was not part of the original guitar, but added later.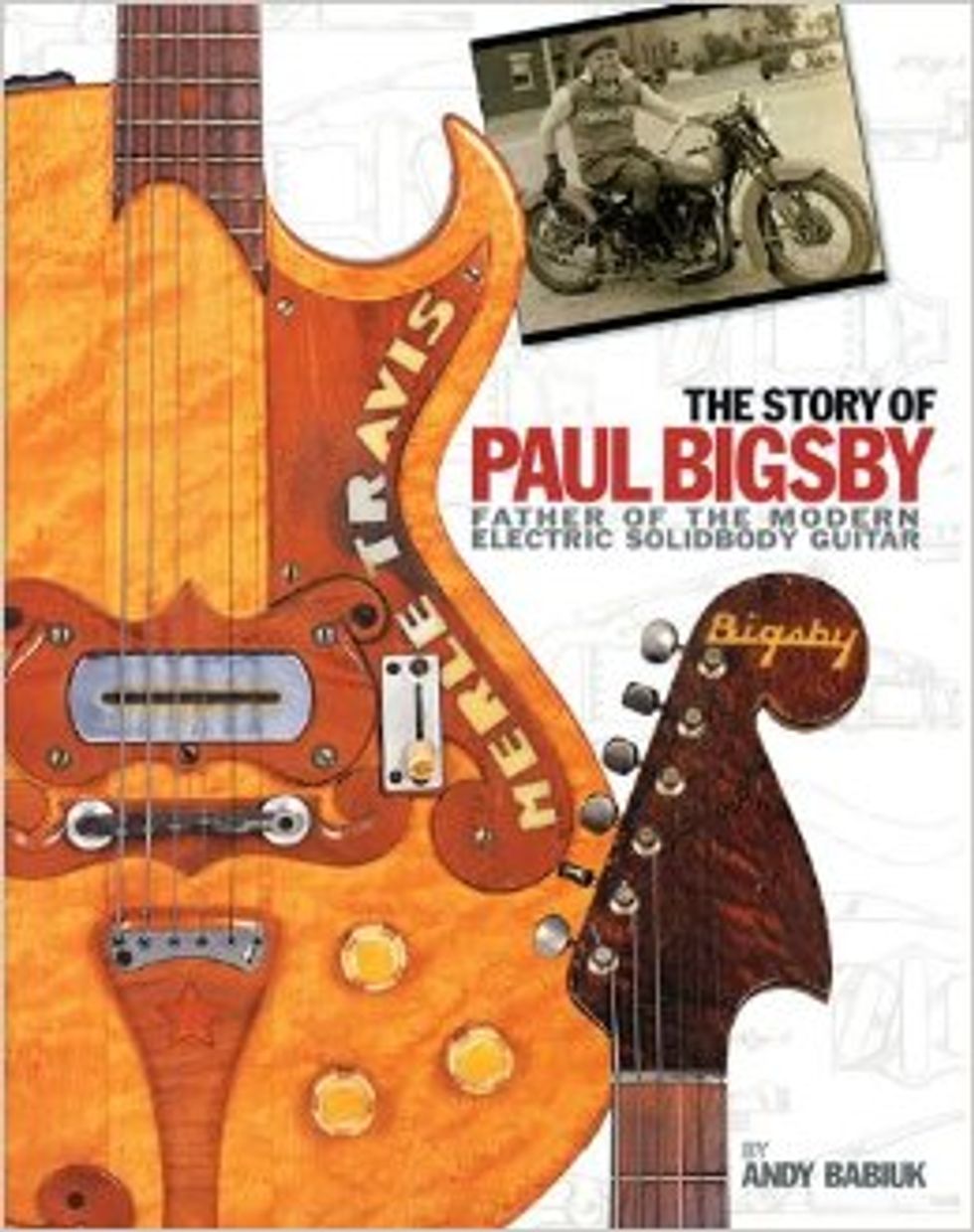 Bigsby by the Book
Much of the information in this article came from an exhaustive book about Paul Bigsby by Andy Babiuk. A musician and owner of a music store in Fairport, New York, Babiuk has written an amazing coffee-table tome called The Story of Paul Bigsby: Father of the Modern Electric Solidbody Guitar. The book combines text outlining the fascinating life of this inventive maverick, beautifully reproduced pictures of Bigsby's amazing instruments, important historical documents, personal pho- tos, and more. It also includes a CD of spoken word tapes Bigsby sent to former bandmate Jack Parsons in the 1950s. Parsons had moved from California to the Northwest, and through these tapes Bigsby kept him apprised of his business deals with Gibson, Gretsch, Guild, Hofner, and other manufacturers.
Babiuk is a consultant to the Rock and Roll Hall of Fame and to auction houses in London and New York. He also plays bass in the '60s-retro band, the Chesterfield Kings.
Bigsby cast the nut and compensated bridge from aluminum. The bridge's height raised or lowered on two adjustment wheels. A single Bigsby blade pickup positioned by the bridge, and a 3-way switch with capacitors for some tonal variation completed the basic design.
The six-on-a-side string arrangement had been done before, as far back as the early 19th century by Stauffer in Austria and Martin in America. Travis may have been recalling these, but Bigsby credited the guitarist with the idea. The advantages of the Bigsby version over three tuners on a side are many: All the tuners turn in the same direction to raise the string pitch; a more even tension is applied to each string; and the strings pull straight through the nut. The latter helps keep the instrument in tune when bending strings or using a whammy bar.
The Travis guitar was fitted with closedback Kluson tuners with wings on each side through which the screw holes were drilled. This works fine on three-on-a-side headstocks, but to make it work for his design, Bigsby used the bass side tuners from two sets, machining off the ends through the middle of the screw hole so that one screw would hold two tuners. He left one wing on each of the two end tuners. This solution set the template for all sets of six-in-line Klusons to come.
The third version of what Bigsby now called his Standard guitars had individual adjustable pole pieces on its two pickups. This guitar went to honky-tonk legend Ernest Tubb's guitarist Tommy "Butterball" Page. Engraved in its pickguard was Tubb's constant call to the guitarist: "Come In Butter Ball."