Montana and Mandolins
Ren eventually moved to the Bozeman area in the mid-seventies to make gunstocks for Shiloh Sharps and to do some trapping. He was playing music in a church band and was at his minister's house when he got a call from Steve Carlson, the owner of the Flatiron Mandolin Company. Steve had already decided he wanted to hire him. Ren explained that he was pretty busy with other things when Steve said, "I'll pay you $1800 a month," to which Ren replied, "I'll see you in the morning." The Flatiron Mandolin Company made very good mandolins – as good or better mandolins than Gibson's, in fact. The main difference between the two resided in the neck joints. While traditional Gibson mandolin neck joints had been dovetails, Flatiron changed them to a mortise and tennon neck joint, partly because of the ease of construction and partly because they had had success with the joint in other applications. They eventually got so good at making mandolins that they had more than they could sell. "We were completing about 12 instruments a week," Ren recalls. Flatiron was also making a handful of banjos and bouzoukis, and was a fairly popular brand among knowledgeable players when Ren joined the company.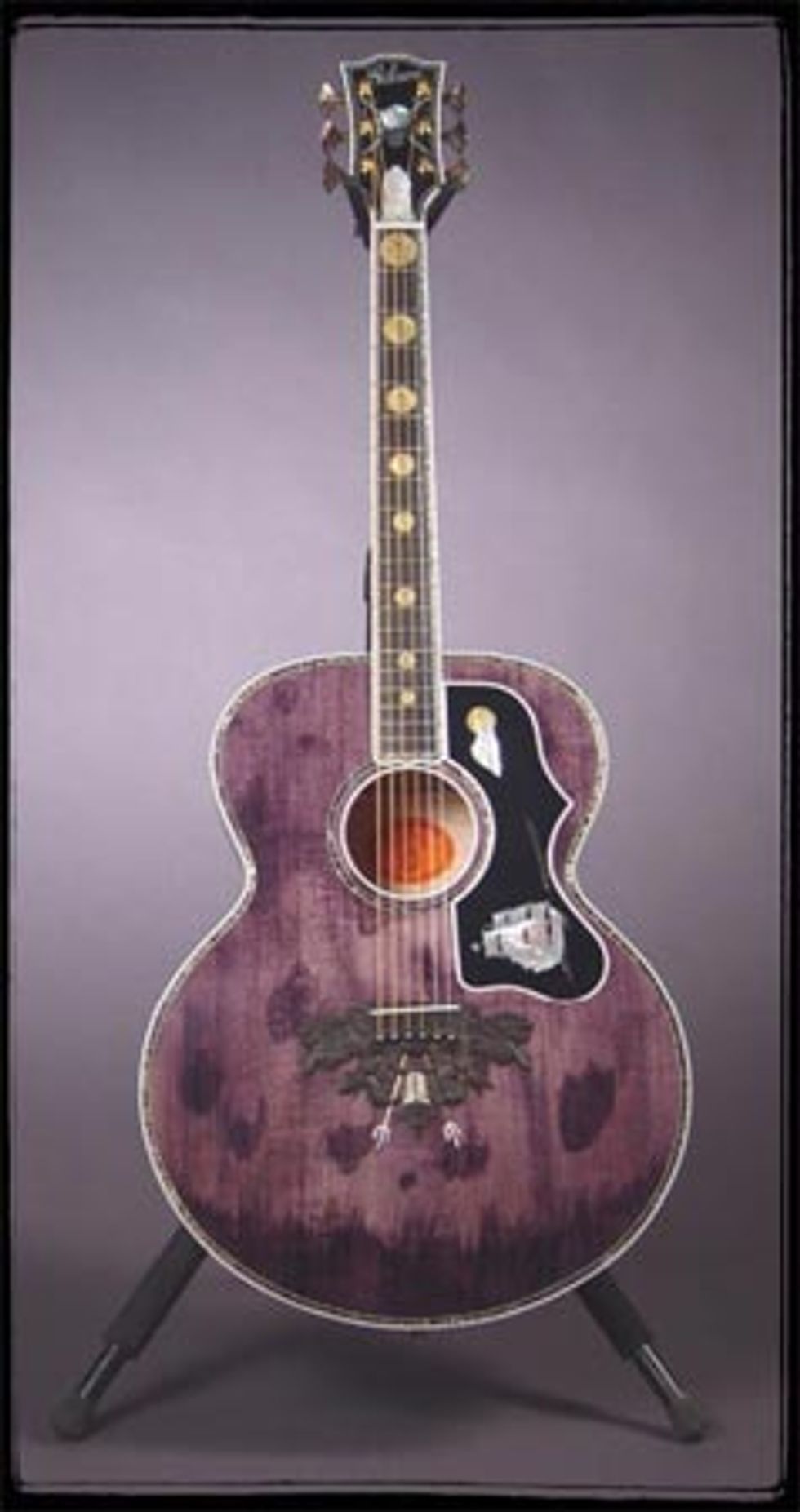 The Pirates of the Caribbean J-200, worth an estimated $100,000
Steve Carlson went to the NAMM show in January of 1986 and met with Gibson's Lane Astro the Thursday night before the opening of the show. Steve discussed the possibility of making OEM mandolins for Gibson, and putting the company's name on them – Astro thought this was a good idea. At midnight of the very same night, the deal to buy Gibson, orchestrated by Henry Juszkiewicz, David Berryman and Gary Zebrowski, finally went through.
The next morning, as Juszkiewicz toured the NAMM floor, he came upon Steve Carlson and the Flatiron Mandolin Company. Carlson handed Henry a brochure, when Henry informed him that he was working on behalf of the "new Gibson," and that as CEO of the new company, he was being put in the unenviable position of being forced to protect the company's designs. Carlson retrieved the brochure from Henry's hands and said, "I guess you have to do that," before walking away.
Three months after that fateful meeting, Carlson finally received a cease and desist order from Gibson's lawyers, claiming that Flatiron had compromised the "silhouette" of the company's F-5 mandolin. It was a stunning blow to the company; crippled by not being able to make F-5 mandolins, Flatiron quickly found itself in financial trouble.
Mandolin Brothers, located in Staten Island, New York and founded in 1971 by Stanley Jay and Hap Kuffner, was at that time beginning to deal in new mandolins and had been one of the first vintage instrument dealers to hang out a shingle, perhaps second only to George Gruhn in Nashville. Having been a Flatiron Mandolin dealer for ten years before Gibson's cease and desist order, Jay became concerned about the future of the small company. At the following NAMM show in 1987, Carlson ran into Jay and they began talking about the situation. Carlson said, "What sense does it make for [Henry] to spend all that money on lawyers to try and put us out of business? He could buy our company for less than he would spend on legal fees."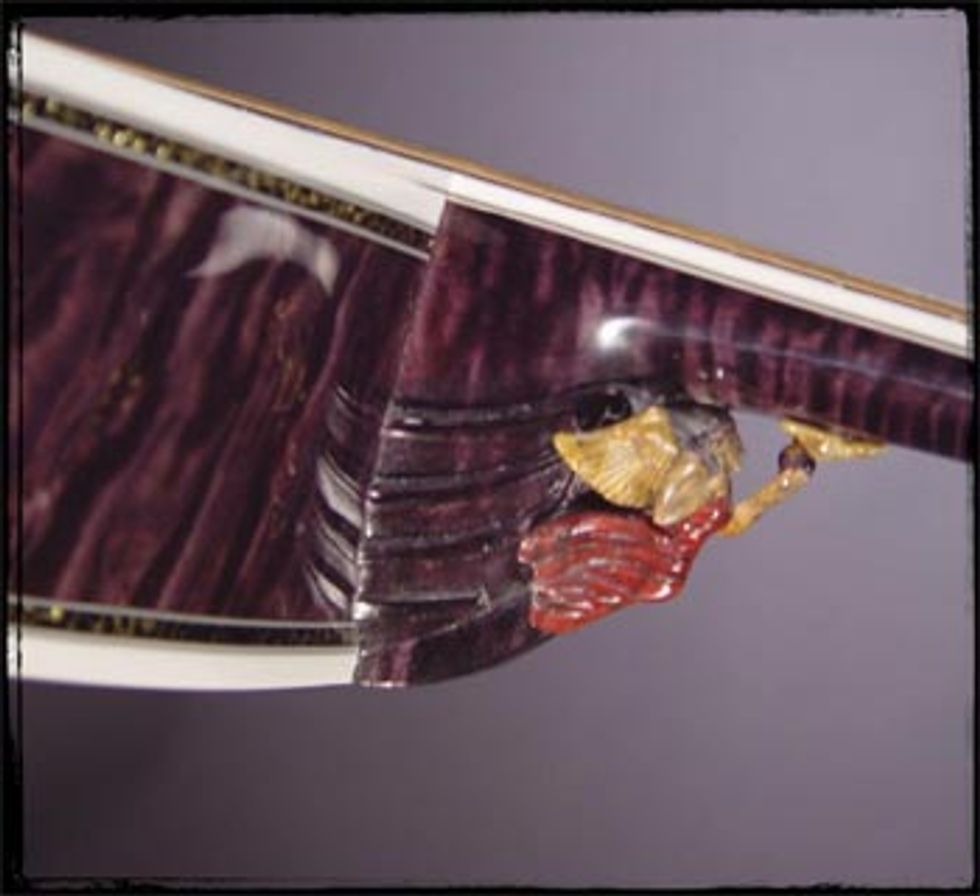 Some of the dtail work on the Pirates guitar
At that moment, the light blub went off in Jay's head; he immediately found Henry and began discussing the prospect of buying Flatiron. According to Ferguson, Jay told Henry, "These guys are making great mandolins; don't put them out of business." Jay then persuaded Henry to sit down with Carlson and make peace – this eventually led to the purchase of the Flatiron Mandolin Company by Gibson. These days, Stanley likes to say that he was instrumental in facilitating the meeting between the two, pun intended. Soon after the deal, Steve Carlson sent Jay a Master Model F-5 mandolin as a thank you.
Shortly after the acquisition of Flatiron, it was decided to move the acoustic production off the floor of the Nashville plant to facilitate Les Paul production. The machinery that was left from flattop production was shipped on semi trucks to the plant at Bozeman. There were only a few usable machines from Gibson Nashville; needing more resources, Carlson bought two flatbed trailers full of tennis racket making machines in Colorado for the paltry sum of $3200. "We basically melted down the aluminum and made a side bending machine from the tennis racket machines," Ren says. Over time, Carlson was put in charge of building a new facility and Ren took over making fixtures and jigs to facilitate guitar making.
---
Early in Ren's building career, he possessed a romantic idea about the guitars he and the Bozeman plant make. He believed there were "unwritten songs" inside each and every guitar.
---
The Mindset
Early in Ren's building career, he possessed a romantic idea about the guitars he and the Bozeman plant make. He believed there were "unwritten songs" inside each and every guitar, whether it ended up with a teenage girl playing only for her cat, or in the hands of Emmylou Harris, playing in front of thousands nightly.

New ownership meant new changes. One of the most difficult mindsets for Ren to adopt came from a meeting with Henry. Henry told Ren, "Don't over-romanticize the making of these guitars – they are just boxes, for crying out loud." Ren took Henry's words to heart and over a period of time finally understood that even if they were making apple crates, they needed to make the best, most durable apple crates they could. They also had to be made with the least amount of materials, in the quickest way possible and in a way that makes a profit for the company. Ren admits that this was eventually an epiphany for him. "Henry wants us to make the best sounding guitars that never come back," he says. "We are all just sharecroppers of the Gibson tradition. We get to get up in the morning and come make the best guitars in the world." And it seems that every employee in the Montana plant feels that same duty; when visitors tour the Bozeman plant they are frequently impressed at how "heads down" the entire staff is. They are focused on making guitars; their collective attention to detail and dedication might be compared to a colony of bees. "No one is lounging about here," Ren says.

That dedication and singular focus has paid off. There are numerous buyers around the globe who are waiting in the wings for Ren Ferguson's next "Master Museum" guitar, and they are willing to pay upwards of $50,000 just to own one. "They don't sound any better than the standard J-200s," Ren surmises, "but they sure don't sound any worse." When asked about how he felt the high prices his creations were fetching he replied, "They are a stone bargain. What if you paid a master plumber for the 200 hours of work he had done on your house?"