CAD Introduces USB Mic, Earphones for 2009
CAD announces new USB microphone lineup and new NB2 active noise-canceling earphones
Solon, OH (January 26, 2009) --
CAD announces their newest products for 2009 including USB microphones and noise-canceling earphones.
CAD says the CAD U37 Studio Recording mic, the U7 Tabletop Recording mic, the U2 Stereo Headset Mic and the U1 Recording Mic are designed to offer computer users, gamers, musicians and home recordists sophisticated performance at affordable prices.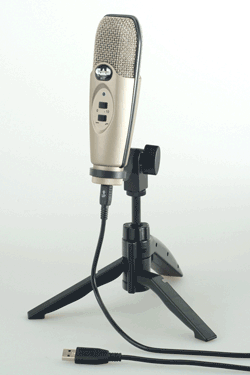 The U37 USB helps players easily plug-in and record studio-quality audio with Windows and Macintosh-compatible computers, says CAD. The U37 USB is a versatile mic and can be used for a variety of functions including audio for video, songs and soundtracks, and audio for creating podcasts on the Internet. The U7 USB was designed for home, office and music applications such as conference and legal recording, dictation of meeting notes, adding audio to slide presentations, and recording vocals, instruments and bands.
The U2 USB stereo headphones and microphone are designed for performance in VoIP use, language training, gaming, and podcasting, and it comes with a headband with soft ear pads and is exceptionally light, according to CAD. The U1 USB recording mic allows direct recording of vocals and instruments (into any Windows-based or Macintosh computer) for creating music tracks, podcasts and audio for video recordings.
Pricing is as follows:
CAD U37 USB & U7 Tabletop USB Mics: $79.00
CAD U2 Stereo Headset Mic & U1 Recording Mics: $49.00
CAD is also introducing their redefined NB2 Active Noise-Canceling earphones. The NB2 earphones feature CAD's innovative noise-blocking technology that creates a phase canceling field to block out ambient noise  for professional in-ear onstage monitoring applications and for listening to music on the move. The NB2 earphones com in three different-sized plastic ear inserts, which helps guarantee the highest level of performance and comfort. The NB2 has a high output 9mm driver with a neodymium magnet designed to ensue powerful and clear sound. Additionally, the NB2 earphones are supplied with a 1/8" mini stereo, a ¼" stereo plug, an airline adapter, a carrying case and 9V battery. The NB2s also operate as regular headphones without the battery. The earphones have a frequency response of 20Hz to 20kHz, sensitivity 96dB/Mw (power on and power off) and impedance of 16 ohm. The ANC circuit active noise reduction range is 40Hz-5 KHz and max noise reduction level is 16dB 100Hz-300 Hz.
MSRP for the NB2 Active Noise-Canceling Earphones is $149.00.
For more info on the new CAD USB Microphones or the NB2 Active Noise-Canceling Earphones, visit
cadmics.com
.