Chris Mahoney - Whole Lotta Guitar
New York guitarist Chris Mahoney sent me his self-released CD, Rebirth, about a year and a half ago. Though just a pup in the guitar scene, his debut displayed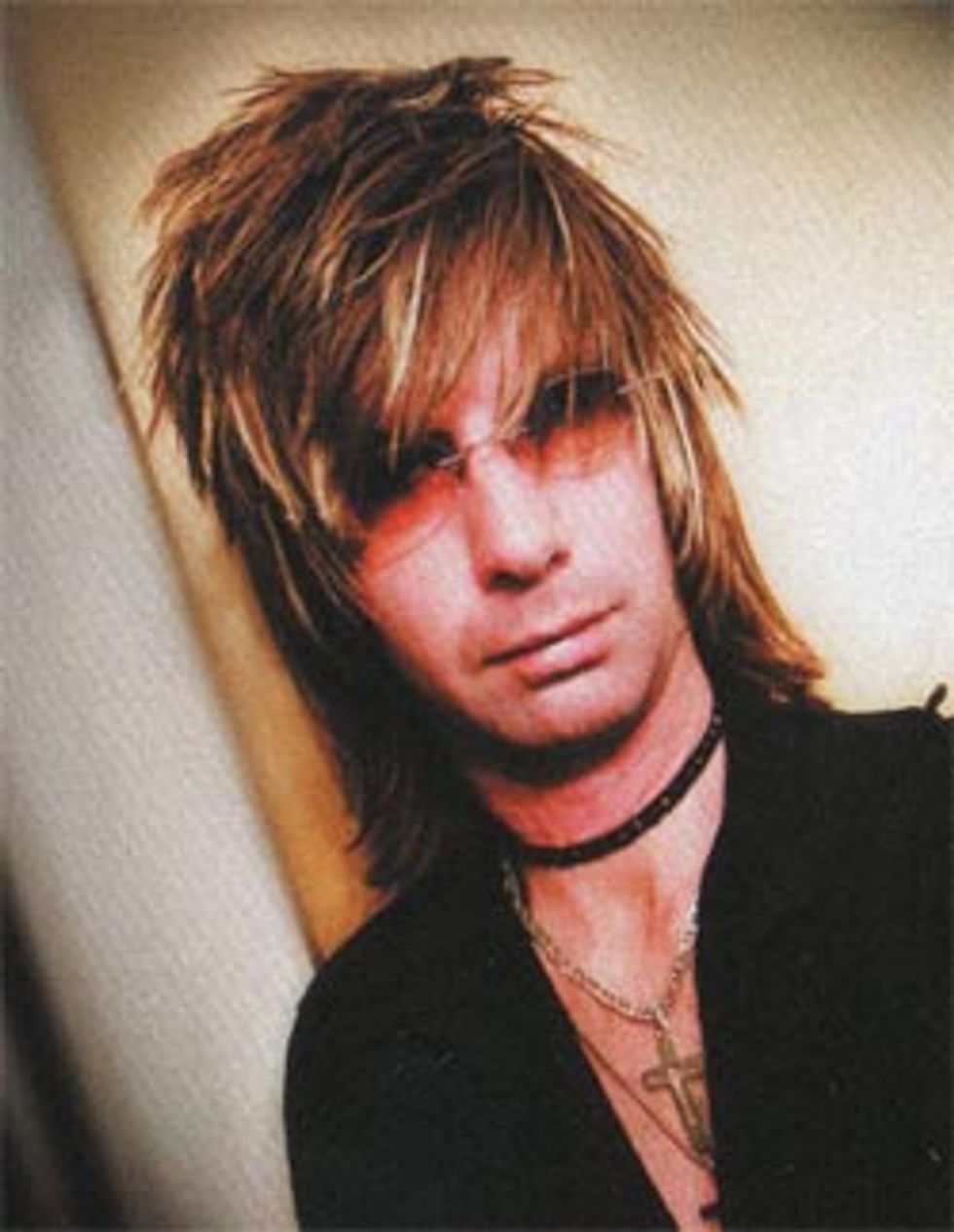 New York guitarist Chris Mahoney sent me his self-released CD,
Rebirth
, about a year and a half ago. Though just a pup in the guitar scene, his debut displayed a wonderful understanding of melody and dynamics, which led me to ask this talented player to be involved in the Led Zeppelin Salute CD,
Get The Led Out!
. His spirited cover of "Whole Lotta Love" captured the essence of Zeppelin and became the first track on the CD.
Chris has been honing his chops just 70 miles north of New York City, in a sleepy town called Poughkeepsie, and has opened up for such acts as Al DiMeola, Steve Vai, Gov't Mule and Blue Oyster Cult.
What's your setup, guitar and amps that you used on the recording of "Whole Lot of Love"?
I used my Terry McInturff DRP Taurus, which is basically a customized Taurus. Terry's guitars are amazing. I've got four of them and there simply is no reason to play anything else. They are the most resonant guitars I've heard. As far as amps, I used the Soldano SLO 100. This is the setup I've been using for a few years now. The Soldano is the most honest of all the amps I've tried. The SLO really lets a guitar breathe and is so responsive. For effects, I used an Eventide Eclipse for the lead lines. It was a ducked delay as to texture the vocal line of the track, yet not be too much. For the breakdown part, we went a bit beyond using some reverse guitar effects and tempobased tremolo effects. I used a Vox Wah on the solo in the up position to separate the solo breaks. I was looking to have a big mood shift in the segments musically as well as sonically so we did the lines in an alternating pattern— the straight sound followed by the wah sound, panning each one hard left and right. It kind of has that call-and-answer vibe.
Tell me about the studio you used and the players who were involved in making this song.
I have a small studio where I do all my programming, but for drums and guitars I recorded the track at Galuminum Foil studios in NYC with Producer Chris Cubeta, who also happened to play drums on the song. He coincidentally had also worked with Eddie Kramer, who, as I understand, did some work on those early Zeppelin recordings, so Chris had some cool insight. Naturally, doing a Zeppelin song the drum sound had to be amazing and Chris' insight, as well as his great playing, sort of accidentally wound up being perfect. He didn't even know I was doing this track until I walked in that night, and we were the only two there! So by default he was the drummer.
I transferred all the electronic drums and bass that I had done in my studio and we mic'd up the kit. We did a subwoofer-style setup on the kick drum. We then put a second kick in front of the main one and a mic in front of that as well. What we got was this sort of sub-sonic low end that just added this extra thump to the kick drum sound. It was perfect.
How did you record the guitar, mics and amps?
We recorded the SLO 100 through my Soldano 2x12 closed back cab with two different mics: the Royer R-121 Ribbon and the Rode NT-2. We discovered this combo about three years ago while recording my first record, Rebirth. The Royer is the only mic that lets me hear the amp the way it sounds in the room. There have been so many times where the amp sounded great in the room and flat in the control room. From there, we went to an API Preamp, then a Motu HD192 to the computer.
What format did you record the song on?
We recorded digitally and mixed to an Otari 2 track tape machine. I use Logic for all my programming. From there we transfer my programmed parts to Digital Performer, where we record the guitars and live drums. We did two different mixes and Chris told me to pick which one I preferred. One was mixed to the analog tape machine, the other to the computer—all digital.
Give us a little background of the song and how you envisioned the guitar sounding?
Being a guitar instrumental performance, I wanted to have the guitar cover everything. The breakdown in the middle where John Bonham had this very long drum solo, I wanted the guitar to represent all those elements, rhythmic and textural. I did this pulsating low end bed using a tremolo effect and did all this atmospheric stuff on top and built into the solo. It's one of my favorite parts of the track. Duplicating vocals has its challenges, though Robert Plant is so expressive and rhythmic that it translates quite well to guitar.
You can check out Chris' version of "Star Cycle" on the Jeff Beck salute CD,
El Becko
and his cover of "Voodoo Child" on the upcoming Hendrix salute CD,
Third Stone from the Sun
.
---
Brian Tarquin
Emmy Award Winning Guitarist Brian Tarquin scored a Top 20 hit in the 90's with "
The Best of Acid Jazz, vol. 2
" on Instinct Records and enjoyed several top 10 hits on the R&R charts. Founder of the rock/electronica band, Asphalt Jungle and has scored TV music for such shows as
CSI, Smallville, MTV, Alias, 24, All My Children
and many others.
bohemianproductions.net
jungleroom@optonline.net
myspace.com/bohemianproductionsmusic