Hey Zach! I've got a Gibson Les Paul GA-40 amp and I'm looking for some information. I've done some research, but I can't find much information other than some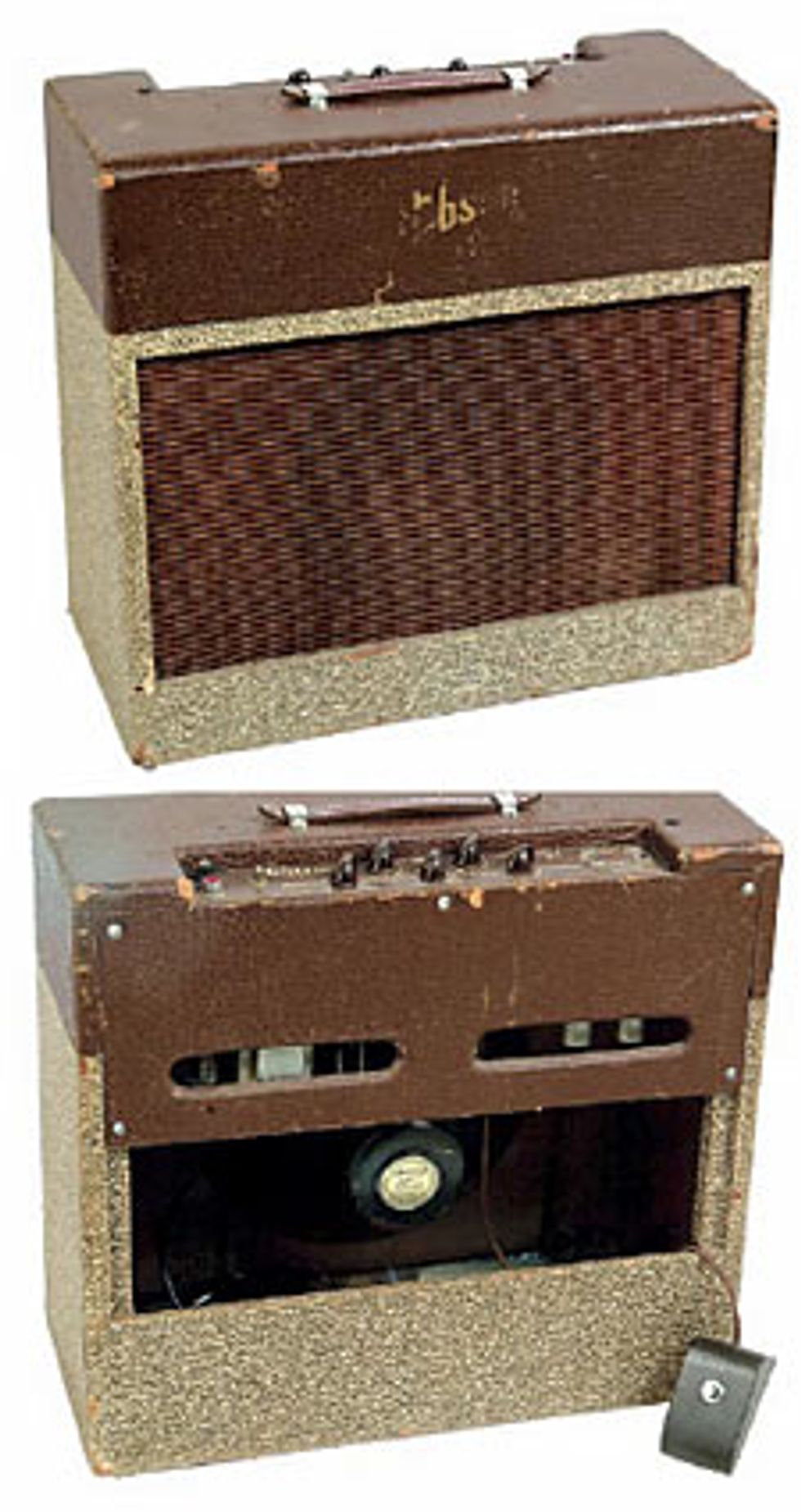 Hey Zach!
I've got a Gibson Les Paul GA-40 amp and I'm looking for some information. I've done some research, but I can't find much information other than some online forums. Can you give me a little of the history of Gibson's amps and what this thing might be worth? Also, how do these amps compare to Fenders?

Thanks,
Harold in Omaha

Hi Harold,
It looks like you have an oldie-but-goodie here! The Gibson GA-40 "Les Paul" amp was introduced in 1952, and by the time the Les Paul name had been dropped on products by Gibson in 1962/63, it had undergone five major cosmetic alterations. The version you have was produced roughly between 1955 and 1957 and is the second version of the Les Paul amp. It features a 12" speaker, two 6V6 power tubes supplying 14 watts, two channels, tremolo, and five controls; Voicing, Volume 1, Volume 2, and Depth and Frequency for the tremolo circuit. The logo is supposed to read "Gibson 40," but most of it is missing, which is not uncommon on these amps. Your amp hasn't had an easy life, and based on the overall average condition, it is worth between $800 and $1000. An excellent example could bring as much as $1500.
I've always found it fascinating that Gibson amps are not more popular and collectible than they are currently. After all, Gibson preceded Fender in the amplifier market by more than ten years, introducing the EH-150 in the mid-thirties. Leo Fender's first amp was the K&F model in 1945. Based on overall value, Gibson is generally regarded as the premier guitar builder of the 1950s and 1960s. Besides the unique GA-79 and GA-77 Vanguards, most Gibson amps can be found for under $1000. Even the larger amps – the GA-30 and higher – command less than $2000 while a comparable 1956 Fender Deluxe is worth double the amount of your GA-40. Why?
It isn't due to the fact Gibson produced an inferior product. In fact, many players agree that Gibson amps are as good if not better than certain Fender models. If you look at the overall vintage market for guitar amplifiers, the priciest examples were mainly produced in the late 1950s or early 1960s – a far cry from either Fender or Gibson's first efforts. Overall, Fender amps are more successful than Gibson, and I attribute much of that success to marketing. Fender's marketing was outstanding whereas Gibson's bordered on non-existent. Think of all the vintage Fender ads you have seen. Now try to recall a vintage Gibson ad. Don Randall did a heck of a job selling Fender amps as well as working alongside R&D to develop new products.
Another setback for Gibson amps is that they are not consistent with one another. When Fender changed a design, the amp was typically given a new name – the Deluxe went from the 5A3, then the 5B3, to the 5C3, etc. When Gibson changed a design, it went largely unnoticed. In fact, several variations will exist on one model without any notice or change in schematics. It is interesting to note that many Gibson amps are actually very similar in design to Fenders.
Fender also had some big name endorsers on their side – Bill Carson, Buddy Holly and Freddie Tavares. Gibson really only had Les Paul. This is all speculation, but it speaks to Fender's effectiveness in promotion as well as making a great product. Also if you look at both companies' amp lines currently, Fender has hundreds of SKUs in guitar and bass amplifiers while Gibson has two lonely models. Regardless, vintage Gibson amps are a relative bargain when compared to their Fender counterparts.
I agree that there isn't much information about Gibson amps out there. However, check out the third edition of the Blue Book of Guitar Amplifiers for some additional information and current values. Although several authors have made great works about the Gibson company and their guitars, little has been devoted to their amplifiers. The good news is that this may change in the future. A colleague of mine has been working on a database for a Gibson amp book. The planning is very preliminary and I'd love to hear from you, the reader, to see if this sounds like something you would like to read.
Remember, just about any Gibson amp, including your GA-40 Les Paul, is an affordable treasure!
---
Zachary R. Fjestad
Zachary R. Fjestad is the author of the Blue Book of Acoustic Guitars, Blue Book of Electric Guitars, and the Blue Book of Guitar Amplifiers.
Guitar Trash or Treasure Questions can be submitted to:
Blue Book Publications
Attn: Guitar Trash or Treasure
8009 34th Ave. S. Ste #175
Minneapolis, MN 55425
800-877-4867
www.bluebookinc.com
guitars@bluebookinc.com
Please include pictures of your guitars.