The Collings OM-2H proves its worth in an ensemble setting.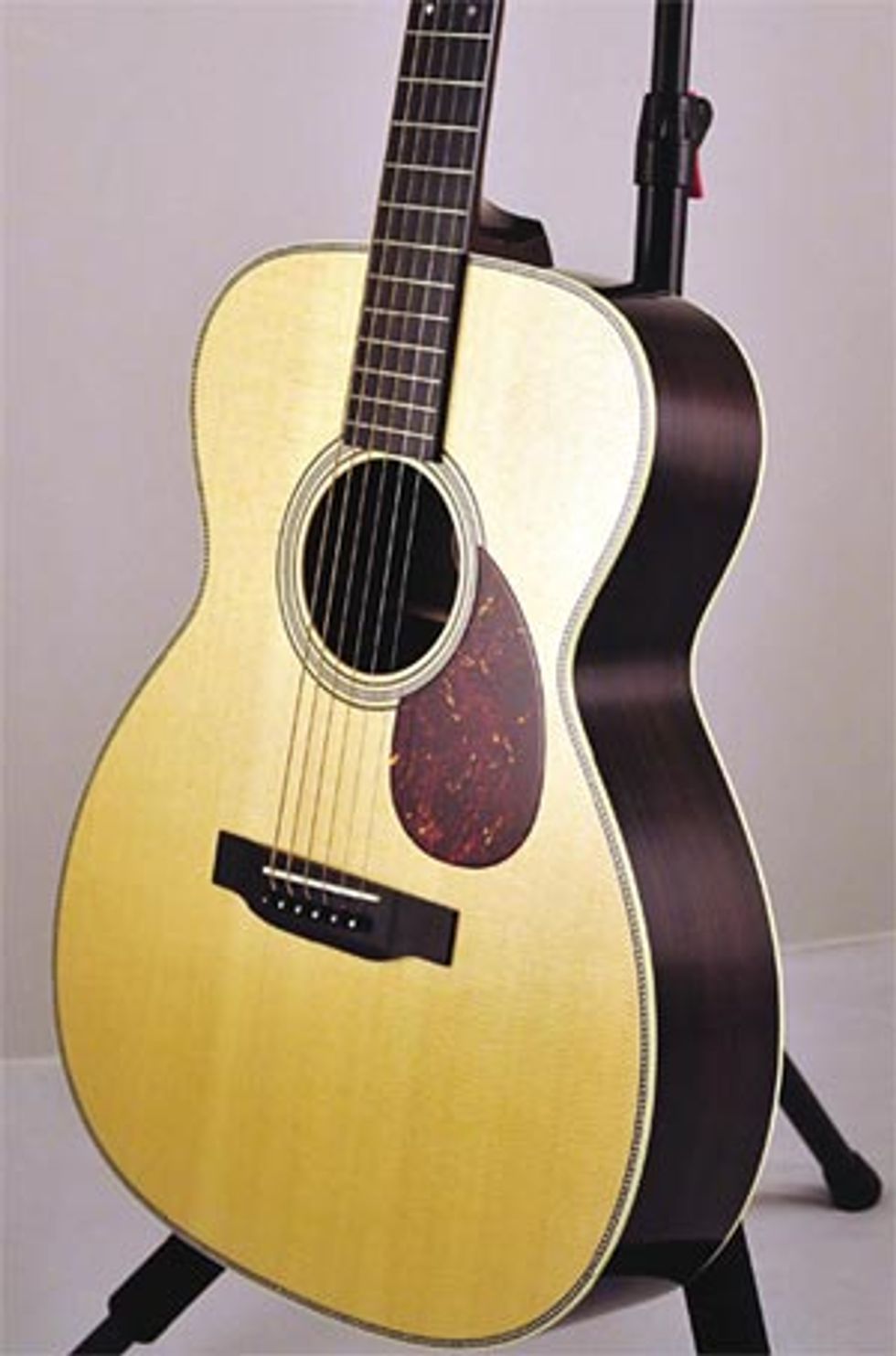 Bill Collings started building guitars in Ohio in the early seventies after dropping out of medical school. That's a heck of a story right there, but the happy ending rests on a reputation for excellence that makes his instruments some of the most sought-after in the industry. These are gorgeous little boxes, precision-made to Bill Collings' exacting standards by combining old world craftsmanship with new world CNC technology. Factory made by real people, the fit and finish are best described as "glorious."
When I had a chance to take a look at a Collings to review, I was excited. I've played a few, but never had the opportunity to hang out with one over a few days until now. They sent over an OM- 2H – a guitar based on the old Martin 000-style – featuring a Sitka spruce top, Indian rosewood back and sides, ivoroid binding around the body and herringbone purfling. They told me there was a flaw in the finish, but I'll be damned if I could find it, and I looked hard. It's a snuggly little thing, incredibly comfortable to hold for long periods of time without causing any tension in the arms or shoulders.
Collings Cool
Several years ago, I played Laurence Juber's Collings OM (he has three models with different woods, and unfortunately I can't remember which one I played), and I remember it being very rich and lively, which was what I expected to hear this time. The tone of the OM-2H took me a little by surprise; I was expecting more warmth, but this instrument shows it has different intentions from the get-go. The clarity and volume are stunning, and it has enough punch to get over the top of a bluegrass band at full throttle.
The setup was straight from the factory and was quite playable; the action was slightly higher than I like, but not so much as to make it hard to play.
Everything fretted cleanly and there were no intonation problems. With a fretboard width of 1 11/16" at the nut, I found it a little cumbersome for fingerstyle playing, but Collings says that a majority of the OMs ship with 1 3/4" nuts (we received a unique OM-2H for this review), which should satisfy players approaching the guitar from this angle. The neck itself is chunky like an old Martin, very well balanced and incredibly smooth. Waverly tuning machines round out the package and stay true to the guitar's vintage roots.
---
"I would heartily recommend this guitar to someone wanting an acoustic to record with a rock band or pop ensemble - you can hear how well it''s going to pop out of a mix and shine."
---
Being a fingerstylist, I first sat down to do some picking. Volume and clarity are again the primary characteristics you notice, but after some time with it you adjust and hear some shimmer, not to mention a bit of extra sizzle in the midrange. There's not a note you can't hear through the entire spectrum. The OM body is not designed to pump out bass – they're all about balance, which is what this guitar gives you. The harmonics are crisp – almost too crisp – with a tendency to be brittle when pushed hard. Hammerons punched like cannons; the OM-2H would be a great guitar for players who do a lot of tapping.
Because I use a lot of open tunings I like to know how a guitar is going to sound with a capo, so while I was in DADGAD I capo'd up on the fifth fret. There was no noticeable decrease in volume and it fretted cleanly; however, the lack of warmth became more apparent. It still shimmered and was quite brilliant, but the sound had a lot more brittleness to it. It was somewhat less intense at the third fret, and much better at the second.
Of course, not everyone plays with their fingers, so I pulled out a pick and gave the Collings a strum. I immediately wished that I had a pop band in my living room, as the OM-2H revealed itself to be an ideal choice for ensemble situations. The guitar's shimmer and definition would make it pop out from behind bass, drums and keyboards. You can hear every note in every chord, whether you're playing softly or beating the snot out of it (figuratively, of course). For single note playing, it's fantastically clear, without any appreciable difference in volume between treble and bass. It loses some of the body when you strap on a capo, but the defintion remains firmly intact. With its tenor voice, compact size and durability, I could definitely imagine Gene Autry loving this guitar – out on a horse, riding the range and yodeling to the cattle.
Studio Time
I'm always on the hunt for great studio guitars – those that record exceptionally well or offer some property in the studio that enhances the experience of the listener. I was curious to hear how the amazing clarity and punchiness of this guitar would translate to a recording. I used a stereo pair of medium diaphragm mics in an XY pattern through an Aphex 207 mic pre, into an RME Fireface 800 Firewire interface and into Samplitude Pro software.
Indeed, the shimmering overtones recorded beautifully and the mics added the extra warmth I was missing. The bottom beefs up a bit and there is absolutely no way it could turn muddy. You could still hear every single note of every single chord and nothing dropped out. I did not put new strings on the guitar, but the brightness and sizzle were still there. The dynamic response captured well, too; you can really feel and hear the difference between soft and aggressive playing. I would heartily recommend this guitar to someone wanting an acoustic to record with a rock band or pop ensemble – you can hear how well it's going to pop out of a mix and shine.
The Final Mojo
Collings more than lived up to their reputation for craftsmanship and quality with this guitar, and in the studio it's a killer. Strikingly attractive with clean lines and a flawless finish, and solid as a pickup truck, this guitar would fit in strumming alongside a folk-rock band or corralling the doggies with some cowboy poets – or punching through a studio mix like a laser cannon. Playable and comfortable to hold, it's one of the great "companion" guitars that can become a player's best friend.
Buy if...
you need a fantastically shimmery guitar that can pop out in a mix.
Skip if...
you are looking for something on the warmer side.
Rating...
 
Our expert has stated her case, now we want to hear yours. Share your comments and ratings below.