Digitech RP500 Integrated Effect Switching System Review
If you tend to think of inexpensive, floormounted multi-effects units as starter kits, the RP500 from DigiTech might just change your mind. Even if you've been lured one too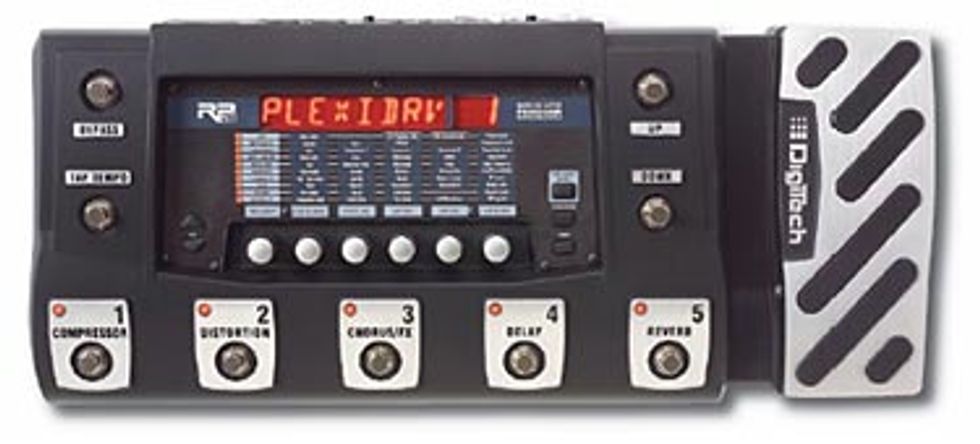 If you tend to think of inexpensive, floormounted multi-effects units as starter kits, the RP500 from DigiTech might just change your mind. Even if you've been lured one too many times by the Scheherazade promise of 1001 user presets only to end up disillusioned by ersatz effects and complex user controls that border on the insane, you should still take a look at this.
It's not just the sheer number of available amp, cabinet and effects models that make the RP500 worth a look, but that's a good place to start. Two dozen classic amp models (Marshall, Fender, Mesa-Boogie, Matchless, Soldano, etc.) and another two dozen of DigiTech's own designs run the tonal gamut, including a few fresh ones like "Mosh" and "Stoner Rock"; there's even a few new inventions, such as a blackface front-end matched to a tweed power section. Never known as a frugal company, DigiTech adds to that another dozen cabinet options; easily five dozen separate effects models, including 18 species of distortion/overdrive (a few new ones here, too); three kinds of wah; and a handful each of delays, reverbs, trems and choruses – including the "glistening chorus," which only affects frequencies above 200Hz so it doesn't muddy up your low-end. An assignable expression pedal rounds things out, allowing you to control just about any other effect parameter you care to name.
The RP500 introduces the concept of "Pedalboard" control to the RP line, and gives this unit an upscale feel. In Pedalboard mode, every one of the 200 presets becomes a unique pedalboard, featuring a selection of effects that can be switched on/off and allowing you to load a selection of effects quickly and easily. Of course, if you're old school, you can use the unit in Preset mode, which, as expected, assigns a different preset to each switch, allowing for a greater variety of nutty sounds existing side-by-side. Giving users complete control is the aim here, with the RP500 allowing for a variety of output modes; the device can simulate amps and cabs, or you can use only the effects if you rely on your amp for tone. You can even go sans amp – the left/right XLR outputs carry all of the amp/cab modeling info, so you can plug straight into a mixer or DAW. USB audio streaming and included Cubase LE4 software make recording with it a breeze, too.
Two caveats: First, don't start selling off your top-end gear just yet, especially if you're a tone zealot. As good as the RP500 is, the digital amp and effects modeling still seem to come up short in a few key areas, such as mimicking the sonic characteristics of power tube breakup. The folks at DigiTech definitely deserve kudos for the ingenuity of some of their "imaginary" designs, but in many cases the reality isn't quite there yet.
Second, don't plan on taking the RP500 out of the box an hour before your next gig and using it effectively. With a practically endless array of options, models and effects – as well as parameters to tweak and potential configurations to test – it's going to take you some time to discover all of its capabilities and to set it up just the way you want it. The good news is that it's well designed and logical, thus not exceptionally tricky to figure out, as so many multi-effects pedals have proven to be.
The Final Mojo
DigiTech has given guitarists stuck between a few pedals and a pro-level switching system something to drool over. There are lots of good sounds to be had here, and the Pedalboard/Preset control system gives you a new level of control that just might soothe the pain of your past multi-effect experiences. In short, it's a lot of sound for the buck.
The Digitech RP500 In Action...
Flash is Required to hear this track
Buy if...


you want first-class flexibility and user control in a multi-effects unit


Skip if...


you still haven't programmed your VCR


Rating...
 
MSRP $429.95 - DigiTech - digitech.com.com

Our expert has stated their case, now we want to hear yours. Log on and share your comments and ratings.