Need a new Stompbox? Find your next effect in this month's Gear Finds!
---
Guitarist extraordinaire Joe Robinson—touring behind his new mostly acoustic album, The Prize—shows PG's John Bohlinger some of his prized 6-strings, '60s Fender amps, and effects.
When Joe Robinson was learning to play in the remote village of Temagog, New South Wales, Australia, YouTube was his teacher. Then he discovered Tommy and Phil Emmanuel—Australia's sibling 6-string slicers—and set out on a path that would lead him to Nashville, where he's been a part of the city's guitar cognoscenti for the past 13 years.
At 31, Robinson's fans include Tommy Emmanuel (who's been a committed mentor), Steve Vai, Robben Ford, Eric Johnson, Steve Lukather, Albert Lee, Steve Morse, and Lee Ritenour. He's released six acclaimed albums, performed in 40-plus countries, and continues to serve a large online audience through livestream concerts and his own popular YouTube channel. Robinson shared his current touring rig before an October 18 show at his adopted hometown's City Winery.
Brought to you by D'Addario XS Coated Strings.
Aussie Pride
Robinson is equally at home playing fingerstyle on acoustic or flatpicking electric. When he's on acoustic, Joe plays his 2020 Maton signature model, which features a AA Sitka spruce top, Tasmanian myrtle back and sides, stainless steel frets, and proprietary Maton electronics. It wears Ernie Ball Paradigm or Earthwood sets, gauged .012–.054, but Joe replaces the high E with a heftier .014.
Fender T-Zer
Here's Joe's Fender Custom Shop Telecaster styled after a '53, with 52T pickups designed by Ron Ellis (originally, for Julian Lage), a swamp ash body, and a 9.5" radius neck. It is typically strung Ernie Ball Slinky sets (.010–.046), or, sometimes, Mega Slinkys (.0105–.048).
The "Blessing 'Burst"
This 1960 Les Paul, called the "Blessing Burst," is being auctioned off for Homes for Our Troops, a nonprofit organization that builds and donates specially adapted custom homes nationwide for severely injured post-9/11 veterans, to enable them to rebuild their lives. HFOT has built more than 345 homes to date, with another 65-plus projects underway nationwide. Robinson played the "Blessing Burst" on this gig, and before that it was on tour with Joe Bonamassa and Marcus King, among others
Fly AER Joe!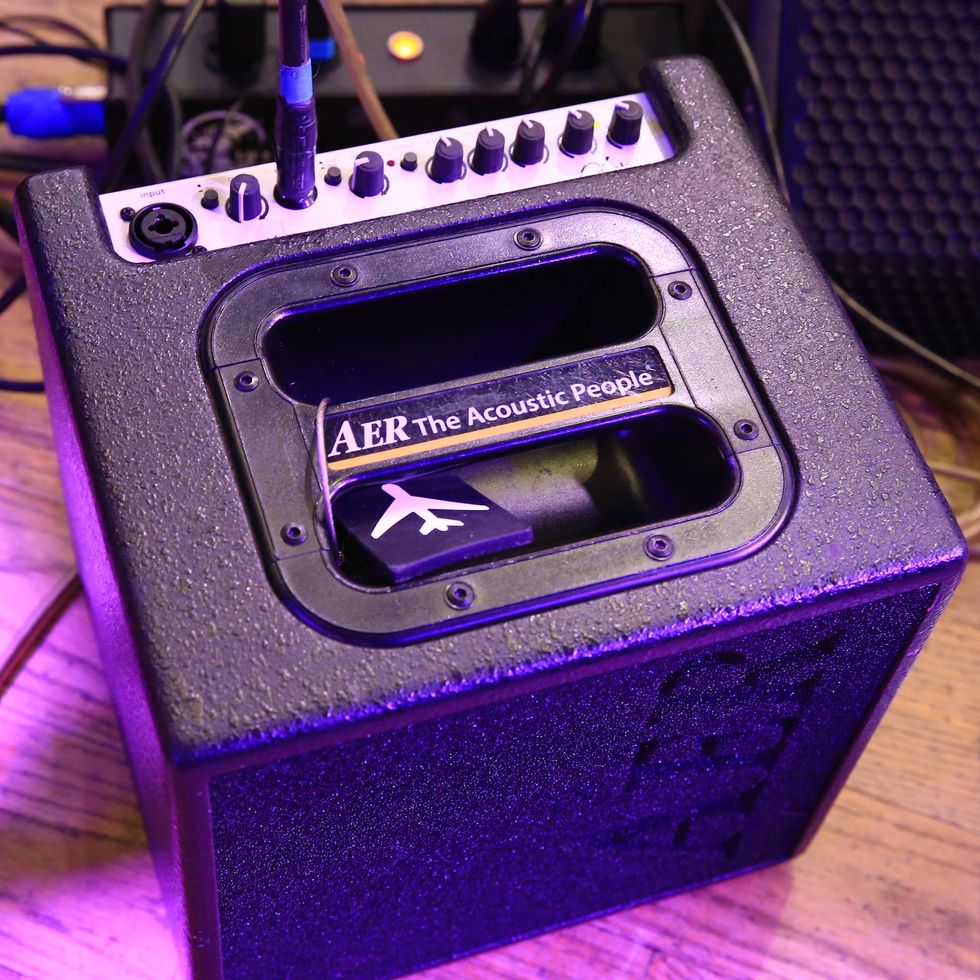 Joe usually uses the Udo Roesner Da Capo 75 amp, but on this tour he's using his tiny but mighty AER alpha because it fits in his flight case.
Lil' Champ
This 3-dial Fender toughie is from 1967, and Joe uses it for recording electric guitars as well as solo gigs, since it fits, well, just about anywhere!
Dynamite Duo
His burlier amps are a 1966 Fender Deluxe and a Magic Amplification tweed-style. If he needs to get really loud, Joe also has a 1967 Fender Showman that was modded by tube amp guru Kye Kennedy that he runs with a 1x15. Oh, and that's an Amp RX Brown Box input voltage attenuator out front.
Yes, This is JR's 'Board
Robinson's pedals sit on a Pedaltrain Metro 20 with a CIOKS DC-5 power supply hidden underneath. It's divided into acoustic and electric sides. The acoustic domain houses a TC Electronic PolyTune Mini and a Boss RC-1 Loop Station. For electrics: another TC PolyTune Mini, a Dunlop Cry Baby Mini, a Nobels ODR-1 mini (run at 18v), another Boss RC-1, and a TC Hall of Fame mini.
Three little brute combos by Fender and Danelectro.
Delivering dirty brujo tone is not simple. Just grab a ouija board and ask Hound Dog Taylor or Pat Hare. Or, if communing with the spirits in a literal way isn't your thing, check in with Patrick Sweany. He's easy to find since he'll be on the road for most of November and December touring a double-bill with fellow Nashville-guitar sparkplug JD Simo. And when he's at home … even easier, since he holds down the Monday early evening slot at Music City's indie mecca, the 5 Spot, with the Tiger Beats, a blues tribute band he co-fronts with McKinley James, who was profiled in last month's PG feature "10 Young Guitarists to Watch."
Sweany swaps the ouija board for raw-speaking amps and a '90s Epiphone Riviera with gold-foil pickups, plus a sawdust-and-blood voice that would make Howlin' Wolf cock an ear, as a means to conjuring the dirtiest, deadliest tones of primal electric blues—like those found on nascent recordings by the labels Chess, Cobra, and King. Or, for that matter, on Sweany's own catalog of a dozen albums, including 2018's Ancient Noise, where his abilities as a songwriter propel the blues form into the present, leaning toward the future.
But enough about Patrick. This is an amp column, and when he turned up at a recent Tiger Beats gig to talk gear, he brought three Clydesdales with him: a vintage '60s Danelectro Explorer, a Fender '57 Custom Pro-Amp, and an Excelsior from Fender's Pawn Shop series. What do his favorite amps have in common?
"A 15" speaker with an alnico magnet is it for me," he says, "and 15 to 20 watts is my sweet spot, where the amp breaks up and still has some bottom end. I'm a fingerstyle player, with a thumbpick and two finger picks, so compression is the devil. Amps with 10" speakers are too harsh, which can work for playing lead like Freddie King, but when I was trying to find my sound, 15s were the answer. It's very full and rich."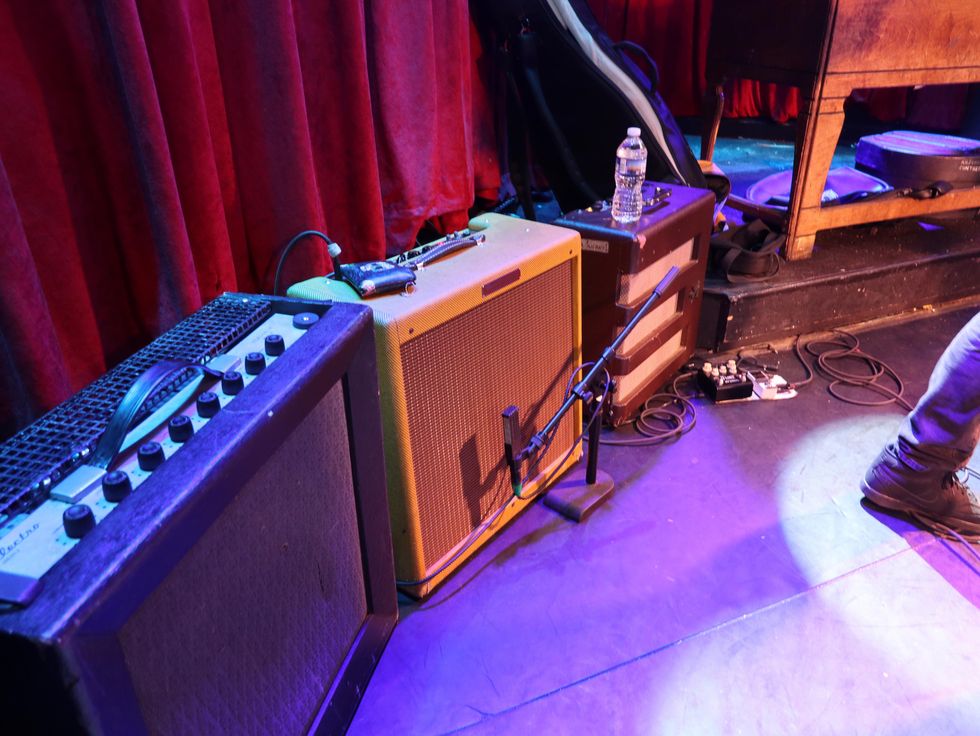 All three of his amps are in harness, but only the Fender '57 Pro-Amp has the microphone for this gig.
Sweany says his signature sound crystallized when he got the Danelectro, which is a quirky beast. Unlike some earlier Explorers, this model has its tubes and transformers on display, enclosed by a cage at the rear top of the amp. Better yet, that cage flips open, which means the amp—with its array of two 6L6 tubes, a 6FQ7, a 12AX7, a 12AU7, a 6AU7, and a 5Y3GT, plus heavy transformers—can be its own workbench while remaining plugged in. Explorer amps came with a single Jensen C15N speaker. Sweany's is all-stock except for a recapped power supply, and amp tech Kyle Wierzba cleaned it up and restored it to original spec.
While the Dano Explorer isn't worth a fortune, Sweany values the amp enough to keep it at home or nearby, so it doesn't join the Pro or the Excelsior on tour. "If you're a piece of my equipment, you're not in a comfort environment," he says, laughing. "You're a shovel handle."
His favorite road amp is his '57 Custom Pro, a killer reissue I had the pleasure of reviewing for PG in early 2017. Sweany's first chance to play through the model was while filming a demo for Fender with Laur Joamets. "They gave it to me after the session," he says. The amp has a thin tweed cabinet and is inspired by Fender's famed 5E5A circuit. It's got a 12AY7 and two 12AX7s preamp tubes, two 6L6 power tubes, and a 5AR4 rectifier tube, and it is a loud 26 watts. As a shovel handle, Sweany's Pro has not led an easy life. After it died on the road, Wierzba replaced the transformers with Mercury Magnetics, swapped the caps, and installed reissue GE 6L6 tubes, along with some lesser maintenance.
I'm a fingerstyle player, with a thumbpick and two finger picks, so compression is the devil.
And finally, there's the Excelsior: a 13-watt tiger that emulates the look and sound of Valco-type late-'50s/early-'60s circuits. Sweany had his eye on the Excelsior the minute it was unveiled in 2012. It's got two 6V6s and two 12AX7 preamp tubes. It has the simplest control array of his troika, with old-school mic, accordion, and guitar inputs, a bright/dark switch, and volume and tremolo dials. But this Excelsior was modded by Nashville amp builder Mickey Sandora, who added a tone stack with more headroom and bottom end, activated by a toggle switch.
In addition to tremolo, another thing these amps have in common is an absence of reverb. "For a long time, I didn't use reverb—just tremolo, which is another important part of my sound," Sweany says. But his Tiger Beats compadre James' Fender Super Reverb always sounds so damn good that it wore him down. His team of plough horses now have a partner: a Strymon Flint. And you'll hear them all when the Tiger Beats finish their debut album of original music that's in the works.
PATRICK SWEANY "Up And Down" **OFFICIAL VIDEO**
Hear the nasty old-school sound of Sweany's Danelectro Explorer amp in "Up and Down," from his most recent album, Ancient Noise.
When it comes to forming patterns, no computer algorithm can outperform the human mind. Sometimes we must change directions to have a breakthrough.
Every now and then, a misguided guitar player asks me something like: "What should I do to become a better guitar player?" For the record, I'm probably not the one to ask. I suspect I don't really know what I'm doing in guitar or life, but I love to play music, and I've noticed some improvement in my playing over the years, so here goes. A surefire way to get past a plateau and become a better player is to stop playing guitar … then dive deep into a different instrument.
You probably remember the agony of making an F chord, and later a barre chord, thinking your fingers just could not do it. Eventually you get it, then jump over the next hurdle, be it learning the pentatonic box, etc., until eventually, you notice that what you're playing sounds like music. We make improvements quickly on the journey from beginner to intermediate, and before you know it, you can jam with others and pick up enough licks and tricks where you sound like a guitar player. But eventually we hit a plateau where we quit advancing and that's where most of us stop. I suspect we plateau because humans love patterns, and once you're in a pattern, it's hard to see beyond it.
Humans can't help but look for patterns. Our neocortex (the outermost layer of the brain found only in mammals) gives us our ability to recognize patterns, and we do it well. Although computer algorithms can spot patterns, no algorithm can outperform the human mind. Our body feeds our pattern addiction by giving us a fun hit of dopamine when we recognize one.
How do you break the pattern of patterns? You have to shift from thinking about patterns to melodies. This has made me a lot freer in my note choices on guitar, and it's made me a bit more forgiving with myself.
Neil deGrasse Tyson explains: "Over centuries of evolution, humans' pattern recognition skills determined natural selection. Hunters skilled at spotting prey and predator and telling poisonous plants from healthy ones offered them a better chance of survival than those blind to the patterns. It enabled the survivors to pass on those pattern-friendly genes to future generations."
Learning guitar is learning chord, scale, and riff patterns. For most of us, the guitar neck becomes a series of patterns rather than an opportunity for melodies. The more you play, the more diverse your bag of patterns becomes, so you have more to shoehorn into any situation. Ultimately, they're still patterns. How do you break the pattern of patterns? You have to shift from thinking about patterns to melodies. When you attempt to play an instrument where you know no patterns, all you can do is search for melodies.
I've loved pedal steel since I first noticed it on Elton John's "Tiny Dancer," but it's such a complex, baffling, and expensive instrument that I never considered jumping in. As I aged and watched working guitarists get younger, I noticed that steel players remained mostly old crusty dudes. When I realized steel could extend my career, I was motivated to buy one. I'm glad I did, as this is one of the few times I made a prediction that was dead on. Pedal steel has opened a ton of gig opportunities, but it's also expanded my concept of music and done more to improve my guitar playing than another 10,000 hours of just guitar.
When you dive deep into another instrument, you'll find yourself approaching it more naively, like a kid, not looking for patterns but rather discovering what music will fall out of the instrument. There will be lots of surprises where you don't know what note you're going to get. Look at it like Bob Ross—those weird notes are just happy little trees. Those happy accidents have led me to playing much more interesting parts than if it went as I planned. This has made me a lot freer in my note choices on guitar, and I'm a bit more forgiving with myself.

When you start exploring technique on a new instrument, you can't help but reevaluate how you play guitar. For instance, muting or blocking is wildly important on pedal steel, because if you don't mute, you'll have a constant discord of a b7, major 7 ringing over everything. It's a cacophony. So, when I got back on a 6-string, I noticed where my slop was ringing and how some palm muting, like on pedal steel, makes my notes clearer. I've always muted, but now I'm listening closer, realizing when I need to apply more or less. Similarly, playing pedal steel with my fingers (fingerpicks) has made me less dependent on a flatpick when I play guitar. Although I've always used hybrid picking on guitar, I now use my fingers more and do more blocking with my fingers on guitar. It sounds smoother, cleaner, and seems to flow better.
Life doesn't have to be the same old thing. Try something totally new and see how it makes you see everything in a new light.