Big Apple Guitar Shops: Then and Now
A New Jersey native remembers Music Row's early years and checks in on NYC's current indie guitar-shop
Photo courtesy of R. Friedman, We Buy Guitars, LLC
I wanted to be anywhere but my hometown of Bloomfield, New Jersey, in the mid to late '60s. Los Angeles would have been nice. London would have been better. Most of the bands I liked hailed from those cities.
A vintage shot of the original location of Manny's Music. Credit: David Deranian/Digital Arts & Sciences
One saving grace was that Bloomfield was only a short ride from Manhattan, and from age 15 on, I regularly made trips into the city alone when I had a few bucks in my pocket—usually the day after Christmas. The bus ride was $1.30 each way, and I managed to figure out the subway system pretty easily. One of my favorite hangouts—after eating at the Horn & Hardart Automat and cruising 42nd Street to gawk at the hookers, lowlifes, porno palaces, and drug dealers—was West Greenwich Village. Specifically, the area around Avenue of the Americas, including Bleecker, MacDougal, and 4th streets. The Music Inn, importer of cool English rock LPs and world music instruments, was a definite stop every time, along with Village Oldies and Matt Umanov's repair shop. I never went into Umanov's, but I always enjoyed pressing my nose against the window. I also recall seeing Dan Armstrong's repair facility.
After college, my new hangout in the Apple was 48th Street—"Music Row," the nerve center of the musical instrument business in Manhattan. I can't imagine how many hours I spent ogling the used and vintage guitars in the windows of Stuyvesant Music (aka "We Buy Guitars"), Alex Music, 48th Street Custom Guitars, Rudy's Music Stop, Terminal Music, and, of course, the venerable Manny's Music. It was your classic "kid in a candy store" scene. Like most young people, I had very little money to spend on guitars, so my time was mostly spent—you guessed it—pressing my nose against the glass.
Stan Jay of the famous Mandolin Brothers music shop in Staten Island remembers the scene very well.
"Silver & Horland had a very nice store near city hall and the Brooklyn Bridge, but they later moved to 48th Street and, within a few years, were gone. There was a guitar store named for and run by Noah Wolfe. Harry West—a private detective with an office on Park Place where J&R Music is now—had, in his apartment in the Bronx, one of the finest collections of acoustic instruments in the northeast. And Marc Silber, who later moved to California, had a shop in the Village. There were also buyers/sellers to whom musicians knew they could go to find special instruments. One of them was George Mell (née Melaga), who lived here in Staten Island. There was a fellow known as 'Frank the Barber,' who had his tonsorial parlor on 9th Avenue in Manhattan. Andy Statman purchased his famous blackface A2 snakehead Gibson mandolin from Frank."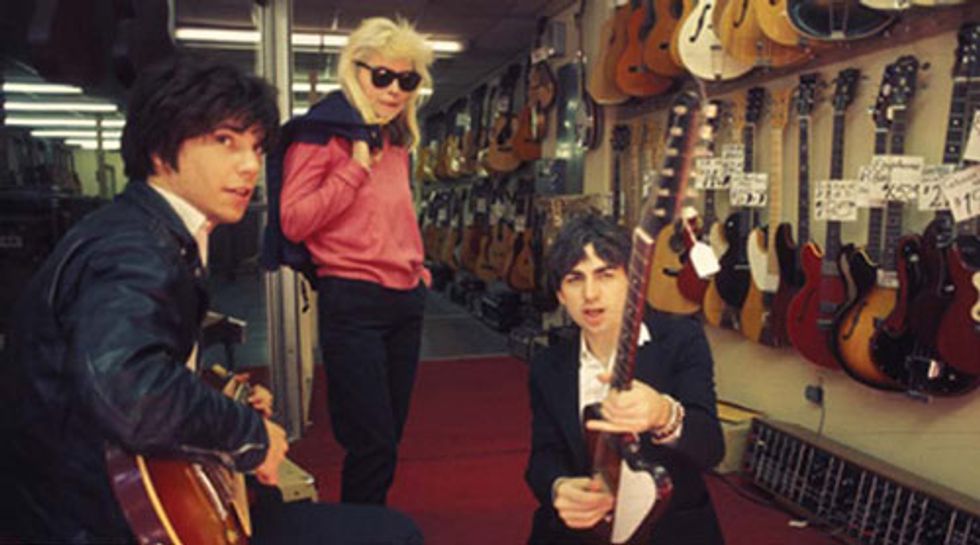 Debbie Harry of Blondie looks on as bassist Jimmy Destri (left) and guitarist Chris Stein (right) check out guitars at Stuyvesant Music in May of 1977. Credit: Bob Gruen
Flash forward to 2010, and things certainly have changed. We Buy Guitars on 48th closed years ago and then reopened a few years ago on Long Island. Terminal Music is gone. Alex Music is gone. 48th Street Custom Guitars is gone, and Manny's, incredibly and unfortunately, closed last May after 75 years in business. Manny's had been bought out by Sam Ash Music in 1999. Sam Ash told Premier Guitar in 2008 that the company purchased the store because it was having troubles, and they believed it was an institution that should be maintained. That closing was a real loss for New York's musical community—not to mention the touring pros who frequented Manny's regularly. I met jazz vibraphonist Lionel Hampton, blues legend John Mayall, famed producer and musician Todd Rundgren, and Barry Tashian, guitarist from'60s garage-rock band the Remains, at Manny's.
Jay puts it rather succinctly: "The world-famous block known as 'Music Row,' is being gradually disassembled and dispersed so that more skyscrapers can be erected."
This brings us to the subject of "big box" music stores. Those who know me—friends, acquaintances, and fellow musicians—know of my disdain for big-box music stores and my vociferous defense of independent music retailers everywhere. BBs certainly maintain a presence in New York City's retail music establishment, and they have their place for the segment of the population to which they cater. But, I am pleased, even elated, to say that independent guitar shops, with their heightened selection and personalized customer service, are making a serious comeback in New York City—proving once and for all that big boxes are not taking over. Most NYC indie dealers are holding their own, and some are thriving and expanding, even in the present economic downturn.
MANHATTAN MAINSTAYS Rudy's Music Stop
(rudysmusic.com) has occupied 169 West 48th Street since 1978. Owner/guitarist Rudy Pensa left his native Argentina with a dream to operate a music store in New York City. With a passion not only for electric instruments, but also for archtops and acoustics, Pensa is not only a player and businessman, but a builder as well. In 1982, he began making guitars that were sold in the shop, and in 1985 he began collaborating with luthier John Suhr to produce the PensaSuhr line of electrics.
Rudy's specializes mostly in high-end instruments, as well boutique effects and amps. He also stocks numerous vintage and used guitars, amps, and basses. Rudy's Amp Room and Repair Shop is located right around the corner at 723 7th Avenue, and his new SoHo store is at 461 Broome Street. Rudy's prices are certainly not "bargain basement," but there's no denying the astounding selection of high-quality gear he sells.
Matt Umanov Guitars
(umanovguitars.com) has been in Greenwich Village since 1969, but Umanov himself was doing repairs and restorations as early as 1965 before becoming a retailer. He stocks Fender, Gretsch, PRS, James Trussart, and Collings electrics, but his true love is acoustic guitars. "The need to pick up and play acoustic instruments will never go away," he says, "it's built into the human genome." Umanov carries new Taylor, Martin, Guild, Collings, National, and Seagull flattops, plus used and vintage pieces. Umanov even recently collaborated with singer/songwriter Steve Earle on a signature Martin. Umanov claims it's not hard maintaining a store in New York City, and as for the big box retailers, he commented, "Fortunately, our longevity, reputation, and location have made this not as big a problem as it is for some. We figured out how to deal with the economy last year and are doing nicely."
30th Street Guitars
(30thstreetguitars.com) has been serving the city since 1997. Owner Matt Brewster grew up working in a music store in Ossining, New York. A visit to his shop is like walking into electric guitar heaven. Used and vintage Gibsons and Fenders are everywhere, and there are lots of oddball electrics, too: Supros, Danelectros, Silvertones, Harmonys, sparkle-covered Italian kitsch, and '60s Japanese "cheese," such as Teiscos and Kingstons. But Brewster also builds his own Rust brand of relic'd, Fender-style solidbodies that are extremely playable and priced within reach of most guitarists. The bodies and necks are custom made for him, and he does all the relic work himself.
Flying in the face of convention, Brewster doesn't advertise—and that includes in phone books. When questioned why he decided to start a guitar shop, he replies, "I started off playing guitar and fixing guitars, but I realized I wasn't going to be a rock star. So after working at Ossining Music Center for over 10 years and spending about a year working for Brian Moore, one of the employees there approached me with the idea of opening a store. It's tough to maintain a store like this with the high rent. The economy has impacted me, sales-wise, but it's actually been good for repairs. We get a lot of international walk-in business. Brazil is a hot spot for guitar sales. Those customers tell other people and they'll buy from us. And because we're close to Madison Square Garden, we deal with guitar techs that come in. We work with a lot of big-name artists and I wouldn't want to drop names, but I will say that Eric Clapton came in one day to try out guitars, because he knew he could try things out and be left alone. This is a place where everyone can be comfortable trying out guitars, amps and pedals. It should be fun!"
Cramped Quarters: The vibey entrance to Dan's Chelsea Guitars and its eclectic collection of six-strings and memorabilia. Photo by Carianne Cianci
Dan's Chelsea Guitars
(chelseaguitars.com) is located on the ground floor of the world famous Chelsea Hotel at 220 West 23rd Street in a store not much bigger than the average Park Avenue walk-in closet. Packed into this tiny space is an extremely interesting collection of used and vintage guitars and amps of all types, as well as oddball memorabilia, vintage microphones, and other ephemera. The atmosphere is strictly "hole-in the-wall-dusty-chic," but the staff is knowledgeable, friendly, and ready to satisfy customers with good equipment and prices to match.
First Flight Music
(firstflightmusic.com) is a downtown shop that has been in operation since 1995. Owner Dan Wollock commented, "I've always been a part of the NYC music community, and I've always loved cool vintage guitars, so I put the two together." Asked about the prospect of being a musical instrument merchant, he says, "It's absolutely tough to maintain a retail store here. Space is expensive, and now there's real competition. However, New Yorkers are pretty savvy and recognize something unique. Reputation is everything, so we just try and offer folks great deals and great service. Our amp repairs are fast and reliable. People come here knowing they'll find something unique. Also, I'm fairly sure we have the biggest new and used parts selection around. Plus, we have a rock music school that goes beyond the typical guitar and bass lessons to include drums, keyboards, woodwind, and vocal instruction too." And when queried about his specialty, Dan replies, "We change with the times. Right now, it's what I call 'proto' guitars—the 1950s solidbodies by US makers like Kay, Harmony, Orpheum, and Airline, plus some of the Japanese Guyatone and Teisco models that play and sound amazing."
Ludlow Guitars
(ludlowguitars.com), at 164 Ludlow Street in the Lower East Side, has been in business since 1999. They specialize in new Gibson and Fender instruments, but carry an eclectic selection of new, used, and vintage guitars. They also claim to offer the best selection of pedals in NYC. According to co-owner Kaan Howell, "We're here because New York is the greatest city in the world, although it certainly has been tough in the recent economic climate. But we have no reason to believe that New York City is any more difficult to do business in than any other region of the United States. It's been tough going, but if we can survive this, and it seems that we will, then we will be able to survive anything."
Howell also stresses that Ludlow is all about customer service. "We are a friendly local store where you can try anything and everything for as long as it takes to find what you are looking for. We are staffed by gigging musicians working on a non-commission basis, and who know the product inside and out and can provide solid advice so customers get what they need as opposed to what they might have thought they wanted."
BROOKLYN BIG-HITTERS
In Brooklyn—"the garden spot of the world," according to Art Carney's character of Ed Norton on the old Honeymooners TV show—Rocky Schiano claims his
Street Sounds
shop (streetsoundsnyc.com) is the largest Gretsch guitar dealer in the USA, if not the world. Schiano started in the retail compact-disc business in 1988 and had three locations at one point, but when CDs started to die out in favor of digital downloading he made the switch to musical instruments, and decided to focus on Gretsch.
"I started by bringing in a few guitars, and sales started to rise as CD sales declined," Schiano explains. "In 2005, I went to guitars only. I was open full-time, but as I no longer have a full-time store manager, I'm only open two days a week. I do about 90% of my business online."
Street Sounds' Rocky Schiano—New York City's go-to Gretsch guy. Photo by Carianne Cianci
At any given time, Street Sounds has 200 to 300 Gretsches in stock. Scanning the store, one sees Gretsch boxes literally everywhere. Consequently, over the last couple of years Schiano has developed a sterling reputation as one of the go-to-guys for anything and everything Gretsch. However, Street Sounds also carries Guild acoustics and the entire Fender Musical Instrument Corporation line.
When asked how he started with Gretsch, Schiano says, "It was really by accident. I was handling mostly low-end guitars and decided to bring in the Jackson line, so the FMIC sales rep came in with all her catalogs. I noticed the Gretsch catalog and ordered two or three. I had always liked Gretsch guitars. It was hard to get up and running at first, but then Gretsch sales began to take off. I sold a lot of guitars to guys on gretschpages.com—people who are extremely passionate about Gretsch. I've built this business on word of mouth and reputation."
Have the big boxes cut into Street Sounds' business? Schiano smiles, "It's so easy to kick their asses! I use them as a model of what not to do. We give customers great guitars at great prices, with outstanding service. We can always beat the prices the big boxes charge. The average Gretsch player has three or four, so we've been able to earn their repeat business by taking care of them. Gretsch sales comprise about 50% of my total business."
"The people who run Gretsch are very passionate about what they do. Fred Gretsch personally took me down to where the old factory used to be here in Brooklyn. It was an amazing experience."
Southside Guitars
(southsideguitars.com) is owned and operated by brothers Ben and Sam Taylor, both lovers of what they call "wild and weird" electric guitars. Here, guitarists find oddball makes like Eko, Wandre, and Guyatone, as well as used and vintage guitars by Gibson, Fender, Martin, Epiphone,Rickenbacker, Danelectro, and others. Southside also sells Victoria, Vox, Gibson, and Fender amps, as well as Bill Nash guitars.
STILL KICKING IN QUEENS
The only dedicated guitar shop in Queens is
The Music Zoo
(themusiczoo.com), and it's been there since 1994. Owner and NYC native Tommy Colletti taught guitar and had an extensive network of students and guitar-playing friends, so he naturally became a "guitar finder" for them. Eventually, he opened a shop that specializes in rarer guitars from the Fender and Gibson Custom Shops, Charvel, John Suhr, B.C. Rich (handmade US models), Godin, and Taylor. Music Zoo's clientele ranges from rock stars to beginners.
According to manager Mark DiDonna, "The last 18 months have been very challenging and it has helped us to reassess how we do business. We have adjusted our business model, and our inventory reflects that. We only carry the most desirable brands. From what I can see, the worst of the economy is behind us, and our website has seen a tremendous uptick in recent months. We also get a lot of foot traffic being in New York City." He adds, "Like other smaller shops, we are always available to the customer to answer questions and spend time finding them the right guitar."
STATEN ISLAND STALWARTSMandolin Brothers
(mandoweb.com) has been in business since 1971, and its owner, Stan Jay, is widely acknowledged as one of the world's leading authorities on vintage stringed instruments—and their unassuming tan building in the suburbs has an inventory to match the reputation. It's bursting with high-end acoustic and electric instruments of all sorts.
Jay had come to appreciate older guitars in 1964 after buying a used sunburst Gibson J-200. He and his original partner, "Hap" Kuffner, started the business seven years later when they bought the pieces of two rare banjos, which they reassembled and sold. With the profit, they bought and sold an old Martin, then borrowed $3000 "in a bold, capitalistic frenzy," according to Jay. Then they rented a second-story walkup above a loan company.
"I'm not sure the term 'vintage' even existed in 1971. These were considered used or second- hand pieces until, gradually, musicians began realizing there was an unmistakable difference in sound, appearance, and playability between the old and new." Jay continues, "It was a hobby that turned into an internationally known, niche-market business. First, Stephen Stills and Graham Nash came to visit, then Dave Van Ronk, then Mike Seeger and Joni Mitchell. Judy Collins bought a 1939 Martin D-28 herringbone from us. The market was growing and we quickly became one of its pioneers."
But why Staten Island and not Manhattan?
"It sort of picked me. After graduating from Penn State, I came to Wagner College on Staten Island to complete a master's degree and stayed on to pursue a doctorate in college teaching of English at Columbia University. Staten Island is a great place to live. More suburban than urban, it has the largest per-capita area of parkland in New York City, and it is a borough of single-family homes, many of which—at least on the North Shore—are old Victorians. People ask me why we aren't located in Manhattan. Let me respond by saying that the opening statement that greets visitors when they walk in is, 'You can play every instrument in the place and ask us up to one million questions.' The interaction with each customer is harmonious and haimish—a Yiddish term that translates as 'a homelike atmosphere, unpretentious, warm, cozy, and relaxed.'"
Like most music retailers, Jay has had to adjust his business model to adapt to economic realities.
"During this great economic meltdown we realized there was a strong product passage in the direction of lower-priced pieces, so we started stocking Epiphone, more affordable Martins, the truly astonishing Guild GAD series guitars made in China, Gold Tone mandolins, banjos and resonator guitars, and the new Fender American Special series electrics with their street price of $799. We shifted our product mix to reflect the acquisition patterns of a cautious customer base that's less prone to impulse purchasing. The economy has caused us to rethink not only our product mix, but our advertising and our use of the internet."
"Throw in the towel? Fuggedaboutit!" If there's one thing that all of the Big Apple entrepreneurs mentioned here have in common, it's that particularly infectious brand of savvy New Yawk determination, mixed with a bit of an attitude that makes one believe they're in the retail game for keeps. Here's hoping they succeed in their efforts to preserve independent music stores in New York City.