Boomerang E-155 Chorus/Delay Pedal
Boutique pedal offers many options
Grapevine, TX
(November 30, 2007) - Boomerang''s new E-155 Chorus/Delay pedal is the first in a new line of Boomerang pedals that each have two effects and can be linked to form a powerful effects system. The E-155 has 11 presets for quick dial-up of various settings with its three types of chorus - Classic, Shimmer & Lush- and three types of delay - Clean, Tape and Reverse. An expression pedal can be used to control overall effects levels or individual effect parameters in ways that you specify.
The delay can produce some funky sounds when it goes into oscillation. It can also reverse leads live. When the effect is bypassed the delay trail fades naturally.
The chorus covers the traditional settings and sounds you''d expect from a chorus while also creating flange and rotating speaker-type effects.
The E-155 features an "AirMix" output which, when used with a mono input, allows you to run a dry signal in one output and the affected signal in the other.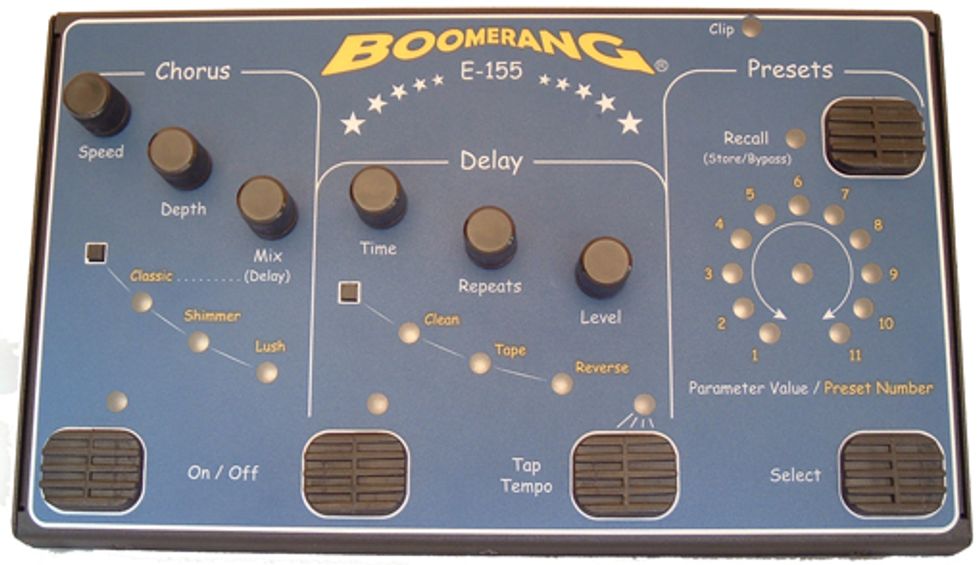 3 types of chorus: Classic, Shimmer & Lush
3 styles of delay: Clean, Tape & Reverse
11 presets for storing your sounds
Expression pedal controls overall effect level OR individual parameters (as many as you want)
Smoothly morphs between two completely different sounds
Delay tail fades naturally after effect is turned off
A variety of input and output routing options
Pedal Link™ jacks allows simultaneous control of several Boomerang® pedals
AirMix™ Output places wet and dry signals on separate outputs
Legendary Boomerang® reliability and mojo
Rugged 9" x 6" x 2" steel chassis.
Suggested retail $469
For more information:

Boomerangmusic.com