Builder Profile: Visual Sound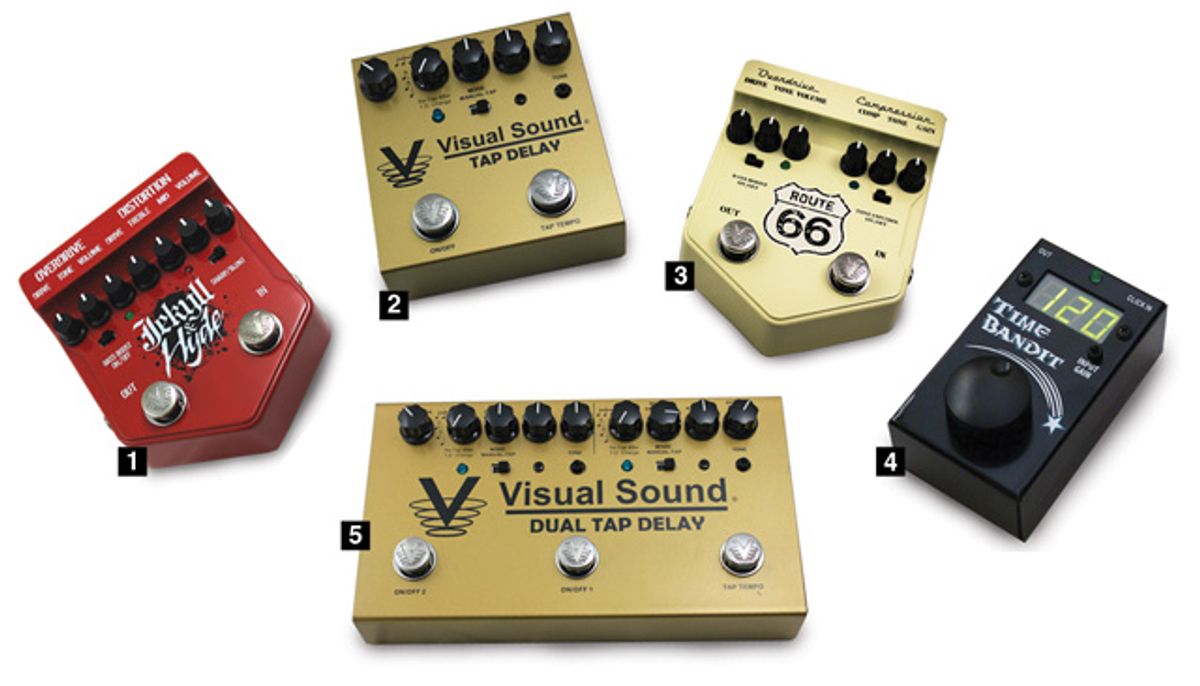 As a teenager, Bob Weil taught himself how to build stompboxes by disassembling off-the-rack pedals and adding the features he wanted. Before long, he was coming up with his own designs and taking them to industry trade shows. Then he enlisted the help of DIY pedal guru R.G. Keen, and the two came up with their now-famous line of stompboxes that fall somewhere between boutique and mainstream.
Visual Sound hovers in a rarified space between a boutique builder and mass manufacturer. Though the pedals are constructed in China, the company's design guru, R. G. Keen, also operates geofex.com—a site that has educated untold scores of DIY builders. Visual Sound's effects are affordable, solidly constructed, and sound great, yet sometimes they seem mysteriously underappreciated. We had a candid chat with founder Bob Weil about the company's "boutique" beginnings, its miraculous rescue, and the footswitch of 10,000,000 hits.
Touch and Go
As you might suspect, Weil is an avid guitarist. "I started playing when I was about 17," he recalls. "I would go to a friend's house in Connecticut and play one-finger versions of 'Smoke on the Water' on his acoustic." Years later, married and living in California, Weil found a particular pedal in his arsenal wanting. "I had bought a popular volume pedal and very quickly grew frustrated with it because the taper went very suddenly from zero to 10, and the pot got scratchy after a few months. I also thought it should have some sort of zero-to-10 [visual] reference on it," Weil says. "I went shopping and was shocked to find that nobody made a volume pedal with that feature. I thought, 'How hard could it be to make one?' Unfortunately I had no electronics background."
Weil's initial design efforts to rectify the situation incorporated a zero-to-10 visual scale and pointers that were mechanically pulled along the base of the pedal as the treadle moved. Weil also used a mixing-board-style fader rather than a round potentiometer. "I tried some goofy ideas in that direction, and then I realized I would prefer an LED display," he relates. "This was before the internet, so I started going to the library and reading books on electronics that were way over my head. If you stare at them long enough, it starts to sink in. I started experimenting and eventually learned enough to start building one of these things. I began experimenting around 1990 and by 1995 had built some prototypes that actually worked."
These new prototypes were Weil's secret weapon when we went to the NAMM Show in January of 1995. "I handed them out to artists that looked either famous or really good [laughs]," he remembers. "I didn't even necessarily know who they were. Guys like Victor Wooten and John Patitucci looked at it and said, 'Why hasn't somebody done this before?'"
Weil soon moved back to Connecticut, where he and his wife, Julie, began building the units at home. "You couldn't just call up Hammond [organ company] and order pre-punched and painted housings like you can now," he says. "Only five years, later things had changed a lot—but when I started it was very Stone Age." In 1996, Weil began experimenting with putting effects—like overdrive or distortion—in the volume pedal housing, with the treadle controlling the amount of drive. What knowledge of effects design and construction he accrued was a product of reverse-engineering and modifying existing pedals, as well as more library research. "I'd figured out how to trace circuit boards and what connected to what—and why," he explains. "It was a lot of late nights, tearing things apart and figuring them out. There were no schematics floating around the web in those days."
Bob and Julie Weil started building pedals on this kitchen table back in the mid-'90s. Photo by Michael Ross
By 1997, Weil had moved to Florida and expanded the line to include the 2-channel Jekyll & Hyde pedal. The more mild-mannered Jekyll overdrive channel was a variation on the Ibanez TS808 Tube Screamer, while the Hyde transformed your tone with more monstrous distortion. But the road from ideas to manufacturing and distribution proved a bit bumpy. "I tried using independent reps for a while, which worked, but not that well," he recalls. "We tried using manufacturing subcontractors in the United States for the volume pedal and some other experimental things. That didn't go that well. It was lots of trial and error—mostly error. So Julie and I hand-soldered and hand-assembled the first 100 Jekyll & Hyde pedals on our kitchen table—not fun. After that, we looked at each other and said, 'We are never doing that again.'" [Laughs.]
Back from the Abyss
Besides kitchen-table fatigue, one of the other difficulties with the early Visual Sound business model was that Weil was not charging the boutique prices required to make handbuilding cost effective. "We were just trying to make stuff that working musicians could afford," he says. "It was a very difficult first few years. I dove right in by quitting my day job—I don't recommend that [laughs]. The volume pedal sold pretty well for a volume pedal, but lesson number two was, 'Don't start a business with a volume pedal'—not that many people use one. I should have started with an overdrive, but I had started with what I needed. The volume pedal did well enough that Musician's Friend was mad at me when I stopped making them in 1998."
So if the volume pedals did so well, why did Weil stopped making them? Because despite the fact that production had moved to Taiwan and become more affordable, Visual Sound's debt had piled up to an untenable level. "About halfway through 1998, we had to call it a day," he reveals. "I planned to go out of business at that point, but a very curious thing happened two weeks later. I got a faxed order from a distributor in Germany who'd picked up a few of our new Jekyll & Hyde pedals earlier in the year. He called the next day to ask if I had his order. I said I did and thanks a lot, but unfortunately we are out of business. He replied, 'That's terrible. I have given them to two guitar magazines in Germany and the reviews come out next month saying it is the best overdrive pedal they've ever tested. We already have back orders.' I told him I was sorry I couldn't make them because I didn't have any money."
Pedal guru and Visual Sound designer R.G. Keen.
In order to have his overseas vendors fill the day-saving orders, Weil had to prepay. To his astonishment, the German distributor offered to pay for the pedals in advance. "I got off the phone with him and called our English distributor, who had Jekyll & Hydes on a back order I could no longer fulfill," Weil continues. "I said, 'This crazy guy in Germany offered to prepay his order. Forgive me for asking, but would you be willing to prepay your order?' He said, 'No problem—in fact, double our order. We need that many.' Bear in mind, normally nobody pays for an order before you have even made the pedals! The funny thing was, those two orders were the exact amount of money I needed to buy another production run from Taiwan—to the penny! I looked up to God and laughed. I said, 'I don't know why you have me in this stupid business, but okay, let's try this again.'"
From that low point, things began to take off. The Jekyll & Hyde became a huge success. The equally acclaimed Route 66 overdrive/compressor, H2O chorus/echo pedals, and the 1 Spot power supply soon followed. Weil moved his company and family to Tennessee, where he bought a home that also served as an office and shipping facility. The company soon outgrew his house and, in 2005, he purchased two units in an industrial park in Spring Hill, Tennessee.
(Front to back) Dana Weaver, Bob Weil, and Zac Childs doing quality control testing of the Visual Sound Time Bandit.
As industrial-park offices go, the Visual Sound location is quite homey, with a peaked roof, columned entrance, and a beamed interior that Weil built into the raw space. Offices are arranged around a comfortable lounge with Memphis-style chairs and a sofa abutting an equally warm demo room with Dr. Z and 3rd Power amplifiers. "I'd been coming up to Nashville for summer NAMM for years," Weil says. "It made sense for the business to be here. It's a much more central location for shipping and for visiting other states. The music industry here is huge—and it is not just country music. Going to studios and hanging out with artists is easy, and with the facility we have here, we have musicians visiting a couple of times a week."
So far, other than the volume pedal, all Visual Sound stompboxes have been dual-effect pedals—a fact that Weil and his team could boast of well ahead of the current trend. The V2 series debuted in 2007 and essentially offered single-effect version of effects previously available only in dual-effect stomps. "People said if only we came out with the compressor or overdrive in a single pedal, they would buy it," says Weil. "I expected the singles to explode off the shelves. They've done okay, but the funny thing is the duals were still more successful. Those who'd been asking bought them, but others figured it's not that much more to get the dual, so why don't I just get that?"
[R.G. Keen] is a true rocket scientist. I am just a hacker—I cobbled these things together more through determination than knowledge.
Bringing in the Big Dog
Although Weil oversees conceptualization of all Visual Design pedals, he is wise enough to work with another bona fide guitar-effects guru by the name of R.G. Keen. Keen, who's been designing hardware, software, and systems since the early '70s, has worked full time with Visual Sound since 2005. "Pretty much since the beginning of the web, R.G. has been this brilliant engineer who has helped people out behind the scenes," says Weil. "He started this website, geofex.com, as a hobby, and has taught so many of the boutique pedal builders how to build effects. We met over the early internet in 1996.—I had only been in business about a year. I posted a question, and he came back with this amazing educated answer. We got to know each other better and I found out he had taken early retirement from IBM—he is a true rocket scientist. I am just a hacker—I cobbled these things together more through determination than knowledge."
Keen has been helping informally with board designs since the late '90s, but now he and Weil design the line together. "Some of the technology is, frankly, over my head," Weil admits. "Like the Dual Tap Delay, which is hybrid digital with some analog, and custom programmed chips. I just call up R.G. and say, 'Do you think you could make something that can do this?' He thinks about it and a day or so later comes up with something. With the Time Bandit, I called him up and said, 'I think there are a lot of guys who would like to stop tapping tempo and just plug in the click track to drive the tempo of their effect—not MIDI, just an audio click track.' No one had done it before, so that one took him a little while."
Clint Lagerberg and Bob Weil demoing the Time Bandit with the Tap Delay.
Going to the Garage
As reasonably priced as Visual Sound effects are, in 2008 the company felt a need to produce the even more budget-friendly Garagetone line. The timing couldn't have been better. "I was reading articles about emerging-market countries," says Weil, "places where people didn't have a lot of money but if you could give them something high quality at a reasonable price they would buy it. I was reading all this just before the financial crisis in 2008, after which I realized I could sell them right here at home. R.G. and I took a lot of time designing those circuits, making sure they were simple enough to be manufactured inexpensively, but still sounded killer. We put them into metal housings and made them as reliable as we could. We didn't skimp on features. Frankly, we took a lot lower profit margin."
In addition to the lower prices, Weil offers hefty product warranties—even on the more affordable gear. "We offer a lifetime warranty on our V2 and V3 pedals," he says. "It is a pretty audacious move—it exposes us to unlimited warranty returns—but our stuff just doesn't come back much."
Although the superiority of true-bypass switching has been debated of late, Weil says that whatever the sonic advantages true-bypass switches may or may not have, those switches can be wanting when it comes to roadworthiness. "True-bypass switches are not designed for switching low-voltage signals," he explains. "A typical guitar signal is between a tenth of a volt or half a volt, maximum, depending on whether they are single-coil or humbucker pickups. If a tiny bit of oxidation happens on that true-bypass switch, your signal stops as if it hit a wall. Those switches are designed to have 240 volts going through them. That many volts can get through a little oxidation, but with a tenth of a volt, the switch needs to be replaced. For that reason, I have never used them—and because they have a loud mechanical thump that comes through the amp. When I designed the V2 series, we started using our buffered Pure Tone system with a switch rated at 10 million hits, so you can stomp on it all day and night for the rest of your life—it's just not going to wear out."
Evolution of the Visual Sound Volume Pedal

Left to right: The first pedal Bob Weil ever made was a wooden volume pedal, followed by "Slide," which incorporated plastic housing and a zero-to-10 scale on the sides. The third pedal pictured was the first official Visual Volume pedal, which Weil brought to NAMM in 1995. The fourth incorporates a special fader, and the last pedal on the right is the most current model.
The very first pedal that Visual Sound founder Bob Weil made was a wooden volume pedal that he "cobbled together" around 1989. Early versions had a 0-10 scale on the sides of the pedal, as seen in the second pedal shown in the photo. "At the time, I didn't know anything about electronics, so I just stuck a fader in there and soldered some wires to jacks," the self-taught pedal builder remembers. "It hummed like crazy because I didn't know what shielding was!"
The second VS volume pedal, which Weil calls "Slide," was created around 1991 and was slightly more advanced. It had a plastic housing that he routed out to serve his purposes, as well as shielding he made out of aluminum foil glued to paper. "Up to this point, I was only prototyping for my own needs and for a few interested musicians."
The third version was the first true Visual Volume pedal, and it was among the first samples Weil brought to his first NAMM show in January of 1995. "This was the pedal that started Visual Sound," he beams. "I'd learned a bit more about electronics by that time—along with a little mechanical engineering—so my vision of having a zero-to-10 LED scale was finally a reality."
In 1996, Weil made several improvements to his fourth version, mostly to address reliability concerns. "I couldn't seem to stop reinventing the wheel," he says, "so it too used a fader inside, with a really odd strap mechanism to pull the fader back and forth."
The current version of the Visual Volume came out in 2006. "It was supposed to be the 10th Anniversary Edition, but we were a year late," Weil admits. Features include a die-cast aluminum housing with some artful lines to it, a standard rack-and-pinion mechanism like that in a wah pedal, a buffered and boostable preamp for no signal loss, a custom-tapered pot, and blue LEDs. Weil is quite happy with it … at least for now. "We didn't hold back on features for this one, and the technology is far more advanced than my clunky early versions."

Visual Sound Headquarters: (Left to right) Zac Childs, Michael Weil, Phyllis Weil, Dana Weaver, Steven Bliss, Steve Mikesell, and Bob Weil. (Not pictured: Jamie Rowe and R.G. Keen.)
Phyllis Weil (Bob Weil's mother) does the books for Visual Sound.
Envisioning the Future
Despite a world run rampant with pedal makers—from one-person outfits to smaller boutique outfits and medium-sized manufacturers—Visual Sound is thriving. Still, Weil recognizes all too well the challenges of this crowded product niche. "Five years ago, it was easier to be well known, because not everyone and their dog was making pedals. Now everyone and their dog, their cat, and their cat's cousin is making pedals," he says, adding with a laugh, "and it is mostly R.G.'s fault for having that site!
Mike Weil, operations manager for Visual Sound.
"It has gotten difficult to stand out from the crowd," Weil explains. "There are guys doing what I was doing in 1995—making stuff in their basement. They don't know any more than I did then. They watch some YouTube videos, solder up some pedals, and sell them on the web for $400. I am not saying that to put it down. It is like the recording industry: The great news is you can make a CD for next to nothing and sell it to anyone in the world. The bad news is—so can everyone else. I wouldn't want to start a pedal company these days. As a hobby, sure, but as a business it would be like getting onto an L.A. freeway with a bicycle."
Thanks to international distribution handled by Zac Childs, robust artist relations coordinated by Steve Bliss, and a social-media push spearheaded by Jamie Rowe, Visual Sound is staying in the game. It helps, too, that it is something of a family business. In addition to advice from wife Julie, Weil's mother Phyllis does the books, and brother Mike is operations manager. And in a seismically shifting market where one day's hot pedal is next week's eBay item, that means a whole lot more to Weil and his crew than whether you call Visual Sound "boutique" or "mass market." Because in the end, as their motto says, their real goal is to provide "Real Tone for Real People."