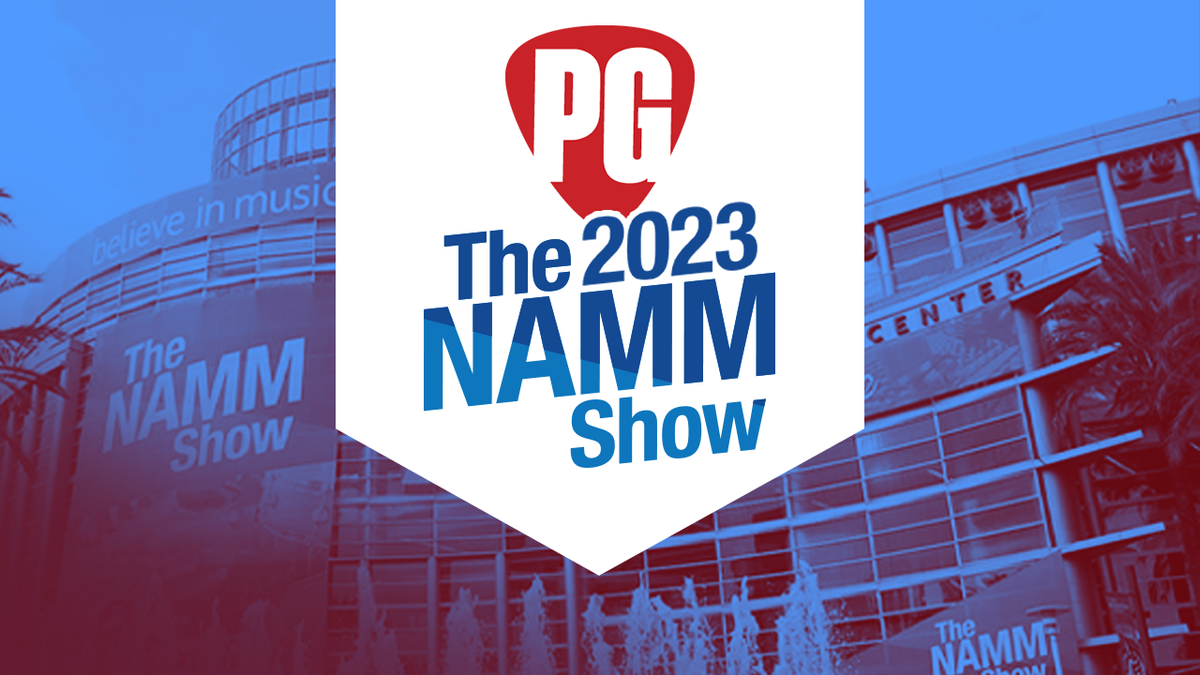 Dig into the details of a pile of new gear from Martin, Revv, Walrus, Dunable, Jam, and more!
---
Martin's D-18 StreetLegend
The Nazareth-based, classic American acoustic guitar maker comes on strong with a series of soprano ukuleles, a 000 with a satin finish, new finishes for the D-18, plus the first short-scale Martin bass (priced at $749 street). But check out the new D-18 StreetLegend—an aged-top 6-string based on a guitar in Martin's museum that was once played by Kurt Cobain, tagged at $2,499 street.
Jam Pedals' Harmonius Monk
JAM and That Pedal Show's Mick Taylor and Dan Steinhardt have developed a new iteration of their wildly versatile harmonic tremolo, the Harmonious Monk. Mick was on hand to walk us the bevy of new features including tap tempo, three different LFO patterns, a legacy mode, and much more. They are available now for $279.
Eventide's H90
One of the most buzzed about pedals is Eventide's H90, which could be seen as a pair of H9s, but that would be selling it short. It packs a mind-boggling amount of features, sounds, and options while keeping a fairly intuitive interface. In our demo we caught some of the new polyphonic algorithms which were really amazing.
Dunable's DE Series Asteriod
The Asteroid is one of Dunable's latest additions to their import line. The V-style vibes of the Asteroid include a Floyd Rose trem, hotter blade-based humbuckers, and more. Plan is to have them available soon for around $1200.
Walrus Audio's Fundamental Series
Walrus' Colt Westbook wanted to give players that are just starting out in their guitar journey affordable options that not only can handle the wear and tear but sound good. The Fundamental Series is a group of nine stomps that have ultra-hip sliders and a toggle that lets you pick between three different modes. I'd say the standouts were the delay, phaser, and fuzz but since they start at only $99 it would be easy enough to pick up a few.
Revv's Dynamis D25
REVV's Dynamis D25 cranks up the company's popular D20 amp by another 5 watts, but with footswitchable gain boost (a button the front does the same) and reverb powering up a Celestion V-30-equipped combo. It weighs about 30 pounds and uses Two notes ' reactive load and impulse response XLR-out, and takes REVV into the low-gain game, with gain and volume controls, and 3-band EQ. The new variation on Shawn Tubbs' Tile Overdrive/Boost doubles up on the original Tilt, with boost and drive sides, plus EQ and a 3-position tight switch, and top-mounted outputs. The pedal streets for $269. Also, instead of 12 dB boost, the new tilt has a 20 dB bump.
Godin's Session T
Simon Godin and Mario Biferali unveiled two solidbody electrics and a pair of nylon-sting acoustic-electrics at NAMM. The Session T has a Canadian Laurantian body, rock maple neck and maple fretboard, plus Seymour Duncan SSL-2 single-coils and a Duncan Saturday Night special humbucker in the neck, Godin lucking tuners with a Tru-Loc tremolo, and a high gloss finish, while the Stadium Pro (with a TV jones in the neck and a Lollar in the bridge) is a hardtail with the same body and neck woods and a adjustable ashtray bridge. Both have a modest $1,399 street tag. Godin'ss goal: to make affordable boutique-level guitars, and only 150 of each will be built.
Two-Rock's Vintage Deluxe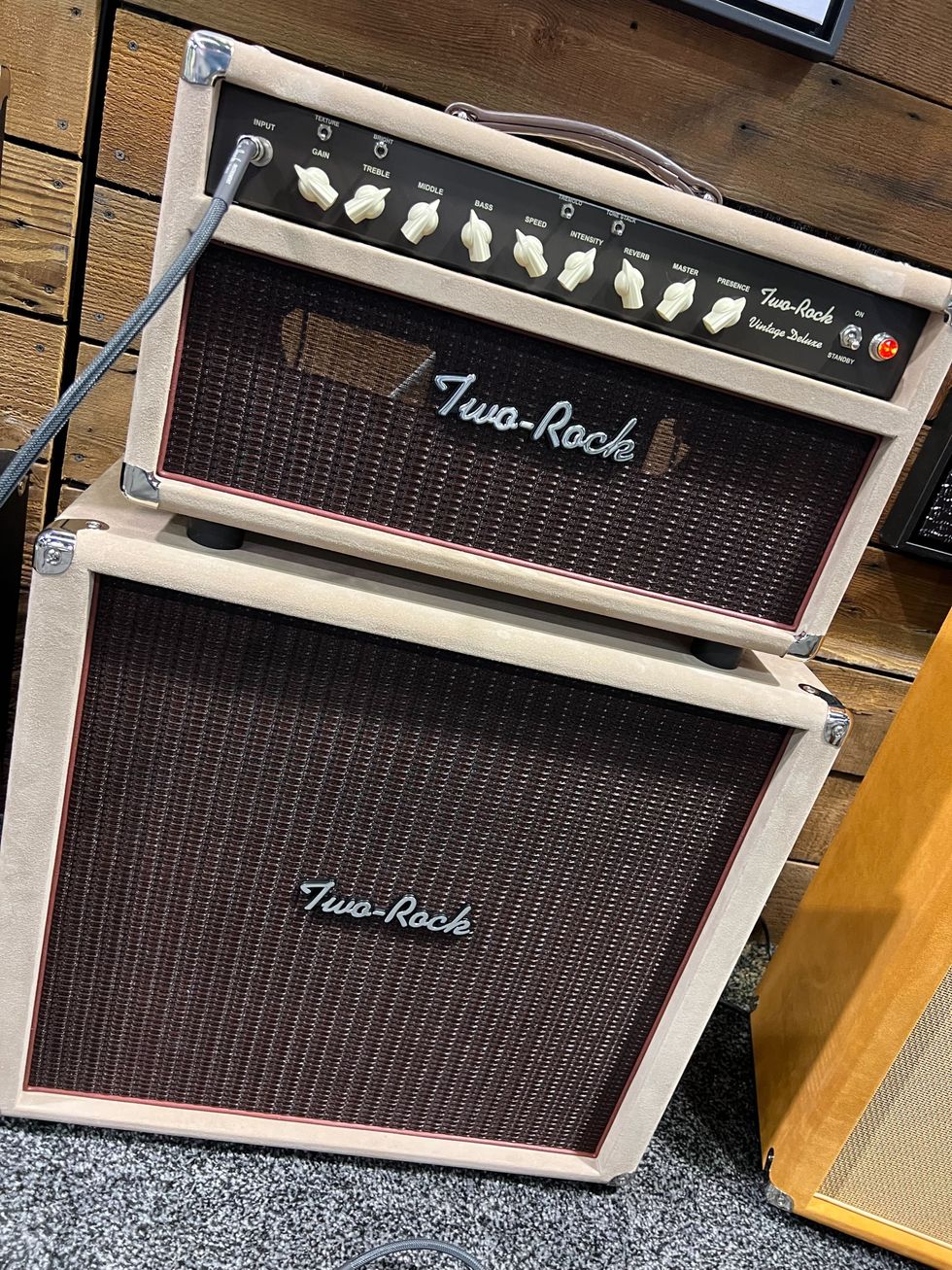 The Vintage Deluxe has the DNA of a classic American-style amp, but with a wealth of modern appointments and features. Coming in two different styles (35-watt 6L6 and 40-watt 6V6), this amp is bold with a flair for punch clean tones and rich overdive sounds thanks to the Tone Stack switch that allows you to move to a single-control setup. It also has pure tube reverb, bias tremolo, and a very intersting texture switch that works the midrange.
Santa Cruz Guitars' Catfish Special Pro
When Richard Hoover tells you that a guitar is made out of wood that is impossible to find your ears perk up. The Catfish Special Pro is a parlor guitar that is created from reclaimed wood that dates back hundreds of years. Designed for acoustic blues fingerstyle player Catfish Keith, this guitar barks and is surprisingly loud for its size. Be warned, it comes in at $11,500.
Yamaha FG9 M
Yamaha entered the high-end steel string flattop competition with the new FG9 series, available with a rosewood back and sides at $4,099.99 and in mahogany at $3,999.99. These hand-built instruments have Adirondack spruce tops and a nitro finish, inlays inspired by Japanese tradition, excellent projection and a smooth C-profile neck.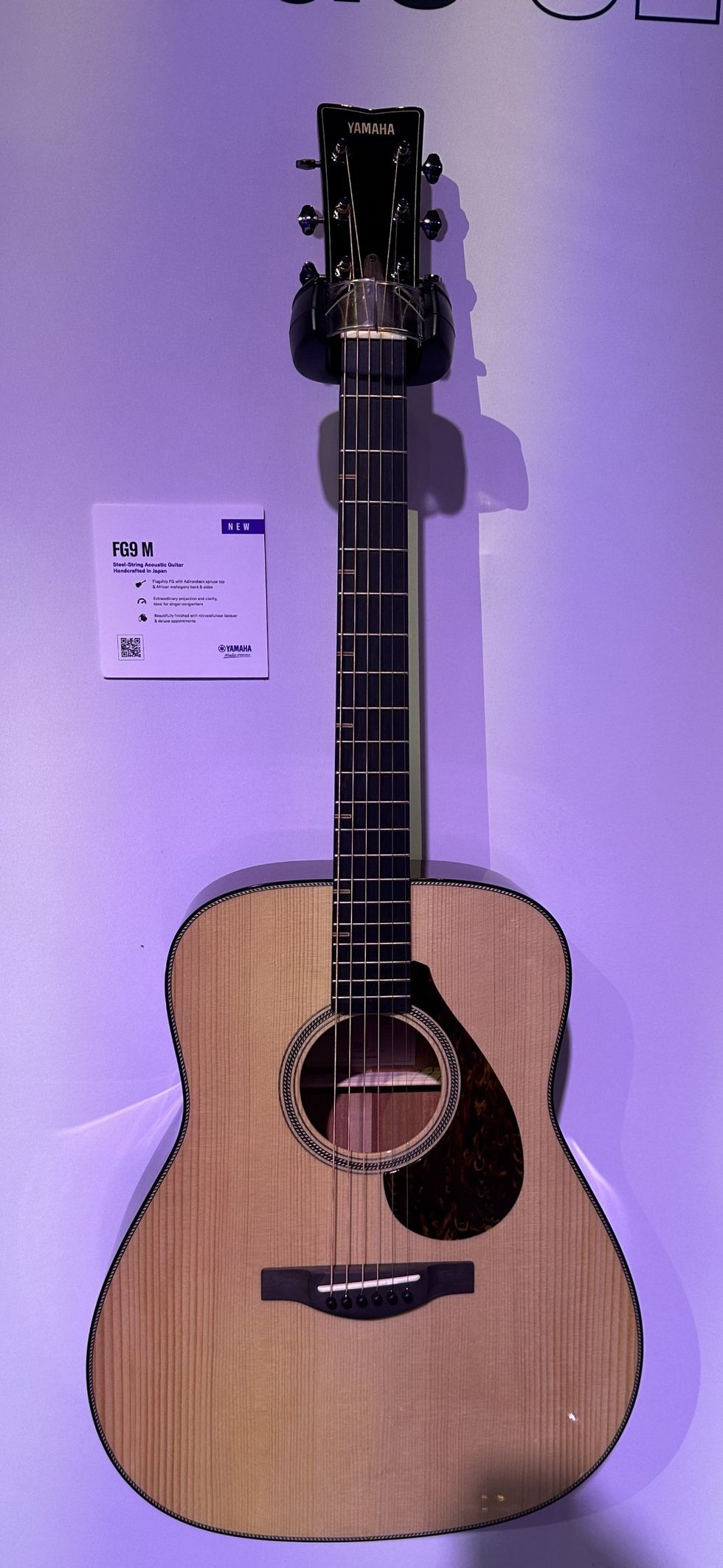 Catalinbread's STS-88
Like peanut butter and choclate, phase and reverb work surisingly well with each other. The STS-88 is a shoegazer's dream. The phaser can get bubbly and warm or quick and off-putting (in a good way). With a single knob reverb control you can blend in just the right amount of space with ease. They are available now for $209.
Ovation's Adamas Models
Ovation has returned to U.S. guitar making, at its New Hartford, Connecticut shop, with the introduction of two new Adamas models: the Legend 1769 USA and a 12-string Pro Series Standard Elite. The Legend has a Sitka spruce top, curved A bracing, a center soundhole a deep Lycrachord body, a 5-piece mahogany/maple/walnut neck, a 10" radius walnut fretboard, a carved walnut bridge, maple/oak leaf insets, maple neck inlays, Gotoh machine heads, and an Ovation OP-PRO preamp with a tuner. The electronics have been reinvigorated, too, to provide a rounder, more focused and detailed sound. Price: $4,200 street. Additionally, a number of new carbon fiber instruments were on display at NAMM.
Fishman's AFX Series
Fishman brought its new four-mini-pedal AFX series to NAMM, and showcased their ability to add EQ and preamp, looping, reverb, and boost capabilities to your acoustic guitar's organic signal. The pedals work in parallel with your signal, rather than altering it, and can be blended alongside in highly controllable degrees. The Pocket Blender allows you to toggle between onboard pickup and mic settings, for example, and can be used as a boost by setting either the A or B section louder and hitting the footswitch for your big solo. It streets for $89.85. The Broken Record looper allows you to loop and overdub, and offers WAV file transfers via USB. The AcoustiVerb toggles between hall, plate, and spring reverb settings, with simple decay, tone, and level controls. And the ProEQMini has a 5-band EQ path. The latter three street for $119.95.
Pro Co's Lil' Rat
Since 1979, Pro Co has been producing more RATS than a New York City fast food joint—but to much better result. The RAT is a classic hard-clipping pedal that's been on thousands of hit records and helped define the guitar sounds of the '80s through today. Now, Pro Co has taken the Rat2 iteration and distilled it to a 2"-wide box. Same top-mounted jacks, same distortion/filer/volume control set, and a 9V input. Street price: $89.99.
Magneto Guitars' Starlux
Magneto creator Christian Hatstatt was looking toward the 1950s when he conjured the new Starlux, a retro-neuvo blender with a double-cut basswood body, a 3-piece maple neck, and a rosewood fretboard with distinctive inlays, including a 12th-fret nova. There's a Bigsby-style tremolo, a bone nut, the company's Classic Twin low-output humbuckers, a 3-way switch, and volume and tone controls. At less than a grand, it's one of this NAMM show's coolest looking axes.
LR Baggs' HiFi High Fidelity Acoustic Bridge Plate Pickups
Acoustic amplification can be a tricky dragon to tame, but L.R. Baggs' new HiFi pickup is a non-invasive setup that offers a studio-quality preamp with accessible volume and tone controls. It comes with pre-wired bridge plate transducers, an endpin preamp, and over 700 hours of battery life.
Kernom's Moho Magmatic Fuzz Station
One of the most inventive discoveries at the show was Kern's Moho Magmatic Fuzz Station. Fuzz has a range of flavors and textures and in our demo it was quite impressive how the Moho went from smooth Muff-style leads to spitty, almost glitchy rhythmic pulses. A lot of ground is covered by the mood and electricity controls which work together really well to cover nearly any era of fuzz. Plan is to have them out by July and they will come in at 349 Euros.
Vola Guitars' OZ ZT
We were quite impressed with not only how eye-catching the new OZ 7Ts are, but how the company installed an inventive switching system. Along with dual push-pull pots, you can use a "blower" switch that allows you to cut out all the tone and volume controls and go straight to the output. Models are available now for $1,629 street.