From vintage to modern, single-coil to humbucker, wide range to gold-foil, and just about anything else you can dream up, the world of JM-style pickups just keeps getting bigger.
If you're into modding guitars, there has never been a better time in terms of options for hardware, electronic components, and, of course, pickups––especially for fans of Fender offsets, where one quick Google search calls up an embarrassment of riches.
Over the last 20 years, pickup winders have benefitted these oft-maligned musical marauders by bringing to market a near-endless array of tone-twisting options. But with so many to sift through, it can be a tall order to pick out the crème de la crème.
If you're looking to change up the sound of your Jazzmaster, here's a rundown of some of my favorites from having swapped out hundreds upon thousands of pickups over the years.
Setting a Baseline
It's a fairly safe assumption that the majority of you reading this article might be starting with stock Fender pickups, whether your guitar is a Squier, MIM, MIJ/CIJ, or U.S. model. Even within that space, Fender hasn't made it too easy to know what it is you actually have. The popular Squier J Mascis model, for instance, features P-90s stuffed under Jazzmaster covers; same goes for the Classic Player line.
What exactly is a "proper" Jazzmaster pickup, then? Succinctly, it's a wide, flat coil wound hot around six alnico rod magnet poles. Fender's popular Pure Vintage '65s fit that bill, so let's use them as our baseline here. They're a fine representation of what a Jazzmaster sounds like, though I'd point out that they're a bit thin and underpowered at 6.5k ohms, compared with actual vintage units which typically measure out in the mid 7s through the high 8s.
So, where do we go from here? Let's start with "vintage" sounds, then work our way forward in time.
The black-bobbin pickups on early '58–'62 models are generally louder and darker than the gray-bobbin ones found on '64 and later guitars, with a few changes to wire type and magnet type in between that had a marked effect on the sound. For era-correct tones, I recommend the following, broken into two generalized groups:
'50s
Seymour Duncan Antiquity I Jazzmaster pickups, sans cover
Seymour Duncan's Antiquity I ($238/set street) set is a great over-the-counter option for a fuller, more present pickup that will add some much-needed girth to your sound. They feature alnico 2 rod magnets and average DC resistance over 8k in both positions, and are wax-potted to reject feedback.
The Antiquity I bridge pickup shines with some sorely-needed low end, while the neck pickup stays warm and syrupy. These are great if you want to tackle jazz and rock tones with your offset.
"The black-bobbin pickups on early '58–'62 models are generally louder and darker than the gray-bobbin ones found on '64 and later guitars, with a few changes to wire type and magnet type in between that had a marked effect on the sound."
In need of a more robust treatment? Curtis Novak's Historic line seeks to faithfully replicate four different eras of Jazzmaster pickup construction, but Curtis' finely tuned ear has allowed him to hone in on the specs and frequencies that really make a guitar sing.
Guitars lacking low-midrange thickness can be improved with Novak's Historic '58 ($145 street) set and '58-FAT models ($170 street), the latter adding even more heft to the bridge position and making it ideal for distorted tones. Rich and decadent like lava cake, the Historic '58 is among my most recommended sets.
'60s
Seymour Duncan's Antiquity II ($238/set street) strikes out at that mid-1960s Jazzmaster sound: brighter, sweeter, clearer. Featuring A5 magnets with similar resistance readings to the AI set, the added treble zing makes these pickups great choices for twangy surf, country, and 2020s lightly driven indie tones.
Back to Curtis Novak, he once again rises to the challenge with his Historic 1960-1964 ($145 street) and 1965-1969 ($145 street) sets, both of which emphasize treble definition with relaxed midrange. Quintessentially '60s, any of the above options will jangle to your heart's content.
Time Travelling
Now, the fun of having such distinct eras of pickups to choose from is the ability to mix and match tones for your own needs. When I'm building sets for a specific guitar, I'll grab an Antiquity I bridge and a II for the neck, or a Novak '58-Fat and '64 combo which lets me get the best of both eras: a darker, heartier bridge pickup with a brighter neck, with the added bonus of a thrillingly complex middle position.
The point is: don't be afraid to experiment with different pickups in either position!
Modern
A beloved Creston JM with Lollar Jazzmaster pickups
For many years at this point, Jason Lollar made a singular Jazzmaster set that served as the benchmark of a good, strong-sounding pickup. Like everything that comes out of his shop, that set has a sort of hi-fi quality to it: lots of clarity, dynamic articulation, perfectly suited for blues, rock, or funk sounds.
That's not to say Lollar's Jazzmaster pickups hold no connection to their Fender forebears, but rather that the Lollar sound is so unique and refined that categorizing them as purely "vintage" feels unnecessarily limiting.
That set is still in production, recently renamed Lollar Original '58 ($115 street) but retaining its design hallmarks, including radiused pole pieces for truly balanced string-to-string response and a mid-8k DC resistance range. It's a classy affair that feels like dressing up your guitar in a tuxedo. The name's Lollar. Jason Lollar.
"When I'm building sets for a specific guitar, I'll grab an Antiquity I bridge and a II for the neck, or a Novak '58-Fat and '64 combo which lets me get the best of both eras: a darker, heartier bridge pickup with a brighter neck, with the added bonus of a thrillingly complex middle position."
Along with that name change, Lollar has also introduced a companion set known as the Lollar '63 ($115 street), based on the pickups found in repair tech Jeff Hoppe's personal instrument. The '63 incorporates a fuller-sounding neck pickup, flat A2 poles, and matched DC resistance readings between the pickups for a bright yet percussive voice.
Last but not least, there's also the exclusive Lollar Black Bobbin set, a co-venture with the Chicago-based shop helmed by Shelby Pollard. With radiused A2 poles and lower output, this set mimics the sound of 60-year-old pickups for a darker tone than the Original '58.
The author's '58-style holoflake JM loaded with a set of Sunday Handwound's 5859s
I would be remiss if I also didn't give a shoutout to Sunday Handwound and their incredible 5859 set ($145/set). The name might fool you into thinking this recommendation belongs in the 'vintage' category, but like the Lollars, this set takes its inspiration from the old and blends it with the new.
Inspired by a custom Stratocaster set wound for a customer, the 5859s retain the general Jazzmaster construction ethos with some careful re-voicing to make them bigger, bolder, and punchier than you're likely to hear from stock pickups. Better yet, the bridge is overwound for a meaner personality, making it ideal for heavier single-coil tones.
I have the 5859s in my gold-guard holoflake Jazzmaster, and let me tell you, they are formidable. Loud and low-noise, superb for stage use. Paired with a Muff-style fuzz and some delay, I feel like I'm David Gilmour.
P-90
P-90 Jazzmaster pickups by The Creamery
For those about to rock, we politely suggest starting here.
If your tastes skew into the Gibson realm, you'll be happy to learn that most of your favorite winders probably already make the perfect pickup for you in the form of a P-90 in a Jazzmaster-shaped bobbin.
To name a few, Creamery's P90 Jazzmaster ($115 street), Fralin's Steel-Pole ($115 street), Lollar's P-90 for Jazzmaster ($145 street), Novak's JM-90 ($140 street), and Porter's J90 ($130 street) will fit the bill here. They all marry true P-90 bar magnet construction with a relatively Jazzmaster-like coil shape, so you get the more aggressive midrange bark of a P-90, but with some snap on top for good measure.
When using a P-90 in a Jazzmaster, do take your potentiometers into consideration. Each of these options sound great with the brightness of the stock 1M pots but can be declawed by stepping down to 500k as you'd find on a proper P-90-equipped Gibson. Again, don't be afraid to experiment!
Humbucker
Lambertone's Crema set
Throwing humbuckers in a Jazzmaster turns it into a Jazzblaster, something I back fully. I adore my single-coils, but there's something undeniably fun about slapping some double-coils in your trusty offset guitar.
Companies like Lambertone make this easy with the ability to grab their PAF-inspired Crema ($345/set street) model under a Jazzmaster cover, and the same goes for the Curtis Novak JM-PAF ($175 street). The McNelly Jazzmaster HB ($155 street) does a similar thing but allows you to select any of their traditional humbuckers for a drop-in fit.
Wide Range
Fender's Cunife Wide Range Humbucker set for Jazzmasters
Although first introduced on Telecasters in 1971, and later appearing as standard on Fender's semi-hollow Starcaster, there is perhaps no other humbucker model that feels like a perfect match for Jazzmasters than Fender's Wide Range pickup. Paradoxically single-coil-like in response, these massive humbuckers deliver big output, complex low end, and attenuated yet crisp highs.
Accounting for this, Curtis Novak, Creamery, and Porter have for years offered drop-in wide range pickups with appropriate plastic covers, and Lollar joined in a few years back with their Regal for Jazzmaster ($225 street) set. Each of these winders have a different take on the wide range, but they all sound excellent. Seriously, there's not a bad sound in the bunch.
"There is perhaps no other humbucker model that feels like a perfect match for Jazzmasters than Fender's Wide Range pickup."
Just this year, Fender released their own drop-in Cunife (Copper, Nickel, Iron) Wide Rangepickups ($399/set street), the company's first proper wide ranges since the '70s. With the correct magnet type in play, this is a return to form for the wide range with a vintage-correct sound.
Better yet, each of the makers listed in this section offer the original massive, chrome-covered versions of these pickups, so there's nothing stopping you from dropping them in your guitar—at least, nothing aside from some routing.
Noiseless
EMG's JMaster set in black
Since we're in the hum-canceling wheelhouse, let's talk about noise. For some, it's an unavoidable nuisance and a trade-off for having a preference for the sound and response of true single-coils. For others (myself included), it's far from the top of the list of guitar-related annoyances. In all honesty, it doesn't bother me at all, but I'll admit that I have my signal chain wired up for the lowest possible noise, my guitars are well-shielded, and I roll off my volume when not playing.
For the former group, there is hope! Kinman should be an already familiar name in the noiseless pickup landscape, and we're all lucky that the company offers a whole host of Jazzmaster options that includes three types of pole-piece spacing, and four different models to meet the needs of individual players: the FatMaster ($189 street), SurfMaster ($189 street), the double-voiced SurfMasterDV ($295 street), and the ThickMaster ($189 street).
It's not so difficult to intuit the sound profiles from the names of these pickups, so I'll refrain from describing them here. What I can say is that every experience I've had with these pickups has been stellar, so if you're sensitive to hum but also what's lost with most hum-canceling options, Kinman may be the ideal solution for you.
Other excellent noise-free pickups come from Brandonwound with their Noiseless Jazzmaster ($125 street), Novak's JM-Stealth HC ($170 street), Fralin's Hum-Canceling Jazzmaster ($159 street), and EMG's JMaster ($229/set street) sold as a pickguard assembly or in pickup sets.
I could write a standalone piece about the EMGs, but to sum up: I find them genuinely impressive in their versatility and utility, and the JMasters somehow stay true to the Jazzmaster flavor. If you're already an EMG fan, the JMaster is totally worth your time.
Off the Beaten Path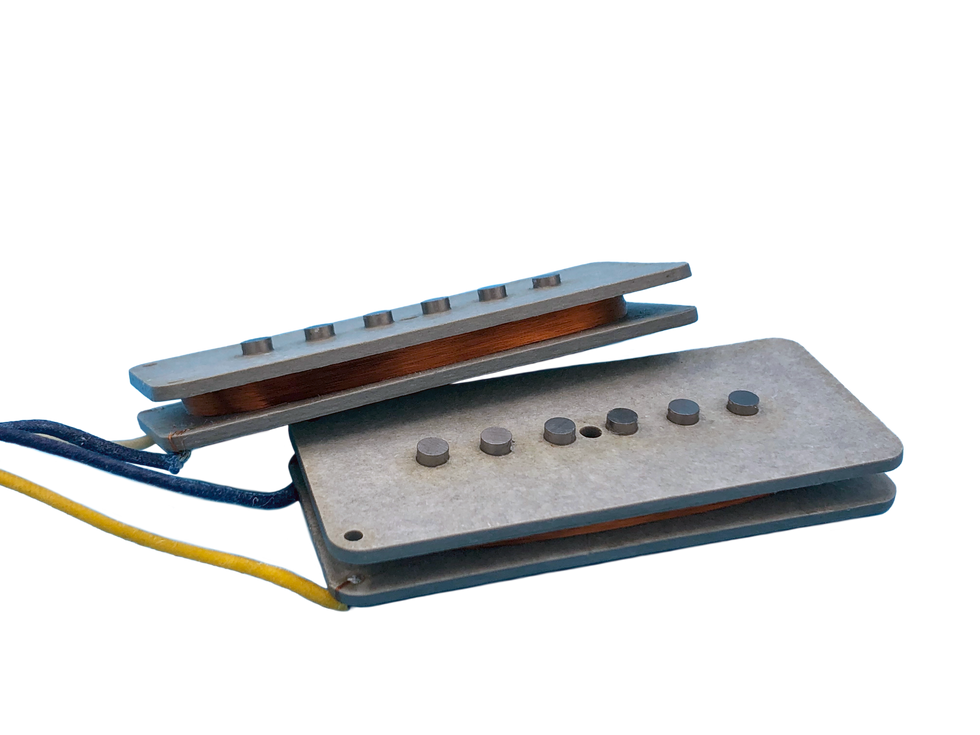 EP Custom Pickups Vintage Correct Jazzmaster Pickups
Before we close out, let's take a detour on roads less traveled. Most of the makers I've already mentioned have quirkier, less 'standard' pickups in their catalog. I'm thinking Novak's Gold Foils for Jazzmaster ($155 street), Gemini's SuproCaster ($85 street), Lollar's Blademaster ($155 street), and Fender's Cunife/Cobalt Chrome Jazzmaster pickups ($299/set street), but there are some smaller brands that I think deserve some attention.
EP Custom is a small operation based out of Santa Cruz, California, that specializes in Fender-style pickups with sounds that far exceed their modest price tag. Ever since installing their '62 Jaguar set in my Coke Bottle Sparkle Jaguar––a tribute to Dave Wronski of Slacktone––I can hardly think of a more perfect-sounding Jaguar for myself.
EP's Jazzmaster pickups are equally exceptional and come in two flavors: Vintage Correct ($170/set street) and Fat ($180/set street). The former features Formvar wire and has comparable output and tone to a proper 1958 set, woody and full-sounding with a nice amount of zing. The Fat is overwound for a proper 'hot' pickup, with a growl perfectly suited for overdrive.
The Creamery: The majority of winders named in this article are based in the United States. With acknowledgement to the connected world we all live in, I wanted to give a proper shout to The Creamery (see the "wide range" heading above) based out of Manchester, U.K.
For as long as I've been in the offset-guitar space, The Creamery has been one of my most consistent recommendations for folks outside the U.S. who are looking for something different, something unique, something that feels specially made for them. Creamery offers everything from classic Jazzmaster pickups, wide range, and PAF-style pickups, but also an extensive list of custom options. Pole spacing, magnet type, wire––you name it.
Whether you're within or without the U.K., keep The Creamery in mind if your tastes take you off the beaten path.
Black Mass: You may already be familiar with Black Mass Electronics thanks to the game-changing 1312 Distortion, a RAT-style pedal that boasts a huge range of sounds thanks to its 8-way clipping diode selection dial. What you may not be aware of is that Black Mass has entered the pickup winding world with the JMXL ($190/set street).
While it appears to be a traditional Jazzmaster pickup on the outside, it boasts 1/4" alnico 5 rod magnets and a double-tall coil with the bridge wound to around 11k. This is a heavy, punishing set that'll put you in the mood for doom.
Winding Up
With an article like this, it's impossible to feature every winder out there, each of them putting their own spin on dozens of classic designs. I've attempted to narrow down the list by sticking to pickups I have real-world experience with, so if something you love isn't on this list, that doesn't mean it's not great. Drop a line to call out your favorites so that we can all benefit from your experience, too!
The type of glue a builder uses can make a big difference in their process, but when it comes to tone, does it matter?
Guitarists searching for their ultimate instrument are an interesting bunch. So many factors to consider, so much energy to expend on the journey towards guitar nirvana. A player may be satisfied with a certain shape—like a Flying V or Explorer. Others are obsessed with pickups, hardware, fretboard radius, scale length, or fret size. I'd venture that most of us consider a lot of these things and more when choosing a guitar. But there is a certain place in my heart for those infatuated with the type of glue used to construct a potential purchase. Don't get me wrong, I'm not listening to Ford Thurston and thinking what he needs is a little more hide glue in his tone, but somebody might be. This obsession probably stems from the mythology of vintage instruments more than any sonic observations.
Instrument makers have used animal-based glues for centuries, mainly because it was all that was available. Adhesives can be made from a variety of animal remains: bones, hooves, hides (skins), and even fish parts. These organic items are basically proteins that can be boiled down to a gel-like substance which, when heated, becomes sticky, spreadable, and can be used to bond a wide range of materials, including wood. For this discussion, I'll refer to all of these as hide glues.
Woodworkers used hide glues almost exclusively until the middle of the 20th century, when synthetic glues became available. Adhesives such as PVA (polyvinyl acetate) are sometimes referred to as yellow or white glue. Over time, and as instrument building became more of an industry as opposed to a boutique craft, PVA became the standard in large-scale commercial instrument manufacturing.
Industrial PVA glues dry quickly, are extremely shock resistant, and do not require heat. They have nearly no odor, and they can be stored ready to use for long periods of time. They are also incredibly strong. Unlike hide glue, which requires a precise parts fit, PVA is gap-filling which is great for factory tolerances. PVA's setup time is short, and under some circumstances, clamps can be removed in as little as an hour. That certainly allows more production to flow through a factory or shop.
"Hide glue is very brittle when cured, which has led some to say that it encourages the transmission of vibration from part to part."
On the other hand, hide glues need to be warmed in a heat pot to around 140° F, and have a shorter shelf life at room temperature. Although some builders learn to love the smell of hide glues, others find it revolting. I don't mind the smell, but some don't want the "dead animal" smell on their clothes. Hide glue can also have a shorter "open" time before it locks up, which doesn't allow for much adjustment to parts during assembly. Additionally, once clamped, hide glue needs to remain so for much longer—most shops let it dry at least overnight.
I believe that a lot of the mystique stems from old-school repair people who would prefer to work on older instruments constructed with hide glues, which are easier to disassemble. A distinct advantage is that unlike PVA, epoxies, and superglues, hide glue can be easily loosened for repair with heat and water. That's a real bonus for shops that specialize in neck resets, fretboard replacements, and all manner of acoustic guitar repair. Old hide glue can be successfully removed from a joint and new glue can be applied for a repair—as the new glue will bond directly to old glue.
Another characteristic of hide glue is its self-clamping action when the fit of parts is very tight to begin with. The glue pulls parts together as it dries and can be good for jobs like book-matching tops and backs—even without clamps. Hide glue is very brittle when cured, which has led some to say that it encourages the transmission of vibration from part to part. This, along with the tight fit aspect, may be the primary source of the "hide glue is better" sentiments that get repeated as gospel in some circles. Of course, if you leave your hide-glued guitar in a car trunk on a hot summer day, you may regret it as much as the repair shop loves it.
As you can see, there are a lot of benefits to each of these glue types, and I haven't even gotten into any discussion about epoxies or superglues, which are being used more and more frequently today, along with so-called hybrid hide glues. The question remains, is the adhesive used in building a guitar a deal-breaker? As much as I admire instruments built with old-school glues, I'm not sure Ford Thurston or I could hear the difference. And if that particular guitar does
sound
wonderful, I couldn't say it was because of the glue. Besides, with its 1-piece neck and four-screw neck joint, a
Stratocaster
doesn't have use for a lot of glue anyway.
If you want to hit your amp hard, you'll need some high-output humbuckers that are up to the job.
Whether you're looking to increase the heat on a lower-output instrument or just searching for a new flavor, this list has you covered.
HABANERO PICKUPS BY GROVER JACKSON
Bonney Bridge
Handmade in California, this overwound bridge pickup has a 16.7k resistance, and comes in nickel, black, or zebra.
$110 street
Fluence Richard Z Kruspe Signature
Each pickup in the Rammstein guitarist's signature set features three selectable voices. This active set is rechargeable—a battery pack is optional. Red finish is encouraged, though stainless is also available.
$309 street (set)
GFS Pickups
SBS Arena Power PLUS
The most affordable alnico 'bucker on this list has a 14.5k resistance and features the company's Kwikplug system for fast swapping.
$39 street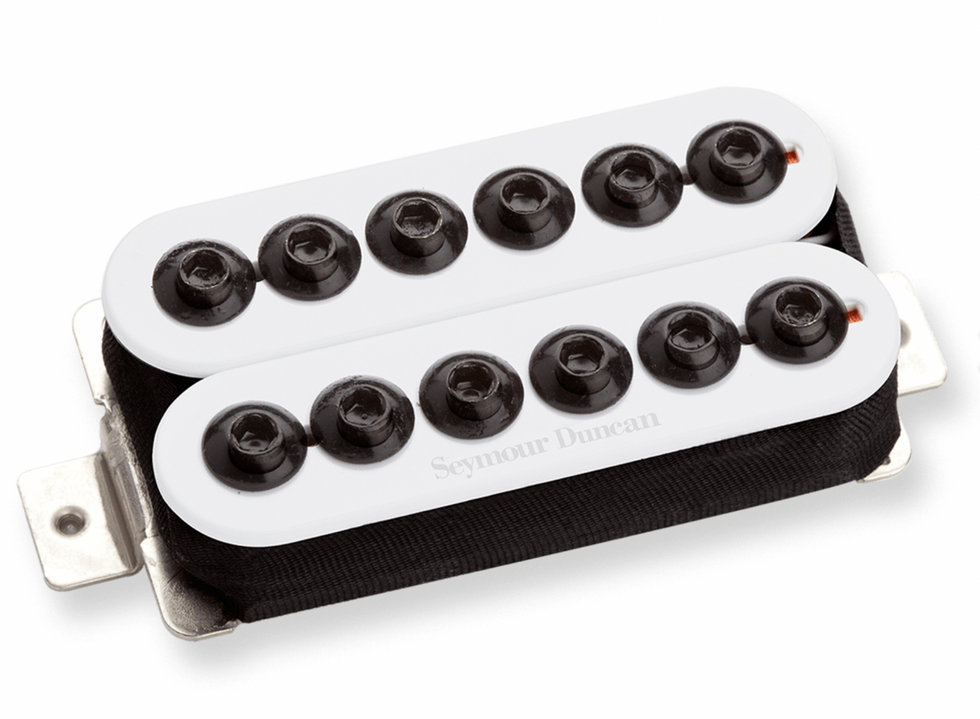 Invader
Featuring overwound coils, a trio of ceramic magnets, and oversized metal-oxide pole pieces, these humbuckers promise heavy bass response and are available in 6-, 7-, and 8-string sizes.
$109 street
DIMARZIO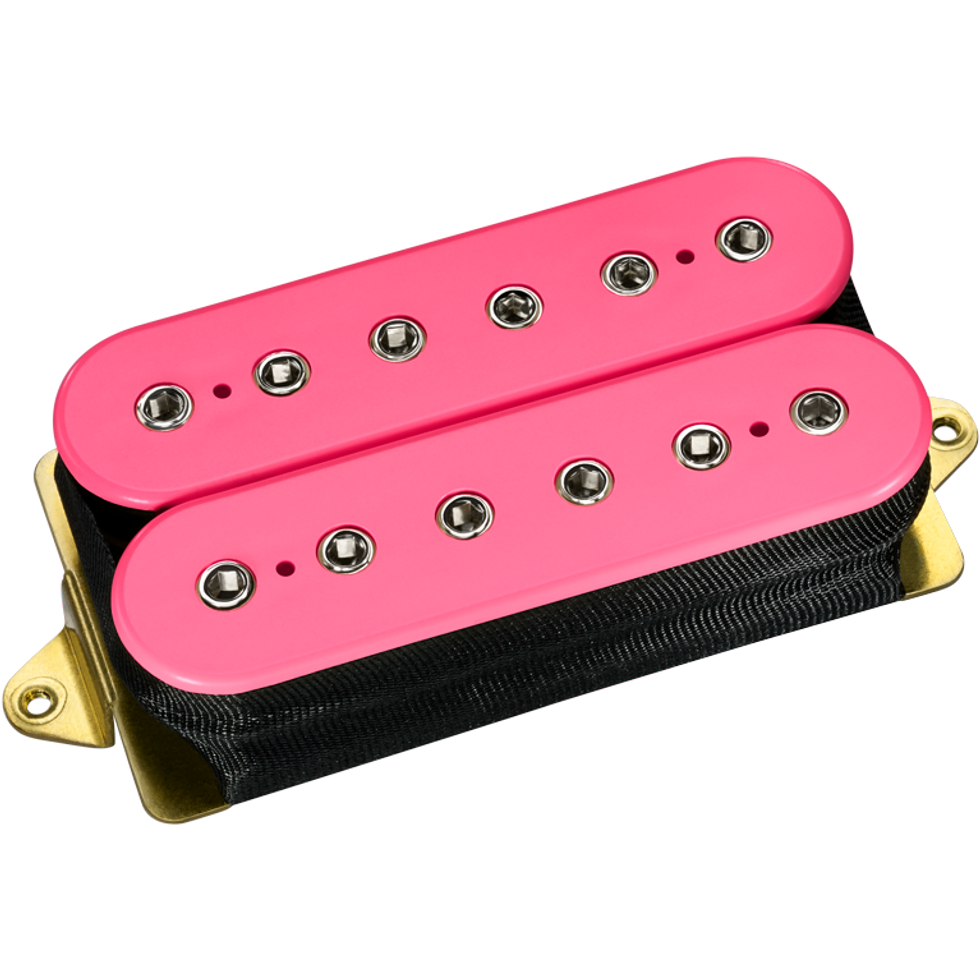 Super Distortion

A classic since 1972! This 'bucker, with its 13.68k ohms of resistance, is intended primarily for bridge-position installation and comes in a wide range of colors.
$89 street
498T Hot Alnico
A hotter spin on the 490 series humbucker, this boasts a resistance of 14.2k and is spaced for bridge position.
$119 street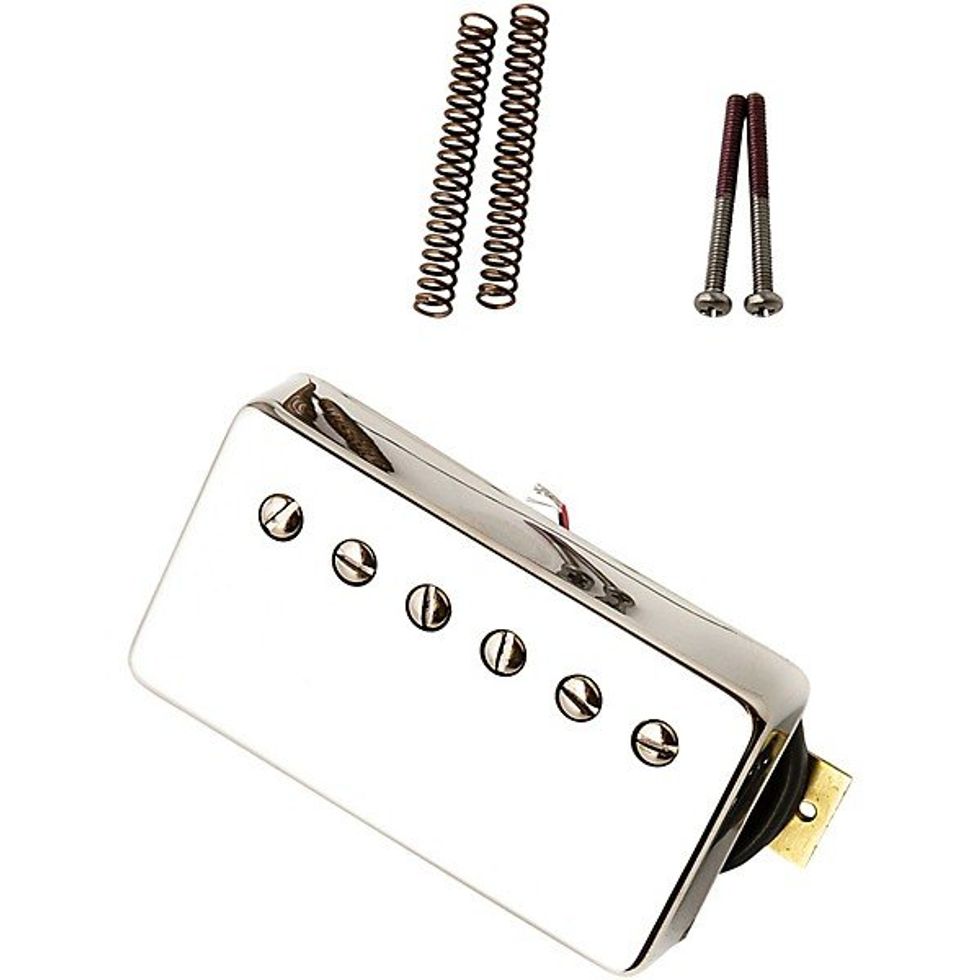 m Bridge Humbucker
The company's house high-output humbucker comes in gloss nickel and measures 15.7 k resistance.
$200 street
LOLLAR
dB Humbucker
While these boast the lowest resistance on this list (12.7k in bridge position), they're the pickup maker's hottest offering. Plus, they look hip!
$200 street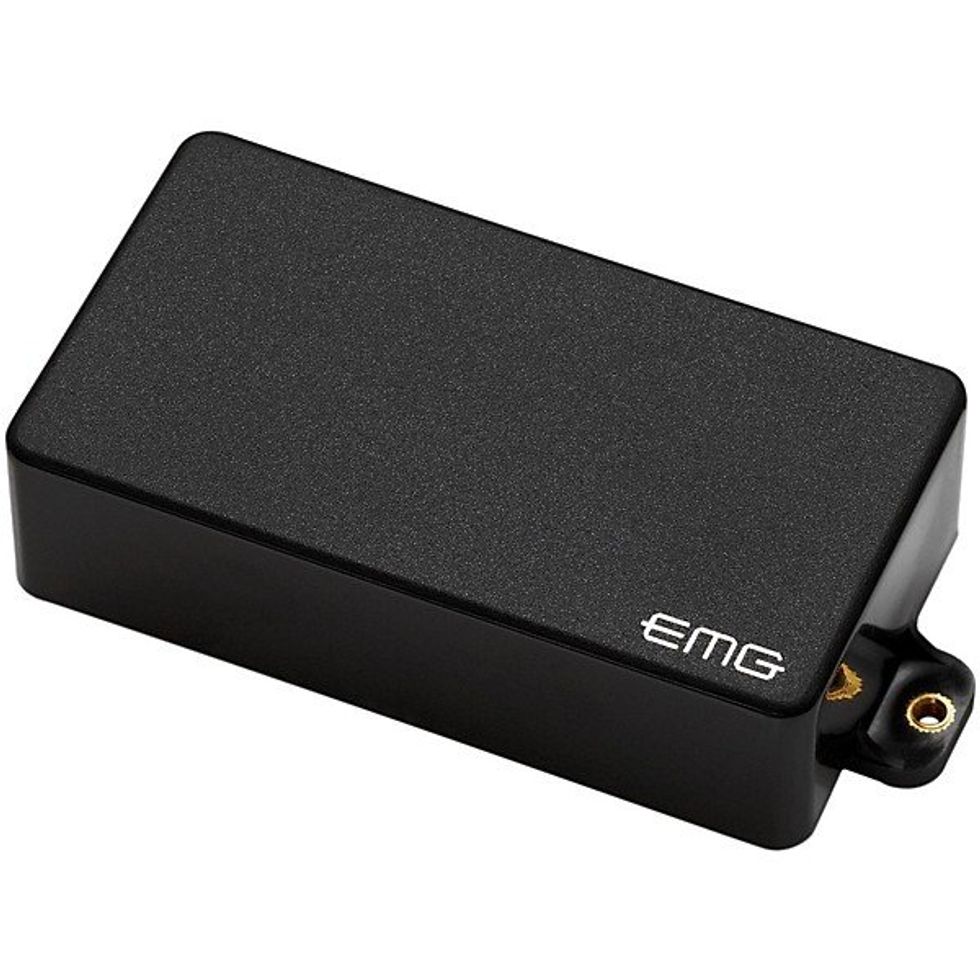 81
The classic active pickup boasts 3,000 hours of battery life and features the company's Quick-Connect cable for easy installation.
$99 street
LINDY FRALIN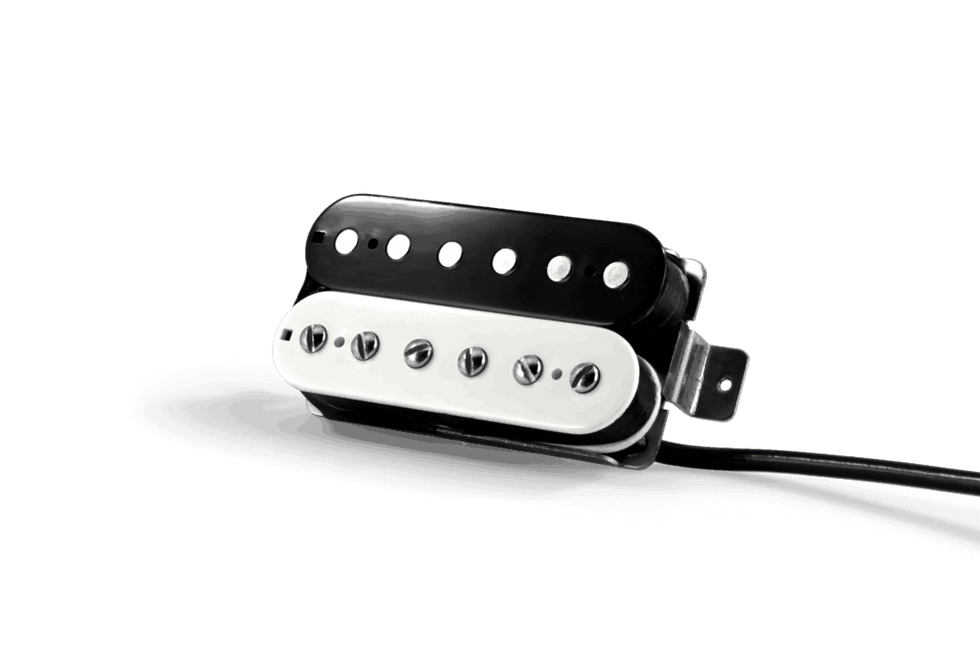 High Output Humbucker

The pickup maker's highest output offering is a hot take on a PAF and comes in a variety of color and cover options.
$160 street
Before electrics became branded in the mainstream as typically solidbodies, there were some early 20th-century models that explored alternate avenues.
When you close your eyes and imagine an electric guitar, chances are you see something like a Stratocaster or a Les Paul: a solidbody, a few pickups, a metal bridge. But in the early 20th century, such popular features were yet to be codified by builders as a part of guitarists' collective imagination.
Back in the early fervor of electric guitar design, builders experimented out of necessity, trying to create working instruments by any means. When studying these guitars today, their choices might seem strange, but they present many wonderful "what-ifs" or guitar-building roads not taken.
qThe instrument we have here is such a guitar: a 1933 Vivi-Tone. This exact specimen appears in Lynn Wheelwright and Nacho Baños' The Pinecaster: Early Electric Guitars (1920-1955), which explores the "what-if" history of this period in captivating detail.
"When studying these guitars today, their choices can seem strange, but they present many wonderful 'what-ifs' or guitar-building roads not taken."
Vivi-Tone was a company founded in the early 1930s with the express purpose of manufacturing electric instruments—not just guitars, but violins, cellos, mandolins, and even an electric piano. Interestingly, its co-founder and chief inventor was Lloyd Loar, who in the 1920s famously created Gibson acoustic archtops and mandolins that are prized to this day.
A sliding drawer built into the guitar's body allows access to the pickup, which is set up under the bridge.
By the '30s, however, Loar wanted to bring out "pure string tone," as he called it, through the power of amplification. His patented pickup, which can be found in this 1933 guitar and throughout the Vivi-Tone lineup, works in a distinct way from modern pickups. Here, the bridge itself rests on top of a metal bar that is ever-so-slightly suspended over an electro-magnetic pickup system. When the strings move the bridge, the bridge moves the bar, and the resulting current goes out to the amp. While most modern guitar pickups require metal strings to work, Loar's Vivi-Tone design could work with any material, steel or gut.
The very first Vivi-Tones, released in 1932, were strikingly revolutionary. Loar, with a utilitarian spirit, did not give them much of a body at all. The skeletal design supported the pickup system, neck, and a thin body that featured only a decorative top—there were no back or sides. However, in '33, public sentiment forced the company to at least pretend their instruments were traditional. So, the then-newly built Vivi-Tones came with a full acoustic body like you see in this model, which features a spruce top and back, and composite sides. The pickup system can be accessed through a sliding drawer built into the guitar's body.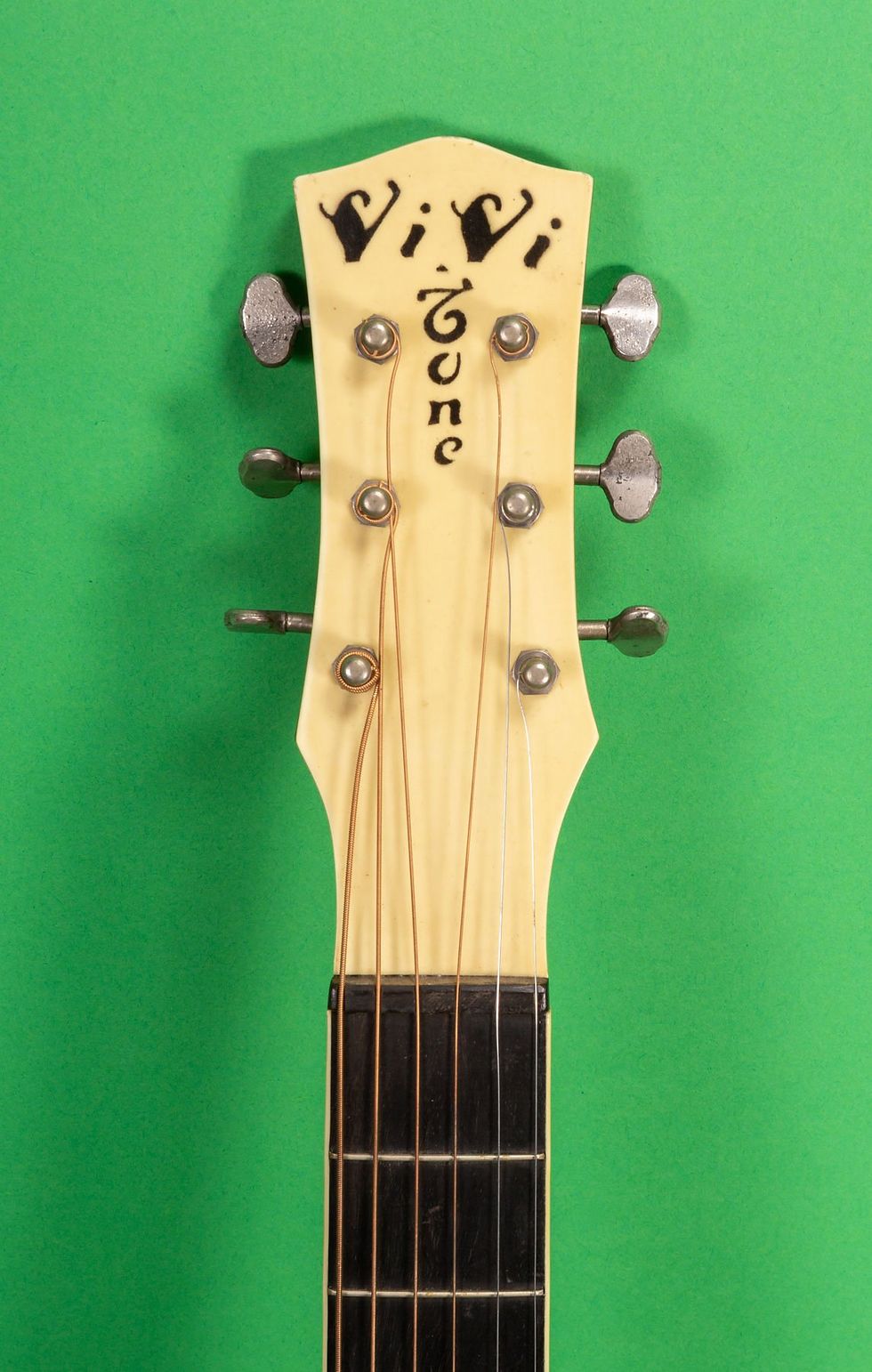 Before they folded in 1937, Vivi-Tone built just around 600 instruments.
Thanks to another twist of ingenuity, you can actually play this guitar as an acoustic. The contraption you see by the bridge is a lever you can use to separate the bridge from the internal pickup, cutting off any flow of electrons. Perhaps because the internal spine, pickup, and lever made the top too rigid, the guitar's back is its own resonating soundboard as well. It not only features two f-holes, but is actually inset from the sides so that a player's body doesn't press upon it or interfere with its vibrations.
Up for sale by Reverb seller Jay Rosen Music, this 1933 Vivi-Tone (serial number 220) is one of around 600 instruments built by Vivi-Tone before it shuttered in 1937. When new, this guitar likely sold for around $175. Today, being a surviving example in excellent condition—with its original pickup cable still intact—it's listed for $10,500.
Sources:
The Pinecaster: Early Electric Guitars (1920-1955)
by Lynne Wheelwright and Nacho Baños, Reverb listings.
The Gibson Pickup Shop introduces 22 updated pickup styles in the Historic, Original and Modern Collections, as well as the new Artist and Kramer Collections.
Gibson Pickup Shop Original Collection
Above: '57 Classic Underwound (Double black, Gold cover).
The Gibson Pickup Shop Original Collection pays tribute to an iconic past, housing the coveted '57 Classics, P-90s, Burstbuckers, and more that have shaped sound across all generations and genres of music. Since 1935, the Gibson Pickup Shop has been the source for the world's finest pickups. From the player favorite P-90 to the humbucker™ perfected in 1955 by Gibson engineer Seth Lover, the Gibson Pickup Shop offers a variety of pickup styles and configurations for all types of players.
Gibson Pickup Shop Original Collection:
P-90 Dogear Underwound (Black cover, 2-conductor, Potted, 7.2k, Alnico 3)
P-90 Soapbar Underwound (Black cover, 2-conductor, Potted, 7.2k, Alnico 3)
P-90 Soapbar Underwound (Cream cover, 2-conductor, Potted, 7.2k, Alnico 3)
'57 Classic Underwound (Double black, Underwound, 2-conductor, Potted, 7.2k, Alnico 2)
'57 Classic Underwound (Double black, Gold cover, Underwound, 2-conductor, Potted, 7.2k, Alnico 2)
'57 Classic Underwound (Double black, Nickel cover, Underwound, 2-conductor, Potted, 7.2k, Alnico 2)
'57 Classic Underwound (Zebra, Underwound, 2-conductor, Potted, 7.2k, Alnico 2)
Thunderbird Bass Reissue (Chrome cover, 2 conductor, Potted, 8.2k, Alnico 5)
Gibson Pickup Shop Modern Collection
Above: Dirty Fingers SM (black).
The Gibson Pickup Shop Modern Collection includes such pickups as the P-90 DC, Dirty Fingers SM, and Thunderbird Modern.
Gibson Pickup Shop Modern Collection:
P-90 DC (Black Dogear, 2-conductor, Potted, 17.4k, Neo)
P-90 DC (Black Soapbar, 2-conductor, Potted, 17.4k, Neo)
P-90 DC (Cream Soapbar, 2-conductor, Potted, 17.4k, Neo)
Dirty Fingers SM (Double Black, 4-conductor, Potted, 15k, Ceramic 8)
Thunderbird Modern (Black cover, 2-conductor,9.5k, Ceramic 8)
Gibson Pickup Shop Historic Collection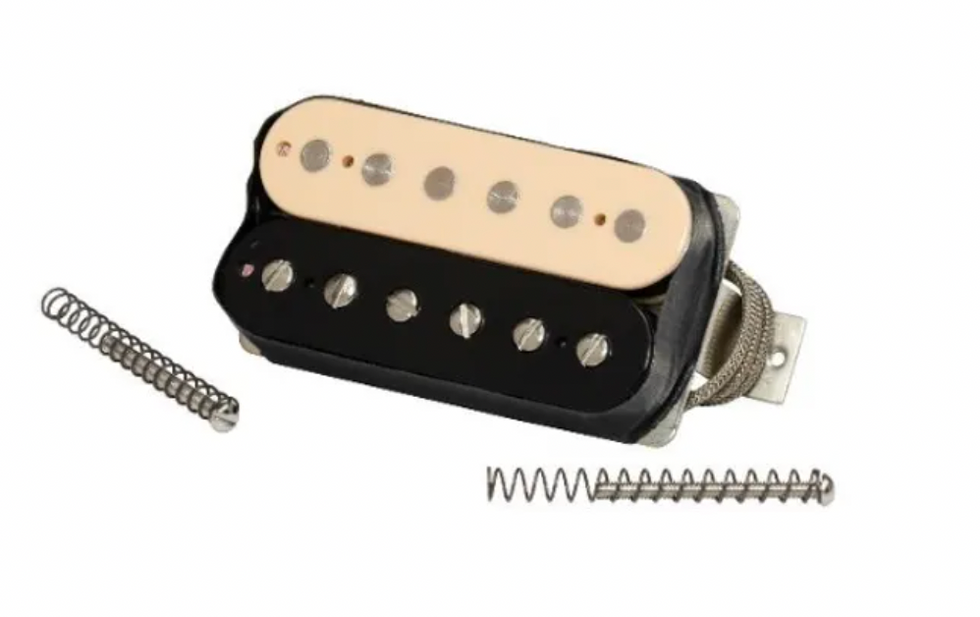 Above: Custombucker Underwound (Zebra).
The Gibson Pickup Shop Historic Collection is the pinnacle of craftsmanship, quality, and sound excellence. Each hand-assembled pickup celebrates Gibson's legacy through accuracy, authenticity, and attention to detail. The Gibson Pickup Shop Historic Collection delivers vintage tone inspired by the Gibson Golden Era that gave birth to the Custombucker, one of the most prized and coveted Gibson pickups.
Gibson Pickup Shop Historic Collection:
Custombucker Underwound (Double black, 2-conductor, Unpotted, 7.2k, Alnico 3),
Custombucker Underwound (Double black, Gold Cover, 2-conductor, Unpotted, 7.2k, Alnico 3)
Custombucker Underwound (Zebra, 2-conductor, Unpotted, 7.2k, Alnico 3)
Custombucker Underwound (Zebra, 2-conductor, Unpotted, 7.2k, Alnico 3)
Gibson Pickup Shop Artist Collection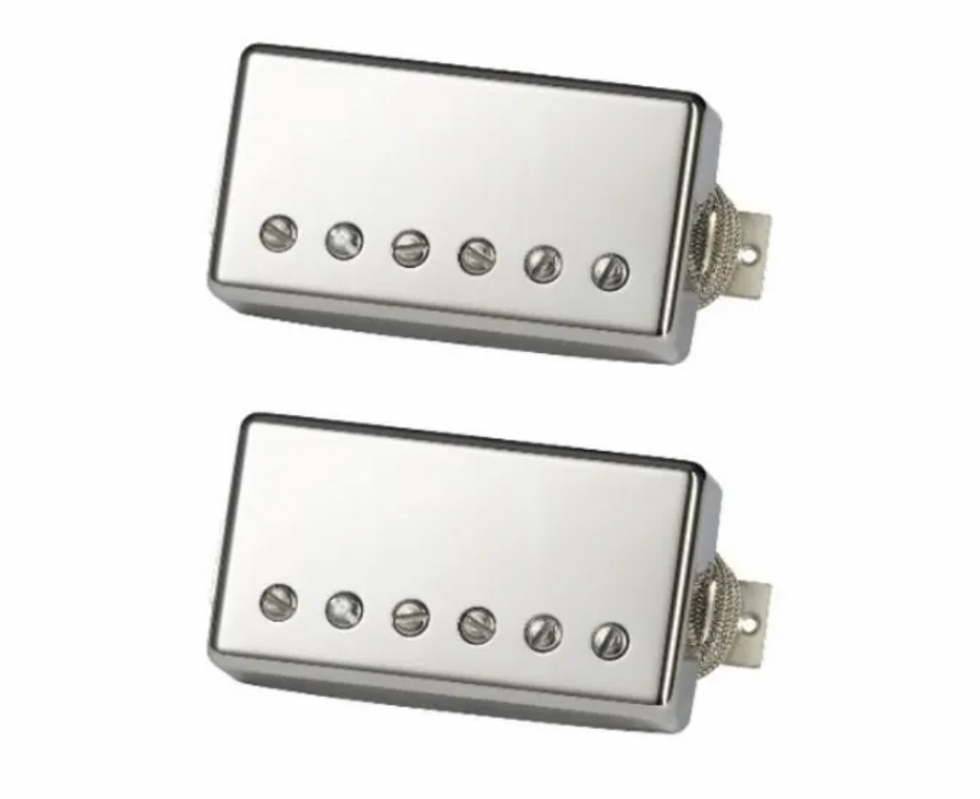 Above: Greenybucker set.
The signature pickups in the Gibson Pickup Shop Artist Collection are created in collaboration with some of the world's most influential artists, including legends who shaped the sounds that built the foundation of modern music, as well as some of today's most innovative players who continue to shape the sound of music across genres and influence musicians worldwide.

The Gibson Patent Applied for humbucker pickups from the 1950s are considered by many musicians to be the "holy grail" of vintage electric guitar pickups. Among them, the unique set that was installed in the legendary "Greeny" Les Paul are some of the most famous. The new Greenybucker set is instantly recognizable from a sonic perspective and was developed with input from Greeny's current owner, Kirk Hammett, and with specifications taken from the actual Patent Applied For humbucker pickups on that world-renowned guitar, including asymmetrical coil windings and unpolished Alnico 2 magnets.
Gibson Pickup Shop Artist Collection:
Greenybucker Set (Double black, Nickel cover, Unpotted, Rhythm pickup reverse polarity, T: 8.7k, R: 8.3k, Alnico 2)
Gibson Pickup Shop Kramer Collection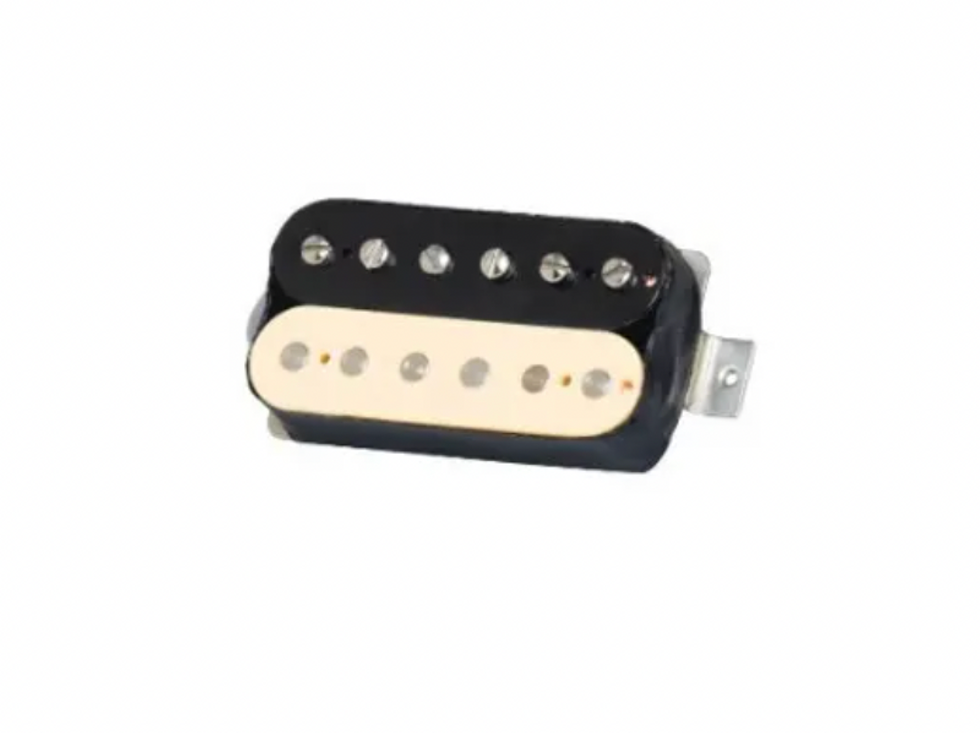 Above: Kramer "Eruption" (Zebra).
The hard-rocking pickups of the 80s return with the Gibson Pickup Shop Kramer Collection. Paying tribute to the guitars that defined a new generation and style of counter-cultural players oblivious to the rules, these pickups are Made to Rock Hard.

Inspired by the sound of the hard rock and metal bands of the 1980s, the Kramer Eruption is a high-output humbucker pickup with all of the Made to Rock Hard tone an attitude you expect from Kramer. They feature Alnico 5 magnets, 4 wire leads coil splitting, and short leg baseplates to ensure easy direct replacement for most humbucker-routed guitars.
Gibson Pickup Shop Kramer Collection:
Kramer "Eruption" (Double Black, 4 conductor, Potted, 16k, Alnico 5)
Kramer "Eruption" (Zebra, Rhythm, 4 conductor, Potted, 16k, Alnico 5)
Kramer "Eruption" (Double Black, 4 conductor, Potted, 15k, Alnico 5)
Kramer "Eruption" (Zebra, Treble, 4 conductor, Potted, 15k, Alnico 5)