Premier Collector #8: Vintage Strats and Custom Colors
Clean, pristine sixties Jags, Jazzmasters and Strats
Name:
Robby Z
Years played:
40
Home turf:
SF Bay Area
Current/former bands:
Shane Dwight Band ( Have also played with Marshall Tucker Band, Brad Gillis of NightRanger, Coco Montoya and many others)
Website:
RobbyZ.com
First guitar:
1966 Sears Silvertone9
Favorite guitar:
1966 Fender Stratocaster, also Fender (John Cruz) Masterbuilt Strat
Favorite amp:
1967 Fender Pro Reverb
Favorite effect:
Original Ibanez TS-9 Tube Screamer
Favorite strings:
Ernie Ball
Favorite cable:
Monster
What's your philosophy on tone?
Do everything you can to find the exact tone you crave. And that tone might -- and should -- vary from song to song.
"I have collected tons of guitars over the years and currently own over 300 vintage guitars -- everything from fifties Strats and Teles, to 1959 Sparkle Top Goyas, to forties and fifties Gibson archtops. My main love at this time are sixties Custom Color Jaguars and Jazzmasters."
''65 Jaguar and ''64 Jazzmaster, both Sea Foam Green and in pristine condition
"I purchased both of these guitars basically from the original owners, and both have pictures of the original owners playing them 40-some years ago and recently. I love guitars that you know the entire history of...especially Sea Foam Green ones."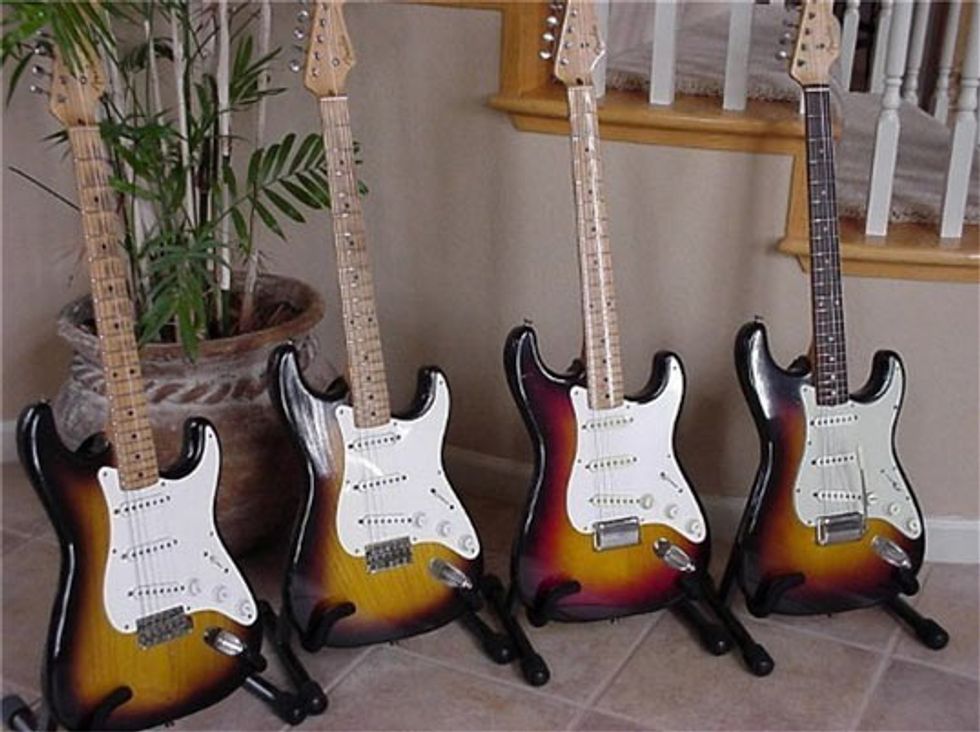 ''54, ''55, ''56 and ''57 Stratocasters - 100% original and in pristine condition

"I love these Strats -- especially because I paid so little for them 20 or more years ago."
''64 Fiesta Red Jaguar, ''65 Fiesta Red Jazzmaster and ''62 Fiesta Red Stratocaster
Some really cool vintage guitars I keep hanging on display

A whole bunch of Gibsons hanging on my wall (mostly hollowbody and archtops) from the fifties and sixties

Performing live. Robbie on far left, Shane Dwight on far right

"After a few years of playing at the Winter NAMM show in Los Angeles for the Fender Custom Shop, John Cruz came to me and said "Hey, why don't you let me make you a guitar?" John had just been promoted to Master Builder for Fender. So he and I sat down and agreed on the specs (basically a black Strat with gold hardware, green guard, sixties pickups) and about six months later he sent it to me. It was beautiful. He even surprised me by putting abalone inlay on the 12 fret saying Robby Z. On the back of the headstock it says "Custom Built for Robby Z," along with John's Masterbuilt stamp. The guitar was so awesome I didn't want to play it at gigs, but a year later John saw me performing in LA with my '66 Strat and said "Hey, where's my guitar?" So from that day on I use it at almost every show."
Premier Collector #7: Martins and More
Premier Collector #6: Custom-Built Strats and Fender Tube Amps
Premier Collector #5: The Vintage Room
Premier Collector #4: Oddballs
Premier Collector #3: Vintage Fender Amps and Guitars
Premier Collector #2: Gibson Customs and Modded Marshalls
Premier Collector #1: Kramers, Coronados and More