We crawled under the hood, got dirty, and dissected dozens of pieces of gear in 2021. Here are the 10 pieces of kit that resonated with you the most.
Dave Hunter
The guitars in Epiphone's new Prophecy Collection, which includes the Prophecy SG reviewed here, perform an impressive balancing act. They streamline the classic Gibson four-knob control array, trade PAF-derived pickups for Fishman Fluence units, and style the guitars in a manner that screams "rock" with an exclamation point. But for all the streamlining, these instruments are enormously flexible, and they retain important cosmetic touchstones that emphasize the family connection to parent company Gibson's most iconic designs. Epiphone also maintained balance when it comes to price. The Prophecy SG is a reasonable $899.
---
Charles Saufley
Why review something so stupidly simple as a volume pedal, you ask? Well, as a player who has spent many years relying on one—both as creative tool and crutch (a little volume swell always sounds great when you've run out of ideas)—I can attest they are not all created equal. Not all of them can double as an expression pedal like the super-smooth Dunlop (X)8, either.
---

Charles Saufley
Followers of current events might be astonished to learn that the internet isn't quite as effective at separating myth from fiction as its early advocates and creators promised. I was reminded of this state of affairs whilst sniffing out sentiments about vintage Harmony guitars and the complex, convoluted world of gold-foil pickups. Needless to say, there are a lot of strong opinions out there—from advocates that defend old Harmonys as underrated, to snobs who still consider them universally substandard, to the growing cult of gold-foil fanatics who sing their praises to the sky without even agreeing about what a gold-foil pickup is.

---
Dave Hunter
Mesa/Boogie is both fond of reinvention and adept at it. Late last year, the Mesa/Boogie folks reimagined the Rectifier series amps, which became near-ubiquitous in metal and grunge circles in the wake of their 1992 release. The beastly Badlander 100 was the first of these new Rectifiers to hit the streets. It's now joined by the more modestly powered Rectifier Badlander 50—which is available as a head (reviewed here), 1x12 combo, or rackmount head—and can be powered by a pair of Brit-flavored EL34s or more-American-voiced 6L6s.
---

Dave Hunter
Even among a stable of instruments known for their versatility, PRS's Studio model is arguably one of the company's most sonically and stylistically malleable instruments. Reintroduced to the U.S.-made Core lineup for 2021 after first appearing in 2011, this new Studio is hyper-flexible, configured with a distinctive humbucker set and modified switching that takes that versatility up a notch.

---
Charles Saufley
It's funny to think the Jaguar was once derided by alleged guitar experts and collectors. For all its quirks, a good Jag' is a beautiful playing guitar in just about any incarnation—thanks largely to its short scale and curvaceous shape. In a way, the Squier Contemporary Jaguar HH-ST distills that recipe to its essence.
---
Dave Hunter
Fender's '68 Custom series won plenty of fans by resurrecting the stylish silver-panel amps of the late '60s and '70s and making some of those models into more modern gigging machines. One of the newest additions to the lineup is the '68 Custom Pro Reverb—an evolution of an amp that debuted as a black-panel model in 1965.
---
Shawn Hammond
Just as PRS's 2012 HXDA was inspired by firsthand looks at one of slide legend Duane Allman's amps from his seminal AtFillmore East performance, the brand-new HX 50 is the result of Paul Reed Smith and PRS amp guru Doug Sewell getting extensive access to a Marshall head reportedly used by Jimi Hendrix during his iconic performance at the 1969 Woodstock festival.
---
Nick Millevoi
Since its 2014 revival, Supro has given fans of small, low-wattage combos plenty to talk about. This should come as no surprise. Tiny but ferocious amplifiers with the Supro logo have been on the scene since the early days of the electric guitar and landed on some of the most classic guitar records of all time. And the company's recent offerings have captured the sonic essence of those vintage models with a line of well-built, modern amps that look just as cool as they sound.

---

Dave Hunter
The silhouette of the new Six Gun HPP is, at this point, a familiar shape—and arguably a classic. It's the foundation for many different Reverend models and clearly a versatile platform for evolution and experimentation. The updated pickup configuration and other new features of Reverend's offset workhorse make the $1,099 Korea-built Six Gun an impressive performer for the price.
---
We've reviewed a ton of cool gear over the past 12 months, but these stood above the rest and won our coveted Premier Gear Award.
This year more than 40 guitars, basses, effects, and amps from a diverse group of gear makers earned the coveted Premier Gear Award from our discerning editors. Here is our gear of the year.
Is this the ultimate metal head for 21st-century tube-amp addicts on a budget?
Great range of heavy tones. Useful effects, IRs, and noise gate. Killer value.
Limited clean-channel headroom. Only three included IRs. Somewhat lackluster reverb.
4
5
4.5
5
Once upon a time, lunchbox amps intrigued us because of their simplicity, smaller footprint, lighter weight, and the fact that they were more affordable than the big-ass heads that dominated rock for decades. But over the 15 years since Orange's Tiny Terror sent amp makers down this path, mini amps have become progressively more nuanced, diverse, and powerful. Some of the biggest changes have come in just the last year, with intriguing new designs packing both stunning tones and flexible routing and recording capabilities into über-transportable housings. Engl's new Ironball E606SE illustrates this trend wonderfully. Where some lunchbox amps have minimal controls, the high-gain Ironball has 29 knobs, switches, and buttons in a package that's only slightly bigger than Orange's Tiny Terror. At $1,499 street, this EL84-driven 20-watter isn't cheap, but even amidst an increasingly crowded field, it stands out for its sheer number of features and bang-for-buck ratio.
A New Kind of Switch
One of the first things you notice when scanning Ironball's front panel is the bank of eight switches and LEDs next to the power and standby toggles. These low-profile, spring-loaded switches help you dive deep in the amp's functionality or keep it simple—all while accessing a full-sized rig worth of tones.
The 2-channel E606SE doesn't just avail traditional speaker-output andonboard IR cab capabilities (via an 8-position selector). Around back you'll find controls for onboard digital reverb, digital delay (with mix, time, and feedback controls), and a very effective 1-knob noise gate. Even cooler, Ironball lets you set everything once and toggle between clean and dirty sounds with a single-function footswitch (not included). But you can also use an 2-button footswitch to switch channels and engage the lead-gain boost function, or program a MIDI controller to govern everything from amp-mute functions to IR bypass, reverb mix and tails, and delay tempo, mix, tails, and feedback. Other back-panel features: headphone out and level, XLR out, MIDI phantom power, a pre-/post-power-amp IR button, a 4-position power attenuator, a series effects loop, and dual speaker outputs.
All Ball, No Chain
When I powered up the Ironball, delay, reverb, a lead-channel gain boost, and a master-volume boost were all engaged, so the first order of business was stripping away that stuff to get a sense for the amp's core sound. As you'd expect, the lead channel has a lot of gain on tap, so the next step was tailoring the amount of dirt and balancing the generous EQ section to match my playing and my test guitars—a Fishman Fluence-loaded ESP LTD SN-1000FR, a Kramer SM-1 with Seymour Duncan JB and Cool Rail pickups, and an Eastwood Sidejack Baritone with Curtis Novak JM-WR humbuckers. My test cab was a closed-back Bogner 2x12 with Celestion Vintage 30s, and I evaluated IR functionality via both Beyerdynamic DT 880 PRO headphones and an Audient iD44 interface driving KRK Rokit7 Gen4 monitors.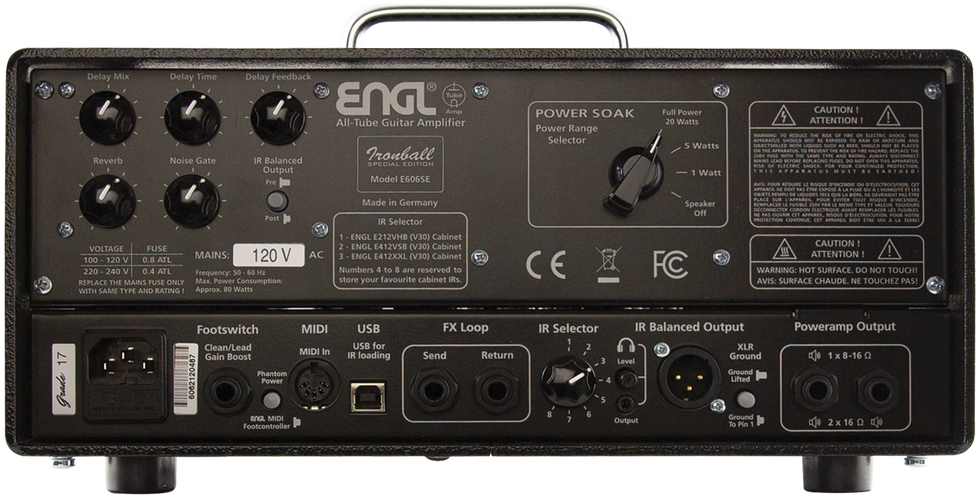 Having to share EQ controls between a clean and a dirty channel can easily lead to unfortunate compromises. For instance, what if you want a semi-bright, articulate distorted sound but prefer your cleans a bit mellower? While the Ironball doesn't entirely avoid this problem, each global EQ control (bass, middle, and treble) has a lot of range, and the lead channel also smartly employs a lead volume (essentially a lead-channel master volume) and its own presence control so you can fine-tune dirty sounds. In other words, the lead-channel-only controls allow you to voice dirty tones for more heft or bite while you keep clean tones relatively sparkling. Through a real speaker cab, I found that master volume at max, clean gain at 10 o'clock, bass at 3 o'clock, middle at 9 o'clock, and treble at 2:30 worked perfectly alongside lead-gain at noon and both lead presence and lead volume at 10:30. These settings yield mean grind that is articulate and responsive to playing dynamics and volume-knob maneuvers. That means you can move from extreme metal applications to clean tones that can be fat, rich, or bluesy (with the Eastwood and ESP) or funky and spanky (with the SM-1's pickups in split-coil mode).
​The Verdict
Even as a guy who prefers relatively simple pedals and amps, I'm extremely impressed with the Engl Ironball E606SE. As with most 20-watt amps, particularly high-gain ones, there's not a ton of clean headroom. You could probably still be heard over your drummer's double-kick ruckus with the dirty channel raging as high as it can go, but if you want Ironball's loveliest clean tones, you may need to mike up or use the handy rear-panel outputs for volume reinforcement. Speaking of which, Ironball's default IRs of Vintage 30-stocked 2x12 and "XXL" 4x12 cabs sound great, but it's a bummer Engl doesn't offer any other downloads for Ironball owners—especially since the company sells a separate Cabloader pedal with 12 preloaded IRs for a quarter of the price.
Nevertheless, there are many other sources for cool IRs, and the SEs strengths put it in a niche few companies currently match—particularly at this size and price. Considering many metal players don't use much more than a boost/overdrive and maybe a delay, it's easy to see Ironball being a killer-sounding all-in-one option for a good number of them—just grab your axe and a cab (or not!) and you're set for blisteringly fun action.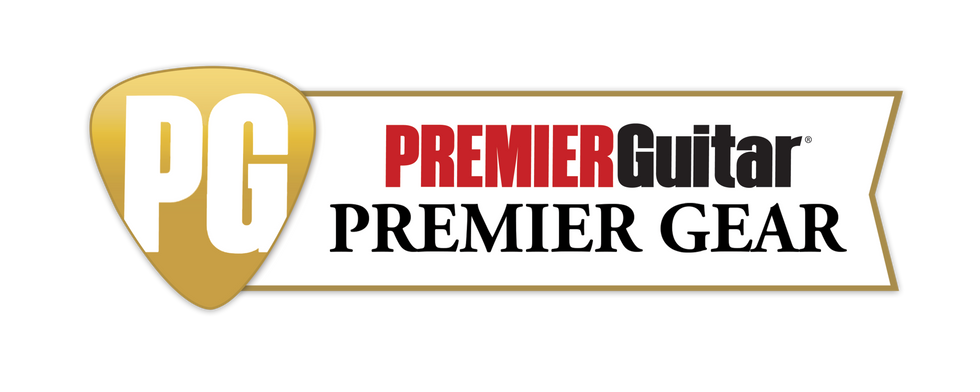 The Rush maestro's mega-versatile signature Les Paul at fraction of the price of the original.
Killer axe that offers tons of tones. Amazing value.
Pickups can be susceptible to radio frequency noise.
5
4
5
4.5
Gibson's Alex Lifeson Les Paul Axcess was released in 2011. It's a drool-worthy instrument that, with a price tag of $5,500, is unfortunately out of reach for most. But Epiphone's new Alex Lifeson Les Paul Axcess Standard distills the essential elements of Lifeson's signature model into an axe that streets at just $899.
Grand Designs
A sonic visionary of the highest order, Alex Lifeson's imaginative guitar work was critical to Rush's ascent to immortal status. He has always been an adventurous player, so it's not surprising that his signature Epiphone has features you don't see too often on a Les Paul. For starters, it has a Floyd Rose–licensed double-locking tremolo. The vibrato system also has Graph Tech Ghost piezo pickups under the bridge saddles, and there are two output jacks that let you run the standard pickups and piezo either simultaneously or mixed via a single output. I've seen both double-locking tremolos and piezo pickups offered separately on special edition Les Paul models but have never seen both on the same instrument.
In addition to the piezo system, the Lifeson Axcess is outfitted with a pair of humbuckers—an Epiphone Ceramic Pro in the neck and a ProBucker 3 in the bridge. Each pickup can be split via the neck and bridge volume knobs. Interestingly, the other two knobs on the guitar aren't the usual neck and bridge tone knobs. Instead, there's one master tone knob for both pickups and a piezo pickup volume knob. This knob is also a push-pull switch that turns the piezo on or off.
Feels So Good
The viceroy brown Lifeson Axcess looks fantastic in its included hybrid EpiLite gig bag/hard case, which, by the way, features a very robust neck support. The mahogany body is capped with a AAA flame maple veneer carved top. And while the guitar isn't particularly light, it's extremely comfortable. It's obvious that ergonomics were prioritized in the guitar's design. A belly carve facilitates a snug fit with the body, and its sculpted neck joint permits excellent upper fret accessibility. The guitar's Indian laurel fretboard with its medium jumbo frets and 12" radius will feel familiar to anyone who's played a Les Paul.
The humbuckers sound great. I compared them to my early '80s Les Paul Standard and, to my ears, they were nearly identical.
The Spirit of Piezo
I tested the Lifeson Axcess through Mesa/Boogie Mark IV and Blue Angel amps with a Line 6 M9 used for modulation effects. I also used a Samson powered PA at various points for the guitar's piezo output. I started my test by turning the volume off for each of the magnetic pickups and listening to the piezo only. Piezos often sound metallic and harsh, but the pickup in the Lifeson is noticeably warmer than other piezos I've known—particularly when using a soft touch and a fingerstyle approach. It was perfect for arpeggio parts like Alex's intro in Rush's "Something for Nothing." Things got magical, though, when I blended in some of the magnetic neck pickup. With the piezo volume around 4 and the neck pickup's volume around 7, I got unique, open-but-substantial tones that maintained articulation—even with a softer, acoustic-like edge around transient notes.
I also used the two outputs to route the guitar to both of my test amps, with the piezo output going to the Blue Angel and the magnetic pickups going to the Mark IV's clean channel. This configuration generated a massive 3-D experience that was beautiful to hear and feel. Using the two outputs/two amps approach with an amp switcher is one way to approximate the gentle-to-powerful dynamic shifts in Rush songs like "The Fountains of Lamneth."
The two outputs/two amps approach is also cool for leads. I engaged the Mark IV's lead channel for the magnetic pickups and turned down the piezo volume slightly for the Blue Angel. This configuration yielded super-interesting lead textures: I could play ultra-long legato lines and still hear almost percussive detail from the piezo side.
Without the piezo, the Lifeson's humbuckers still sound great. I compared them to my early '80s Les Paul Standard, and to my ears, they were nearly identical. They're beefy and powerful with plenty of clarity for low-register riffs like "Tom Sawyer" and "YYZ," as well as "Limelight" power chords. The split-coil tones have bite. They stay loud relative to humbucking mode, and the volume difference isn't nearly as obvious as it is on other coil-splitting instruments I've played.
The Verdict
The Epiphone Alex Lifeson Axcess Standard offers features that you won't find on other Les Pauls. If you're a Rush fan, it's a no-brainer. But even if you're not, you'd be challenged to find a guitar that offers this much versatility for $899. Rumor has it that a lot of Nashville session players scooped up the original Gibson Lifeson model for its utility. If you can find an Epiphone Alex Lifeson Axcess Standard, I'd suggest you grab one while you can.
Epiphone Alex Lifeson Les Paul Axcess Standard Demo - First Look