Underneath this bari's jazz suit is a rock 'n' roll machine.
Responsive playability. P-90s deliver loads of tone options. Solid construction and feel.
Jazz aesthetics might paint this one into a corner for some. Price may dissuade all but serious baritone players.
5
5
4.5
4.5
The D'Angelico Deluxe SS Baritone is an interesting proposition. It's a high-end offering in the relatively small field of baritone guitars, where, if you've got around $1k to spend, you can have fun choosing between a nice range of options. Lots of players are attracted to those lower-priced options for the novelty of a baritone or to round out their instrument collection. D'Angelico is aiming to instead capture those who are so serious about their baritone needs that they're willing to spend over $2k on the right one. To do so, they've created a P-90-equipped semi-hollow and put it near the top reaches of their line.
Admittedly, I'm in that former category. I think baritones are fun and lump them in with 12-strings, tenor guitars, and Bass VI-style instruments—all things I like to mess around with now and then. But I've been able to satisfy my own bari needs with inexpensive instruments. So, approaching this review, I wondered, will the Deluxe SS open my eyes and ears and make me a believer, or is it just a fancy curiosity?
I did a deep dive into the Deluxe's ambient possibilities, adding gobs of delay, sustain, and all the modulation I could wrangle, and was transported to the town of Twin Peaks—it's that kind of vibe.
Unique Recipe
Since the Deluxe SS Baritone is among the top guitars in D'Angelico's line, it gets a fancy aesthetic treatment. That means gold Grover locking tuners, a large art-deco-style headstock, mother-of-pearl block inlays, 3-ply binding, an elaborately shaped pickguard, and a gold bridge and stairstep-style tailpiece. The extra accoutrements will scream cocktail jazz to some, but the body and neck's natural stain and satin finish keep the guitar from looking gaudy. More importantly, a close inspection of the Deluxe's fit and finish reveal an attentive, detail-oriented build. There is nary a flaw to be found.
The semi-hollow-with-P-90s recipe is a unique one among baritone manufacturers. But from the first few robust, resonant notes I played on the D'Angelico, the combination seemed obvious. The playing experience is suitably deluxe—the 26 3/4" scale length and comfy C-shaped neck feel familiar enough to make the formidable .014–.068 stock gauges easy to grapple with, so there's no awkward phase for non-diehard baritone players like myself. The Deluxe's 15" body—1 3/4" deep—feels comfortable for seated playing, and after playing a two-hour gig on my feet, I didn't feel any more fatigued than when playing a standard guitar.
Have Gold, Will Twang
One of the joys of any semi-hollow or hollowbody guitar, especially for players who tend to stick to solidbodies, is how resonant they are, and that's the first thing I noticed about the Deluxe. That's an obvious observation, but with these big gauges, the laminate maple body sings with every note, from big chords to high-octave single-note lines.
Between the black-tie-friendly outfit and the D'Angelico name on the headstock, it's only natural to grip a few ii-V progressions on the Deluxe. The 1 11/16" nut width offers plenty of room to get around complex voicings, which sound irresistibly rich and warm through a Deluxe Reverb. Every note sings with full-bodied clarity. If I were better at improvising chord melodies, I know what the concept for my next record would be.
Open-position chords on the Deluxe can feel like playing the low end of a piano with while holding the sustain pedal. All it took was one wide-open B minor chord to get me hooked. I did a deep dive into the Deluxe's ambient possibilities, adding gobs of delay, sustain, and modulation, and was transported to the town of Twin Peaks—it's that kind of vibe. But it's not just big open chords that deliver that feeling. Since the Deluxe SS Baritone is a sustain machine, these frequencies tend to rumble the room even at moderate volumes. I found myself contemplating the space between notes—and wanting more of it—even when playing slow, single-note melodies on the lower end of the neck.
The Seymour Duncan D'Angelico Great Dane P-90s balance rich low-end with an articulate twang. Like adding a touch of sweetness to a savory dish, a little extra brilliance rounds out the tonal profile to create a rich overall experience. The bridge pickup makes a case for the Deluxe's rock 'n' roll potential and encouraged my best attempt at a Duane Eddy impression. Once that clicked for me, I found that I just wanted to stay in that zone. Anything from shuffles to tic-tac bass parts sound great on the Deluxe.
There's plenty of brightness in the neck pickup, while its added bass frequencies reward Bass-VI-type lead playing—like the solo to "Wichita Lineman," which sounds and feels cool on this guitar. Rolling back the tone just a little made root-fifth patterns under my chording sound convincingly bass-like. Add a little overdrive to any of these positions and the Deluxe is a monster, ready to scream.
The Verdict
The Deluxe SS Baritone makes a bold statement. At well over twice the price—or more—of the most ubiquitous baritones on the market, it's a high-end instrument within genre. With P-90s, a semi-hollow body, and jazzy aesthetics, it feels jazz oriented. But I found it more diverse, and capable of capturing all the tones you'd want in a baritone, from clean and articulate to spooky and ethereal to twangy. And it delivers a fun, and inspiring playing experience in a sturdy, well-built instrument that's ready for any gig you throw at it.
D'Angelico Deluxe SS Baritone Semi-Hollowbody Demo | First Look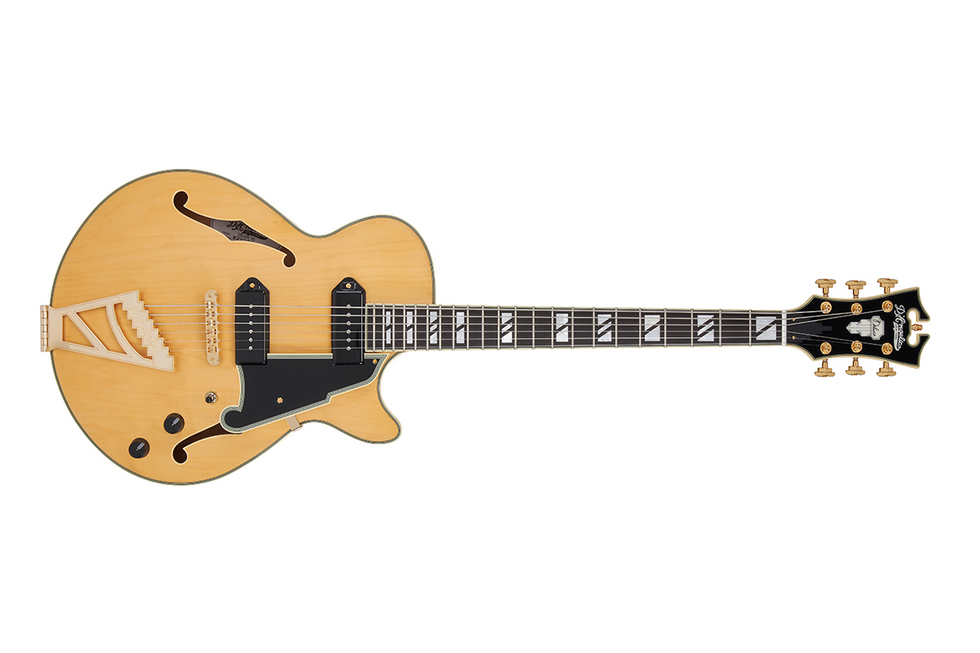 D'Angelico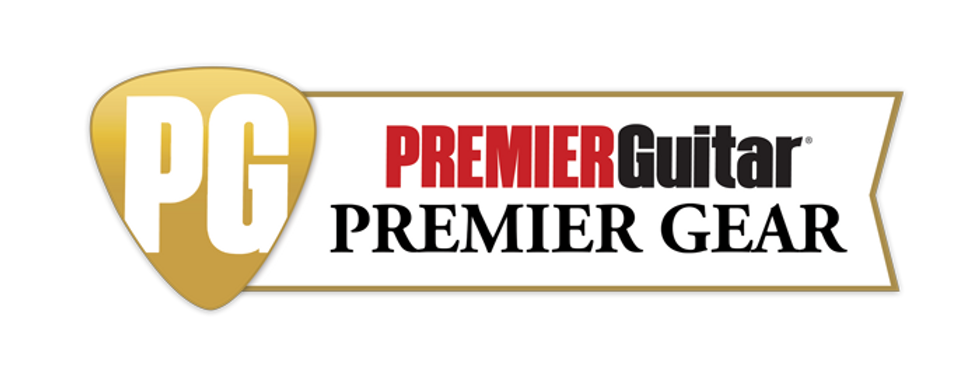 A pair of overdrives with vintage aesthetics and tones to match.
Rugged build. Sweet saturation.
Can sound ragged around the edges at high gain.
4.5
4.5
4.5
4.5
Many recording enthusiasts know Warm Audio for their well-regarded and affordable takes on otherwise unattainable classic studio microphones, preamps, and processors. Most of these imitate the handsome aesthetics of those units along with their functionality, which adds to the allure. Warm Audio ventured into pedal building a few years back with lovingly rendered versions of the Roland Jet Phaser and Foxx Tone Machine. This time out, though, they've taken on two less obscure pedals, the Lovepedal/Hermida Zendrive and Klon Centaur, in the form of the Warmdrive and Centavo, respectively.
Some of the language Warm Audio uses to describe the Warmdrive and Centavo pedals—like "accurate recreation" and "true reproduction"—is bound to raise eyebrows among circuit snobs. Yet both pedals are ruggedly built. Plenty of attention is paid to the cosmetic details. Both circuits are put together using sturdy through-hole boards and populated with reputable components. And there's a general air of quality about them, both inside and out, that promises real road reliability which should squash a lot of the chagrin from naysayers.
In some ways, the company's decision to build clones of two pedals that have been copied many times over is a curious one. But Warm Audio's attention to aesthetic details will no doubt entice cost-conscious enthusiasts chasing both the sound and visual cachet attached to these historically important effects.
Warmdrive
The original Zendrive was created by Alfonso Hermida in the mid '00s as an attempt to re-create Robben Ford's hallowed Dumble-driven lead tones in an overdrive pedal. That remains a lofty goal. But many players agree that Hermida succeeded just about as well as one could. The results were good enough for Ford himself, who frequently uses a Zendrive with non-Dumble amps (often a Fender Twin Reverb).
The Warmdrive control layout is identical to that of the Zendrive, and includes gain, volume, tone, and voice knobs. The latter is a versatile control that moves the pedal's overall character between dark and bright tones in a more expansive way than you experience using a typical high- or low-pass-filter-based tone knob. Signal-sweetening gubbins include 1N34A germanium diodes, 2N7000 MOSFETs, and an NE5532 op-amp. The steel enclosure and true-bypass switch feel more than solid enough to survive repeated stomping. The cosmetics, in typical Warm Audio fashion, imitate the original.
Dum Dum Drive
With a Gibson Les Paul, Fender Telecaster, '66 Fender Princeton combo, and 65amps London head and 2x12 cab, the Warmdrive was a fast track to the kind of Dumble-y, creamy saturation that's kept players drooling through the decades. I suspect even cynics will be smiling when they slide into sustain-driven fusion improvs.
The Warmdrive is a thick, chewy overdrive at heart, but moves easily from smooth and warm to crisp and crackling, depending on where you set the voice knob. And there's lots of room to fine-tune further using the tone control. There's also plenty of range in the gain and level controls, which makes the pedal capable of much more than full-on lead tones. It's a surprisingly good low-gain drive as a result. Even so, the real treats are in the near pedal-to-the-metal settings. Setting the gain around 2 o'clock, the volume around 11 o'clock, and tone and voice pretty close to noon makes a sound I could truly get lost in. I didn't think about its Dumble-imitating origins, or how it sounded compared to a Dumble, or for that matter a Zendrive. I just knew it sounded great. If you want to feel like Robben Ford for a few minutes, this is an easy way to get there.
Centavo
Cloning a pedal that's unavailable in its original form (and prohibitively costly when you find one) is generally a service to the guitar community. In the case of the Klon, however, there are enough klones, and hype around them, that the addition of yet another will probably induce a few eye rolls. That said, the ongoing, often raging, debate over which klone clones the Klon best, indicates there's still room for anyone that wants to take a shot at building a better, more accurate one.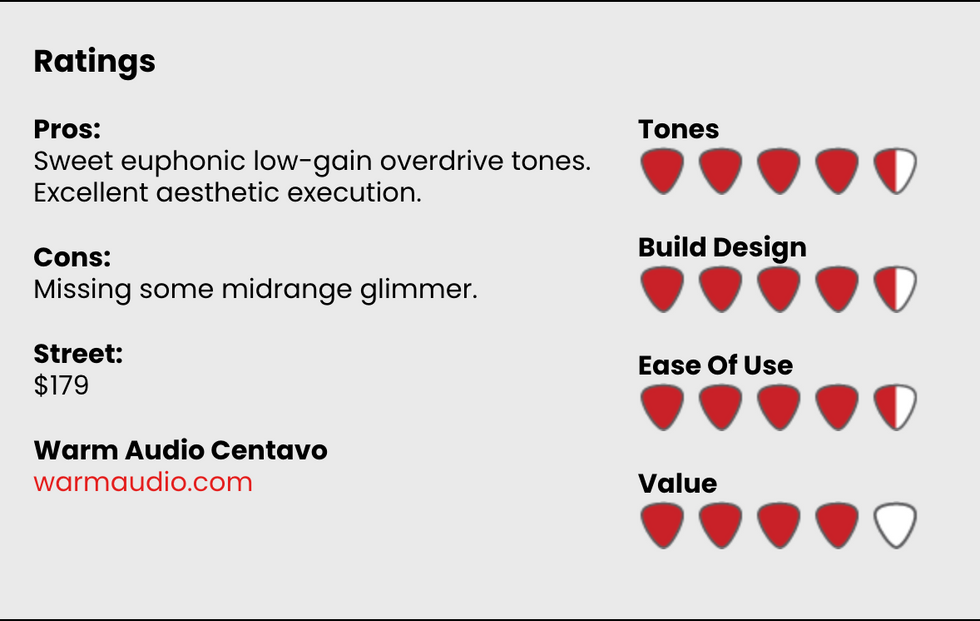 To date, only one klone I know of comes in an accurate die-cast enclosure like the box that houses the Centavo: the well-regarded Centura from Ceriatone Amplification of Malaysia. So, Warm Audio's insistence on vintage accuracy will be a boon for players seeking the original's handsome look at a fair price. The 6.75" x 5" x 2.25" dimensions, though, mean itmight be less appealing to those eager to conserve real-estate on crowded boards.
Elsewhere, Warm Audio chased authenticity pretty relentlessly. Like the original, the Centavo uses buffered bypass, TL072 op-amps, and a charge-pump voltage regulator. The oxblood pointer knobs for gain, treble, and output are another nice vintage touch that looks great. Warm Audio did take one very practical liberty with original design in the form of a MOD switch, which is situated between the input and output on the pedal's crown and extends the circuit's low-end response.
Chasing Mythical Beasts
Tested via the same guitars and amps used for the Warmdrive evaluation, the Centavo provides many reminders of why the original Klon became so beloved in the first place. For me, at least, the tastiest function, just as on the original, is when it's used as a near-clean or just slightly dirty boost. Even at unity gain it sounds excellent, which is apparent just as soon as you turn it off. If the Centavo had a photo filter equivalent, it would be one that illuminates everything with golden-hour light. Everything you hear is essentially the same—just somehow more magical.
When you wind up the gain for a more lead/overdrive setting, the Centavo doesn't disappoint. It can sound a touch furry and woofy at times and is occasionally a little ragged around the edges. Yet it still adds loads of character to lead lines. Though purists might be bummed by its inclusion, I found the low-end lift from the MOD switch useful—particularly at lower gain settings, where it fills out the bottom end especially well. In general, though, the MOD switch's effect on the output is subtle and doesn't overpower the Centavo's basic voice. If there are any noteworthy audible differences between the Centavo and an original Klon, it might be the Centavo's lack of midrange glimmer, a quality that, for me, distinguishes the Klon Centaur. Maybe that's why originals are $5,000 these days. But, man, that's a lot of money for a little extra midrange!
The Verdict
Both of these new pedals from Warm Audio are well-built and carefully executed renditions of their inspirations and deliver very close approximations of the target sounds. If they aren't dead on, and few clones ever are, they certainly get very close for extremely reasonable money, both yielding dynamic overdrive regardless of price. That they do so much to deliver the visual appeal of the originals only sweetens the deal.
Better Than the Klon & Zendrive?! Warm Audio Centavo & Warmdrive Demos | First Look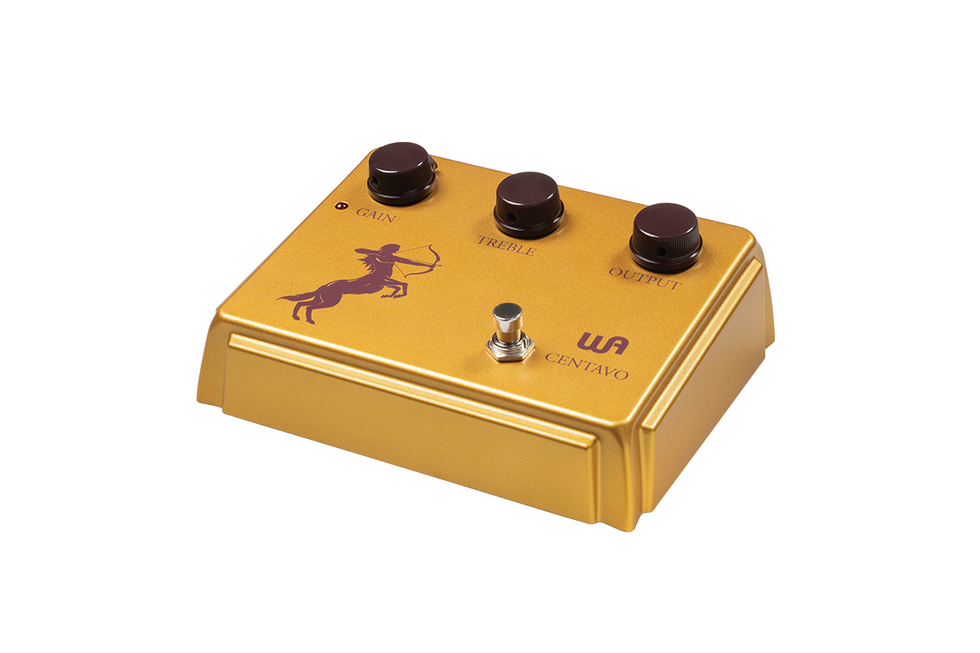 Warm Audio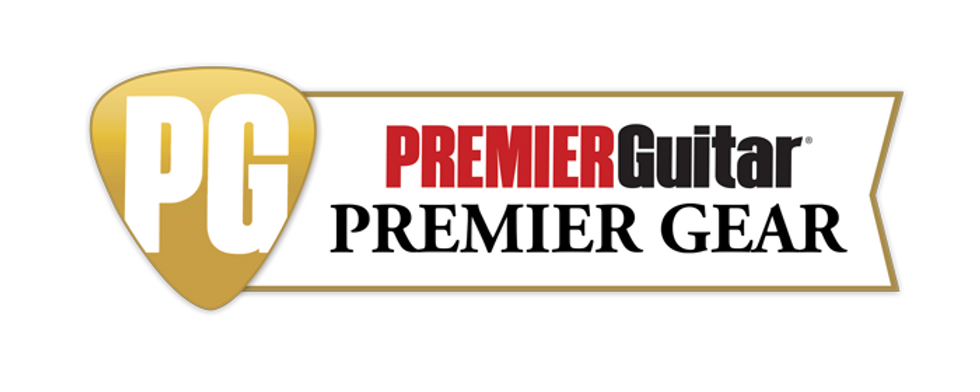 The guitar universe gathered momentum in a big way in 2022—which is easy to see in this year's wildly diverse parade of Premier Gear Award winners.
Here's a look at 2022's most notable new guitars, amps, effects, and accessories, reviewed by our editors and writers:
The good doctor refines an old mid-power favorite that dishes beautiful American-style clean and overdriven tones while packing a muscular punch.
A killer reimagining of an already great design. Bold cleans and toothsome overdrive in an impressively portable package.
5
5
4.5
4
Though he's built bona fide iconic modern guitar-amp designs—and a reputation that he could happily ride into the tube-glow sunset—Dr. Z's head honcho, Mike Zaite, has always stayed creative. He's steadily revamped his lineup over the years. And the new Z-28 Mk. II represents a thoughtful update of an amp that many of us assumed couldn't get much better. The original Z-28, discontinued in February 2018, was a robust 22-watter that reveled in simplicity and thick, versatile tonality. Players loved it. And more than a few lamented its discontinuation.
Those players will be happy to hear that much of the Z-28's basic architecture remains intact in the Mk. II. Crucially, the original Z-28's EF86 pentode preamp tube carries over to the front end of the new design. It was a key to that amp's personality and combination of high headroom, high gain, and thick-yet-clear voicing that hooked many Z-28 followers. But the platform's dual-6V6 output stage has now been upgraded to a pair of larger 5881 output tubes in cathode-bias, generating 35 watts of power. Additionally, a new master volume control helps rein in the output, so there's plenty of the good stuff available at less overall volume than the Mk I.
Red Menace
The Mk. II is more than an updated circuit. Dr. Z houses the Z-28 Mk. II 1x12" combo in an updated cabinet, too. This time out, the Z-28 lives in a cab Dr. Z introduced with the Joe Walsh Signature Z-Master. But where that amp was configured with three 10" speakers, the Mk. II features a single-12" baffle and a Celestion G12M Creamback. The cabinet is built from thin-walled ply and measures 22" x 21.5" x 10.9". The dimensions and construction help keep this mid-powered combo's weight down to a very reasonable 38 pounds. The Mk. II also brings Dr. Z's popular red-Tolex livery back to the fold. It's exclusive to the Z-28 Mk. II combo. (A Z-28 Mk. II head is also available, in black only.)
Control interface-wise, the Z-28 Mk. II is just as austere as the original, with the exception of the master volume. Apart from the single input, there's a volume knob and independent treble and bass controls in the EQ stage, which conceals tone-sculpting capabilities much more powerful than you would expect. Utilizing Dr. Z's version of a Baxandall tone circuit, these controls offer fairly traditional high and low frequency sculpting from the fully counterclockwise position to noon. Past noon, though, the frequency boost comes with a bump in preamp gain. The result is that there are many more voices and gain gradations available than the deceptively simple 3-knob preamp implies. What's more, the post-phase-inverter master volume is removed from the circuit when it's maxed if you want to run the MK. II wide open.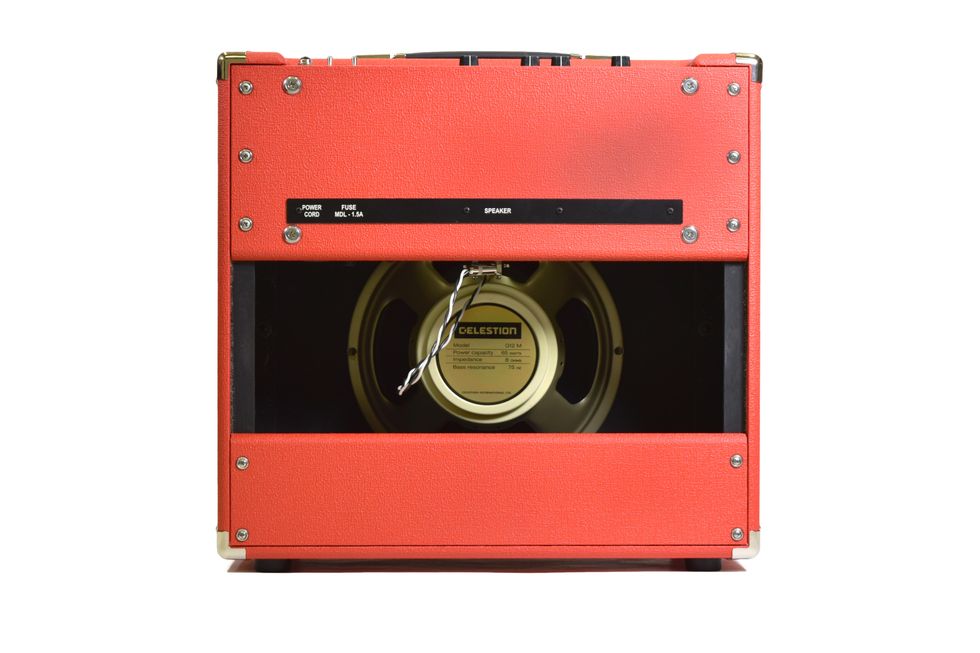 The Z-28 Mk. II uses a 12AX7 in the phase inverter and has a 5AR4 tube rectifier. Cathode biasing of the output stage means you just pop in new replacement tubes when the time comes—there's no need to re-bias, which is very convenient. Although the 5881s can be substituted with more common 6L6GCs—also with no bias adjustment—the Doc tells us: "I like the 5881s better than the 6L6s I tried. The 5881s seem, to my ear, to be closer sonically to the 6V6, which is what I was trying to achieve in the Mk. II." Otherwise, a look inside the chassis reveals the same kind of high-quality, handwired circuit that we have come to expect from this Cleveland-based maker.
American Muscle
The Mk. II is an able successor to the original, and then some. I should confess here that I was a fan of the dual-6V6 Z-28 from the time of its release, and I chatted with Zaite about that amp's merits on many occasions. In my estimation, the Mk. II simply brings more of the good stuff to the table, without leaving out any of the stuff that made the Z-28 great.
A big part of this amp's magic is in the character of the EF86 pentode preamp tube, which is thicker, lusher, and more full-frequencied than a 12AX7 in most circuits. This tube's capacity to be pushed hard without folding into self-distorted fizz means the signal is bold, clear, and articulate before it hits the next stages of the amp. As a result, the overall voicing and character is classic '60s-era American, but it's complex—blending late tweed, early '60s brown-panel, and mid-'60s black-panel tonalities with a little extra girth and muscle that tends toward Marshall-like—especially when pushed to overdrive.
As such, the Mk. II makes a great clean-to-mean template without any help from pedals. And the versatile tone controls extend the broad range of voicings considerably. While It's probably not the best shred platform, the Mk. II's ability to span roots and blues colors, rowdy classic and garage-rock sounds, and even jazz tones is impressive. The preamp's copious headroom and robust performance also makes it an outstanding platform for drive pedals—without exhibiting any of the sterility that the handle "pedal platform" often implies. The Z-28 Mk. II lapped up the output from a TS10 Tube Screamer, Tsakalis Six, Wampler Tumnus Deluxe, and JHS Angry Charlie with ease and relish. The master volume works great, too, meaning you can explore the Mk. II's voices at much lower-volume settings than the Mk. I could handle and dig every minute of it.
The Verdict
The Z-28 Mk. II is a clever reimagining of a well-loved original Dr. Z design. And it quite simply delivers more of everything that won fans for the already impressive Mk. I. Simultaneously stout, thick and articulate, with beautiful cleans and excellent overdriven tones, it's also a great drive-pedal platform, and a dynamic and expressive amp by any measure.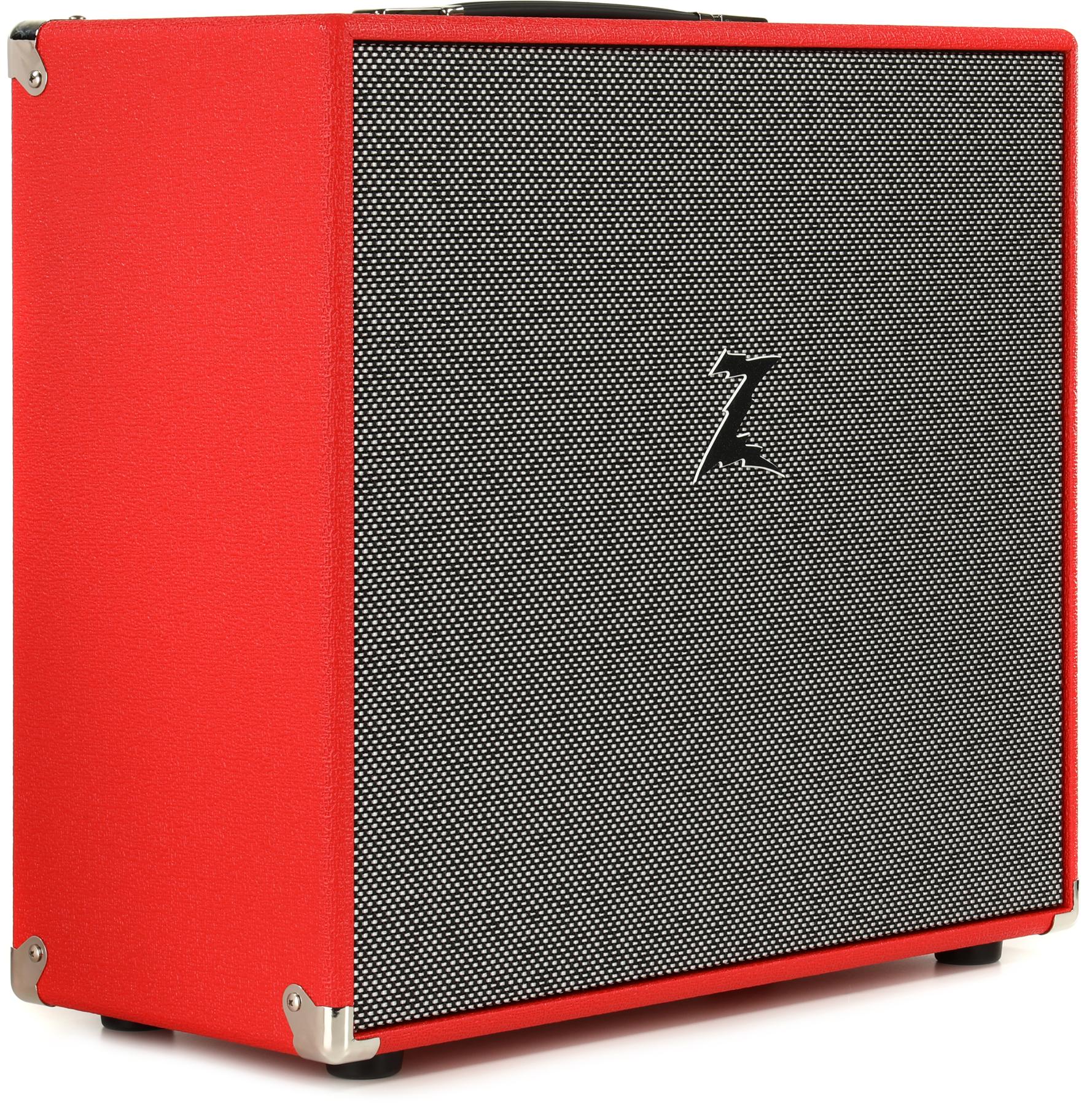 EF86 preamp delivers a high-fidelity sound with outstanding dimensionality and dynamic response
Delivers everything from crystal-clear cleans to muscular overdrive
Clean tones makes a superb pedal platform; effects sound like they're built right into the amp
Dr. Z