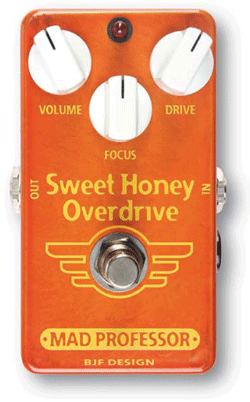 Finding a gem in a far off land
I just returned from a whirlwind tour of Europe and the UK. Along the way I stopped into every tiny music store I could find from Stockholm to Rome looking for some sort of mega-cool, major-vibe-motivated pedal that might just give my tone something novel and fresh. Many of the stores there don't carry the major brands I'm used to—Gibson, Fender, Marshall, etc. At first it was a major bummer, but as one does in life I learned to embrace it. Whoever first said, "When life gives you lemons, make lemonade," deserves to be remembered for his keen insight and way with words. No truer words have been spoken when it comes to finding an exciting new pedal across the pond. After getting over the fact that Europe is plagued with no-name gear, I settled into the reality that I was looking for something different, so there really was no point in sifting through a pile of pedals that I already have or know about to find something unique. Although each location had some unique pedals to offer, we were still talking about your typical overdrive, chorus, delay and wah pedals. Many of them had their own distinctive character and were worth checking out. After a noble search, I found nothing that really rocked my world until I arrived at the home of Art Nouveau buildings and Robert Vaughn's late night hair care infomercial: Helsinki, Finland.
Months before the European tour started, I had received an email from a Finlander named Harri Koski. He had purchased a copy of my CD, Cottage City Firehouse, and wanted to meet me when I played in his town. Little did I know that Harri was the co-founder of BJF Design pedals and Mad Professor amps. After the show, Harri and I along with one of his associates met at my hotel for a few shots of Salmiakki and gear talk. He brought as a gift a small box containing one of his overdrive pedals. When I opened it up to take a look inside, I found he had given me one of his Sweet Honey Overdrive pedals, and it looked to be a mega-cool, major-vibe-motivated pedal that might just give my tone something new and fresh.
Our days on the road were packed with long bus rides, plane trips and often lengthy sound checks, so I traveled with this fabulous pedal for weeks in the box, never finding time to plug it in and give it a test drive. Once I got back to the states and was able to get into my standard routine again, I seized a moment to sit down with the Sweet Honey and give it a full-throttle, spiritual audition. At first I wasn't sure what to think of it. I guess I was expecting a major-league overdrive, fuzz-tone blare-fest and I wasn't getting that. After a few moments, I appreciated what this pedal was designed to do and I loved it. It's more of a touch-sensitive, low-gain overdrive pedal. It seemed to give a lot of dynamic control without dirtying the clean sound. It's really much more like a tube amp's gentle breakup. After further scrutiny, I discovered that it reacts quite nicely to dynamic playing, breaking up less when you pick or strum lightly and more when you really lay in to it—a much more natural response than you'll find in most pedals. It has a Volume and Drive knob, of course, but I was much more intrigued by the third addition to the knob playground: the Focus knob. This was the "vibey" part. Gaining it up, it acts as a subtle treble boost. Dialing it back gives you a less edgy tone and causes you to have to dig in more to get it to drive. The more I played with it the more fun I had, and the more I started to realize all of its potential. Often a new guitar, amp or pedal will inspire some creative output. This is one of those pedals.
You just never know where that next mega-cool, major-vibe-motivated piece of gear might come from. I never would have guessed Helsinki, Finland. I can absolutely see this stompbox becoming a part of my studio rig. And like any kid with a new toy, I will be using it on everything (probably over-using it) for a while. I wish I'd known about this pedal before I recorded my last album. It would've found a place on many of the tracks.
Keep Jammin'
---
Rich Eckhardt
Rich Eckhardt is one of the most sought after guitarists in Nashville. His ability to cover multiple styles has put him on stage with singers ranging from Steven Tyler of Aerosmith to Shania Twain. Rich is currently playing lead guitar with Toby Keith. His new album Cottage City Firehouse is available at his website and
CDBaby.com
.