Geoff Gray - Far & Away Studios
One of my mentors in studio recording was a wonderful guy named Geoff Gray who owned Far & Away Studios in New York. I remember graduating from the Center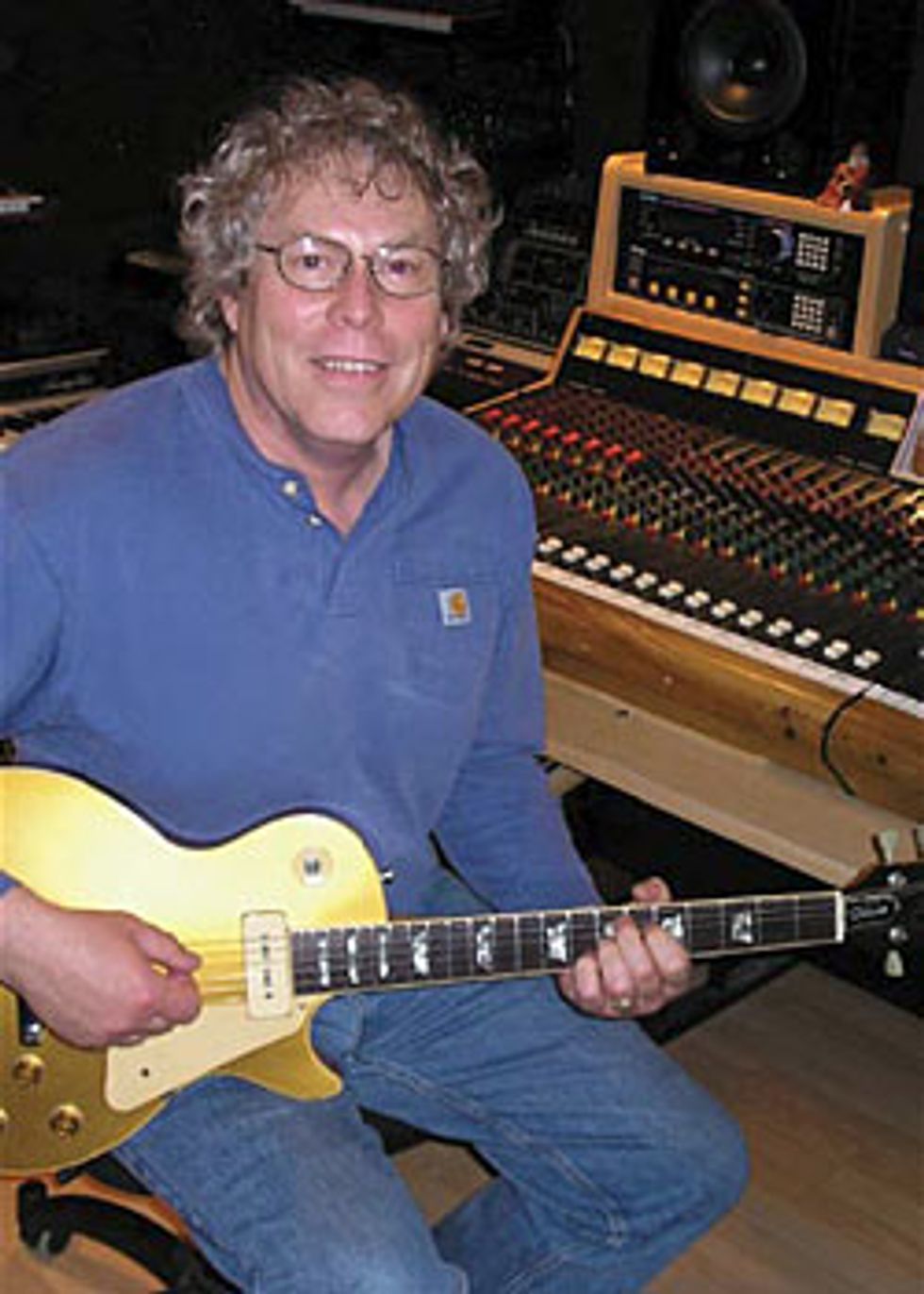 One of my mentors in studio recording was a wonderful guy named Geoff Gray who owned Far & Away Studios in New York. I remember graduating from the Center for the Media Arts and finding work as an assistant engineer at his studio back in 1989. I learned quite a bit about studio recording and producing musicians during my tenure with Geoff. Since then, he has relocated Far & Away Studios to Boulder, Colorado and continues to work with many different artists. He especially enjoys working with new acts and helping them create the best recordings possible. To Geoff, building good relationships with his clients has always been key and many have become long-time friends.
Recently Geoff was in town and stopped by Jungle Room Studios for a chat. In addition to working on mixes with me at the studio for the upcoming album
Fretworx
, he gave me the lowdown on Far & Away Studios and some of his favorite techniques for recording guitar.
How did you come up with the design of your studio? Were there any other studios that influenced you?
I remembered the first time I walked into the Power Station/Avatar Studio A and thought, "This is the most sonically and visually comfortable room I've ever been in." I wanted to create that in Colorado. We used indigenous pine and brought the outside to the inside – Rich Eberhardt came up with the overall design.
They don't make Martins and Strats and Les Pauls out of carpet. Wood just sounds great for a recording environment. The studio houses 17' ceilings, natural light, stunning views of the Flatirons [rock formations near Boulder], three iso areas and a live echo chamber prefaced by a tube two-track Ampex.
Can you share your mic'ing techniques with us for both amps and acoustic guitars?
We have various amp rooms and, depending on the size of the room, I vary the mics. Generally in the smaller areas I go to a 57 or 58 off-axis and close to the grille. We use the big room often for overdubs and that is perfect for the Royer 122s back about 18". Unlike the amp booths, we encourage leakage from that room. The Royers are bidirectional so I have to be cautious of the player standing near it and stomping on pedals.
For example, in the case of Sammy Dee Morton's record, he didn't want to use headphones, so we had the Fender in the big room poking out of the iso booth. I used a 57 and 58 to hedge my bets – we chose the 58. On the bass amp we used an EV RE20 on the big speakers and a Sennheiser 421 on the 10s. This was also live in the room 12' from Sammy's amp. We printed the drums in the same room, too.
With acoustic guitars, a DPA 4041 near the soundhole is amazing. This is an omni with a twist. If the acoustic is a major part of the song, I always use two Neumann KM184s, one pointed up toward the bridge, back 15" or so; the other pointed near the neck joint, also about that far back. I also like mono guitar accompanied with a mono Nashvilletuned Taylor mic'ed up with a DPA or KM 184 near the neck joint.
Do you use digital or analog for recording? What is your setup?
We use a hybrid of Pro Tools HD and a Studer 2-inch. We have the 2-inch outs normalled to the HD-ins so that I can have both digital and analog. Guitars generally get recorded directly to Pro Tools through Sony DMX converters, but go through an old LA-2A, or LA-3As in the case of two acoustic mics. I love old Symetrix 202 mic pres for all guitars. We have API 312s that sound just great for all guitars – sometimes it's the Neve 1095s. During mixdown, I love the Neve 1095 EQs and the old API 550As. Shelving with the APIs on acoustics is a beautiful thing.
What mics do you use to record the guitar?
I think a 57 is just great, the Royers are amazing in the right circumstances, a 421 on a cab is fun and the DPAs never cease to amaze. The DPA 4023s in the ORTF pattern back from the cab are shocking. I'll often combine the 57 with the Royer, but try to keep them on the same speaker in a multispeaker cab so that I don't have phase nightmares if I use them both.
Do you have a favorite "can't live without" guitar processor that you use?
Eventide Harmonizers are my favorites. We have three and they all have different stock programs. For a Haas effect I use the 949; for delays and sick effects I use the H3000s. We have oddities that we sometimes dust off like an Acousticomputer, MXR Flanger/Doubler, Effectron Delays and tape delays to chambers.
If you live in the vicinity of Boulder, do yourself a favor and check out Far & Away Studios for your next recording. Say Brian sent you. And check out Geoff's work on "Dazed And Confused" on
Get The Led Out – Led Zeppelin Salute
. He recorded all of the guitars at Jungle Room Studios in New York. For pictures of Far & Away Studios visit
myspace.com/farnawaystudios
.
---
Brian Tarquin
Emmy Award Winning Guitarist Brian Tarquin scored a Top 20 hit in the 90's with "
The Best of Acid Jazz, vol. 2
" on Instinct Records and enjoyed several top 10 hits on the R&R charts. Founder of the rock/electronica band, Asphalt Jungle and has scored TV music for such shows as, CSI, Smallville, MTV, Alias, 24, All My Children and many others.
bohemianproductions.net
jungleroom@optonline.net
myspace.com/bohemianproductionsmusic