This month, an old Gibson mando is passed down.
Hey Zach,
I've read your article many times in the past, and I feel like you might be able to provide me with some assistance. My grandfather passed away several years ago and one of the items my parents ended up with was an old Gibson mandolin. There are no markings on the mandolin itself, including on the headstock. The only information is on the inside with the numbers 24XXX. I'm trying to get some information on it, including the model name and the current value. Can you help me and my parents out?

Thanks,
Rick in Detroit, Michigan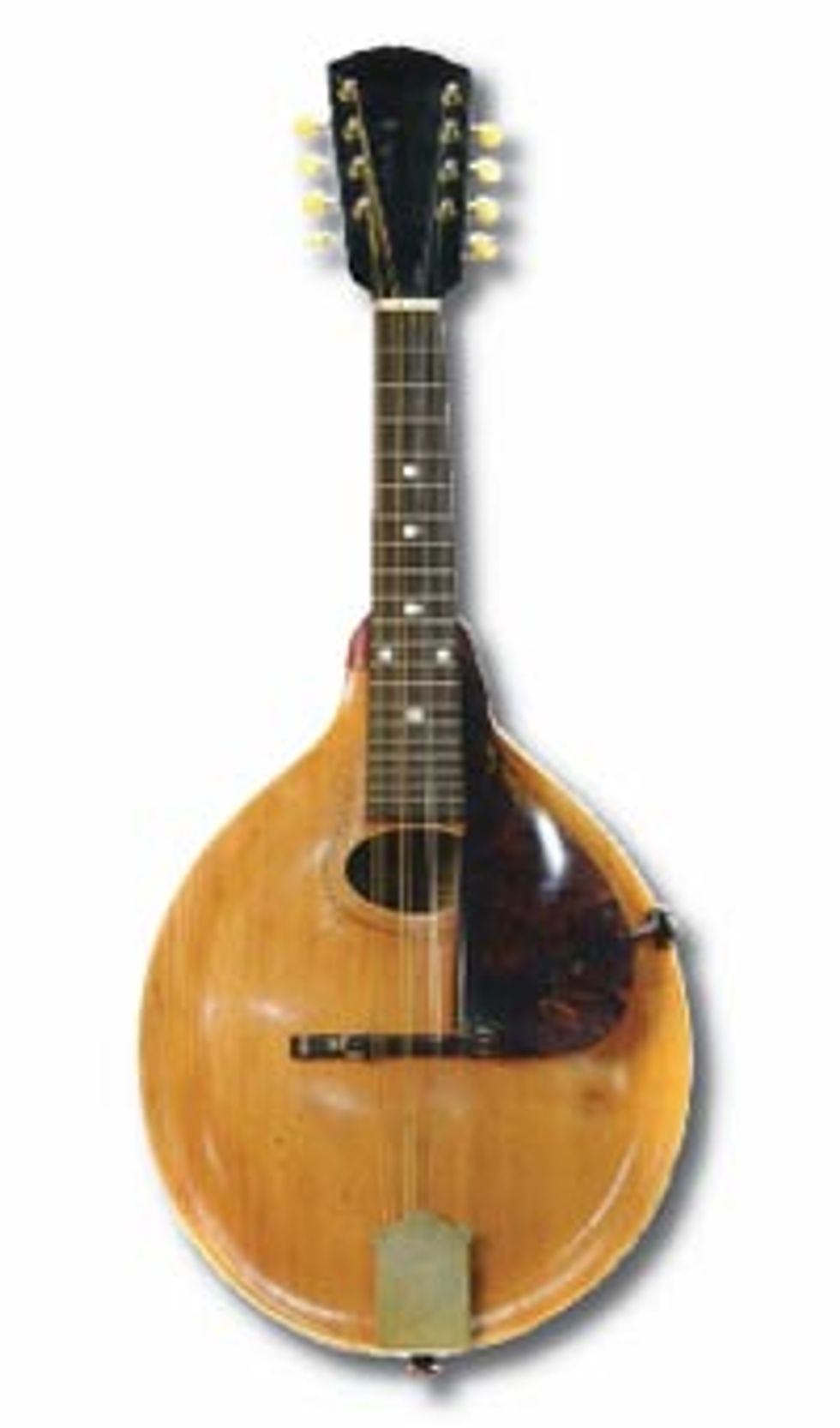 Hey Rick,
As unusual as this might seem, I answer many questions regarding instruments in the estates of family members. I recommend documenting all musical instruments (as well as any important artifacts) and designating what should happen to them when a loved one passes away. I see this much too often, and without proper documentation it can really turn into a mess. I really dislike hearing about how a certain musical instrument was either sold for little to nothing, or thrown away because the family didn't know what it was.
Mandolins are a common estate item today since they were so popular during the early 20th century (many people who have passed away in recent years grew up during this era). Let's start with a little history about Gibson mandolins. It may surprise readers that Gibson started out as a mandolin manufacturer—guitars didn't come into their line until several years later. Founder Orville H. Gibson settled in Kalamazoo, Michigan in the early 1880s, and by 1896 he was listed in Kalamazoo's directory as a musical instrument manufacturer (Gibson's first year of production is generally accepted as 1894). In the early 1900s, five men from Kalamazoo invested in Gibson's business in order to help it grow. At this point, Gibson became more of a designer/consultant rather than president. He became less interested in the Gibson company, and was also sick for most of the 1910s. In 1918, Orville H. Gibson passed away, but the inspiration he left for Gibson guitars and mandolins was clearly growing.
While the mandolin itself has a long and interesting story, it became increasingly popular during the late 19th century. Another important note, Gibson is responsible for coming up with the A- and F-style mandolins—the two most popular designs in the mandolin world. Gibson's most important design element is the one-piece back and sides (most mandolin backs up to this point had been constructed of many small strips glued together). Gibson also experimented with many other designs, such as accessible fingerboards, partially hollowed necks, and violin-style soundboards. His main goal was to make the mandolin easier to play, while at the same time improving the vibrations within the instrument. Gibson truly changed the mandolin world.
Your mandolin features an A-style body typically referred to as "pear shaped," and it appears to be the Model A. It features a graduated spruce top with ivoroid binding, an oval soundhole, maple back and sides, a mahogany neck, a 20-fret ebony fingerboard with pearl dot inlays, a standard headstock with no logo, four-per-side tuners, an engraved tailpiece, and a raised pickguard. It was finished with a "Sheraton Brown" top and darker brown back and sides.
According to the serial number, your mandolin was built in 1915; at the time it was Gibson's entry-level model (that's not to say it wasn't built with quality components). Gibson gave their models higher numbers to designate a fancier design. For instance, a model A-4 will have better bindings and inlays than a Model A-2. The Model A sits at the bottom, with basic appointments. According to the picture, it appears to be in low excellent condition and is currently valued between $1,500 and $1,800.
Gibson's other main design was the F-style body, featuring a scrolled body and headstock along with body carvings and typically more ornate inlays and appointments. As Gibson's designs improved, their mandolins (and other instruments, typically) are worth more the newer they are. In 1919, luthier Lloyd Loar came to work for Gibson, and during the mid-twenties he built/designed some of the finest Gibson instruments ever produced. Today, Loar's F-5 mandolin is often considered the holy grail of mandolins.
Gibson is now known mostly for building electric guitars, but they still offer a variety of mandolins, which are produced in the acoustic Bozeman, Montana shop. Although your mandolin is not the most valuable Gibson mandolin today, it is truly a great player (for those who know how to play!) and it should generate some interest in the collectible market if you (or your parents) ever decide to sell it. Your grandpa may have never known the treasure he had!
Sources: Walter Carter,
Gibson Guitars 100 Years of an American Icon
, and Gibson's circa- 1912 catalog.
---
Zachary R. Fjestad
is the author of the Blue Book of Acoustic Guitars, Blue Book of Electric Guitars, and the Blue Book of Guitar Amplifiers.
Questions can be submitted to:
Blue Book Publications
Attn: Guitar Trash or Treasure
8009 34th Ave. S. Ste #175
Minneapolis, MN 55425
800-877-4867
www.bluebookinc.com
guitars@bluebookinc.com
Please include pictures of your guitars.