Going Deep in the Big Apple
One of the biggest benefits of touring is being able to visit various cities and areas where people are immersed in diverse cultural activities and geographic-specific music scenes. The obvious
One of the biggest benefits of touring is being able to visit various cities and areas where people are immersed in diverse cultural activities and geographic-specific music scenes. The obvious U.S. music hotspots are NYC, L.A., Austin, Chicago, New Orleans, and to a lesser degree but no less substantial, Seattle, Minneapolis, Boston and my hometown of Atlanta.

On my current tour with Sheryl Crow, I try venturing out of my hotel room on our days off, but it's so easy to hibernate because we play five to seven nights a week. When I do hit the town, I usually try to embark into the cool and soulful areas of town: vintage clothing stores, guitar shops and live music clubs – which occasionally results in jamming since I can rarely say "no." As a result, I'd like to share a few of the standout venues and memorable artists I've stumbled upon in the Big Apple.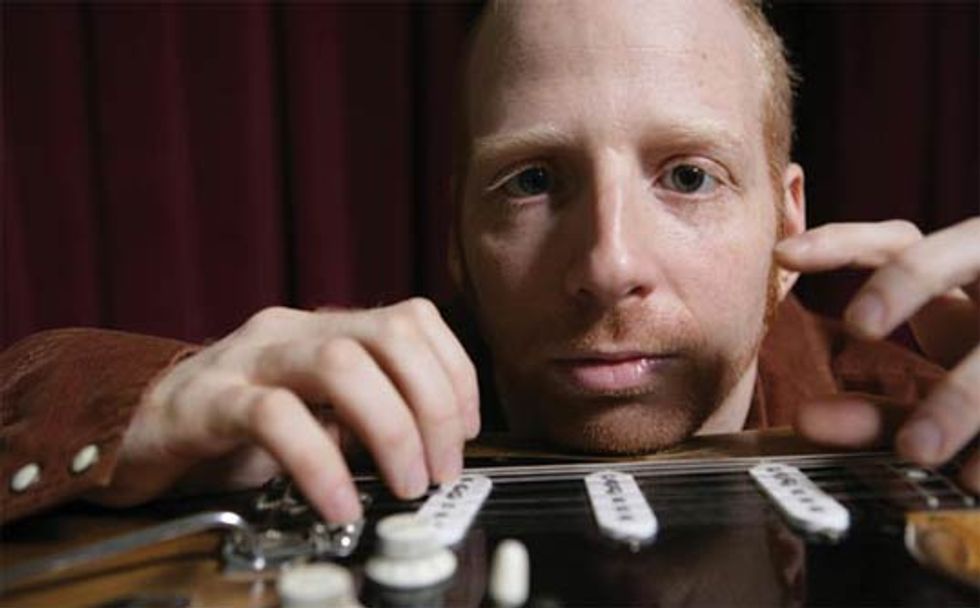 Oz Noy
Photo by John Abbott
We're here quite often and I can never get enough of this concrete jungle. We often try to book hotels in the various sections of town, just to take in the local flavor that varies from Midtown to Soho and from the East Village to Brooklyn. Besides the constant motion and unmatched charm, NYC offers an abundance of incredible restaurants, bars and music. My colleague, drummer Jeremy Stacey, has gone out every night in the city ever since I've known him. He frequents the late night jazz clubs, where he stays out 'til the wee hours of the morning. I've finally decided to join him. If you visit NYC on vacation any time soon and you're beyond catching Broadway shows, then I can make some suggestions on where to start for "going deep." The haunts and artists worthy of your attention are found by word of mouth or perusing the music section of the Village Voice, a free weekly paper.
Oz Noy at the Bitter End
147 Bleecker Street
Back in February, Jeremy and our new bassist, Jon Button, led me down to Greenwich Village to see guitarist Oz Noy. He played at this legendary nightclub, which has played host to artists like Kris Kristofferson, Frank Zappa and The Mothers and Stevie Wonder. During its heyday, the Bitter End had regulars that included Bob Dylan and Jimi Hendrix.
Oz Noy, originally from Israel and now a NYC resident, is an incredibly creative guitarist who blends jazz and rock through a Strat rig that's accompanied by a wide assortment of pedals. His band – on this night – included Keith Carlock on drums and Will Lee on bass. Other frequent stand-ins include drummers Anton Fig and Vinnie Colaiuta, and bassists James Genus, Reggie Washington and Jimmy Johnson. The ever-changing group fluctuates based on who's in town and available to jam.
They absolutely blew me away. Keith Carlock (currently touring with Steely Dan) and his loud, openly tuned backbeat bouncing off the early twentieth century brick walls quickly put me in a trance. After seeing Will Lee in person, I have a new and deeper appreciation for his rhythm, which has been showcased on David Letterman as a part of the CBS Orchestra. I understand and appreciate his boundless energy – he nearly hopped out of his pants on stage. Combined with Keith's beats, they ripped through Oz Noy's mindsplitting jams, occasionally glancing at their charts, which served as a flexible guide.
Oz Noy currently plays Monday nights at the Bitter End.
Duke Levine at Banjo Jim's
700 East 9th Street at Avenue C
Another fine musician haunting the late night clubs is SNL drummer, Shawn Pelton. In fact, you're likely to catch Shawn at multiple musical hotspots during your visit to the city, as this first-rate drummer rarely sleeps. I use Shawn as my personal live music locator, as he's my first phone call after the show.
Currently, Shawn is hammering away with Duke Levine, Boston guitar great, at Banjo Jim's in the East Village. This place would be a perfect representative of the term "hole in the wall," but it's way too cool to wear that label. With the equally stunning Tele and Rick lap steel player, Kevin Barry, and bassist Richard Gates, Duke performed a solid set of his distinct Bakersfield country and western jazz fusion. He plays with an enviable ease, making all his actions appear deceptively simple, from beautiful double-stop harmonic melodies to fiery hick-picking on his late-fifties sunburst Tele Custom. In addition to Duke Levine, we enjoyed Dennis Brennan, a Boston mainstay and R&B roots rocker who rattled the 50 person crowd (full capacity!) through a boot tapping set. Duke is currently promoting his first solo album in ten years,
Beneath the Blue
.
Feel free to Google and MySpace these fine artists and venues. Having once again exceeded my monthly word allotment, I'll share more "adventures into the deep" in future columns. Rawk on!
---
Peter Stroud
is co-founder of 65amps
www.sherylcrow.com
65amps.com