Dear Guitar Trash or Treasure, The lead guitarist in our band has played this Hamer guitar for years, but he doesn't know much about Hamer or the guitar itself.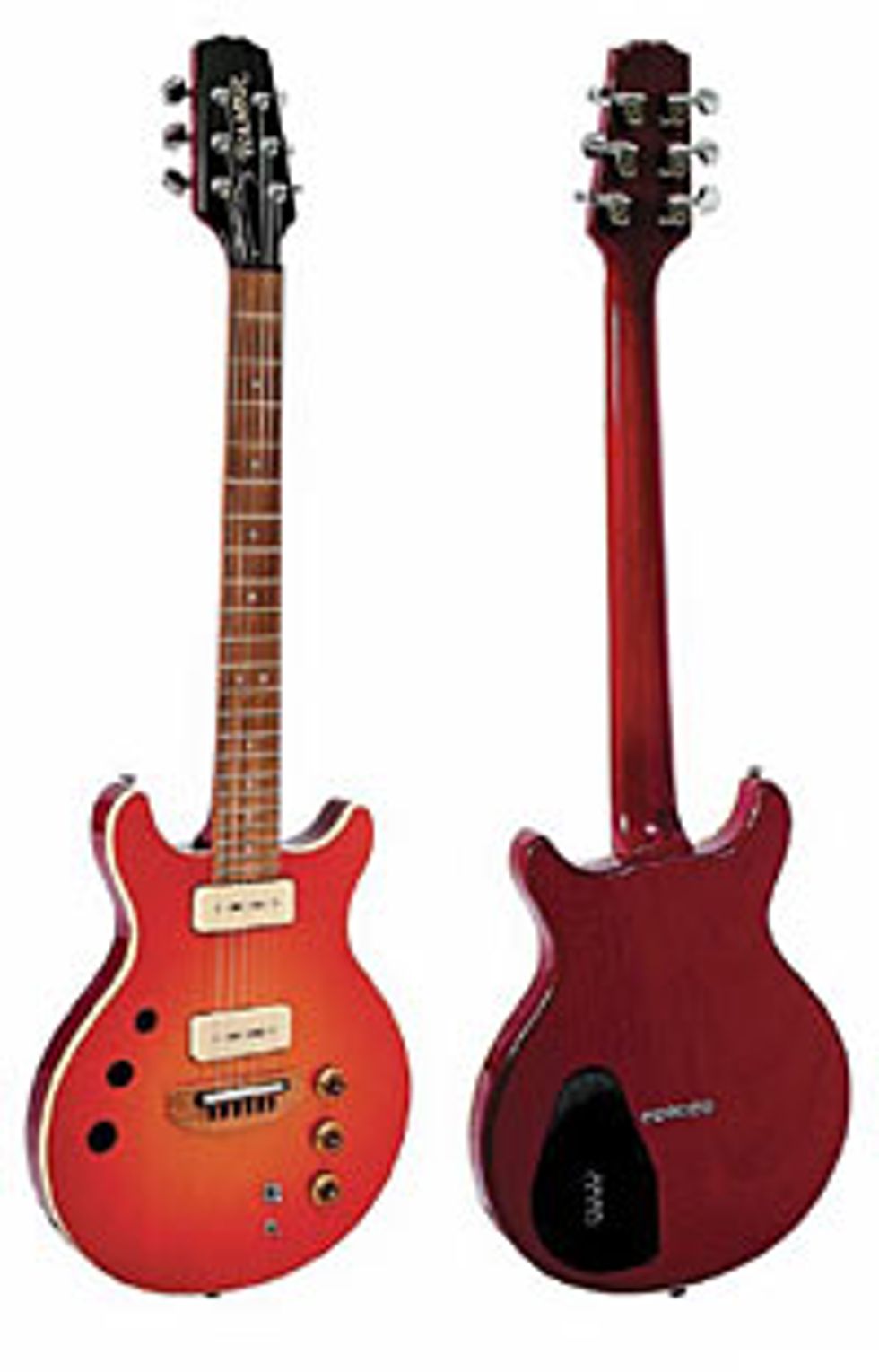 Dear Guitar Trash or Treasure,
The lead guitarist in our band has played this Hamer guitar for years, but he doesn't know much about Hamer or the guitar itself. We play a lot of alternative music, and it seems to work really well for that. The guitar doesn't have any markings on it besides the Hamer logo, and it has strange, small soundholes on the left side of the guitar. Can you give us a little information on Hamer and possibly identify the model and put a price on the guitar?

Freddie
Milwaukee, WI

Hi Freddie,
Your guitarist has a unique guitar from a unique company! After reading this, I think you and your band will agree that the history of Hamer, and this guitar in particular, is pretty cool. Hamer started building guitars in the early seventies in the Chicago area, and it's safe to say they sprang from the tradition of local companies that came before them, such as Kay, Harmony and VALCO. Chicago had once been a hotbed of guitar manufacturing but by the early seventies most were gone. As American guitar production was moving overseas and very few guitars were being produced in the Chicago area, Paul Hamer and Jol Dantzig were just beginning as partners at a used instrument and repair shop in Chicago called Northern Prairie Music. The guys ordered and repaired so many Gibson products that they were invited to tour the facilities in Kalamazoo, Michigan. Shortly thereafter, their shop became Gibson's first authorized warranty repair facility.
Both Hamer and Dantzig were Gibson enthusiasts, which led to Hamer building a Flying V-style bass; soon, Northern Prairie began taking custom orders that were designed around Gibson's Flying V and Explorer models for a few professional musicians. Once the values of used Gibson and Fender guitars began rising in the mid-seventies, Hamer and Dantzig saw an opportunity in the guitar industry. In 1975, they began producing the Standard model, which was based on the Explorer. In 1978, they introduced the Sunburst model that featured a familiar Les Paul Junior body shape. By the early eighties, Hamer had become very successful at offering vintage-style guitars with non-vintage prices.
Paul Hamer left the company in 1987, and in 1988, the Kaman Music Corporation, owners of Ovation and Takamine, bought Hamer. In 1997, they moved from Chicago to Connecticut, which is closer to the Kaman headquarters. On a side note, Kaman Music was recently purchased by Fender, but don't expect any changes for either company. Dantzig is still with Hamer and is very active in the company. In 2004, a DVD documentary entitled Hamer: Building an American Legend was released. It is very interesting and I suggest getting your hands on a copy if you would like more in-depth information about Hamer.
Your bandmate's guitar is a 1996 DuoTone P-90 model. The DuoTone was introduced in 1994 as an acoustic/ electric stereo hybrid guitar. It features a semi-hollow mahogany body with a spruce top, a piezo pickup mounted in the bridge and three functionally tuned circular soundholes. The standard model came with two humbuckers, but in 1996 only, Hamer offered this model with P-90 pickups. The guitar sounds good in your band since P-90s are typically brighter than humbuckers, but not as crisp or tinny as Fender single coils. It also has acoustic capabilities with the piezo pickup, which is extremely useful when switching between acoustic and electric tones in the middle of a song. This guitar was introduced at the height of the alternative scene in the mid-nineties and several noted artists played the DuoTone including Stone Gossard of Pearl Jam, Chris Cornell of Soundgarden and Dweezil Zappa. For using this guitar regularly in a band it appears to be in good shape, meaning your guitarist takes care of it. The guitar had an original retail price of $2099 and since it is in excellent condition, today it is worth between $1000 and $1200.
There are several things I like about Hamer guitars. First, they aren't afraid to try something new (think Scarab model and their 12-string basses). Second, their guitars are affordable, including the used models. Finally, besides their XT and Slammer Series, their guitars are still built in the U.S. In today's heavily Chinese-influenced marketplace that is a treasure in itself!
---
Zachary R. Fjestad
Zachary R. Fjestad is the author of the Blue Book of Acoustic Guitars, Blue Book of Electric Guitars, and the Blue Book of Guitar Amplifiers.
Guitar Trash or Treasure Questions can be submitted to:
Blue Book Publications
Attn: Guitar Trash or Treasure
8009 34th Ave. S. Ste #175
Minneapolis, MN 55425
800-877-4867
www.bluebookinc.com
guitars@bluebookinc.com
Please include pictures of your guitars.