History Detectives Journal: The Josh White Guild Mystery
Stan Jay and Jay Pilzer recount their experience with a mysterious Guild on PBS'' History Detective show.
A few months ago, the PBS television series History Detectives teamed up with the sole surviving Mandolin Brother, Stan Jay, and historian "The Guild Guy" Jay Pilzer after receiving a guitar-related history question from a viewer.

The viewer hoped to find out the story behind a Guild guitar that was allegedly made for folk singer, Josh White, which may or may not have been the first signature model guitar in history made to honor an African-American performer.

Airing for the first time on February 23, 2009, Stan, Jay, Mark Dronge, Josh White Jr. and others unravel the story behind this unique instrument and the remarkable artist who played it.

Whether you've seen the episode or are planning on catching it, here's a look behind the scenes with Stan and Jay. To see when you can catch the episode on your local PBS station, check out PBS.org and click on TV Schedules.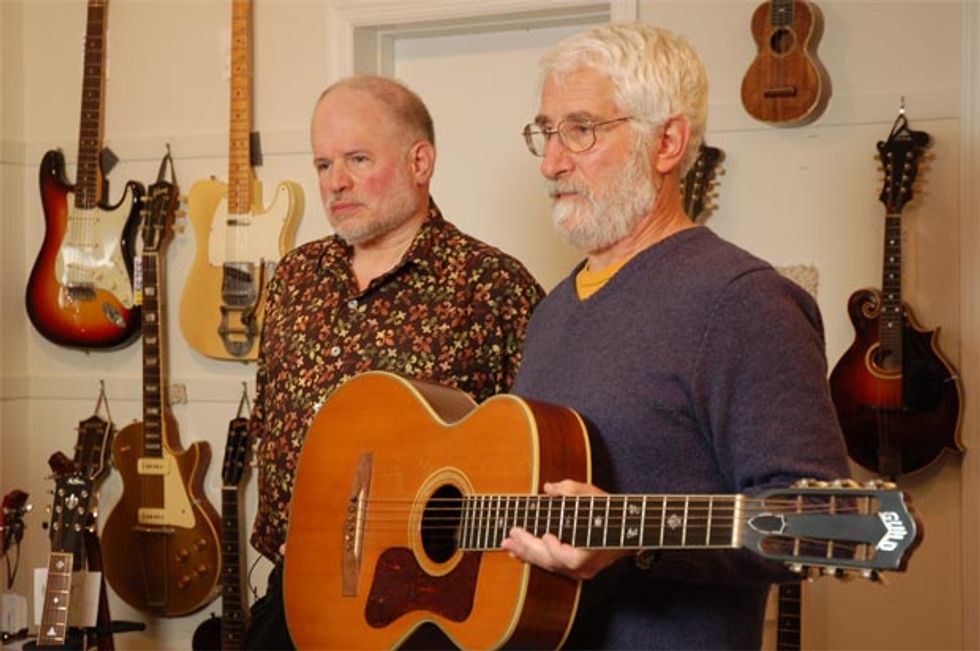 photo: Lion TV/History Detectives
Stan (left) and Jay (right) on the set with Josh White's Guild
Part 1: Stan's Story
The Setup
So, I was sitting at my desk in Mandolin Brothers' reception area—the area that every visitor stumbles into, tentatively, thinking that they've mistakenly entered a third-rate law office—when I got a call from my old friend from Tennessee, Jay Pilzer, known as "The Guild Guy."
"Stan!" he shouted—he's always so enthusiastic—"It's Jay! I've been asked to play myself on a PBS TV-show called History Detectives. We'd like to know if we can use your store as the setting for an inspection of a rare Guild guitar. And best of all, you'll be on the show with me!"
"Of course," I agreed. "For you…anything."
Following that conversation, I got about 12 phone calls and 11 emails from the producers and facilitators of the show, asking me to sign forms releasing my image to their care, and telling me when and what we'll be doing, what to wear, how much time it may take, where they can purchase lunch to bring back for the crew and staff, directions to this faraway place, which insurance policies apply, and a description of the primary premise of the program. Most of these calls and emails were from Carolyn Weiss, Associate Producer at Lion TV in Manhattan whom I quickly recognized as being thorough, professional and knowledgeable.
Carolyn presented the show's concept to me like this:
"We are 95% certain that the Ovation 'Josh White' model made in 1967 was the first signature guitar made for an African-American in this country. I've confirmed with Fender and Martin that they did not produce any official 'signature' models for an African-American prior to that year (still waiting to hear back from Gibson). However, I am not sure where to look to confirm this. Do you know of any catalogs or other sources that I could [use to] confirm this fact?"

I offered some of the information that I had on the subject of "signature" instruments.
A Brief History of Signatures
I told Carolyn that, early on, there was one fairly obscure first fretted instrument connected with a person's name—that being the C F Martin Style 44 Vadah Olcott-Bickford nylon-strung guitar that debuted in 1913, 32 of which were made over the 26 subsequent years for a teacher who sold it to her students.
The first recording artist endorsee in our industry is credited as being Nick Lucas, "The Crooning Troubadour," who had a small but deep-bodied Gibson acoustic named for him in 1928. Then there was Roy Smeck, "The Wizard of the Strings," who had two named Gibson signature models starting in 1934.
Eventually, there was the connection of an African-American to the guitar industry when, in December of 1934, Gibson released its first electric archtop guitar, the ES-150, that came equipped with the Charlie Christian pickup—an unusual looking hexagonal construction with a metal blade at the center and a white border around the magnetic element and the pickup as a whole. But this wasn't an instrument named for an African-American player, just a component. So, I concurred with Carolyn's theory that the Josh White Model Ovation would be the first fully realized endorsement model named for an African-American player. But what about this Guild? More on that in a moment, but first...
photo: Alison Jay/Mandolin Bros.
Busy on the set of History Detectives
The Show

Weeks passed and then one sunny winter morning Jay came bounding in, beaming in his inimitable Pilzerian manner. He rushed across the room and grabbed me like a recently fed, happy domesticated bear and pummeled my back repeatedly. "Great to be here!" he said. And the show was on…
The main thing I need to tell you about doing a television show is the number of times you are asked to repeat the same phrases or dialogue, and the walks on or off camera, from different camera angles, with different emphases, in a manner that allows my colleague, Jay, to say one thing and me to say something equally cogent but not redundant.
Then, there's the lady who comes around with the powder for my mirror-like forehead. Yes, I miss that most of all. We were surrounded by camera, lighting, sound people, and even more people who were there just to help. Set-up and production time ran about four hours; I'm told that our segment of the completed show will be around five minutes.
Of course, the goal of this episode of
History Detectives
, is to establish whether the legendary gospel, blues and folk singer/songwriter/guitarist, Josh White, ever worked with Guild Guitar Company to build a prototype Josh White. But for that part, I'll turn the page over to Jay.

Part 2: Jay's Story
The Setup, Take 2
Last fall, I was sitting in my office when I got a call from one of the producers of the PBS television series
History Detectives
asking for "The Guild Guy."
It seems that a viewer had asked them to find out the story behind a particular Guild guitar that the viewer believed had been made for African-American folk singer Josh White and may have been the first signature guitar issued for an African-American artist.
I discussed the guitar at some length and shortly received photos and the all important serial number. Well folks, this was one unique instrument. It was clear from the first look that it was not a guitar that Guild ever put into production, but was, in the vernacular of the guitar professional, way cool.
The Guild
photo: Carolyn Weiss
I dated the guitar to 1965, got some measurements, and determined that this was an F-30 size body with what appeared to Brazilian back and sides. It had a classical style neck with a slotted headstock that joined the body at the 12th fret. The neck had a truss rod and fingerboard inlays that were normally reserved for the Guild F-612 12-string. This was clearly a unique instrument made for a specific customer. It was also likely that the customer was Josh White, since the Guild was very close in specs to the 00-21 Martin that he had played for years and the Ovation that later bore his name. "The game," as Holmes would say, "was afoot."
In the internet age it was amazing what could be found. There, on You Tube, were
several clips
of White playing an F-30 size Guild with a slotted headstock and 612 inlays. So, it was clear that Josh White had played this very guitar. So one part of the mystery had been narrowed down (if not solved).
I put the
History Detectives
folk in touch with Mark Dronge, a former president of Guild and son of founder Al Dronge. The show's researchers had been in contact with Josh White Jr., and it looked like the mystery would be solved
The Show, Take 2
Well, I flew to New York to tape a segment of the show with Stan Jay, the sole surviving Mandolin Brother, at his great guitar shop on Staten Island. The show got a twofer here—a noted guitar expert and a great location. There Stan and I first saw and laid our hands on the guitar. It was clearly what the pictures had shown and was, although in fairly rough shape, a beautiful instrument. The Brazilian was gorgeous.
After several takes of Stan and I "ooing" and "aahing," we discussed the uniqueness of the instrument on camera and had a swell time trying to get our "oohs" and "aahs" timed perfectly.
It turns out that the guitar was made for Josh White, but he and Guild never made an endorsement deal. He did later make one with Ovation and that may have been the first signature guitar with an African-American signature. You have to remember that signature guitars were not nearly as common in the 1960s as they are today. As an historian, my day job, I was struck by the fact that by 1965 a signature guitar for an African American was seen as a valuable or viable sales tool. The times were then a-changing; the 1962 Guild catalog could not be whiter, but by 1966 several African-American artists adorn the cover page.
The show aired for the first time on February 23, 2009 and features interviews with Stan and me, Mark Dronge, Josh White Jr. and others who can tell the tale of this unique instrument and the story of the remarkable artist who played it. And if you haven't heard Josh White's music or learned of his legendary life, get on it—I promise both to be worth the effort!