Introducing Three Trusted Companions
Gene Baker recalls his three go-to rigs from Roland, Centaur and Elmwood.
In the past year my musical travels have introduced me to a variety of new gear and club situations. I've played solo acoustic gigs where they basically want you to be background music – something I wasn't quite accustomed to; small restaurants with my band, where we all had to play acoustics just to keep the volume levels in check; average clubs where there's no need to mic your guitar rig; and nice-sized venues, warming up for bands like Thin Lizzy. Because there were so many different venues, I found myself constantly trying out different rigs, all in the search to find the perfect tool for the job. Now, I'd like to introduce you to three amps that I've had the pleasure of working with. These are not paid or free gear endorsements – these are all amps that I have purchased and that have performed when I needed them most.


The Roland CUBE Street
This is a tiny, little guy, capable of running on six AA batteries, making it a great camping/boating companion – of course, if that was all it did, you probably wouldn't see it on this list. It packs in two channels, with a third input for an iPod. The first channel is primarily a vocal channel (a mic/line input), with its own Volume, EQ and effects. Channel 2 is aimed at guitarists, but it is versatile enough to be used for any electrified instrument. The controls on this channel include Volume, Gain, EQ, two sets of effects and models of your favorite amps.

I've been using this amp for quiet acoustic gigs and it has been working like a charm. The "Acoustic Guitar" setting has a nice compression that keeps you from blowing out the dual 6.5" speakers, and it makes for a simple vocal PA in a snap. The built-in effects let you leave the pedalboard at home, making it great for small gigs and backstage warm-ups. The only things I would add to make this a complete package are a speaker on/off switch and a pole stand adapter, although I may be able to modify it for that.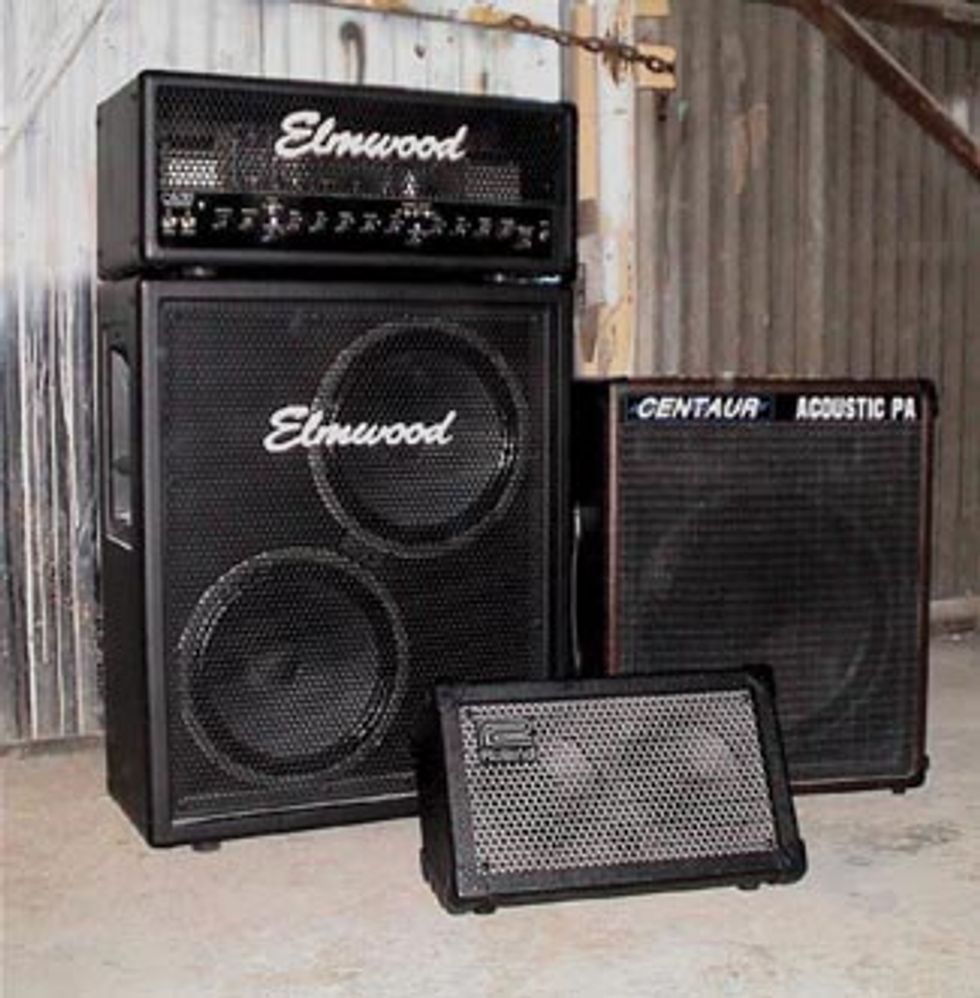 The Centaur A1525V
This Southern California-based company has made a name for themselves by producing an excellent line of acoustic amps. I originally found one used on eBay a year ago and have since upgraded to one of their newer amps, having been so impressed with the early model. Weighing in at 50 pounds, it packs a major punch in both volume and tone. Better yet, when it comes to acoustic/vocal reproduction, the A1525V is very honest – what goes in is what comes out. I use this amp for most solo acoustic gigs, but it even handles our three piece band, consisting of guitar, bass, electronic drums and three vocals. It definitely makes for a flexible rig – I've used it as a PA stage monitor and in a stereo guitar rig with an effects feed from my main guitar amp. With fat, clean reproduction of anything you feed it, it has become my Swiss Army amplifier. I wish it had a pole mount, but that's nothing I can't fix. If you're interested, check them out at centauramp.com


The Elmwood Modena 90
At one point during the year, I found myself searching for a smoking, all-in-one amp rig. I needed something with a big, warm, clean tone; a nice crunch tone; and capable of burning leads with a solo boost and effects loop. Fortunately I was introduced to the Modena 90, straight out of Sweden, through destroyallguitars.com. I love complexity served up simply, if that makes any sense, and the Modena does this nicely. It has two basic channels – Clean/Crunch, both with independent tone controls – and adds a second set of gain stages to each channel with two Master Volumes, essentially giving you six settings in two channels.

What I like the best about the Modena 90 is that it does its own thing – it's not an imitator. In addition, despite pumping out 90 watts of juice through two KT88s, Elmwood was able to keep the head smaller than a full-sized Marshall head. The clean channel can go from super clean to a hefty, defined crunch when the second gain stage is added. The Gain channel is borderline ridiculous, in a very good way. The first gain stage is enough to make any gain lover smile, and it can be dialed from percussive, crunchy rhythms to over-the-top leads. Toss in the second gain stage and hold onto your hair because you're going for the ride of your life. It cranks out more gain than I've ever heard, yet stays tight and focused. You may not need to throttle it up that high, but it's nice to know that it's there if you need it. If you have a police-calling neighbor, you'll want to stay away from Elmwood's website – elmwood.se.



---
Gene Baker
Any questions or comments visit
www.finetunedinstruments.com
www.meangene.org
email me at
b3gene@verizon.net
Fine Tuned Instruments LLC, home of his "b3" instruments.