Photo by Julia Marie Naglestad
After seven albums with her trio, the avant-garde Norwegian guitarist branches out and collaborates with the Trondheim Jazz Orchestra on a concept album, Maternity Beat, which explores themes of empathy and parenthood, inspired by displaced persons fleeing war.
For a stiff contraption of metal and wood, the guitar can convey an extraordinary range of human emotions. Combine it with an 11-piece ensemble and the options expand like a flower. Norway's Hedvig Mollestad, her blonde Gibson ES-335 in hand, revels in these myriad possibilities on her latest album Maternity Beat, a commissioned project with the Trondheim Jazz Orchestra. (Previous TJO guest collaborators include Chick Corea and Joshua Redman—not too shabby.)
It's a logical progression. Over the course of seven albums for Rune Grammofon since 2011, the Oslo-based Mollestad remained focused on the decidedly rock-edged sound of the Hedvig Mollestad Trio, with Ellen Brekken on bass and Ivar Loe Bjørnstad on drums. Then came a shift in 2020, which led to the release of two solo albums, Ekhidna and Tempest Revisited (2021), also for Rune, that changed the sonic equation.
Instead of electric bass, Mollestad recruited two keyboardists for Ekhidna and added trumpet. On Tempest Revisited, the lineup grew to include three saxophonists and two drummers. She may not have known it right away, but she was laying the foundation for Maternity Beat and the expanded sound world made possible by the TJO.
Hedvig Mollestad & Trondheim Jazz Orchestra - All Flights Cancelled
Part of the catalyst was motherhood and the huge personal and professional changes it can bring. "My first child was born in 2015 and the second in 2017," she explains. But more than this, it was the plight of migrants, including many children, during this same period that triggered Mollestad's artistic response. "At that time, it was mostly people fleeing the Syrian war," she observes, "and a lot of them came to Norway. They were treated in a harsh manner, picked up in the middle of the night and driven up north where the weather was minus 40. It was so inhumane. This was happening while my children were very small, and it had a big impact on me."
The disconnect between this hardship and her own relative comfort proved jarring for Mollestad and others in her circle, and it prompted a search for new modes of expression. "You go around in your perfect everyday mood, happy to play with your children while people are experiencing real traumas so close to us. I wasn't doing anything in particular, except thinking about it. So, it made me wonder: What is caring for other people? What is it that makes us care? Do we have to be parents? What does it take to care for another's child? The title
Maternity Beat
grasps at our only common experience, that we are all born from someone. It's not an homage to perfect parenting or motherhood, but it comes from an experience of deep caring, and a kind of awakening on the question of what makes us care, what makes us act."
"It's so dangerous to play in a band with Ståle because he's such a box of extreme surprises and wonderfulness that you really have to step up and get your game on to match what he's doing."
To convey any of this, Mollestad realized, she needed words. And so, as a first, she wrote lyrics. More than sung melodies, they are mainly short spoken-word passages voiced by Mai Elise Solberg and Ingebjørg Loe Bjørnstad. At times the two also harmonize wordless melodies as part of the orchestra (joined by Mollestad herself on the culminating epic "Maternity Suite"). "Is there a boat on the horizon?" they intone on the album's leadoff track. "With mothers and children and fathers? … / Life is all they bring / Life is all we bring."
It wasn't just the heightened turmoil of this period that led Mollestad away from the direction of her trio. "I'd always been true to this guitar-only concept," she says, "but I found myself wanting to break it up a little more." This didn't necessarily mean downplaying the guitar, but rather featuring it in different settings to explore its capabilities more fully. In this respect, she mirrors the influence of a major role model, veteran ECM recording artist Terje Rypdal.
Hedvig Mollestad's Gear
Mollestad uses various Fender amps on tour, but her go-to setup is an early-'70s Fender Dual Showman Reverb atop a 2x15 cabinet.
Photo by Julia Marie Naglestad
Guitars
1988 Gibson ES-335 Showcase Edition (modified with'57 Classic pickups, Bigsby tremolo, gold hardware)
1970 Gibson ES-335 (for "On the Horizon, Part 2")
Gibson ES-345
Amps
Close to home:
Fender Dual Showman Reverb, 2x15 cabinet (approx. 1972)
For the road (options requested for backline):
Vintage Fender Super Reverb
Fender Bassman with 4x10 cabinet
Fender Deluxe Reverb
Orange Rockerverb 100 MKIII
Effects
EarthQuaker Palisades V2 Overdrive
Vulk Audio Germanium Fuzz
Boss TU-3 Chromatic Tuner
Moog Moogerfooger
Empress Superdelay
Boss DD-7 Digital Delay
Ernie Ball volume pedal
Roland EV-5 Expression Pedal
Strings and Picks
Elixir or Ernie Ball, .011–.048
Dunlop 1.0 mm (default)
Dunlop Jazz III 3 mm (for jazz)
Dunlop .73 mm (for strumming)
One priority was moving away from electric bass—and yet Brekken, who had always doubled on upright bass with Mollestad's trio for the more jazz-oriented numbers, had made herself indispensable enough to get hired on upright for Maternity Beat. "It's easy for a guitarist to play with bass guitar," Mollestad maintains. "It's the same kind of riffing, the same kind of fingering, and it's beautiful, but I wanted to move away from that, which is why I first chose the double keyboards on Ekhidna. But I still needed Ellen's presence on Maternity Beat. Her sound is so full, and her beat is so concise and steady, and I really needed her energy. It was also nice to involve her in such a personal project because we're close friends."
On keyboards, Mollestad brought in the formidable Ståle Storløkken, from the influential electro-acoustic improvising quartet Supersilent. Storløkken's toolkit includes otherworldly synths, warm Rhodes textures and a raw, earthy Hammond organ that can recall Jan Hammer with John Abercrombie on Timeless (or perhaps Larry Young with the Tony Williams Lifetime).
When she spoke to Premier Guitar, Mollestad was on the road with Storløkken as part of a new trio called Weejuns (a play on "Norwegians"). "It's so dangerous to play in a band with Ståle," she says, "because he's such a box of extreme surprises and wonderfulness that you really have to step up and get your game on to match what he's doing. There are so many beautiful details coming out and he's so musical. You can't dwell on your choices when you play with him, you just have to act."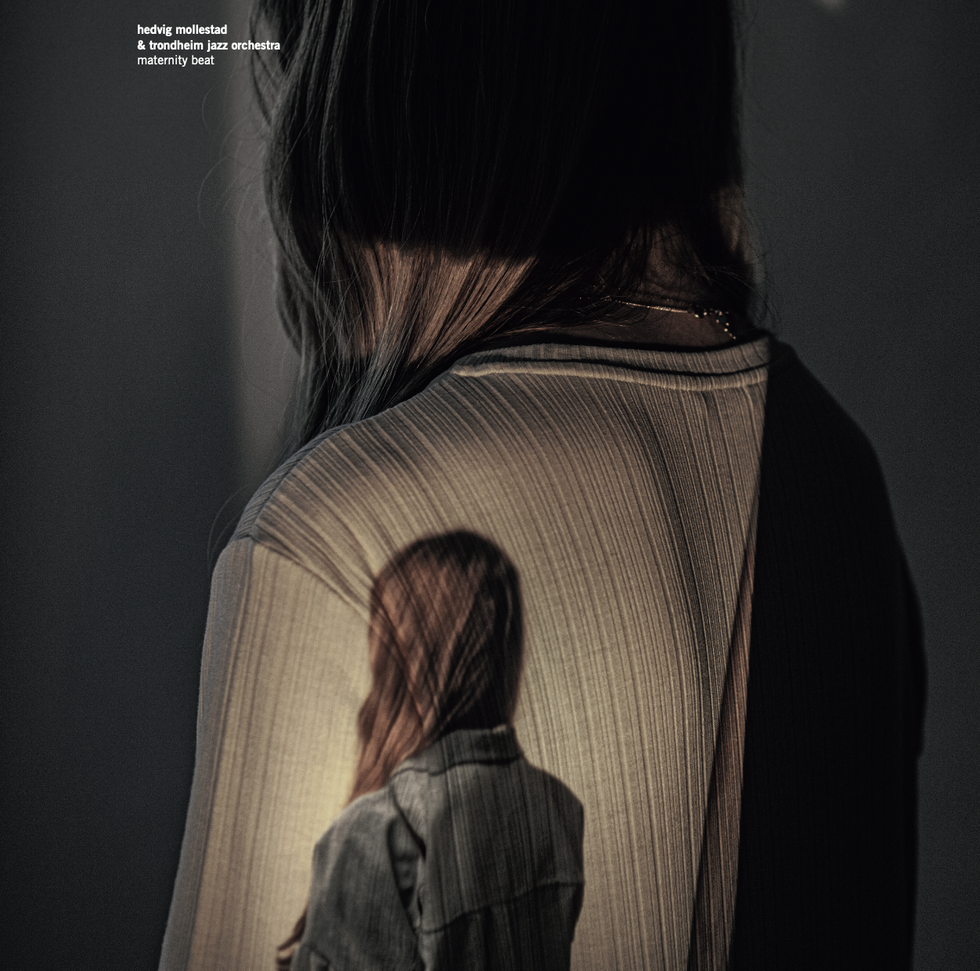 Hedvig Mollestad's Maternity Beat is a collab with the Trondheim Jazz Orchestra. Mollestad was moved by the plights of refugees and wanted to explore themes of empathy and how that relates to parenthood.
While Maternity Beat is a departure, one thing that hasn't changed for Mollestad is her main axe, the semi-hollow ES-335, chosen precisely for its versatility in jazz and rock settings. That plus vintage Fender amplification and a pedalboard full of fuzztones and delays keeps Mollestad in her happy place. "I need my tuner," she clarifies, citing fairly extensive use of the Bigsby tremolo arm, which can wreak havoc during a set. "Also, with the trio there are songs where we have to tune to drop D in the middle of a song. In 'Leo Flash' Return to the Underworld,' for example, we have to retune on the last drum break."
In aesthetic terms, Mollestad wanted her encounter with the TJO to depart from a mainstream big band sound. To that end, she enlisted not only Storløkken but violinist Adrian Løseth Waade and flutist Trine Knutsen as prominent melodic voices to supplement the guitar, two saxophones, and trumpet. There are complex, meticulously-notated lines and counterpoint but also room for the breath and collective release of improvisation. Elements of chamber music, prog rock, and fusion intermingle as Brekken, drummer Torstein Lofthus, and percussionist Ingvald André Vassbø lay a robust rhythmic foundation.
"You go around in your perfect everyday mood, happy to play with your children, while people are experiencing real traumas so close to us."
Mollestad's guitar is a shapeshifting constellation of sound, from the crunchy overdriven speed-riff of "On the Horizon, Part 2" to the fractured, echoing wails of the markedly dissonant, slow-grinding "Do Re Mi Ma Ma." Her glassy, expansive chording meshes with Storløkken's eerie melodies in a marvelous five-minute duet that opens the title track, before a transition to some of the richest ensemble orchestration on the album. And on "Maternity Suite," she goes full-on arena rock, with big anthemic chords that give way to a striking and truly imaginative flourish: a unison passage for fuzz guitar and flute.
"All Flights Cancelled" is an outlier, a song conceived for (and recorded by) Mollestad's trio but reworked for Maternity Beat as the one track without the full TJO ensemble. "I felt that we really needed a combo piece," she explains. "The album starts with dark, heavy emotional stuff and then this song is a little break in the middle, a fun song to play, focusing on Ståle with [Torstein and Ingvald] both playing drum sets."
Mollestad switches up her picks depending on what she's playing. Her default is Dunlop 1 .0 mm, but she'll use a Jazz III for jazz runs, and a .73 mm pick for strumming.
Photo by Arne Haug
Amid the lyrical guitar balladry and lush ensemble adornment of "Her Own Shape," the voices return, reciting words on what Mollestad calls parenthood's "extreme gift and responsibility." "My cell within me / Will split to become larger / Part to become stronger," they speak about watching one's offspring separate and blossom.
"It's so strong and sad at the same time," Mollestad says, "because they will always be your biggest concern and you will carry it with you everywhere. At the same time, they're here to live their own life. And they are perfect as they are. You don't have to interfere at all because they're the most equipped to be perfect people. You just have to be yourself because that is what they need from you."
But how to get through those difficult moments? On "Little Lucid Demons/Alfons" Mollestad recommends a way forward. In unison and with impeccable timing, Solberg and Bjørnstad offer a staccato pep talk of sorts for when the kids "pull your hair for you, and paint it gray." Think of everything, they suggest, in terms of music:
look for swing
look for flow
look for beat
and then
take it away.
Hedvig Mollestad Trio - Beastie, Beastie (Live)
Photo by Claudia Sangiorgi Dalimore
The Melbourne-based soul quartet used layered bass tracks, a pointy headstock guitar, old solid-state amps, samples, countermelodies, strange syncopations, and a Brazilian composer to create the complex and colorful Mood Valiant.
According to Paul Bender—bassist for the trippy yet eminently soulful Melbourne-based quartet, Hiatus Kaiyote—the band's live sets often meld into one continuous song. "I never really get a break in the set because we always play all our tunes together for some reason," he says. "I basically never stop playing. I don't have a moment where I am not doing something at any point in the set."
This all-in, throwdown approach is intrinsic to understanding what Hiatus Kaiyote is about. They'll follow an idea, no matter how obscure or complex, wherever it leads, which creates a through-composed structure that gives their music an otherworldly feel. They do have more conventional verse/chorus-type songs as well—"Chivalry Is Not Dead," and "Red Room" off their latest release, Mood Valiant, for example—but even there, the music oozes a loose, what-are-these-amazing-sounds-I'm-hearing energy.
Hiatus Kaiyote - 'Red Room' (Official Video)
Hiatus Kaiyote formed in 2011 and earned Grammy nominations in the R&B category for each of their first two releases before going on what was supposed to be a short hiatus in 2017. But that break seemed to extend indefinitely. During that time, lead singer and guitarist Nai Palm (born Naomi Saalfield) had a terrifying brush with breast cancer (now in remission). Then, with Mood Valiant almost completed, COVID hit and put everything on hold. Although for them, the silver lining was that they were able to isolate together. "We were wrapping it up when that shit went down," Bender says about the final sessions for the album. "We went into the bunker together. It kicked our ass into finishing the record, because there was nothing else to do."
"The biggest part of my attraction to guitars I like is the playability. If it feels good to play, I'm more likely to be motivated to write on it." —Nai Palm
Mood Valiant is the quartet's third full-length and continues their seemingly effortless fusion of jazz-like harmonies, electronic textures and patches, and subtle-yet-funky grooves. Added to the mix are lush string and horn arrangements from Brazilian composer Arthur Verocai (more about him in a minute), and an adventurousness that seems almost prog, as heard on songs such as the whirling and unpredictable "Rose Water," the beautiful piano ballad "Stone or Lavender," and the aforementioned experimental-yet-grounded "Chivalry Is Not Dead."
Bender is a driving force behind the band's groove. He's officially the bassist, but in addition to holding down the low end, he also covers upper-register chordal work—timbres and tones you'd expect from a guitar—as well as more ambient and spacious synth-like textures. He's not the band's only multitasker. Drummer Perrin Moss plays on a mutant kit that resembles a cross between a standard jazz-type setup with a large assortment of acoustic noisemakers, electronics, and keys. Keyboardist Simon Mavin lives in a space that combines vintage gear, samples, and modern pads, and Palm is guitarist and lead singer, although she'll often put the instrument down to focus on her complex and harmonically rich vocals.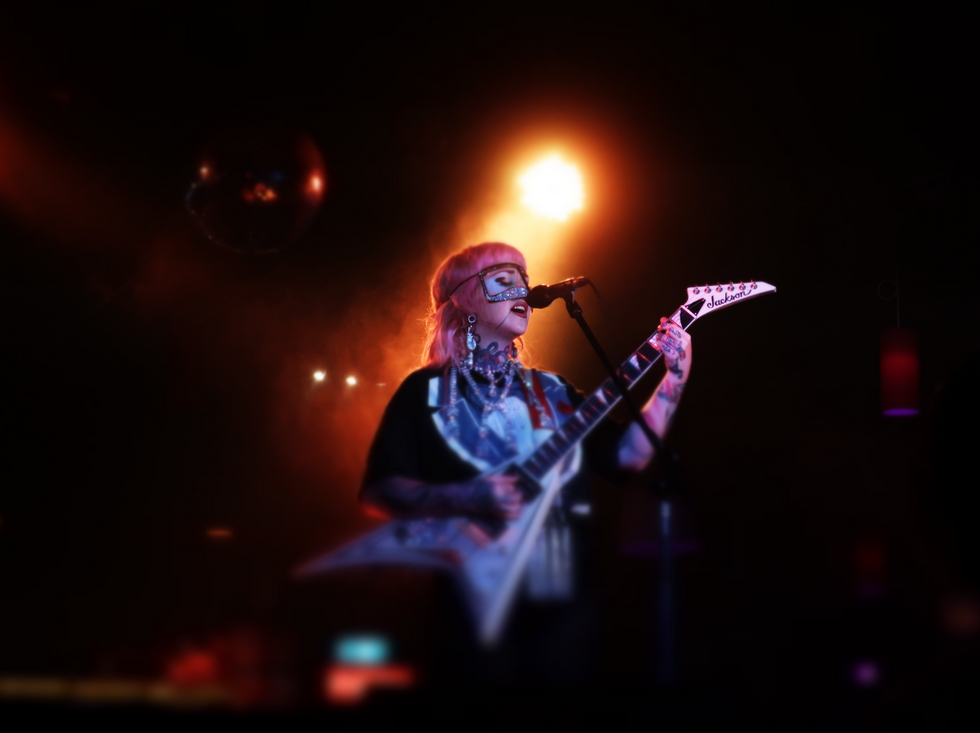 Nai Palm subverts expectations—and makes a big style statement—by playing "gentle shit" on her Jackson Randy Rhoads V RRT3 Pro Series.
Photo by Stephan De Witt
"When I write songs alone from scratch, it's usually on a guitar," she says. "A big part of the motivation to play or not play depends on how the song feels emotionally, performance-wise. Guitar is super cerebral and focused, which I adore and I find a lot of freedom in, but it can be limiting singing because your brain is essentially doing two separate tasks. It's fun to keep my options open and not just be stuck to one thing."
Given the band's multidimensional spirit, it's no surprise that Bender has deep roots in various disciplines. His earliest experiences as a youngster were playing metal and grunge, but at one point he was halfway around the world, studying jazz at the University of Miami and cutting his teeth on upright bass.
Paul Bender's Gear
Bender's behemoth of a pedalboard.
Bass
Ernie Ball Music Man Bongo 6
Amps
Ampeg SVT heads and cabs
Vintage Coronets
Strings
Ernie Ball Slinky Long Scale 6-String Nickel Wound Electric Bass Strings (.032–.130)
Pedals
3Leaf Audio Octabvre
3Leaf Audio Wonderlove Envelope Filter
3Leaf Audio You're Doom Dynamic Harmonic Device
Chunk Systems Brown Dog Gated Bass Fuzz
DigiTech X-Series Synth Wah Envelope Filter
DigiTech Whammy
Ernie Ball VP JR Volume/Expression Pedal
Mooer Lofi Machine
Mooer Yellow Comp
MXR Bass Octave Deluxe
MXR Carbon Copy Analog Delay
MXR M109S Six Band EQ
MXR Talk Box
Roland RE-201 Space Echo
TC Electronic PolyTune
ZVex Box of Rock
"I don't really play the upright that much anymore," he says. "But there was a good period of time when that was my whole bag. I was really into playing upright—walking bass, changes, standards, all that stuff. I definitely went down that rabbit hole pretty hard. It's pretty unforgiving when you step away for a while. It is a distinct physical challenge, and there's a particular double bass fitness that you've got to maintain. You can't really put it down for a couple years and then expect to be any good at it again."
He stopped playing jazz around the time he joined Hiatus Kaiyote, although that's only broadened his horizons, as the band's music draws from so many disparate sources. The challenge, however, isn't just weaving those different pieces together. It's also pragmatic: reproducing their multilayered arrangements in a live setting as a four-piece.
"There is something lovely and distinct about the bass having a chordal function." —Paul Bender
"Simon's only got so many fingers that he can use to play different sounds," Bender says about recreating keyboard parts on bass. "Sometimes I'll try to cover a certain countermelody idea or a chordal idea on the bass, as well as provide the bass function. That can definitely inform the parts that I write. Sometimes it happens in the reverse, where we produce a track where I might have played a regular bass part, but then there will be a bunch of overdubs and a bunch of different things happening, and it's got to be filled out a little bit more. That might change how I approach the bass part in a live context. There are times where I like doing a regular kind of bassline, but I also love getting into the chordal thing, especially when you get into 6-string territory. There is something lovely and distinct about the bass having a chordal function. It can be a really awesome flavor."
But sometimes, the challenge is in the basslines themselves, like when the recorded version is a studio creation of multiple parts stitched together.
TIDBIT: The band flew to Brazil to record composer Arthur Verocai's string and horn arrangements for the songs "Get Sun" and "Stone or Lavender."
"I've definitely done stuff where I've done weird hybrid things," he says. "I'll make a bassline that is comprised of multiple basses making up the whole thing, which is fairly elaborate and stupid, but such a fun approach. I did that on the first record, Tawk Tomahawk, on that track 'Mobius Streak.' I had a Gretsch Electromatic on 'Chivalry Is Not Dead,' from the new record, in the verses, and a Kiesel fanned-fret, super-modern bass, because it has that super-aggressive top-end-y modern thing for the slap bass shit. On the recording, I do a lot more honing in on specific things. That's the time to pull out the very specific colors and accents that different basses give me."
But Bender's only interested in using a varied assortment of instruments when he's in the studio. Once he hits the highway, he's a minimalist and relies on one axe: a blue Ernie Ball Music Man Bongo 6. "I am not taking eight basses on the road," he says. "I am taking one, because … come on. We're not at that level of touring yet where I've got some guy at the side of the stage waiting to run out to hand me another bass for this song. I am not in Radiohead, which would be fun, but that's the pragmatic reality of it."
"I'll make a bassline that is comprised of multiple basses making up the whole thing, which is fairly elaborate and stupid, but such a fun approach." —Paul Bender
"It was partially due to [singer/songwriter and guitarist] Lianne La Havas, who called me on her birthday, drunk from Costa Rica, while I was looking for a guitar," Palm laughs, explaining how she ended up with her white Jackson V. "I went into the heavy metal guitar section to get some space to hear her, and after the call thought, 'Fuck, I'm going to try the spiky Randy Rhoads guitar.' A big part of the attraction was its playability. The action was great and I loved that you can get both a clean and gritty sound from it. I have super-little hands, and the D'Angelico—although it was a vibe—was super heavy. The biggest part of my attraction to guitars I like is the playability. If it feels good to play, I'm more likely to be motivated to write on it. I also love the juxtaposition of playing gentle shit on it. It pisses off the purist metal heads, but I like to think outside of the box." Palm prefers to pair her pointy Jackson with a Fender Twin Reverb.
When Palm plays guitar, she also only uses one instrument. For most of the last decade, that was a custom semi-hollow D'Angelico EX-SS, although a few years ago she made a radical switch, which, for the music she plays, is seemingly incongruous.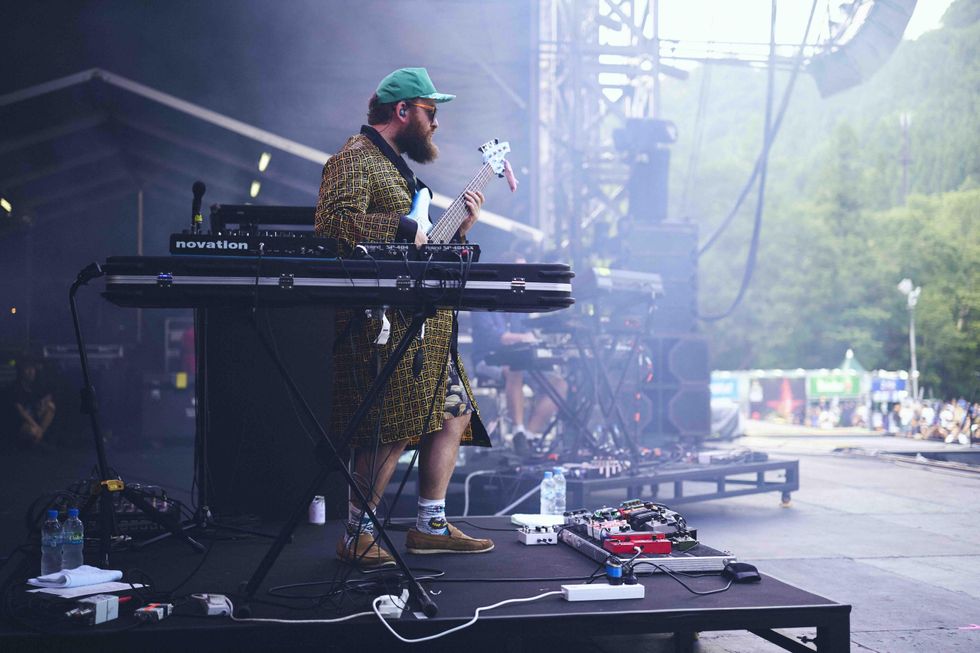 Paul Bender loves to experiment with basses and amps in the studio, but when it comes to playing live, he keeps it simple and relies upon his Ernie Ball Music Man Bongo 6, which he prefers to play through an Ampeg SVT.
Photo by Luke Kellett
For Bender, using different basses and layering parts is just one part of his unique approach to the studio. He also has a fun time with amps. On the road, he's content to rent an SVT—or comparable refrigerator-like unit—but in the studio, his mission is clarity and definition.
"If I've got to pick one amp to run the bass through, I am not going to go for a big amp," he says. "I have been getting into these little Coronet amps. They are quite small, and I am not going to blast the bottom end through it." The point is using the smaller amps—in this case, solid-state models from the '60s and '70s—to focus on details and relying on the direct line for the sub frequencies. "The interesting part of the sound, or the flavor, is more that midrange and presence you get pushing it through a smaller amp like a Coronet. I am trying to hear the distinct detail in what I am playing, and the fingers and the touch and the presence. Smaller amps are great when recording. It's a whole different realm. When I am doing a gig, I might be standing in front of the fridge, but in the studio, sometimes the smaller the amp, the better. It condenses the most interesting parts of the sound to that one little speaker."
Nai Palm's Gear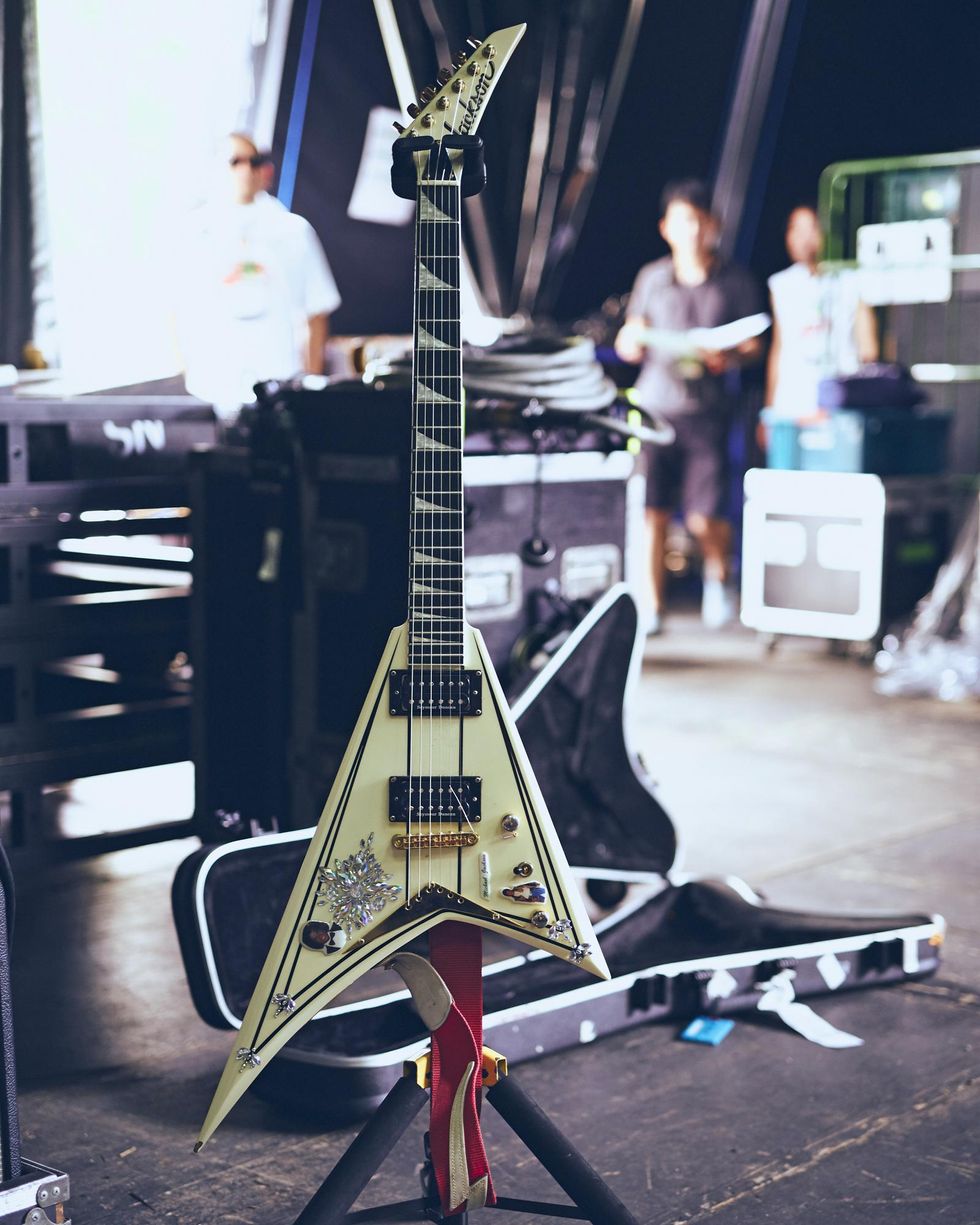 Photo by Luke Kellett
Guitar
Jackson Randy Rhoads V RRT3 Pro Series
Amp
Strings

Ernie Ball Super Slinky (.009–.042)
Ernie Ball Regular Slinky (.010–.046)
Pedals
Electro-Harmonix POG2
Kink Guitar Pedals Straya Drive
Mooer Yellow Comp
MXR Echoplex Delay
MXR Reverb
MXR Sub Octave Bass Fuzz
MXR Uni-Vibe
TC Electronic PolyTune 3
Hiatus Kaiyote don't have many peers when it comes to their aesthetic and overall approach, although they did find a simpatico creative partner in legendary Brazilian composer and arranger Arthur Verocai, who contributed horn and string arrangements for "Get Sun" and "Stone or Lavender" on Mood Valiant. "We're kind of musical loners," Palm says. "If we work with someone creatively, they have to be able to contribute something uniquely themselves. He was the cherry on top of our album, and it really made the record sing."
To work with Verocai, the band flew to Brazil, played a few shows to cover costs, and met up with him. As it was, showing up in the studio in Rio was not only the first time they met, but the first time they heard his arrangements. It was a risk, but they weren't disappointed.
"If we work with someone creatively, they have to be able to contribute something uniquely themselves." —Nai Palm
"He had a really awesome energy," Bender says. "We got to know him during the session and got to see him at work conducting and rehearsing and recording the ensemble. It was great. We had no idea what he was going to write at all. We thought, 'Hopefully it is going to be cool and we're all going to love it, because otherwise it is going to be fucking awkward if we don't.' But he nailed."
There is a limit to how far Hiatus Kaiyote are willing to push the envelope. Sure, they'll obsess over tones, allow their songs to take them on intricate musical journeys, partner sight-unseen with Brazilian composers, and fly across oceans to collaborate. But they're still an Australian-based band, and there's only so much stuff they're willing to take on the road.
"Fuck flying from Australia with a bass amp," Bender says. "That's a horrible idea. Although if we were Iron Maiden and we had our own plane, that would be a whole different jam."
Hiatus Kaiyote: Tiny Desk (Home) Concert
This high-octane, swirling Jersey bruiser offers a gnarled take on a phase/fuzz combo platter.