James Burton International Guitar Festival 2009
Highlights from the 2009 James Burton International Guitar Festival
The weekend of August 21-22, I had the pleasure of attending the
James Burton International Guitar Festival
this year down in Shreveport LA. If you're unfamiliar, Burton is a living legend who played guitar for Rick Nelson, John Denver, Emmy Lou Harris and a kid from Mississippi named Elvis. Every year, James puts on a guitar festival to raise money for the James Burton Foundation, which buys guitars for and provides music lessons to underprivileged kids, veterans, and children's hospitals.
This year's festival featured an Elvis theme to commemorate the 40th anniversary of James' work with the King. It was also a celebration of his 70th birthday. Highlights included the presentation of an orange Gretsch Brian Setzer Model 6120 from Artist Relations representative James Pennebaker to Burton and a world-record attempt for most simultaneous guitar players playing "That's Alright Momma" and "Hound Dog." The attempt fell short, but it was a great experience for the 900+ participants.
James always finishes out the day with the James Burton and Friends concert at the Memorial Auditorium. This theater is where it all began for James, Elvis, Conway Twitty and many, many others. This year's lineup was amazing. Only James Burton could gather up such a diverse lineup of guitar players and have them mesh so well under one roof. The group consisted of: Nokie Edwards, Doyle Dykes, Junior Brown, Al Di Meola, David Grissom, Albert Lee, Kenny Wayne Shepherd, Jennifer Batten, and Steve Lukather.
I had the pleasure of hanging out backstage with this amazing lineup of players. Surprisingly, I learned that everyone came down at their own expense, eager to help this cause and support James Burton. The mood backstage was very light—you could see Steve Lukather, Albert Lee, and Junior Brown just hanging out, joking and teasing one another. There were no egos and all the performers hung out offstage to watch each other's performances.

An earlier version of this article incorrectly identified James Pennebaker as the President of Fender. The President of Fender is Bill Mendello. We apologize for the error, and thank James for bringing it to our attention.
Click next for highlights from the show...
Of course, there were many standout performances. Jennifer Batten did a rocked-out version of Michael Jackson's "Beat It" with Steve Lukather looking on—big smile on his face—as she changed up the riffs he originally recorded.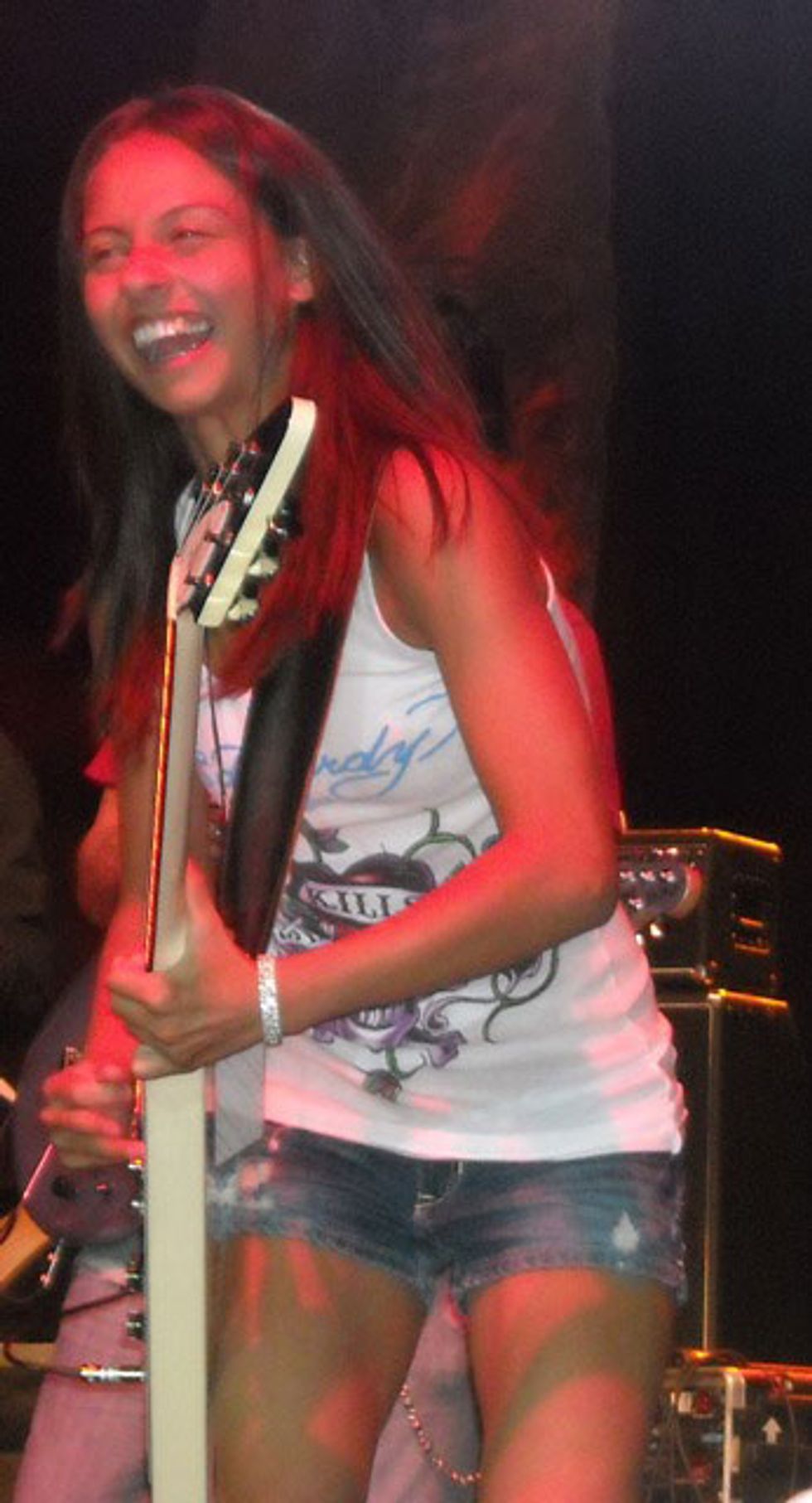 James also introduced new up-and-coming talent in a energetic guitar player by the name of Kristen Capolino. This girl can shred with the best of them and do it all while stomping around the stage like Angus Young and shooting you the biggest smile you have ever seen. Kristen was followed up by an amazing singer named Mike Farris whose performance got the crowd on their feet stomping and waving their hands in the air like we were at a church revival. Andy Chrisman, who's an amazing Christian artist, picked up right where Mike left off and delivered a heartfelt performance that left everyone smiling.
Al Di Meola's set was, as you could expect, out-of-this-world good. He played a rendition of "Over the Rainbow" that had everyone on their feet. His new rainbow-finished PRS signature guitar is amazing to see up close, and its tone is like no PRS I have ever heard.
Albert Lee delivered all of his chicken-pickin' goodness and Junior Brown laid down some rocking blues, followed up by Kenny Wayne Shepherd giving us a slice of the blues that only a real blues man from Shreveport can cook up: hot, spicy and good.
James Burton came out and did a couple of numbers with his son Jeff Burton, his granddaughter Taylor, and grandson Skylar, all of them playing guitar and trading licks.
During the course of the day, Steve Lukather kept saying, "How do you go and play after these great performers?" He was scheduled to perform last and close the show before the All-Star Jam. All day he was stressed that his set would not live up to the performances he saw earlier—this from a guy who has won five Grammys, has been nominated 11 times, and has recorded on over 1200 albums!
But when Steve hit the stage, there was no doubt that he had fans waiting just to see him. Every performer who played that day stood and watched his set. Al DiMeola sat on the edge of his seat watched Steve like he was a kid watching his favorite program. Steve is one of the best guitarists I have ever seen live. He plays with so much emotion and you feel every note he plays, yet is still one of the most down to earth, easygoing guys you'll ever meet.
During his third song, he stopped in the middle of his solo and stated to the crowd that he wanted to bring James out and jam with him. You could tell that James did not expect this invitation, but he went out and the two of them traded licks. It was the perfect climax to a show that was already full of great performances.
The night concluded with the All-Star Jam. All of the performers let each other take their solos, and you could tell that none of them wanted the show to end. There were too many standing ovations to count, and the people in attendance walked away knowing they just saw something special that would never be recreated again.
I have known James and his family for a while, and when you're around them they make you feel like a member of their family, they have so much love and positive energy to share. Everything they do, they do with heart. When you attend the James Burton International Guitar Fest, you get more out of it than just a good show and the satisfaction that you're helping out a worthy cause. You get to be a Burton—if only for a day.
James Burton International Guitar Festival