Readers respond to the December 2011 issue.
Cheers For Chet and CMHOF
Great article on Chet Atkins ["CountryGentleman"December2011]! This photo is of a guitar owned by one of my clients, it's one of the only Chet protos … check out the top—no F holes ... If you want to contact him let me know.
—Tracy Longo
via email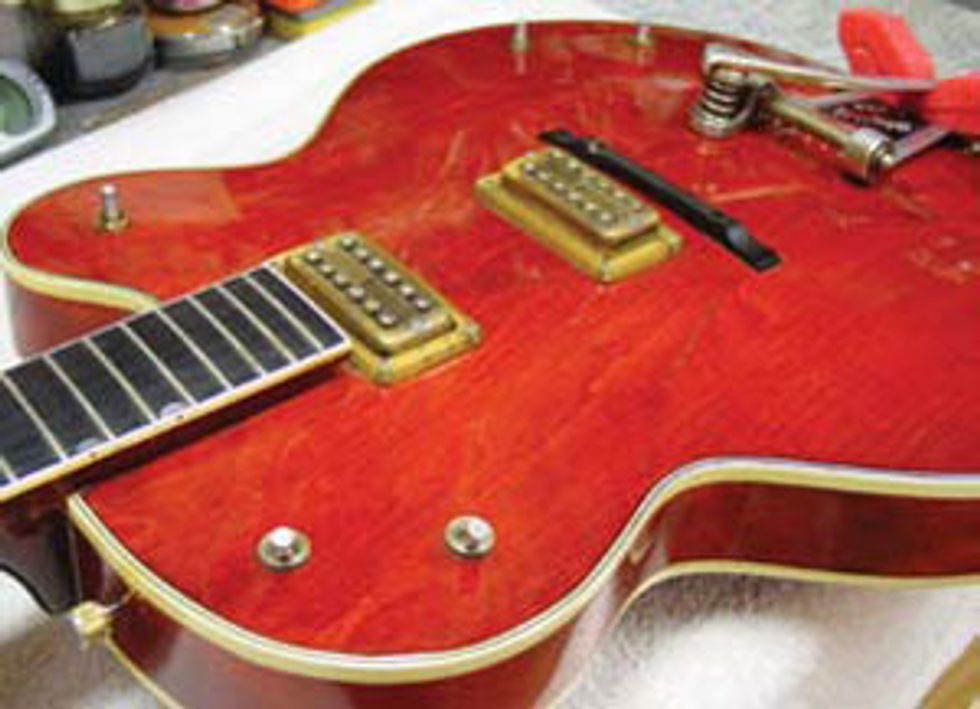 Whoa—sweet guitar! We may just take you up on that offer. Thanks, Tracy!
Rare CuNiFe Pickup Repros
Great article ["How to Install a ReplacementPickup," December 2011]. Very helpful and informative. I'd like to add that a company called Telenator offers real CuNiFe repro Wide Range humbuckers that are so close to the vintage originals that they're practically NOS. One main difference addresses the polarity issue in your article: The Telenator lead has two conductors and a braided shield, making polarity matching a snap.
—Bob
via premierguitar.com
Thanks for the compliments—and for passing along this cool lead, Bob! (Ha—pun intended) You've piqued our interest. We'll have to check them out.
Throwin' the Horns
I recently started reading Premier Guitar, and I'm really impressed with how much quality magazine you get for such a low price! Great job, guys—keep it comin'. \m/
—Tony Pilon
via Facebook
Thanks, Tony. \m/ right back at you!
GaGa for Gear>
Love Premier Guitar. Especially video gear reviews. I research the heck out of gear. These really help. I usually don't go mainstream and have to order gear sometimes before I try it out. Usually not a good thing to do! Keep up the great work!
—Paul Orr
via Facebook
Thanks Paul, we're glad to hear that our hard work is helping. OK so it's not always work, but we always work our hardest to get it right.
Score One for Epis as Treasures
I gotta give Premier Guitar a big thumbs up. It's consistently jam-packed with usable info and cutting-edge reviews.
Regarding Epiphone vs. Gibson, November issue, page 68 [
"Gibson vs. Epiphone: Are Wethe Ones Being Elitist," November 2011
], as a newer convert to Epiphone, I've learned—via personal experience and the excellent Gibson/ Epiphone customer service team—a few more distinctions between the two brands.
Epiphone is currently manufactured in China, but in its own plant with its own staff and quality-control department.
Epiphone finishes are super-hard polyurethane. Gibson uses traditional nitrocellulose.
Epiphone pickups are built with materials sourced from that part of the world. They are built to the manufacturer's spec, but there are bound to be differences in source material.
Epiphone guitars often have big, fat, D-profile necks that are well suited to my big, fat fingertips.
Having bought several new and nearly new Epiphone guitars (a Riviera Custom P93, Firebird VII, Nighthawk), I've been impressed with their overall build quality, tonal versatility, ability to play and stay in tune, and—in the one case where I needed a new part—their quick, no-hassle customer service. No longer do I regard Epiphone as a cheapie, low-end student line.
—Tom Shaw
Lakeland, Florida
So glad to hear you dug Zach Fjestad's November column, Tom. Like you, we're often blown away by the quality of many affordable instruments these days, and plenty of us have had to revise decades-old mindsets to jive with today's more precise and consistent production methods and standards. Regarding your statements about Epiphone, we ran them by the company's president, Jim Rosenberg. Although he added some nuance to a couple of small points, the gist of what you said seems pretty accurate:
"Epiphone owns two guitar factories in China that produce the bulk of our guitars. These factories produce 100 percent Epiphone product. At these factories, we have our own staff and QC departments, as well as engineering, purchasing, etc. We also have OEM factories to make some of our guitars, because our two factories cannot produce enough guitars to meet demand or to meet certain needs. Our guitars are currently made in China, Indonesia, and Japan. In general, we use urethane [for finishes], which is considered to be softer but more abrasion resistant and durable than nitrocellulose lacquer. Our factories have state-of-the art electrostatic finishing systems that allow us to apply a very thin coat while reducing waste (overspraying) and airborne matter. All our pickups are built to our specifications. Our guitars use a combination of pickups made in Asia and made in the USA (at Gibson, for example), depending upon the model. Materials for our Asian-made pickups are sourced from many locations, depending upon the particular component. The neck found on most Epiphones is our historic "SlimTaper" D-profile neck, which I would not consider big or fat—it's more of a medium-sized neck that most players find very comfortable. We do make a more rounded D-profile neck, such as those originally used in the 1950s, on certain models. We also have a very thin neck called the "SpeedTaper," as found on our Prophecy collection, as well as V-shaped necks on some of our Masterbilt acoustics."