Line 6 set the guitar world on its collective ear when they unleashed the original POD in 1997. At the time, walking into any recording studio, guitar shop or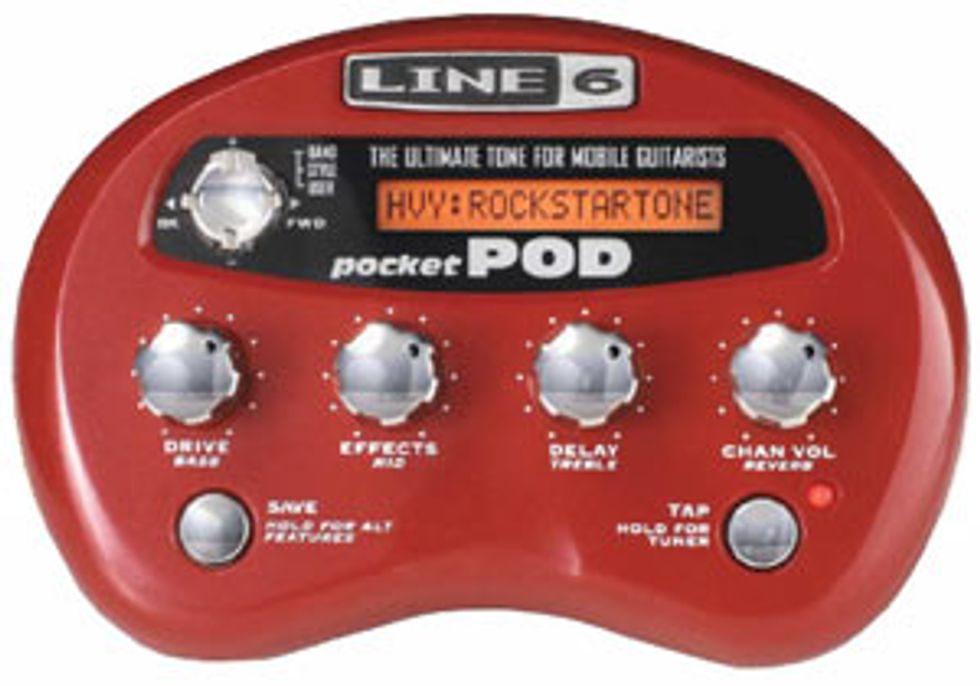 Line 6 set the guitar world on its collective ear when they unleashed the original POD in 1997. At the time, walking into any recording studio, guitar shop or early adopter's home resulted in one or more of the red, kidney-shaped oddities being thrust into your face, immediately followed by the inevitable proclamation of, "It sounds exactly like an amp!"
Demonstrating that the trickle-down theory is at work and thriving in the world of consumer electronics, the Pocket POD provides the same 32 amp and 16 effects models available on the POD 2.0 in a pint-sized package, but giving up some indepth, standalone editing functions in the process. Basic amp models can be edited and saved easily enough, but getting down and dirty with cabinet emulation and detailed effects parameters requires the freely downloadable Vyzex software.
Sans software, setting up your own sounds and saving them is a breeze and won't even require skimming the manual for previous POD owners; although, like my experience with previous versions of the POD, I found it easier to start at the point where I wanted to save, rather than try to move my new sound to another preset.
The Vyzex software is easy to use and also enables the user to add presets created by other PODites, downloadable via Line 6's CustomTone.com site. Once the Pocket POD is attached to the computer via the included USB cable and the Vyzex software is launched, loading up downloaded presets is as easy as clicking the OPEN button under the L6T menu up top, then saving by pressing the SAVE button on the POD itself.
Crafting homebrew patches with the Vyzex software is just as easy; start off with an amp model on which to base your sound, tweak every other parameter – cabinet emulation, effects, effects order, reverb parameters and about a million other things – to your heart's content, and when everything is buttoned up, hit SAVE on the POD. All edits to the software are sent back to the POD so having speakers or a headset plugged in to the unit will allow you to monitor your editing progress.
The Pocket POD sounds really good, and spending some time fine-tuning your own presets is rewarded with tones that can work really well in home recording situations, for quickly knocking out arrangements on larger projects or simply for an inspired practice session. Does it sound
exactly
like a Boogie or a blackface Deluxe or a JTM45? No, it doesn't, but it can sound
really
good, particularly in its ability to obtain an almost ideal tonality for a particular track with an absolute minimum of fuss. Simply set up a few in-the-ballpark presets, i.e. Fender-y clean, Marshall-y crunch, Boogie-esque lead, etc. then fine tune the EQ settings on the fly to suit the situation. The sounds are convincing enough, and through a nice board or some good cans, can be truly inspiring. Of course, it will inevitably beg the question: "Is that a POD in your pocket?"
Rating...
Tone...
 
Craftsmanship...
 
Features...
 
Value...
 
Overall...
 
---
Line 6
MSRP $179.99
line6.com
Our expert has stated his case, now we want to hear yours. Log on and share your comments and ratings.