I ran into Phil Cook at the Premier Guitar Festival in Boston. His booth was over in no man's land, near the concession stand tables and Army recruiter's booth,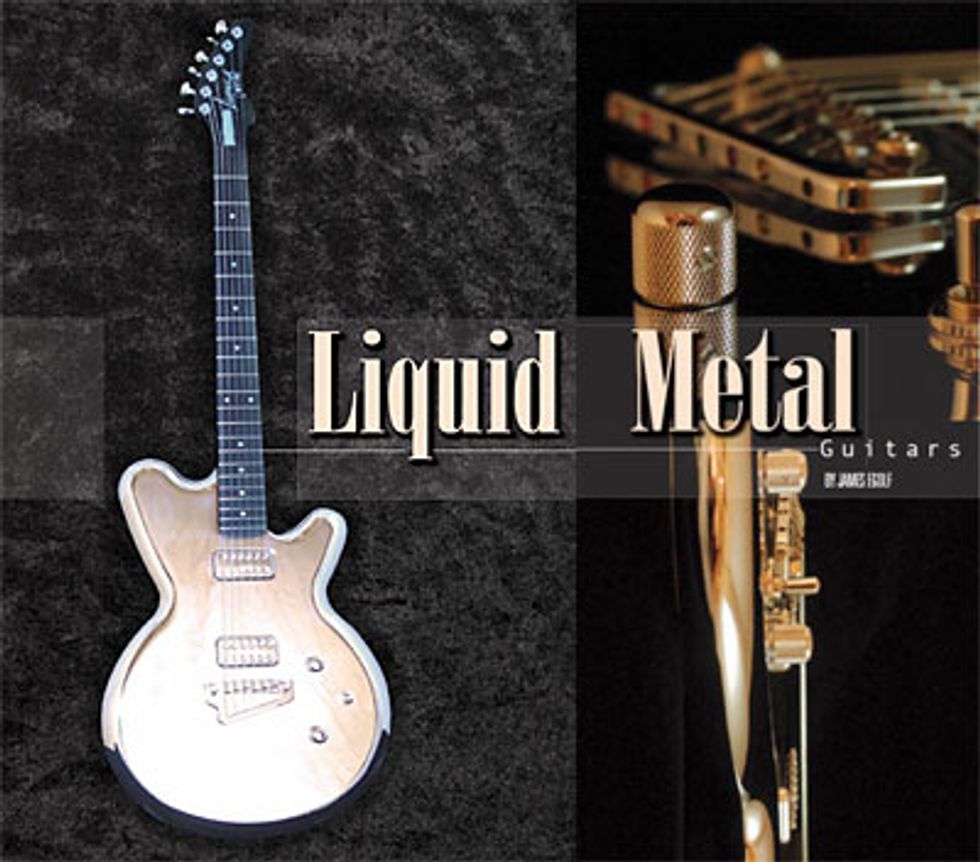 I ran into Phil Cook at the Premier Guitar Festival in Boston. His booth was over in no man's land, near the concession stand tables and Army recruiter's booth, and would have been easy to overlook had it not been for the striking, chrome-plated guitars displayed there. Since my company was sponsoring the event, I had plenty of things to do and Phil and I were only able to chat briefly – just long enough for him to persuade me to stop by when I was able to dedicate a few minutes to properly check out one of his guitars.
When I wound back by his booth Sunday afternoon, I honestly wasn't expecting too much. Although I've given other aluminum guitars I've encountered a cursory once over, I've never been moved enough to buy in and drink the Kool-Aid. Fully aware that I've never given metal-bodied guitars a fair shake, I was nonetheless in no mood to start. I did mention it was Sunday, right? My back was killing me and my ears were whistling more than the theme to the
Andy Griffith Show
, but Phil seemed like a cool guy, so I kept my word.
The first thing I noticed when I picked one up was the heft, giving the guitar a sense of being impervious to any idiocy I could muster. According to Liquid Metal's website, the guitar weighs in at a respectable 8.2 pounds – substantial enough to wake any drunks not minding the boundary between audience and performer but still comfy after a few sets. The bodies are crafted from a single chunk of 6061 T6 aircraft-grade aluminum, routed out in the back to save some weight and accommodate pickup and control mounting. The pickups are made specifically for Liquid Metal by TV Jones and look especially good on the guitar. I know that shouldn't matter, but everything about this guitar – the body shape and material, the black-lacquered maple neck, unique headstock shape and pickups, even the chrome logo – contributes to a visually stunning instrument. Even the Hipshot Baby Grand bridge/tailpiece combo is fetching on this guitar.
The body shape reminds me of Saul Koll's Glides and is shockingly thin – Epiphone-batwing-headstock- Coronet thin, making for a really comfortable playing experience. It's really nice that Liquid Metal chose to retain a somewhat traditional shape. This guitar wouldn't look out of place in Robert Fripp's hands, or at the other end of the spectrum, Ron Asheton's.
Of all the alternative materials used in the manufacture of guitars – fiberglass, plastic, composites and metal – aluminum has been one of the most successful. Early adopters of this material have included Messenger, who used aluminum neck/body-frame combinations that attached to hollow wooden bodies and Travis Bean, who used a similar approach, fusing aluminum necks with solid wooden bodies in an effort to improve tuning stability and provide more consistent neck relief. Other companies such as Veleno and Tokai have used aluminum as the body material, exploiting its tonal properties. Liquid Metal chose the latter option, using the material for its harmonic purity. Phil let me know that the majority of their initial sales were to studios and producers, due to the instrument's ability to stay on task with the fundamental note, making it an obvious choice for D.I. recording and re-amping. Its unplugged tone substantiates his claim. It's huge – big, loud and pure.
Now for the big surprise: plugged in, this guitar has a fundamental like a nice, dry, decades-old Strat, combined with the quick initial attack of a LP Junior or a
Telecaster
. Yeah, I didn't see that one coming either. The last thing I was expecting was a traditional sound from this instrument. Call me prejudiced, but I was thinking more Parker Fly than O.G. Fender. Of course, all of those delightful overtones caused by the Strat's tremolo bridge and ensuing springs are nonexistent, replaced with an immediate, pure tone that is the sonic equivalent of riding a fixed gear bicycle.
Plugging into a vintage tweed Pro produced more than a few "Holy Shit!" moments. This thing easily captures enough old school tones to belie its House of the Future appearance. On the bridge pickup with a heavy pick attack and just a smidge of dirt it was incredibly easy to achieve that kind of barky, chunky-yet-articulate thing Chris Spedding always seems to pull off, displaying an attack on par with a set neck. Losing the pick yields a kind of hyper-focused but still warm country- ish sound familiar to J.J. Cale fans, but with more articulation and veering back into bolt-on country. Adding in additional dirt is thoroughly enjoyable due to the guitar's focus, lending itself well to high-gain situations. It can push a ton of pedals and effects too, all the while retaining its personality. The TV Jones pickups were a perfect match for this guitar and I'm sure had a lot to do with its focused warmth and distinctively vintage tonality.
Moving up to the neck pup provides plenty of jazzy warmth, and compared to the hyper-articulated bridge pickup sounds, seemed almost too warm, bordering on muddy. There isn't a ton of difference between neck only and neck-plus-bridge positions, but busting out the pick again adds needed definition to the forward positions.
Another minor criticism is the neck profile. I usually stay quiet about stuff like this, because it's so subjective, like arguing that blue is a better color than green, but I need to find something wrong with it, and to make it perfect it would need to be about a pound-anda- half lighter and have a deeper neck profile from front to back.
The Final Mojo
I walked away from the Liquid Metal guitar thoroughly impressed, and would recommend it to studios as well as to pickers looking for a guitar with a super-pronounced fundamental tone.
Buy if...
you want something unique yet functional.
Skip if...
you need a prop for the next Goldfrapp video. This thing''s too nice.
Rating...
 
Our expert has stated his case, now we want to hear yours. Log on and share your comments and ratings.