Live Report: Slash at Guitar Center's Session Series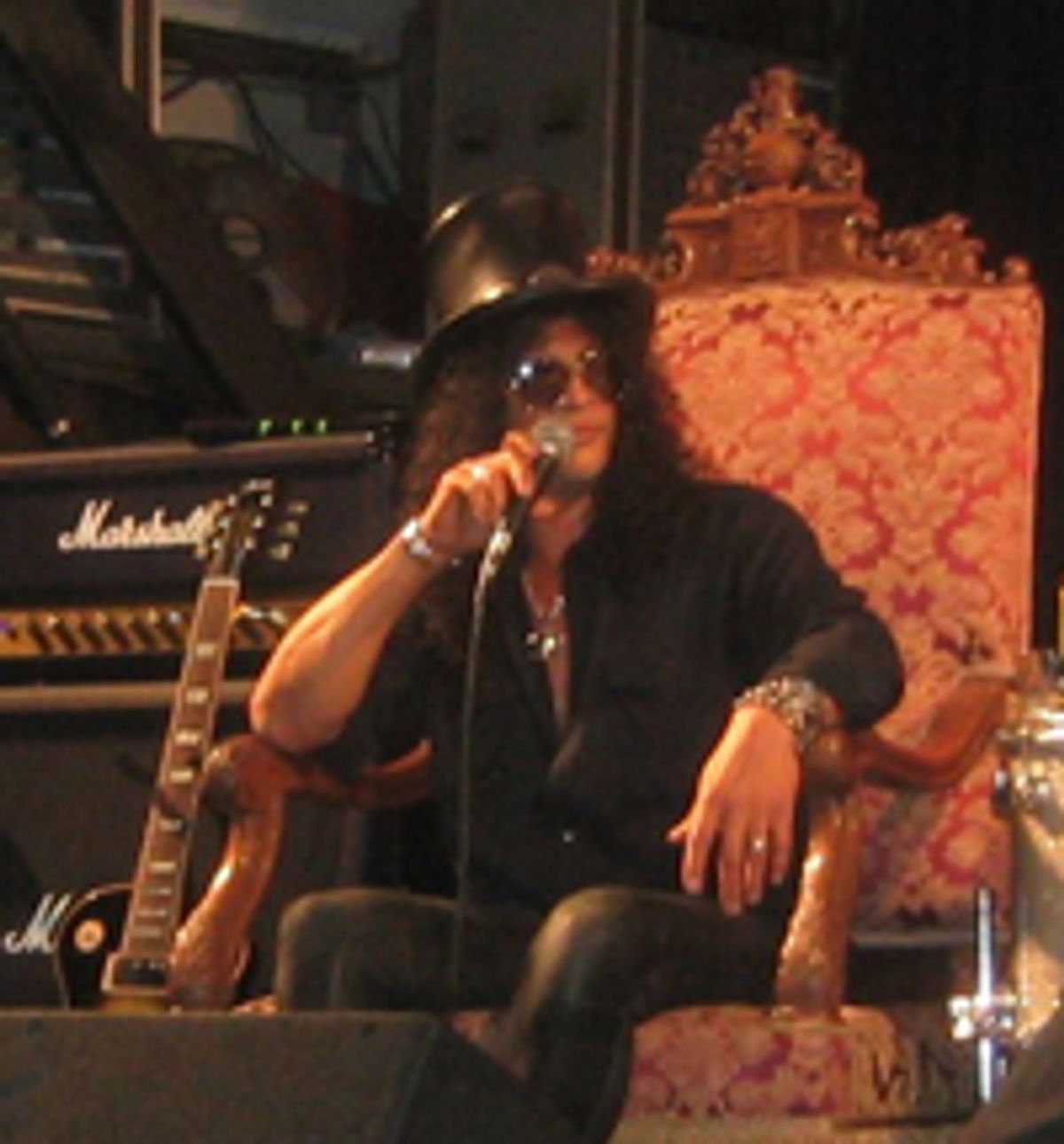 Slash talks Les Pauls and his new Goldtops
Northridge, CA
(September 4, 2008) -- A crowd of more than 2000 Slash fans gathered yesterday afternoon outside of the Northridge, California Guitar Center to hear Slash talk guitars in the latest of Guitar Center''s "Sessions" series.
During an 80-minute Q&A session with
Guitar World
Editor-in-Chief Brad Tolinski, Slash spoke in detail about his playing with Guns N' Roses, Velvet Revolver and Slash's Snakepit. Among the topics covered were Slash''s new limited-edition signature Les Paul Goldtop guitars, which will be released by Gibson USA and Epiphone later this year.
The Goldtops are recreations of the guitar Slash used in 1991 when recording the songs "Estranged," "November Rain," "Sweet Child O'' Mine," and "Knockin'' on Heaven''s Door." Slash explained, "For the solos, I turned the tone knob all the way down and they would just be these real notey, sweet creamy solos with lots of sustain. And I found that the Goldtop was the best for that." He explained that at one point, his home studio was robbed and all of his guitars were stolen; though he eventually got most of the guitars back, his 1991 Goldtop remained missing. When he asked Gibson to make him one recently, they decided to make a whole line. "I have two at home," he said, "and they sound amazing."
Slash also explained how he came to love Les Pauls in the first place, which was perhaps appropriately the way many people do today. "I think I was attracted to the Les Paul probably more than anything because certain individuals played it, and I liked the way that they played," he said, listing Jimmy Page, Keith Richards and Mick Taylor as examples of the bluesy style he admired. Of course nowadays, Slash can add his own name to the list that inspires young guitarists to pick up a Paul every day. He said the real turning point was when he ended up with Steve Hunter''s old ''59 reissue. "That was it," he said, "It was my sound, it was my look, and I haven''t ever changed since."
Other topics Slash covered were his favorite pickups, his thoughts on recording and mic''ing and his use of Ernie Ball strings.
Explaining his choice of strings - Ernie Ball custom gauge 11 through 46 - Slash confesses "I hit the strings really hard, so I need something that bites back. I need something that feels really solid and takes some work - that just feels sturdy. Ernie Balls are the best string I''ve ever encountered. I never saw any reason to change."
Remarking on his choice of Seymour Duncan Alnico 2 Pro pickups - which are featured in the upcoming Gibson and Epiphone Goldtops - Slash said "those pickups are an important part of getting that sound. Sort of lower output and gritty. They''re not totally heavy metal sounding where the output is really maxed - they''re a middle ground type of thing." He first started using the pickups during the recording of Guns N'' Roses'' "Appetite For Destruction" when his manager gave him a guitar loaded with the Duncans: "they sounded really great so I''ve stuck with them ever since. "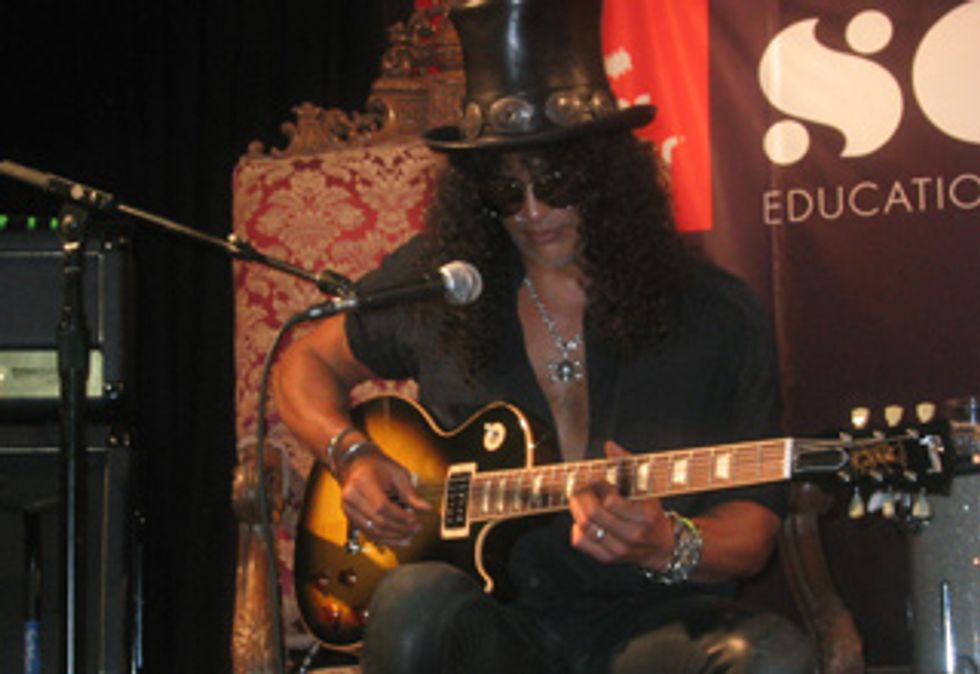 The attendees were an incredibly enthusiastic group who were eager to have a good time. Numerous families were in attendance, with parents and kids equally excited to hear Slash. One younger attendee, Kyle Bagwell, said his reason for coming was simple: "I just want to see him play... to see it in person." Slash did not disappoint, breaking into some signature riffs, including "Sweet Child O'' Mine" and more to the delight of the crowd.
The evening began with two up-and-coming Los Angeles bands, After Midnight Project and Divide the Day, both veterans of Ernie Ball''s Battle of the Bands. The night ended with Slash signing autographs for dozens of fans as the sun set on a relaxed and enjoyable evening.
Ernie Ball Strings, Gibson and Real Deal media sponsored the free event with Guitar Center. The motto of Guitar Center''s "Sessions" series is, "Education. Conversation. Inspiration." and all three were found at this event. Previous sessions included Joe Satriani, hip-hop producer Pete Rock and hip-hop icon the RZA (Wu-Tang Clan).

Guitarcenter.com/events