Bodies and necks waiting to be turned into finished guitars by the students. No two are alike, so each student ends up with a completely unique instrument. Have you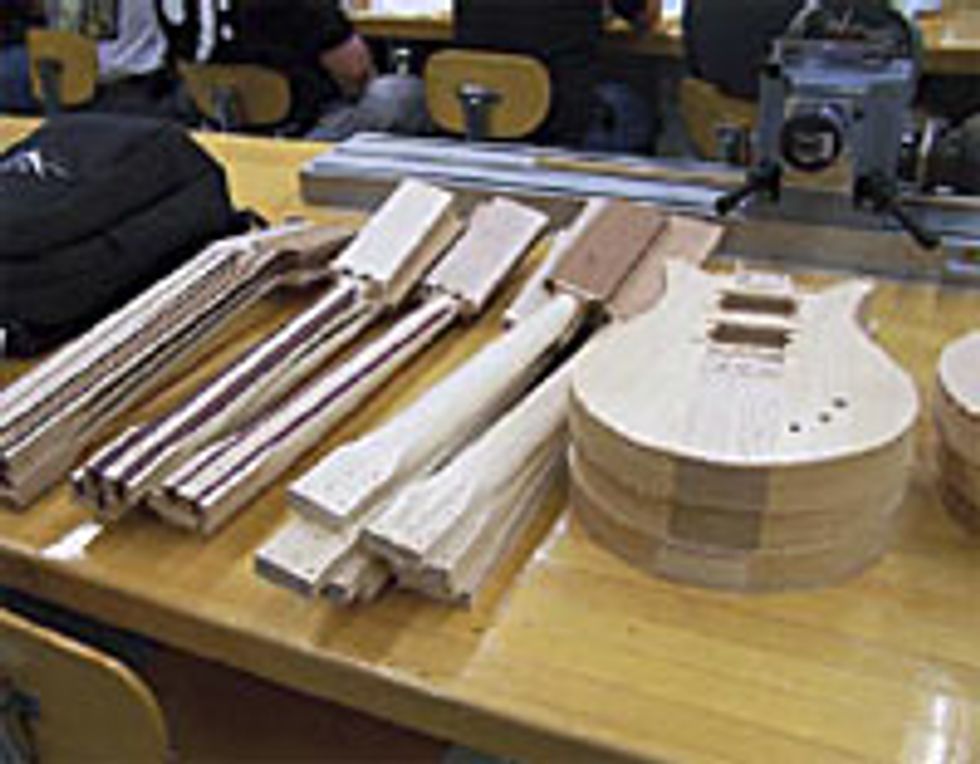 Bodies and necks waiting to be turned into finished guitars by the students. No two are alike, so each student ends up with a completely unique instrument.
Have you ever wondered what went into manufacturing your guitar? Have you ever wanted to make your own instrument? Now you can! At the Purdue Guitar Workshop, you can be your luthier for a week and experience designing and building a solidbody electric firsthand.
Luckily for us, Dr. Mark French, Assistant Professor of Mechanical Engineering Technology (MET) at Purdue University and his coworkers are guitar people. After working as an aerospace engineer in noise and vibration labs for the Air Force, Lear, and Bosch, and then joining the MET teaching force at Purdue, French saw the chance to apply some of that technology to guitar design, manufacturing and analysis.
With the help of Purdue colleagues Brad Harriger and Richard Couch, French kicked off the first Purdue Mechanical Engineering Technology Guitar Workshop last year and the 2008 Workshop promises to be even bigger and better. Participants get to design and build their own custom guitar with hands-on help from guitar industry experts. This year, some of the manufacturers and guitar gurus that are expected to help out include authorities from Seymour Duncan, Fender and Stewart-MacDonald.
The experts are all generous in sharing their experience and provide plenty of quality instruction time with the would-be luthiers. Workshoppers get to choose their guitar's shape from several solidbody electric styles, design their own headstock, body contour and exotic wood inlays, and then choose their pickups and electronic features. After the design phase, they put the whole thing together. Wood choices range from the "standard" maples, spruces, rosewoods and mahoganies to many different exotic woods from all over the world.

Each of the students in last year's Purdue Mechanical Engineering Technology Guitar Workshop took home their own custom designed and built guitar at the end of the week.
With a little bit of advance notice, just about any design request or idea can be accommodated, no matter how wacky. For instance, you could choose to install a Roland 13-pin GK kit or a Graph Tech GHOST system, onboard effects or preamps or just about any specialized electronics that can go into a guitar. After all, mechanical engineers like nothing better than sinking their teeth into a design challenge.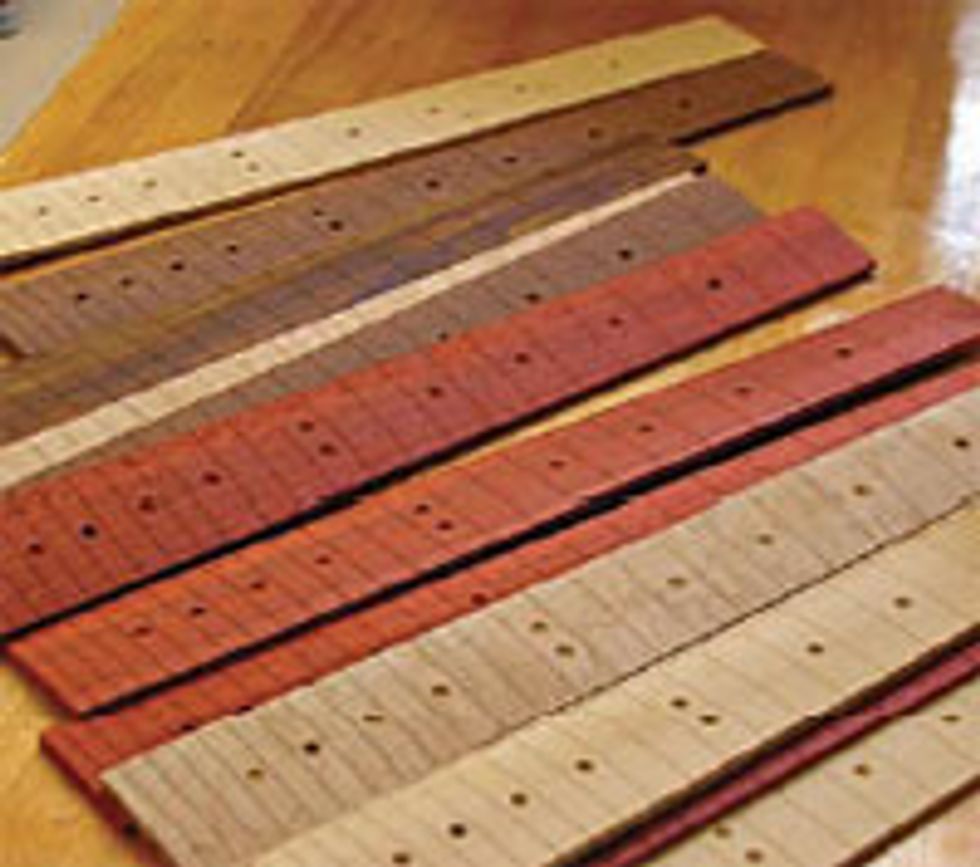 There are plenty of exotic wood fretboards for students to choose among.
If you'd like to attend and have wanted to build your own guitar but don't think you have the ability, don't worry. "All you really need is enough ability to get a C in Junior High Woodshop," says French. All the tools you need will be supplied, but there is also an arrangement with Stewart-MacDonald to deliver tools to the workshop if students wish to pre-order them.
You'll learn CAD/CAM to design your headstock and then finish the week by taking home with your custom-shaped headstock attached to your custom designed and built guitar. Laser etching is also available – these guys teach people to make satellites and fighter jets, so there's no shortage of can-do attitude. Within the framework of an electric solidbody, you can make any guitar you can think of, and do it in a week.
French says that women do really well and for some reason produce prettier guitars than the guys. We'll see about that at the next Purdue Guitar Workshop, which will be held July 14-18, 2008. I will be attending the next workshop and am extremely excited about it. The number of attendees is limited, so get your registration in early. I'll see you there!
To learn more about the Purdue Guitar Workshop, visit https://metalsound.tech.purdue.edu/
---
Kenny Bergle
Kenny Bergle plays a custom Heritage Eagle, is Senior Sales Engineer at Sweetwater, and is Program Director of Music Technology in the School of Creative Arts at the University of Saint Francis, in beautiful Fort Wayne, Indiana. Contact him at 1-800-222-4700 ext. 1270 or
kenny_bergle@sweetwater.com
.