Markbass announces MoMark.it - a new website allowing bassists to design their own bass amp
San Giovanni Teatino, Italy
(June 6, 2009) -- Italian bass amp company Markbass has just launched the official website for their new modular system, MoMark. MoMark is a new modular system that allows bassists to design their own bass amp.
The interactive site guides customers through the process, helping them choose the right amp frame and modules to best suit their needs. The system begins with a powered amp frame and ends with the selection of preamp, EQ and master modules. Customers have the ability to choose their amp's power and features, and can modify or upgrade their design at any time.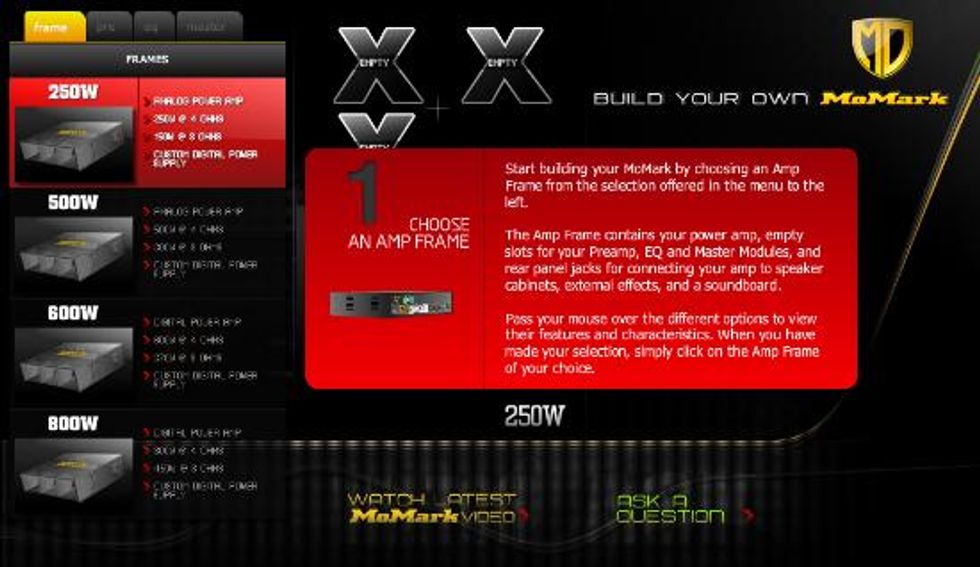 The amps are in production and shipping now. Select dealers will have MoMark Testers that will allow customers to compare available amp frames and modules, and try them with various Markbass cabinets and other Markbass amps.
The company has also launched a YouTube contest for Markbass users to win a MoMark amplifier of their choice.
Entrants are asked to upload a video of them or their band in a live performance, using Markbass gear. Entries will be judged on the quality of the musical performance, the quality of the picture and sound of the video, the energy of the audience, and the visibility of the rig. All videos entered must be at least three minutes long, and must include the words "Markbass Contest" in the video tags. Markbass endorsers, staff, distributors and retailers (or their employees) are not eligible to win.
The contest is now on, and the deadline for submissions is October 1, 2009. On October 2, 2009, Markbass will check the top 10 YouTube search results for "Markbass Contest", in both view count and viewer rating. Out of those top finalists, the winner will be selected in a vote by Markbass staff and top artists. The winner will be announced on October 3, 2009, and will be notified by email to his or her YouTube account, to make sure the video is in fact theirs. The winner will reply with their address and choice of MoMark frame and modules, and on October 31, 2009, they will be sent their amp!
For more information:
momark.it
.