If your CD player has been collecting dust since you won that iPod Touch on premierguitar. com, here are two new discs you can spin (or rip to your
If your CD player has been collecting dust since you won that iPod Touch on premierguitar. com, here are two new discs you can spin (or rip to your iPod).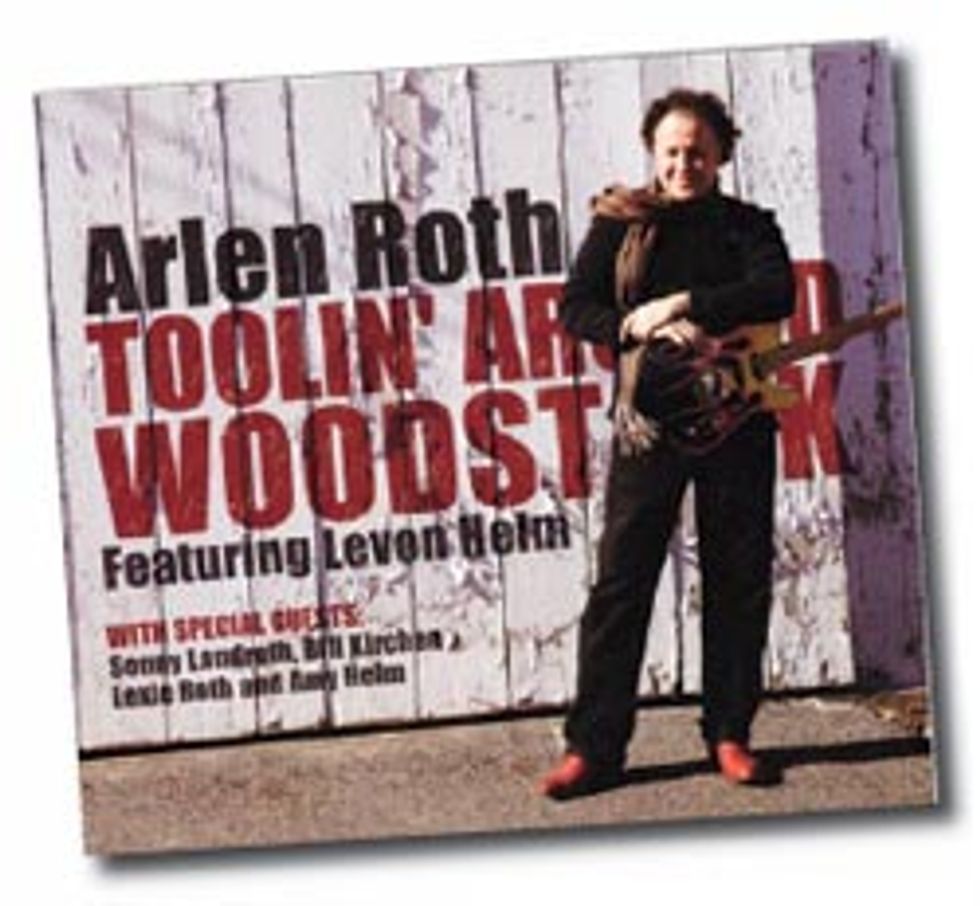 Arlen Roth
Toolin' Around Woodstock
Featuring Levon Helm
Toolin' Around Woodstock
is typical among guitar-centric CD releases. Apart from some incredible guitar work and a few standout moments, notably Levon Helm's lead vocals on the tasty and fresh sounding "Sweet Little Sixteen," and "Tumblin'," which showcase Arlen and Sonny Landreth's amazing slide work, the CD never really gets off the ground to become a recording anyone other than a guitarist could enjoy.
There are some truly spectacular moments here – a version of "Unchained Melody" dedicated to Danny Gatton capably demonstrates Arlen's deserved spot in the Roy Buchanan/Danny Gatton lineage. He also manages to throw in a nice tip of the hat to Clarence White, and by the time his daughter Lexie's vocals float in from above a glass eye could easily shed a tear. Another standout is the instrumental take on "Ballad of a Thin Man." An odd choice to be sure, but an inspired one, full of brilliant, drunken bends that show Arlen's nearly-incomprehensible, Gatton-like chops combined with decidedly non-Gatton-esque, play-forthe- tune restraint.
Arlen's slide duet with Sonny Landreth, "Tumblin'," also hints at what could have been. Arlen's more traditional slide work comes at you from the left, while Sonny Landreth is busy wrangling scratches and muted harmonics into a cohesive rhythm guitar part on the right, perfectly backing Arlen's tasty playing while also playfully egging him on. Once Sonny's turn comes, you figure all bets are off – until Arlen answers him and ups the ante. Moments like these are why CDs like this are made.
It also demonstrates that, when challenged, in the case of "Tumblin'," or inspired, in the case of "Unchained Melody" or "Ballad of a Thin Man," Arlen is a force to be reckoned with and deserves to be mentioned in the same breath as other
Telecaster
greats. A perfect example is "Sweet Little Sixteen," which manages the impossible by combining tasteful, Berry-flavored double stops with subtle yet otherworldly pedal steel-inspired bends, all while retaining the freshness of a first take.
When that inspiration is lacking, however, tracks like the all too aptly named "Sleepwalk" are the result, transforming the classic into the aural equivalent of Ambien. Bill Kirchen's contributions also seem squandered here, with his stringy riffs and scratchy vocals on "Gas Station Frustration" welcomed, but not enough to save an ultimately lackluster tune. – JE
---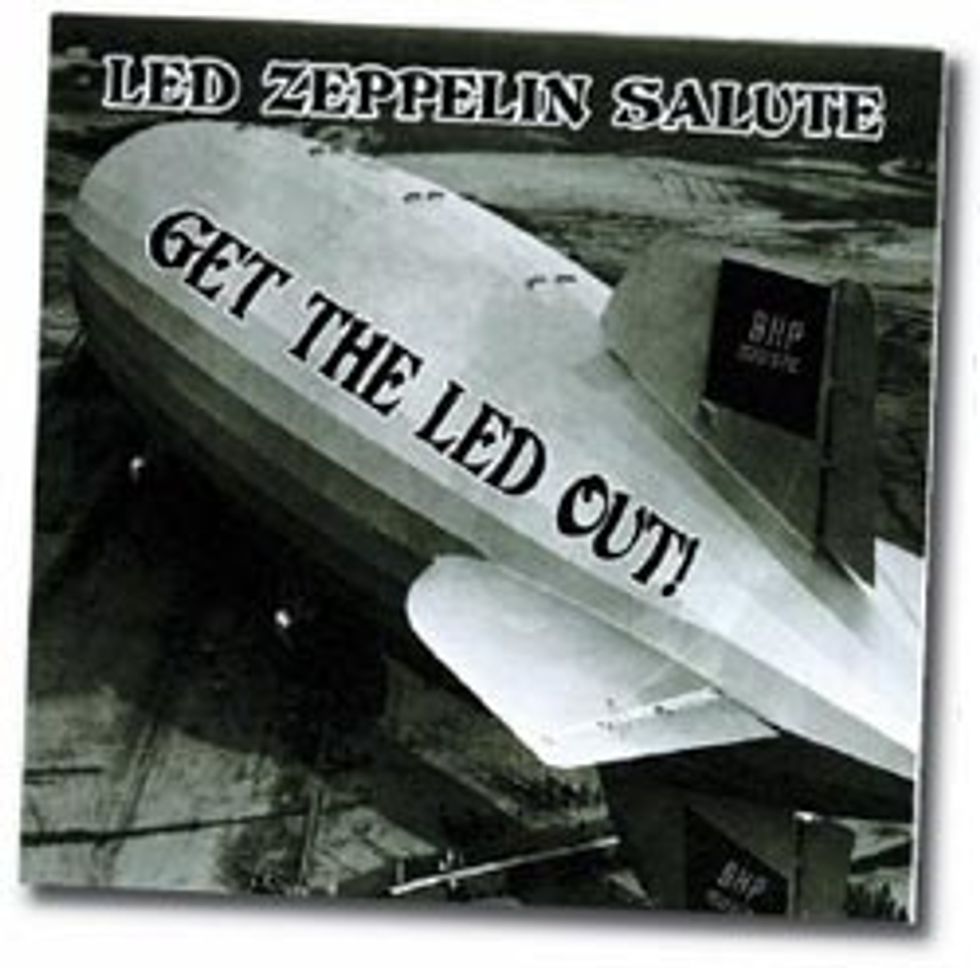 Various Artists

Get the Led Out! Led Zeppelin Salute
The concept of reinventing classic songs for a tribute compilation is certainly nothing new, but Get The Led Out! Led Zeppelin Salute centers around recreating twelve canonical Zeppelin tracks with what has to be a record-setting number of guitars. Producer Brian Tarquin has gone all out to ensure that rock fans will be properly satiated, compiling a diverse group of artists; Leslie West of Mountain, Hal Lindes of Dire Straits and Doug Doppler, a furious player currently calling the Favored Nations label home, all lend their chops to the album. And that's just three of the tracks.
What's striking about
Get The Led Out!
is the variation among the arrangements – some are marked departures from the original Zeppelin tunes, while others just ratchet up the gain level. "Moby Dick," which features Randy Coven and Leslie West trading high-powered, Page-esque licks, stays fairly true to the original blueprint, while "Immigrant Song," featuring the perpetually moving fingers of Greg Rapaport, brings a nu-metal sensibility to an already heavy song. There's a lot of artistic freedom here; the album's take on "Kashmir" trades in the original's plodding, ominous groove for some tastefully intricate acoustic work. If you'll dig this depends on whether or not you're a believer in musical reinvention; people looking for classic Zeppelin may be disappointed, but those interested in artistic exploration will find plenty to like here.
The lack of vocals is a mixed bag – some songs, like "Kashmir" and "The Battle of Evermore" absolutely shine in their acoustic sensibilities, but other tunes would benefit from a Robert Plant wannabe wailing over the top, as his voice was an essential ingredient in the Zeppelin stew. Tarquin makes sure to recreate the vocal lines instrumentally, but tracks like "Babe I'm Gonna Leave You" and "All My Love" originally shined because of Plant's delivery. As it stands, the absence of vocals puts a heavy emphasis on the blazing guitar work here, which is definitely strong enough to carry the disc.
As an added treat,
Get the Led Out!
packs in four bonus tracks from Jimmy Page himself, dating from 1968-70. It's a fascinating conclusion to this tribute and alone worth the price of admission. If you've been looking for some quality instrumentals to jam with, look no further. – CK/AM
---