Inside the home studio with producer Mark Muller
This month, we will break format and take a peek into the home studio of a working professional.

Marc Muller covers a lot of ground, playing electric and acoustic guitar, pedal and lap steel, Dobro, mandolin, banjo and violin, as well as touring with artists such as Shania Twain, Van Zant and Tommy Shaw. Having worked with him on several projects and always receiving great tracks and killer tones, I decided to give him the floor to explain the gear and techniques behind the sound.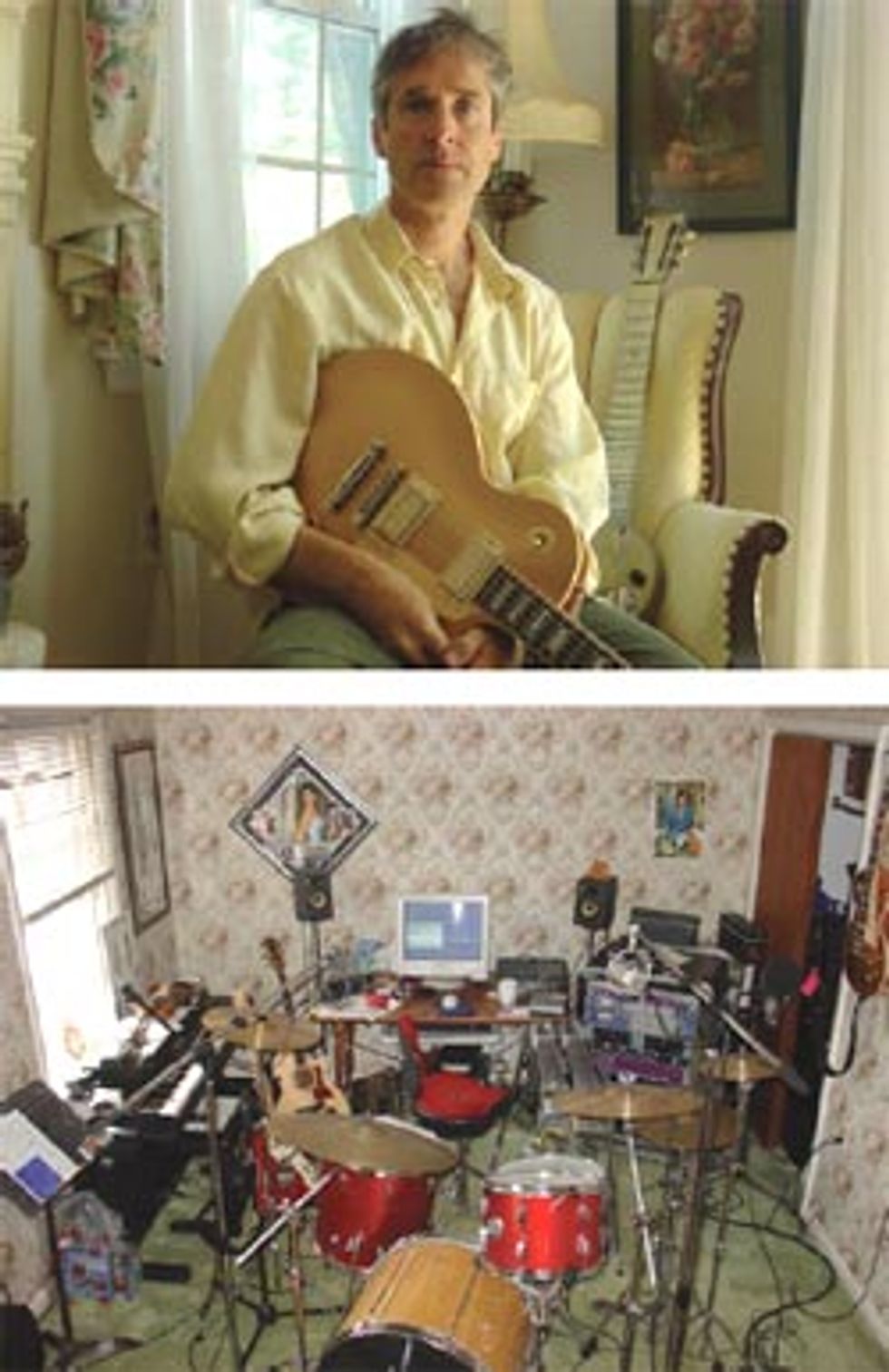 What's your recording chain for acoustic instruments?
I have an early seventies Neumann U87 mic that I'll usually run into a Focusrite ISA430 Producer Pack. I also have a Focusrite ISA110, which has the same EQ and preamp as the 430. Also, the mic pre's that are in the Apogee Trak2 that I use are killer. That runs into the Apogee A/D converter, either with the Trak2 or an Apogee AD-8000SE, which then digitally feeds my Pro Tools setup.


Tell us about your electric setup.
Well, to begin with, I tend to try out a bunch of different amps to see what best fits the song that I'm working on. I have them upstairs in my control room with my Pro Tools rig and preamps. Downstairs I have a bunch of different cabinets mic'd up, and I run mic lines and speaker cable downstairs so I can try different combinations of amps and speakers quickly and easily while working.

Upstairs in the studio I have a Fender Hot Rod DeVille, a Fender Pro Junior and an early-seventies Fender Twin head. I also have a really groovy 1967 Ampeg Reverberocket II that has its own sound – it's either going to sound really good or be really bad!

Downstairs, I have a 2x12 Fender cabinet with Celestions and a 4x10 with the Hot Rod De Ville speakers, as well as an old pair of JBL 12s from the seventies.


What do you use to mic them?
Back during my Shania days, and when I first started recording at home, I asked Paul Franklin, the top Nashville pedal steel session player, what [mics] he saw used most often on his amps. He said an AKG 421, so I took his word on it and picked one up. The 421 sounds great on guitar amps – I also put up an off-axis Shure SM57. I have tried my U87 along with it, but I never end up using the track.


What amp do you turn to most often?
The one that wins the shootout is usually my little Fender Pro Junior. It's a little 12-watt 1x10 that's like a Fender Champ. At low volumes it's sparkling clean, and when you turn the volume from 3 up to, say, 6 or 7, it's a huge sound.


How do you determine what sound to go for?
It really depends on the song. It's a matter of just seeing what fits within the track and sticks out best – or not. If it's a Les Paul and I want to get a thinner sound, I will go into the 10s. If it's the Fender and I want to beef it up a little bit, I will go into the 2x12s. If I want to do an old time-sounding "hippy" pedal steel part, I will go into the Fender Twin head through the 2x12 JBLs for a classic "Jerry Garcia" tone. For a traditional Nashville pedal steel sound or a Nashville "pop" sound, I run into a Peavey Nashville 400. I try to capture the purest guitar-through-amp sound, dirty or clean, to send onto whoever is producing the track.


You don't use guitar modeling software?
I don't even use stompboxes. I just drive my amps and use plug-ins for compression, delay and reverb. That way the producer can decide later if he wants it wetter, drier, more or less compressed, etc. I do, however, send the plug-in settings I like in with my tracks so the producer can reference how I was hearing it.


Can you tell us about your latest projects?
I just finished a great record with Dave Murphy and I'm putting the finishing touches on my next solo release. Victor Wooten came in and played bass on seven songs, and Rod Morgenstein played drums. I still have a few more people I'll be pulling in here to finish up, so keep an eye out for it. You can hear some tracks or drop me an email at marcmuller.com or myspace.com/marcmullermusic.




---
Rich Tozzoli
is a producer, engineer and mixer who has worked with artists ranging from Al DiMeola to David Bowie. A lifelong guitarist, he's also the author of
Pro Tools Surround Sound Mixing
and composes for such networks as Discovery Channel, Nickelodeon and National Geographic.