The name Rob Balducci may not be a well known, but he's a young, up-and-coming guitarist from New York. I met Rob while producing bassist Randy Coven's new CD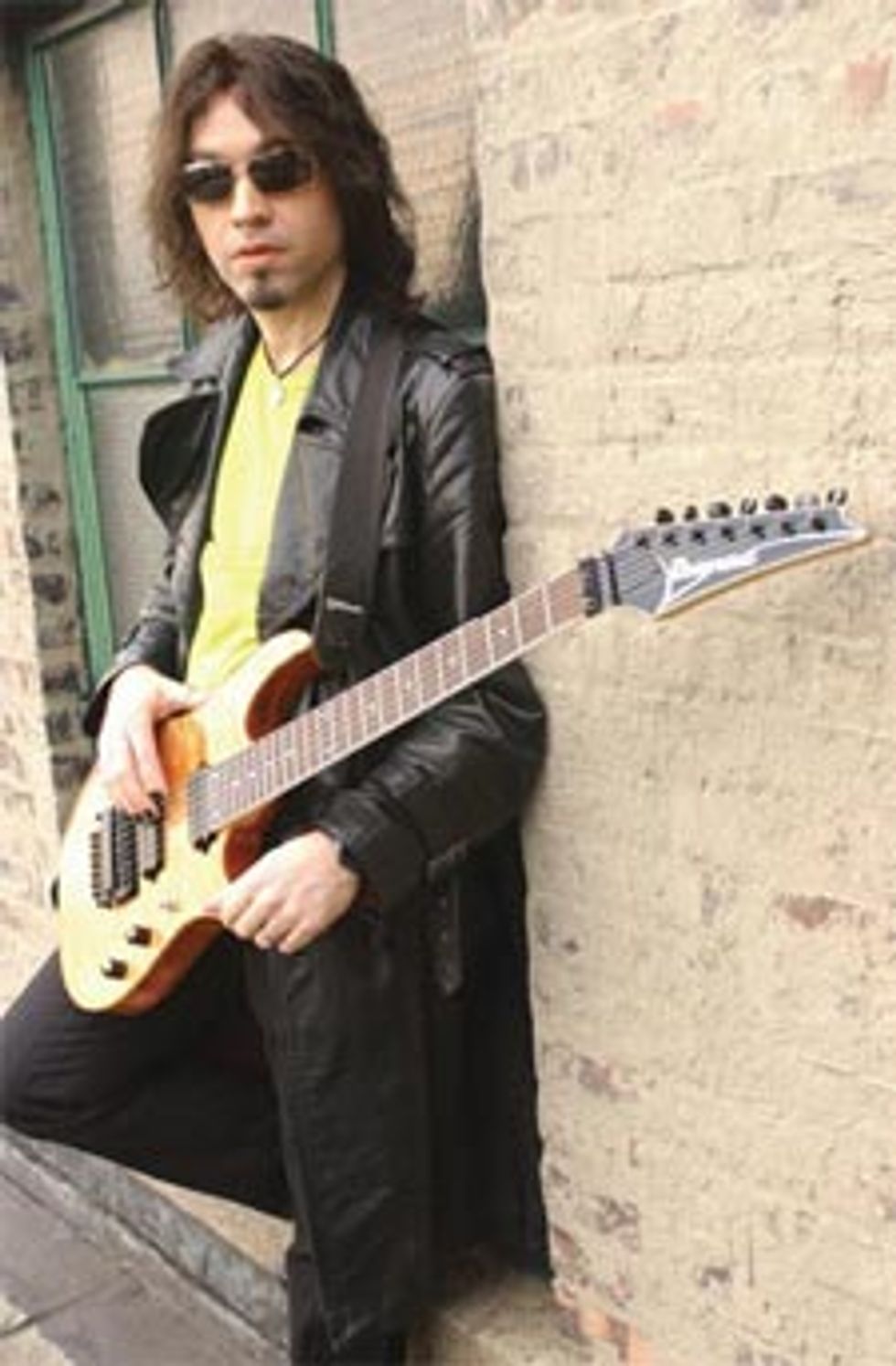 The name Rob Balducci may not be a well known, but he's a young, up-and-coming guitarist from New York. I met Rob while producing bassist Randy Coven's new CD when Rob joined the project. He brought a level of professionalism to the sessions, not to mention a fresh take on Randy's tunes. It turned out that Rob was signed to Steve Vai's Favored Nations label, with three solo CDs to his name.
His 2002 release,
Mantra
caught my attention and I had the pleasure of asking him about his recording process.
What was your main guitar and amp setup for Mantra?
I have been endorsed by Ibanez guitars for over 12 years and they are my choice for guitars. I used my L.A. Custom Shop Ibanez RG, which I call the "The Grinch." It has a basswood body with a maple top. I am also endorsed by DiMarzio pickups – my favorite pickups are the Steve Special and the Air Norton Humbuckers. I also used an alder RG with a maple top, and a mahogany RG 7-string with a maple top. All of these guitars have rosewood fingerboards.
For this record, the main amp was a Mesa Boogie Mark IIc+ that was modded by amp/ rack guru, Mark Snyder. I also had Soldano send me a modded 100-watt head. The two amps sounded awesome together and I went back and forth between them for the majority of the CD. I also used a Fender Bandmaster head for some cleans.
For speaker cabs, I have a pair of original 1969 Marshall vintage 4x12 cabs with 25W Celestion Greenbacks in them. They have the original red tolex.
What mics did you use to record the guitar parts?
We used a Shure SM57 in conjunction with a Shure SM81. The CD was produced by Ben Fowler and engineered by Ben and Tony Lewis.
What pedals did you use on this project? Were there any in particular that you relied on for the album's tone?
I am an overdrive junky. For this record, I used a Boss OD-1. My overdrive tones are a combination of natural amp overdrive and overdrive pedals. I also use a Chandler Tube Driver pedal, which is awesome! I like to run my amps hot and then throw the OD in front to bring the harmonics out and add sustain. I also used a combination of Morley wah pedals, including the Bad Horsie 2.
Do you have a favorite "can't live without" guitar processor that you used on this project?
We used a TC Electronic 2290 delay and an Eventide. I love the delays on the TC 2290 – they are very clean and transparent and do not degrade or color your tone.
Was the album recorded on a digital or analog format? What studio did you use to track and mix?
The CD was recorded in analog format. We recorded the drum tracks at Avatar Studios in New York using a Neve board. In two days we banged out all 11 tracks. I just love Avatar Studios; I think it has the best drum room in New York City. The vibe is so great and the studio itself has such history.
As for the guitar and bass tracks they were recorded at a small studio in New York called No Mystery. We did the bass tracks first and then I locked myself in the studio and did not leave for three days. I remember coming out of the studio and calling my doctor because I could not feel the fingers on my left hand! We mixed the CD at Emerald Studios in Nashville.
What is your compositional process?
My songwriting process is one that I have built upon since I started writing instrumental music. In my songs, I consider the guitar to be the vocal and the compositional style is as if a singer was singing a chorus/verse etc. In my process, each song that I write has some sort of relation to my life or experiences – an inspiration that means something to me. This is where instrumental music is so great – it crosses all language barriers and cultures. Words do not get in the way and the power of the music can draw you in, which is what excites me about writing songs.
What are some of the current projects you are working on?
I am currently working on my fourth CD, which is titled Violet Horizon. This will be my third CD for Favored Nations. I am very excited about this new CD. It is being produced by fellow axeman, Carl Roa, and myself.
I am also very excited to be recording and writing with bassist Randy Coven. This is my first time writing with another artist and the tunes and tones are amazing. I will also be performing clinics for Ibanez throughout the rest of the year.
For tour dates, check out Rob's site at
robbalducci.com
. Rob will also be featured on Randy Coven's release next year on BHP MUSIC, Ltd.
---
Brian Tarquin
Emmy Award Winning Guitarist Brian Tarquin scored a Top 20 hit in the 90's with "
The Best of Acid Jazz, vol. 2
" on Instinct Records and enjoyed several top 10 hits on the R&R charts. Founder of the rock/electronica band, Asphalt Jungle and has scored TV music for such shows as
CSI, Smallville, MTV, Alias, 24, All My Children
and many others.
bohemianproductions.net
jungleroom@optonline.net
myspace.com/bohemianproductionsmusic