NAMM 2011 - Editors' Picks, Day 1
What PG''s editors dug on Day 1 of Winter NAMM 2011

Anaheim, CA
(January 13, 2011) — The first day of the Winter NAMM Show in Anaheim has come to a close, and there was more gear than we can possibly write about—be sure to check back each day of the show as well as visit our
NAMM page
for all the latest news and to see
way more photos in our photo gallery from the floor
!
Check out what our editors thought was the coolest gear of the show today:

Editorial Director Joe Coffey
Editor in Chief Shawn Hammond
Senior Editor Andy Ellis
Gear Editor Charles Saufley
Web Content Editor Rebecca Dirks
Associate Editor Chris Kies
Associate Editor Jason Shadrick
Joe Coffey - Editorial Director

Fryette Pedals
Having had the chance to see and hear the prototypes at Steven Fryette's shop a few months ago, it was a hoot getting to check out the final versions today. These tube-based pedals feature high-output transformers and unique casings that are as tough as anything else on your board.
• The S.A.S. is a balls-to-the-wall distortion that's raunchy as hell but amazingly musical when used in moderation. Its tonal character is based on a unique pentode design and an ear-picked Tung Sol EF86 tube. The Gain controls the overdrive applied to the tube, Volume controls output, and Bias controls the headroom. This pedal is great for getting that verge-of-death sound without actually pushing an amp to its limits. What does S.A.S. stand for? Fryette coyly says, "Let the guessing begin."
• The EF86-based Boostassio works as either a straight boost (up to 20dB clean) or a get-you-there-quicker saturation tool. Volume controls output, while Bias controls headroom and a wide scope of harmonic range.
Fryette
---
PRS Private Stock Signature Limited-Run
This is the first signature PRS associated with multiple players—Howard Leese, Michael Ault, Davy Knowles, Tom Wheeler, and Paul Reed Smith himself. Limited to 100 guitars, this model is the culmination of those players' desires and druthers. Booth-watchers noted the guitar's pronounced low-E chime and generous sustain.
PRS
---
Traynor Iron Horse
This big brother to Traynor's aptly-named Dark Horse takes the lunch-box concept and makes it giggable in bigger venues. The tube compliment consists of one 12AU7, two 12AX7s, and two EL34s. The 12AU7 triode tube works with a cascading input stage to run like a high-gain pentode. The amp also features fixed and cathode-bias modes. The DHX212 cab has an angled internal baffle and two removable back panels for selecting between open and closed-back resonance.
Traynor
---
Martin Leonardo Da Vinci Mona Lisa Special Edition
Martin understandably did something special for serial number 1,500,000 this year. The Leonardo Da Vinci Mona Lisa (aka the "Da Vinci Unplugged") features Harvey Leach-designed inlays of famous Da Vinci paintings and sketches. The rosewood piece used for the back was selected for its wavy grain, which mimics the hair pattern of the Vitruvian man.
Martin
---
Choice Swag: Seymour Duncan Necklace
There's bling and then there's single-coil bling. Who needs a pickup line when you're rockin' a pickup necklace?
Shawn Hammond - Editor in Chief

Framus Vintage 5/131 Hollywood Doublecut
The German amp and guitar manufacturer isn't usually associated with retro designs, but this new semi-hollowbody strikes a great balance between cool features, nice playability, and a way-cool visual vibe. The body is plywood (like you'd find on an old department store guitar from the '50s), and the set mahogany neck features a rosewood fretboard. The pickups look like something you'd see on a cool old Harmony, too, with intriguing, multifaceted crème-colored covers and adjustable pole pieces set in attractive brass rings. Controls include a 4-position selector knob (off/bridge/both/neck) and Bass, Tone, and Volume knobs.
Framus
---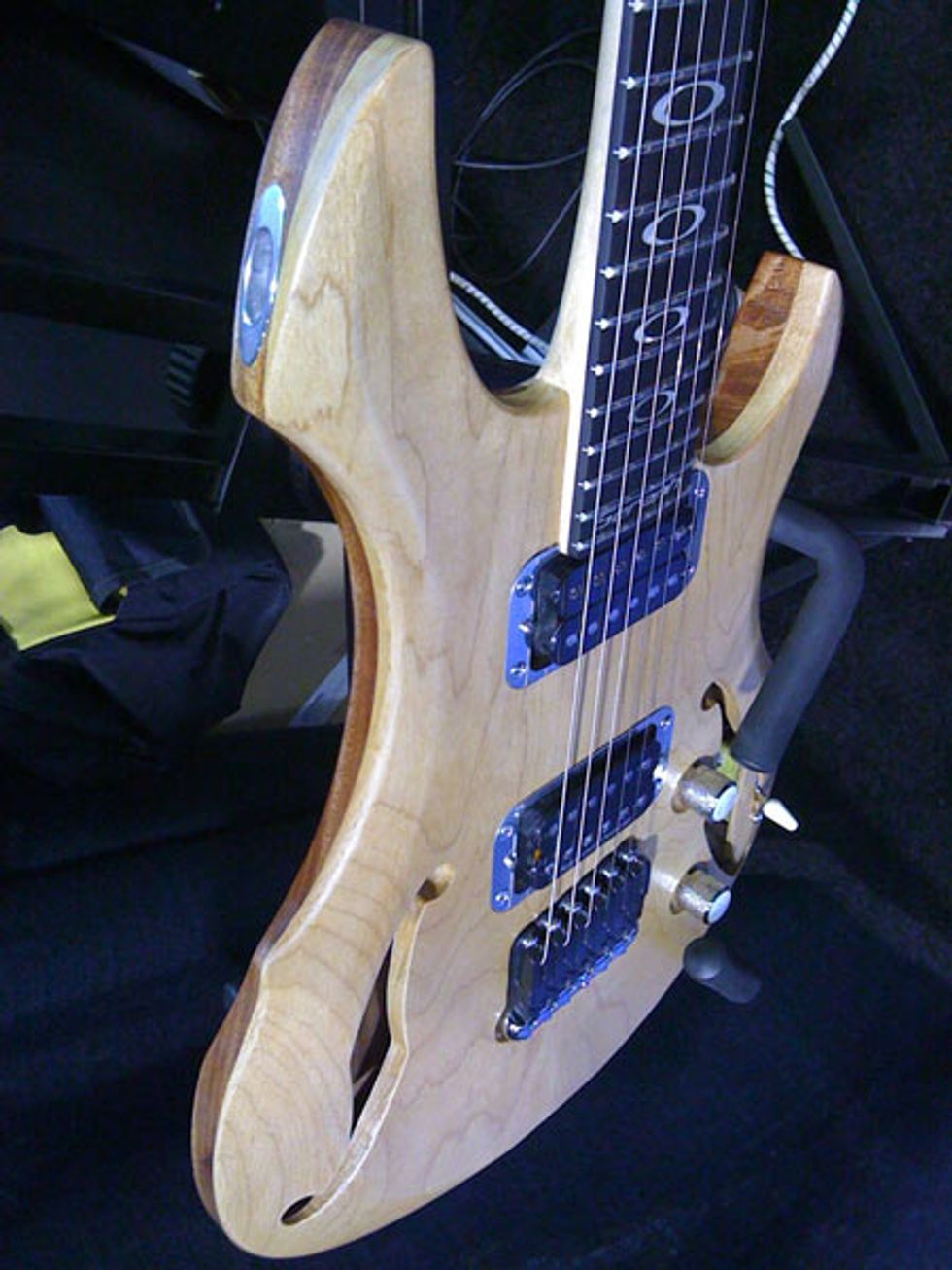 Sabre Guitars Seraph
This new UK company made its first gear-show appearance ever at this year's NAMM, and their guitars have an impressive blend of intensive woodwork and ingenious hardware. The Seraph features proprietary built-in strap locks with smooth-operating, furniture-quality release buttons, a Schaller bridge, LSR nut, Seymour Duncan Blackout pickups. This semi-hollow version has a 12 mm figured maple cap, mahogany body wings, and a 9-piece neck (cherry, maple, and wenge), though solidbodies are also available.
Sabre Guitars
Tone King Galaxy
Tone King came on the scene approximately 15 years ago with one of the most distinctive looks in all of boutique ampdom—a delectable blend of retro diner chic, '50s sci-fi aesthetics, and functional furniture. The Galaxy has been out of production for several years, but now it's back with a juicier, redesigned 60-watt, 6L6-driven power section, a long-spring reverb tank, a bias-vary tremolo circuit, and two uniquely voiced channels. The 2x12 cab is loaded with two custom Eminence speakers and features furniture-style legs that get it up off the floor to increase clarity and articulation.
Premier Builders Guild
Andy Ellis - Senior Editor
3rd Power British Dream
3rd Power's handwired, all-tube British Dream 1x12 45-watt combo offers two channels—one inspired by a '59 Vox AC30, the other by a '68 plexi Marshall—and a half-power switch. The amp's 12" Celestion Alnico Gold is housed in 3rd Power's proprietary Switchback triangular enclosure. The British Dream has an MSRP of $2899.
3rd Power Amps
---
Amptweaker TightMetal
The latest offering from AmpTweaker is the TightMetal—a high-gain distortion box for players seeking ultra-saturated tones. Like other TightDrive pedals, the TightMetal sports an effects loop and a Pre/Post switch. Other features include a Mid EQ thrash switch and Gate with Chomp switch.
Amptweaker
---
National Reso-Phonic ResoElectric RA3
National Reso-Phonic's new hollowbody ResoElectric RA3 has a koa top and mahogany back and sides, and sports an L.R. Baggs Hex pickup in its biscuit bridge.
National Guitars
---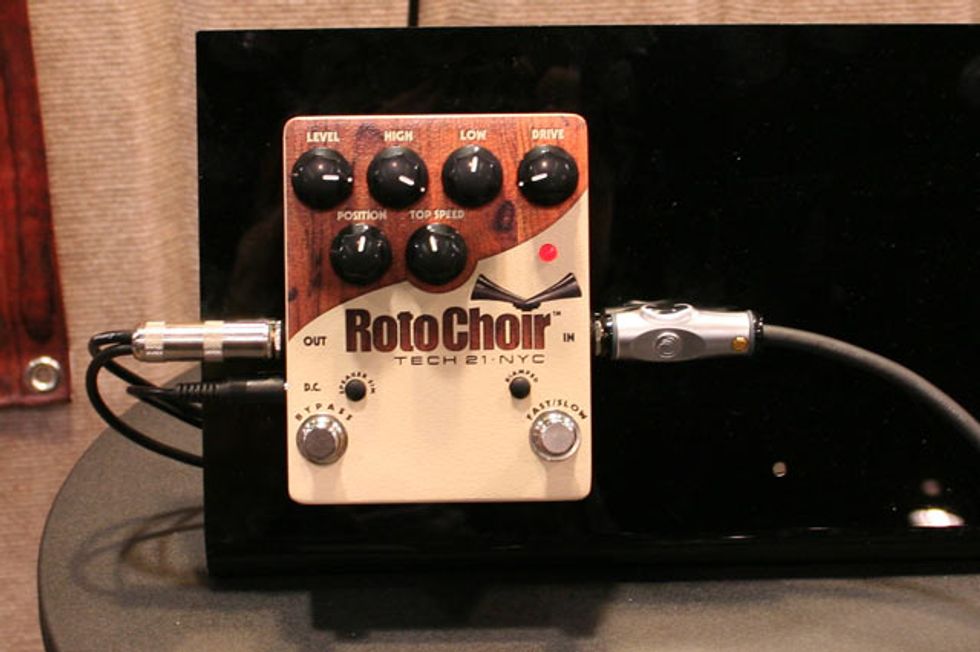 Tech 21 RotoChoir
Tech 21's RotoChoir emulates the entire signal chain of a mic'd Leslie cabinet, from the tube power amp to the low-frequency speaker and high-frequency horn to the XY stereo-mic setup. The pedal's Fast/Slow switch lets you slow down, ramp up, or even pause the simulated rotary speaker in a variety of positions. The RotoChoir has a buffered bypass, a Bi-Amp switch, a Drive control, and stereo outputs. MSRP $295.
Tech 21
Charles Saufley - Gear Editor
Santa Cruz Don Edwards Signature Cowboy Singer
Santa Cruz's gorgeous, immaculately crafted small body acoustics are showstoppers in any incarnation. They unveiled three at this show, none more beautiful than the Don Edwards Cowboy Singer. The gloss-finished, all-mahogany OO was built in honor of legendary cowboy poet Don Edwards, but the guitar is a shining, chocolate-hued gem that sounds warm, alive, and sweetly popping whether I was fingerpicking or flatpick strumming. Drop-dead gorgeous, this one.
Santa Cruz
---
Hallmark Johnny Ramone
Johnny Ramone's Mosrite is one of the most iconic of all punk-rock guitars. It was also a cornerstone of the Ramones' relentlessly roaring buzzsaw tone. Hallmark wasn't one of the most famous '60s brands but, like Mosrite, they made some of the most distinctive-looking guitars of the era. So it's no surprise that the resurrected Hallmark unveiled a Mosrite-style that's a dead-ringer for Johnny's guitar. Super-hot single coils and authentic details like a roller bridge and zero nut make this a sweet player, too.
Hallmark Guitars
---
Huss and Dalton 15th Anniversary TD-R Custom
On the totally opulent side of the equation, Huss and Dalton's 15th Anniversary TD-R Dreadnought is built around an Italian bearclaw Spruce top, African blackwood back and sides, and Abalone trim that would make a D-45 lover weep. A spring vine inlay doubles the fancy factor. At 15 grand, it's a guitar that's way out of reach for most of us, but it's a fine reminder of the insanely elevated levels of art and sound that acoustics have achieved in this latest golden age of lutherie.
Huss and Dalton
---
Choice Swag: DigiTech Amplifier Road Essentials Kit
The debut of DigiTech's new line of amps inspired the company to hand out their Amplifier Road Essentials Kit, which included a branded fleece pullover, a T-shirt (lower left), a Nature's Valley Chewy Trail Mix bar, a bottle of water, a notepad, and a pen.
Rebecca Dirks - Web Content Editor
Z.Vex Instant Lo-Fi Junky Prototype
The Instant Lo-Fi Junky approximates a portion of the popular Lo-Fi Looper Junky circuit by combining compression, a lo-fi filter, and vibrato. A Mix knob allows you to blend from full compression to full vibrato. You can also change the wave shape between square, triangle, and sine. The result is a beautiful, lo-fi warble. I can't wait to see the final casing artwork to match the stellar sounds.
Z.Vex
---
TWA Great Divide
TWA just keeps coming out with outside-the-box stomps that push the sonic limits. Their latest, the Great Divide, pairs a 100-percent analog circuit with a digital memory preset that lets you toggle between octave settings in an instant. Octave effect lovers will delight in the five voices: dry, down one, up one, sub (which takes things deeper by 1.5, 2, or 2.6 octaves), and synth (which crashes waveforms together for modulation goodness). For super tone tweakers, TWA says there are 12 internal trim pots to dial your sound in even tighter.
TWA
---
Composite Acoustics

Lovers of the environment and great tone mourned when Composite Acoustics, known for having some of the best-sounding and best-playing graphite composite instruments, closed shop last summer. We're happy to report that the company is back—and the guitars are now being built by Peavey in a brand-new, state-of-the-art facility in Meridian, Mississippi.
Composite Acoustics
---
Choice Swag: Z.Vex Bottle Opener
Pop a beer and zone out to some sweet fuzz tones courtesy of Zachary Vex.
Chris Kies - Associate Editor
Schecter TSH-1
A sexy new model with classic appeal, the TSH-1 is a semi-hollow doublecut that features a set, 3-piece maple set, a maple body, and a rosewood fretboard. It comes in either a silverburst finish or red metallic reverse burst. The SuperRock MH pickups have a bit of a Dynasonic visual vibe, but the over-wound ceramic magnets reportedly serve up a hotter, more modern sound. Currently, the TSH-1 is available for both lefties and righties, and Schecter's president, Michael Ciravalo, mentioned the possibility of it being available with a Bigsby tremolo.
Schecter Guitars
---
TV Jones P-90 Mounts
Ever wanted to put some P-90s in your Gretsch? Well, thanks to TV Jones you can go on and do it without subjecting the guitar's top to destruction. The four-screw mounts come in three different styles: standard, English (a Gretsch- or Gibson-style ring), and a "no-ears," mini-humbucker-style option. The pickups shown in this photo are TV Jones Classic P-90s . The bridge pickup purportedly has thicker highs and more defined lows than traditional P-90s. The neck pickup has alnico 4 bar magnets and is intended to deliver clarity and fullness, with considerably less boom than regular P-90s. Larger pole screws are used on both the neck and bridge models to help increase inductance.
TV Jones
---
Carvin CT624M
Straight out of the California Carvin Custom Shop, this CT624M is a carved-top masterpiece with a Honduran mahogany body and neck that is capped with a deep tigers eye on a quilted-maple top. The 25"-scale neck is topped with an ebony fretboard that has a 12" radius. It's loaded with Carvin S22 pickups with enamel wire. Direct $1773.
Carvin
Jason Shadrick - Associate Editor
Aguilar Tone Hammer 500
For a lot of musicians, the load-in can make or break a gig. Aguilar is helping bassists everywhere by creating a small, 4-pound amp that can easily fit in a gig bag. With 500 watts of power, the Tone Hammer 500 has more than enough oomph to fill the room with thunderous lows. The midrange had a nice clarity to it and the Drive control features Aguilar's AGS (Adaptive Gain Switching) circuitry.
Aguilar Amplification
---
Godin 5th Avenue Jazz
Just added to the 5th Avenue line, the Jazz is a more modern-looking archtop with a mini-humbucker in the bridge position. I picked it up and thought the neck played great. The sound of the mini-humbucker was more focused and responded better to a wide variety of picking dynamics. Unplugged, the guitar had enough volume to chunk out Freddie Green-style chords with some nice low-end thunk.
Godin Guitars
---
Mike Lull Tom Petersson TPT4 T-Bass
Cheap Trick bassist Tom Petersson teamed up with Mike Lull to create a signature bass based on Lull's T-Bass model. It features a mahogany body and graphite-reinforced neck.
Mike Lull
---
Danelectro Wild Thing Baritone
Danlectro guitars drip with coolness, and the new Wild Thing baritone is no exception with its futuristic curves on the upper and lower bouts. Like old Danos, it has a strip of textured vinyl around the edge of the body.
Danelectro
---
Choice Swag: Guitar Lessons by Bob Taylor
Bob Taylor's upcoming book on how his small workshop came to be one of the biggest, most successful guitar companies around ensures that flight-home entertainment will be covered for this
PG
editor.