NAMM 2011 - Editors' Picks, Day 2
What PG''s editors dug on Day 2 of NAMM

Anaheim, CA
(January 14, 2011) -- The second day of NAMM brought even more useful, beautiful, and innovative gear to drool over. Make sure to keep up with our real-time coverage at
premierguitar.com/namm
and on
Facebook
.
Check out what our editors thought was the coolest gear of the show today:

Editorial Director Joe Coffey
Editor in Chief Shawn Hammond
Senior Editor Andy Ellis
Gear Editor Charles Saufley
Web Content Editor Rebecca Dirks
Associate Editor Chris Kies
Associate Editor Jason Shadrick
Joe Coffey - Editorial Director

Seymour Duncan Zephyr Silver Pickups
Duncan's premium new pickups are said to be a nod to the past while representing what's next in pickup manufacturing. They're wound with silver wire and feature bi-metallic pole pieces (nickel cores with stainless-steel exteriors) and glass fiberfill nylon bobbins. The pickups are also cryogenically treated, which the company says aligns the materials' crystal latticework to improve clarity. MSRP $1195 per set.
seymourduncan.com
---
Washburn WD26SCE with a B-string bender
NAMM is a good time to see prototypes, custom mods, and one-offs that may not end up in production but are pretty cool nonetheless. Check out this Washburn WD-26SCE outfitted with a B-string-bending device made by Forrest Lee Jr.
washburn.com
---
Takamine TF77-PT, TF87-PT
You could say these new Takamines are loaded with the ingredients of warmth: a koa back and sides, a sunburst-finished cedar top, a 12AU7-driven onboard preamp, and an inlay of palm trees and a sunset at the 12th fret. Available in OM (TF77-PT) or New Yorker (TF87-PT, shown) body sizes. MSRP $2579.
takamine.com
---
Neutrik NA2JJ
Here's a handy item to keep in your gigbag: The Neutrik NA2JJ plug2PLUG is basically a 1/4" female-to-female adapter that allows you to make a longer instrument cable out of two shorter ones when you get in a pinch.
neutrik.com
Shawn Hammond - Editor in Chief

Harmony H54 Rocket
There's a fairly rabid following of vintage Harmony semi-hollowbodies out there on eBay and other places, so it's always intriguing when a brand gets revived. Cort's parent company has purchased the rights to the name, and Dan Lakin (founder of Lakland basses) is now heading up production of the guitar. The pickup covers, knobs, body, and finish look and feel authentic, though the neck felt a little skinnier than the originals. MSRP $695.
harmonyguitars.com
---
Rainsong Studio Series Dreadnought
Dollar-wise, the new Studio Series has a lower entry point than previous Rainsongs, and the bodies have a textured feel to their graphite-and-glass surfaces. Just like a dreadnought should, the Studio dread sounded great—loud, clean, and very wood-like—when I dug in with a flatpick, but it also sounded wonderful fingerpicked. MSRP approx. $1800.
rainsong.com
---
Ibanez SR Premium SR1200EVNF 5-String
This beautiful new 5-string bass features a contoured mahogany body and ovangkol top, a 5-piece wenge-and-bubinga neck with titanium reinforcement rods, a Mono-Rail IV bridge, Nordstrand Big Single pickups, Volume and Balance knobs (the two knobs), Cut/Boost knobs (for Bass, Mid, and Treble), and EQ-bypass and Mid-Frequency toggles. MSRP $1333.32.
ibanez.com
Andy Ellis - Senior Editor
Collings 290 DC S
The new 290 DC S features a one-piece mahogany body, a transparent nitrocellulose lacquer finish, an optional compensated, custom-machined wraparound bridge/tailpiece, and a fat-sounding Lollar P-90 with Collings' black phenolic cover (think Bakelite). To my ears, this guitar just screams "Mississippi Queen." Models start at $2950 with a hardshell case.
collingsguitars.com
---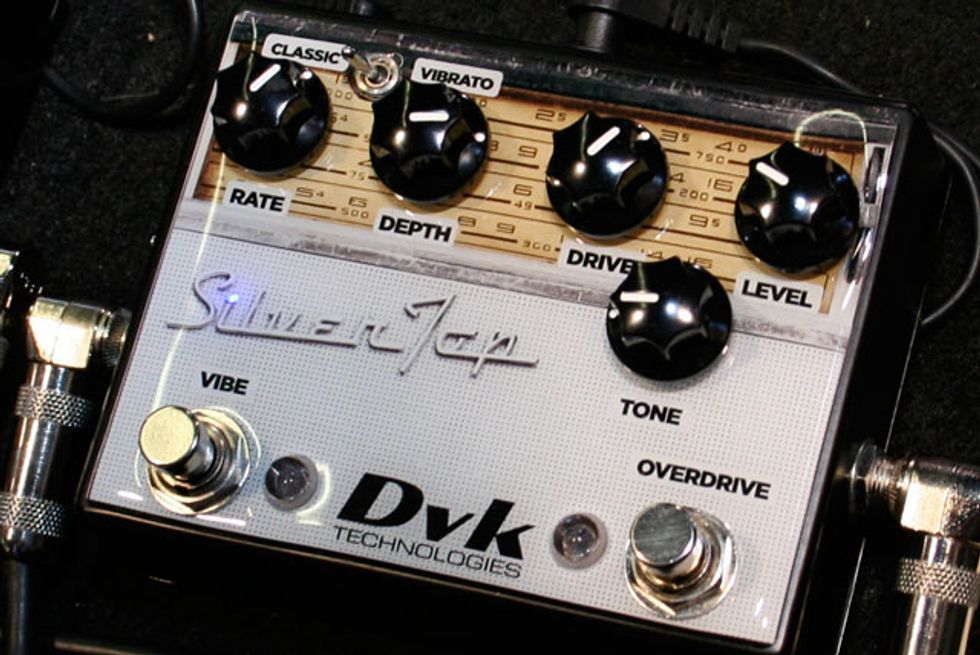 DVK SilverTop
From Down Under comes the DVK SilverTop, a dual-function pedal that combines two psychedelic sounds—a classic overdrive and a swirling rotary-speaker effect—in one unit. Perfect for Jimi Hendrix and Robin Trower riffage, the SilverTop lets you use either effect by itself or in tandem with its mate. If you choose the latter, a handy toggle switch lets you determine which effect comes first. The overdrive takes its essential sonic cues from the classic TS-909, although DVK's designer, Brett Kingman, has voiced the pedal to produce a spectrum of sounds from clean boost to crunch. Using an optional rocker pedal, you can control the rate of the rotary effect. The SilverTop sports five knobs: Rate, Depth, Drive, Level, and Tone, independent Vibe and Overdrive stomp switches, a Classic/Vibrato switch, and the aforementioned toggle to set the order of the two effects. Street $289.
dvktech.com
---
Vox Series 22
The Vox Series 22 double-cutaway has a pair of new XLM (Extra Loud Mini) humbuckers, a pickup mode switch for selecting either fat or lean tones, and Vox's brilliant aluminum MaxConnect bridge—one of the most innovative bridge designs I've seen in a long time. The cool yellow sunburst has a distinctly '60s vibe, and reminds me of an old Melody Maker. Another nice touch is the SBE strap button extender on the bass horn, which lets the guitar balance nicely when you're playing standing up. Price TBD.
voxamps.com
Charles Saufley - Gear Editor
Fender Wayne Kramer Stratocaster
There are plenty of cool new Fender products to see and play and NAMM this year, but none got this MC5-crazed editor quite as worked up as the stars-and-stripes-festooned Wayne Kramer signature Stratocaster. I'm not lying when I say it's one of the nicest-playing Strats I've had the pleasure of jamming on in many moons. The maple neck is topped with a beautiful hunk of rosewood with a 7.25" radius that felt supra delicious, and it's got a Seymour Duncan '59 in the middle position so you can torture your plexi (or any amp of your choice) in the manner of Brother Wayne. I must have slinked back about three times over the course of my visit to the Fender room to have a bash at "Ramblin' Rose." A fitting tribute to Kramer and one of the absolute greatest American rock-and-roll bands of all time. Kick out the jams! MSRP S1299.
fender.com
---
Godin MultiOud
Aspiring electrified Sandy Bulls take note: Godin's mahogany-and-spruce MultiOud takes the principles of Godin's time-tested Multiac (which facilitated stellar acoustic tones in loud stage settings) and applies it to the ancient stringed backbone of great Anatolian jams—the oud. It updates the traditional oud design with machine tuners, a cutaway, and a saddle-mounted pickup that's routed through electronics that are voiced to emulate the sound of the oud as recorded by various microphones. Although it's fretless, the MultiOud is easy for a guitar player to adapt to. Need some Turkish flavor in your tunes?  Look no further.
godinguitars.com
Rebecca Dirks - Web Content Editor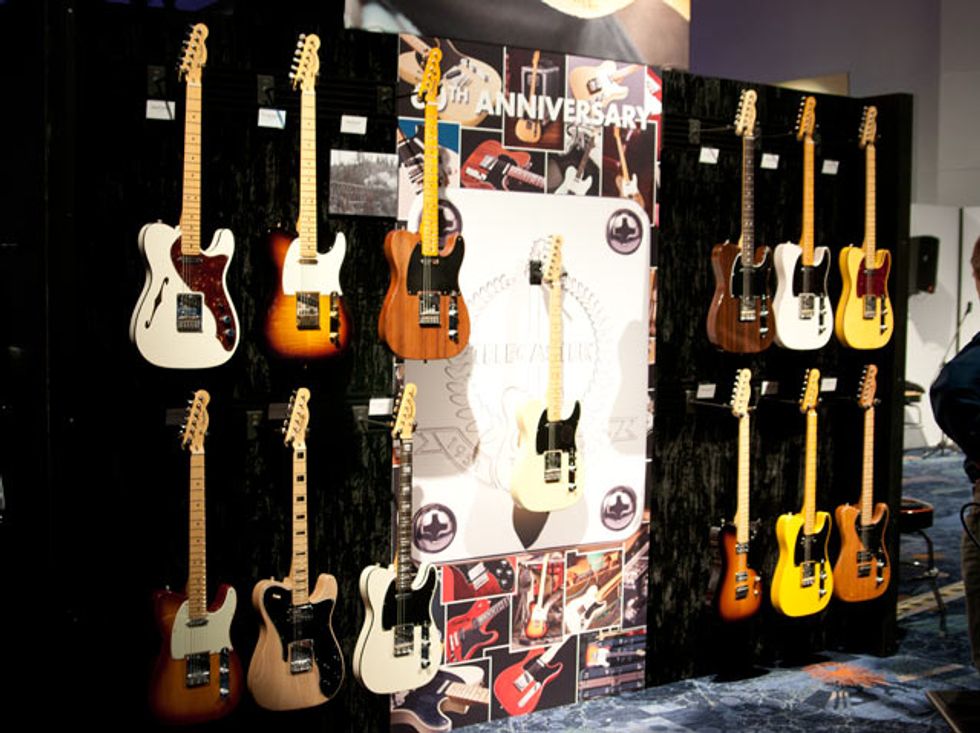 Fender's 12 Teles
It's impossible to not find a Tele to love in Fender's array of 12 limited-edition models, which were built to commemorate the 60th anniversary of the
Telecaster
. The dozen Teles here are meant to show how versatile the classic single-cutaway can be, and each is an experiment in pickups, wiring, wood, binding, inlays, and just about everything else that goes into a guitar. There are nods to popular players' mods along the way, too. There's a bamboo-laminate neck and top (right side, upper right) and wood reclaimed from an old bridge and barn (left side, upper right, and right side, upper middle, respectively). There are homages to the venerable rosewood Tele (right side, upper left) and Vintage Hot Rod '52 Tele, the latter with a completely new innovation: brass saddles with an Allen head on each saddle that's adjustable to get perfect intonation. It's inspiring to see a company as historic and massive as Fender getting creative outside of the Custom Shop—even if they're limited to around 500 pieces each. And if out-of-the-box isn't your thing, they've combined the best vintage and modern aspects of the Tele in their official 60th Anniversary Telecaster (center). It's a good day to be a Tele fan.
fender.com
---
Ernie Ball Music Man Game Changer
Yes, I watched the hype videos and read the press materials, but seeing the Game Changer in action was not something I'll soon forget—and not just because it was presented by guys in Hendrix and Elvis costumes. The guitar's tonal range is impressive before it's plugged into a computer—among other things, you can save totally analog presets to each position on a 5-way switch—but it's even more astounding once you access the software and adjust tones in real time. With a USB cord and a click of a mouse, pickups go in and out of phase. Or you can pull up one of the many available artist presets and scroll through their tones. The mind-blowing part is that none of it is digital—this is not modeling, it's real-time analog circuit adjustment via a computer. I can't say I understand how they pull it off, but they absolutely do.
music-man.com
---
Source Audio Bass Envelope Filter
Source Audio's latest pedal for bassists brings about as many funky options as one could possibly need: ¬¬. It sounds great on its own, but when it's paired with the company's Multiwave Bass Distortion Pro and Tri-Mod Wah, it creates crazy, synth-like bass tones. Source Audio is simultaneously releasing an Envelope Filter for guitar that is basically identical in features, except that the signal is 100 percent effected, while the bass signal has a wet/dry mix control.
sourceaudio.net
Chris Kies - Associate Editor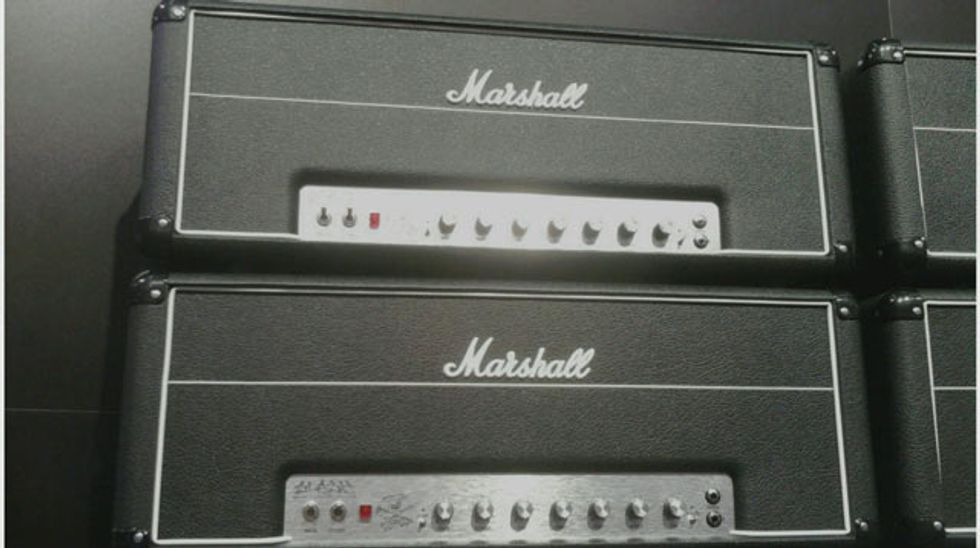 Marshall AFD100 Slash Signature Head
Appetite for Destruction
is one of my favorite albums of all time—it has resonated within my soul since I first played air guitar to it years ago. It's been 23 years since the iconic album's release, and now Marshall is officially unleashing the AFD100 Signature head. The AFD100 is powered by four 6550 power tubes, features five ECC83 preamp tubes, and has two footswitchable modes labeled #34 and AFD. The first is based on the modified JCM800 2203 head that Slash has used since the late '80s ("34" is stenciled on its side), while the second is the instantly identifiable sound from Appetite. Noteworthy features include built-in power attenuation and a Valve Fault Indicator feature that lights up to indicate if an output tube goes bad. The run is limited to 2300 heads and will retail at $2899.
marshallamps.com
---
Mesa Boogie Royal Atlantic
The 100-watt Royal Atlantic RA-100 can be powered by EL34s or 6L6s and runs on class AB power. Tonally, the combo launches off the TransAtlantic platform and mixes both classic and modified British sounds with Boogie's trademark high-gain thump. It also has the company's proprietary new Multi-Soak feature, which lets you notch either channel down 16, 12, 8, or 4 dB. Front-panel Clean channel controls are Master, Bass, Middle, Treble, and Gain, while the Hi/Lo channel has vintage high-gain and vintage low-gain modes and front-panel Master Hi, Master Lo, Bass, Middle, Treble, and Gain knobs.
mesaboogie.com
---
EHX Neo Mistress Flanger
Mike Matthews and EHX always provide a good belly laugh and plenty of tone treats, and this year the big snack is the Neo Mistress Flanger—a compact pedal that delivers lush flanging. Rate and Feedback knobs provide a variety of flange sounds, ranging from subtle to ultra thick, while the Filter Matrix disengages the automatic sweep and lets you manually control the filter bank to achieve chiming metallic tones. MSRP $109.80.
ehx.com
Jason Shadrick - Associate Editor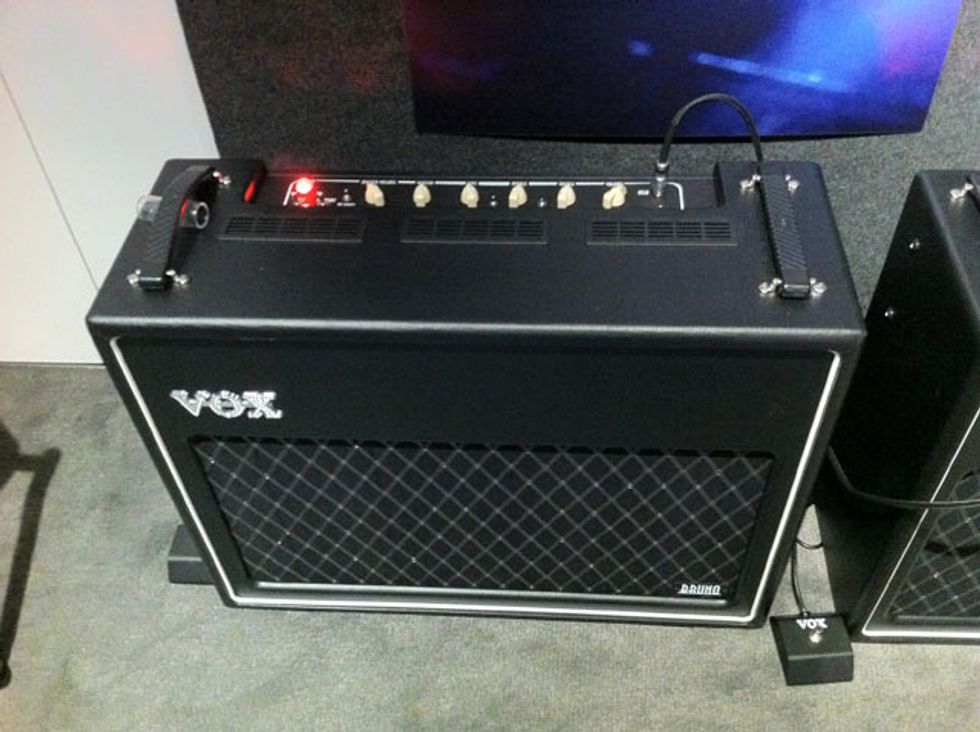 Vox TB35C1 & TB35C2 designed by Tony Bruno
Vox Tony Bruno-designed TB35C1 and TB35C2  Boutique amp builder Tony Bruno teamed up with Vox to design a production amp in two flavors—a 1x12 combo (TB35C1) and a 2x12 combo (TB35C2). The 35-watt amps pack punchy tones with plenty of volume, and both really shined with the Macho switch engaged (for a mid boost) and the Master Volume bypassed. 
voxamps.com
---
Veillette 12-String Baritone
A lot of big-name players—including Dave Matthews and Neal Schon—are starting to dig on Joe Veillette's custom creations, and his new 12-string baritone makes it easy to see why. Colin Hay from Men at Work bought this particular guitar right on the floor.
veilletteguitars.com
---
Carvin FG1 Frank Gambale Signature Model
Fusion guitarist extraordinaire Frank Gambale teamed up with Carvin for his new signature model, which features a custom FG22N neck pickup that Gambale helped design, as well as a C22B pickup in the bridge position.
carvinguitars.com
---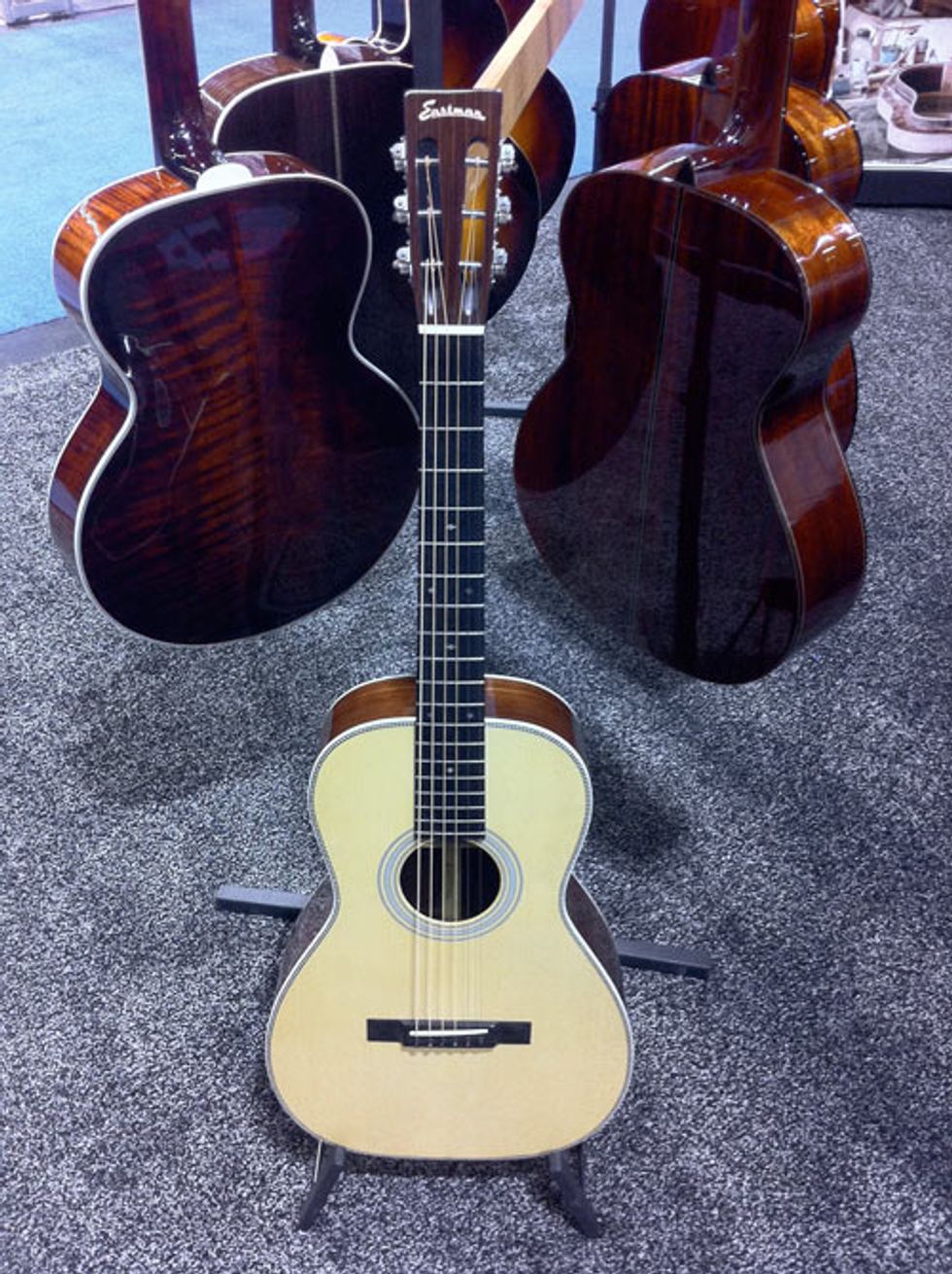 Eastman E20P
I am a sucker for small-bodied acoustics, and this Eastman caught my eye. It has an Adirondack spruce top, rosewood back and sides, and a wide ebony fretboard that's great for fingerstyle players. The slotted headstock is a nice old-school touch, too.
eastmanmandolins.com